February 19, 2021
Pumpkin Soup with Sausage and Black Beans
Make a double batch of this easy, hearty, gluten free Pumpkin Soup with Sausage and Black Beans – leftovers freeze perfectly for the future!
Figuring out what to call this recipe is, by far, the hardest part about making it. (Which is to say, it's very easy to make and comes together quickly!)
Is it a soup? A stew? A chili?
As you can see by the photos, if you choose to simmer it on the stove for a while, there's not a lot of broth left over, making the pumpkin soup title controversial.
My husband thought it was more of a pumpkin chili, but usually, the defining characteristic of a chili is the inclusion of some sort of chilies or chili powder, which this does not. Also, it includes 3 cups of chicken broth, which typically doesn't go into a chili.
I considered pumpkin stew, but stew has large chunks of meat, which this doesn't.
So eventually I circled back around to pumpkin soup with sausage and black beans, again, with the caveat that if you simmer for a while, it's not very brothy. Prefer more broth? Simmer for a little less time, or add an extra cup of chicken broth.
Whatever you call it and however much liquid you prefer to keep in it, it's quick, easy, makes easily freezable leftovers, and is the perfect way to warm up after this brutal winter we've been having.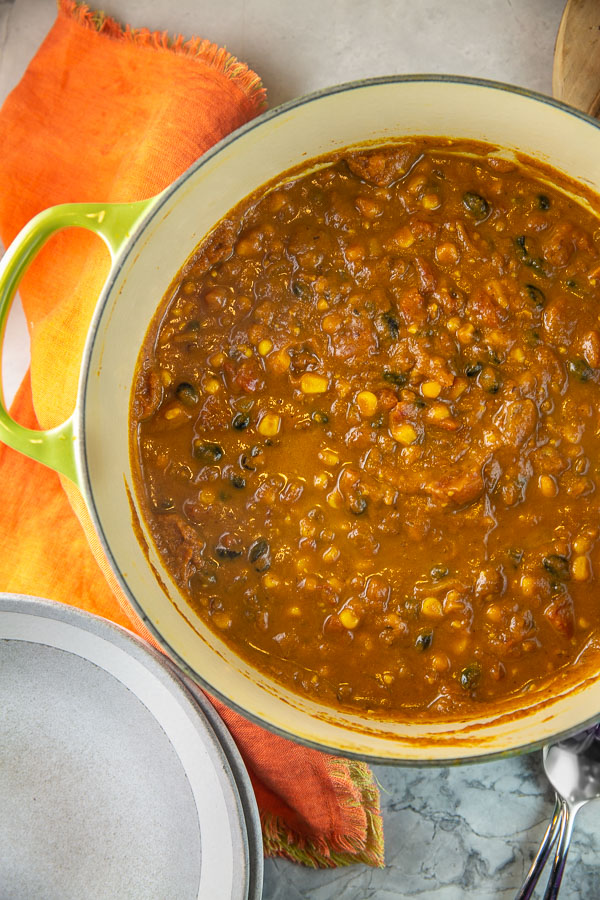 Easy Filling Pumpkin Soup
I am usually not a big soup person, but things I do like about this soup:
It's filling enough to serve as a meal (add a salad and a loaf of bread or some easy garlic cheddar buttermilk biscuits)
It also freezes really well. If you're going to make soup, you may as well make a double batch and freeze some for later, right?
The sausage and black beans add some heartiness to the soup, while the creamy pumpkin and warmth of the cumin make it flavorful and interesting enough to eat as your main course and worthy of serving to company.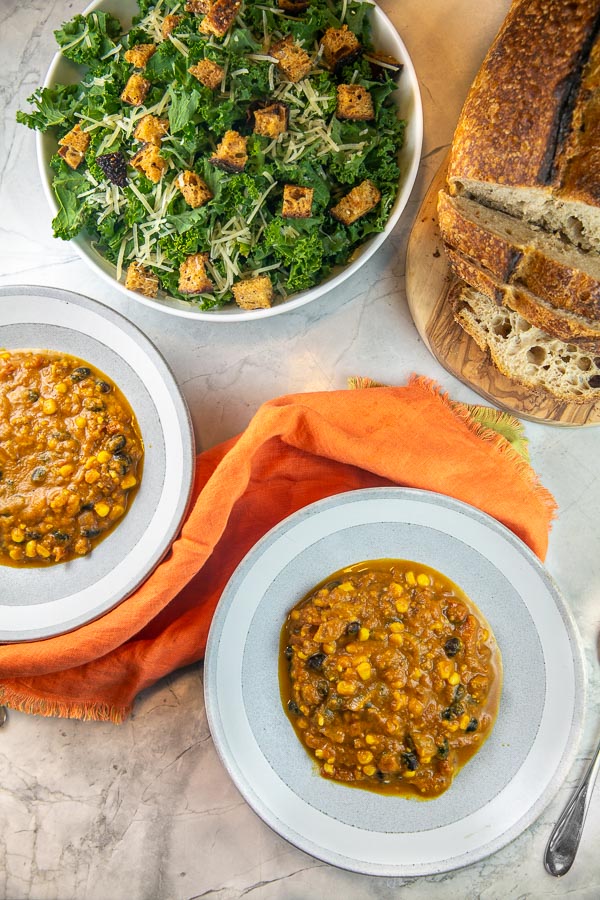 Add Milk to Soup Without Curdling
The recipe lists coconut milk or regular whole milk as options to add to the soup. I like the flavor and creaminess of coconut milk in pumpkin soup, but it's not an ingredient we always have on hand. Whole milk works just fine, too!
Even though coconut milk doesn't contain dairy, it can curdle when heated quickly, just like dairy milk.
What's the best way to prevent milk or coconut milk from curdling when we add it to soup? It's time for my favorite subject… kitchen chemistry!
Kitchen Chemistry

The protein molecules in milk (coconut or dairy!) are usually held together tightly, but as heat is added, the molecules lose their shape and unwind, a process called denaturing.  These proteins are more likely to collide with other proteins and form bonds with each other, resulting in the clumps we see when something curdles.  To prevent curdling, heat the soup at a slow simmer to minimize the heat impact on protein structure.  Stir the soup continuously while heating, which helps to break up the bonds between the protein molecules as they form.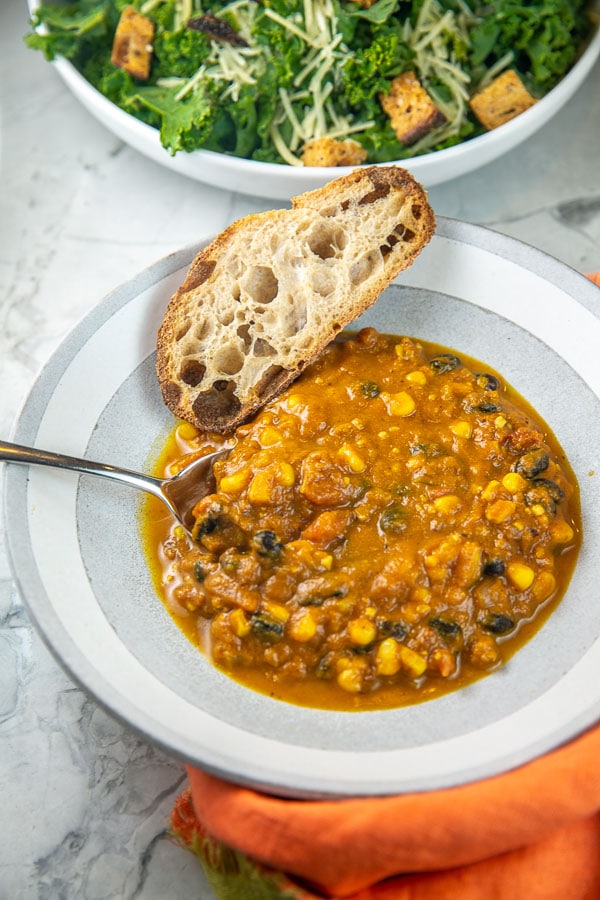 Frequently Asked Questions about Pumpkin Soup with Sausage and Black Beans
Can you use canned pumpkin for this recipe?
Absolutely – having made fresh pumpkin puree, I don't think it's worth the extra effort to make it yourself. Just make sure to use canned unsweetened pumpkin puree and not pumpkin pie filling!
What can I substitute for the sausage?
A great non-pork alternative is half a pound of shredded chicken thighs.
What's the best chicken broth to use?
My favorite non-homemade option for broth is a jar of Better than Bouillion.
More Soup Recipes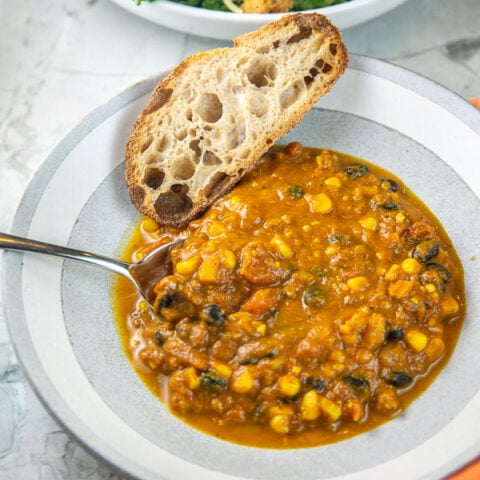 Pumpkin Soup with Sausage and Black Beans
Make a double batch of this easy, hearty, gluten free Pumpkin Soup with Sausage and Black Beans – leftovers freeze perfectly for the future!
Ingredients
2 links Italian hot sausage (or mild if preferred)
1 onion, finely chopped
2 cloves of garlic, finely chopped
3 cups vegetable broth or stock
1 (15-ounce) can black beans, drained
1 (15-ounce) can diced tomatoes, with juices
1 cup corn, frozen
1 (15-ounce) can pumpkin puree
1 cup milk, whole or coconut
1 tablespoon curry powder
1 tablespoon cumin
1/2 teaspoon granulated ginger
pinch cayenne pepper
pinch salt (to taste)
Instructions
Remove the sausage from the casing and cook over medium heat in a large stock pot or dutch oven. Crumble the sausage and cook until no longer pink. Add in the onions and garlic and saute until translucent, about 5 minutes.
Stir in the vegetable broth, black beans, tomatoes, corn, and pumpkin. Bring the soup to a boil, then reduce heat to medium and simmer for 10-15 minutes.
Reduce heat further to low and stir in the milk, curry powder, cumin, and ginger. Simmer an additional 10 minutes, stirring frequently, until the soup is warm throughout. Season to taste with cayenne and salt.
Recommended Products
As an Amazon Associate and member of other affiliate programs, I earn from qualifying purchases.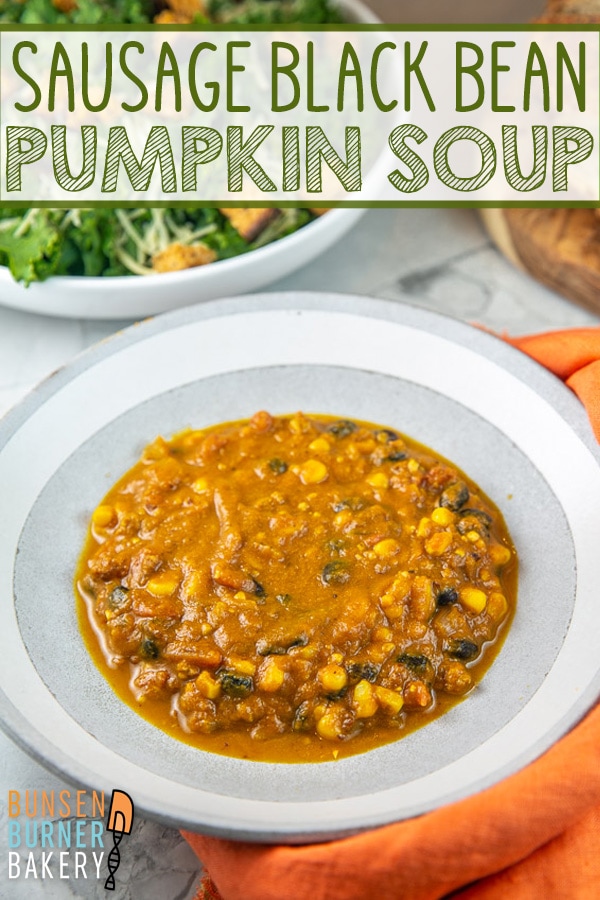 This Pumpkin Soup with Sausage and. Black Beans recipe was originally published on 01/21/2016 and republished with new photos and helpful tips on 02/19/2021.