January 21, 2016
Pumpkin, Sausage, and Black Bean Soup
An easy, hearty gluten free pumpkin, sausage, and black bean soup, perfect for cold winter nights.  Make ahead — freezer friendly!
If you happen to live in the general mid-Atlantic region, you too are predicted to get pounded with snow this weekend.
Aside from slight disappointment that we probably won't make it to IKEA this weekend as planned, I'm looking forward to a snowed in weekend with my little family.
Although I am disappointed about IKEA.  We had plans to pick up a new sectional.  More living room seating!  With a cheap replaceable slip cover for when the dog digs a hole in it!
(It's amazing the incredibly boring things that excite you as an adult, amiright?)
But alas, no IKEA.  Current plans include packing up some too-small baby clothes, organizing the closet in our office, and lots of cooking to prep for the week ahead.
I'm thinking nice, warm comfort foods.  Maybe some homemade pasta from Marc Vetri's Mastering Pasta cookbook (we took a cooking class with him recently).  Possibly some soup.
Lots of soup, because there's no better way to warm up from a cold, wet dog walk through the snow than warm soup. Maybe with some homemade garlic cheddar buttermilk biscuits. Definitely with biscuits.
This pumpkin, sausage, and black bean soup fills all my requirements.
It's filling enough to serve as a meal (with the addition of a salad or vegetable on the side and the aforementioned biscuits).  As far as preparation, it's simple and hands off, and quick enough for a weeknight meal.
It also freezes really well.  If you're going to make soup, you may as well make a double batch and freeze some for later, right?
The sausage and black beans add some heartiness to the soup, while the creamy pumpkin and warmth of the cumin make it interesting enough to eat as your main course.
Add a little corn for some crunch, some milk for creaminess, and a little pinch of cayenne for some bite.  Aaaaah.
Pumpkin, sausage, and black bean soup perfection.  Now you're all set to watch the snow fall from the cozy warmth of your kitchen.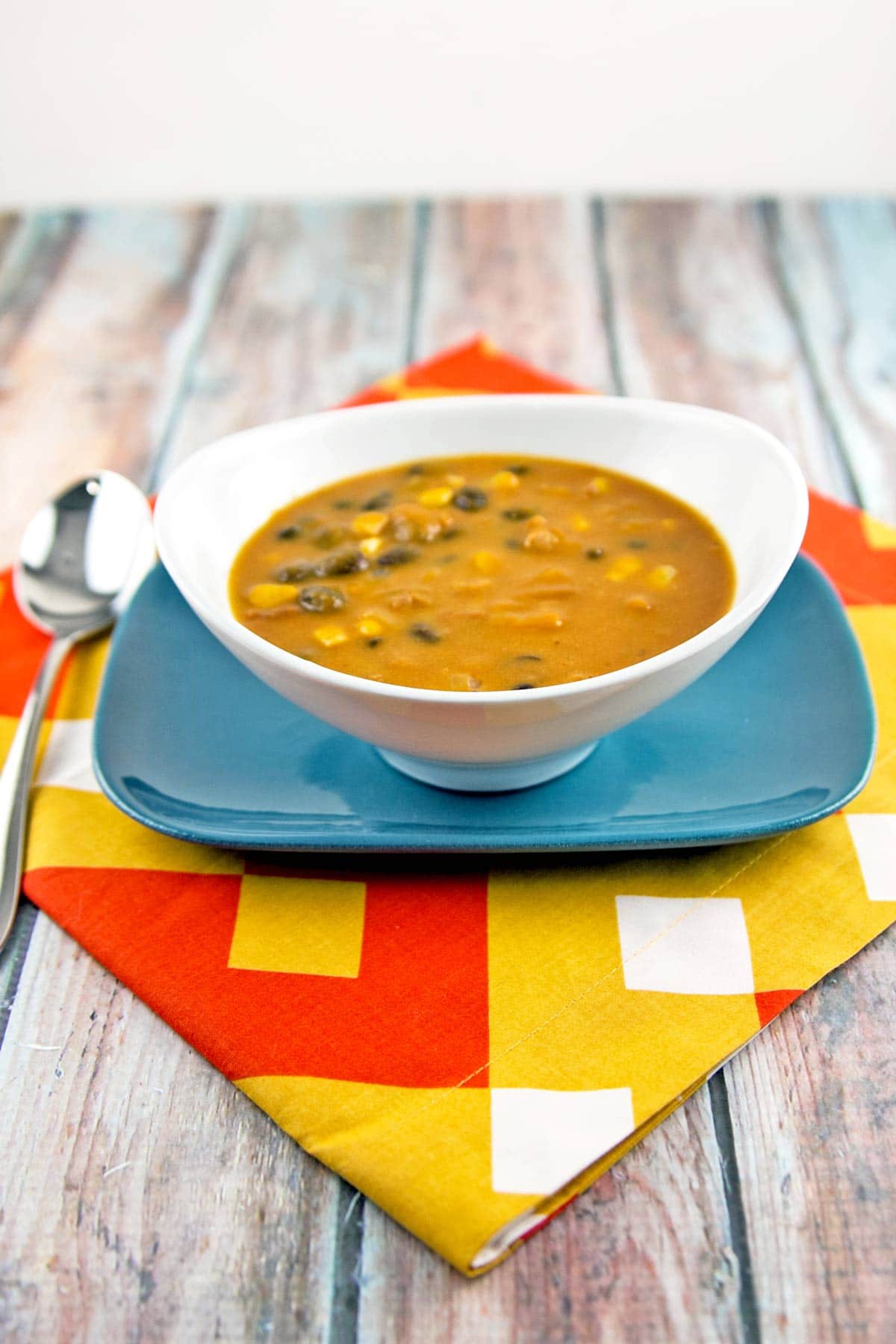 Stay warm folks! Enjoy the snow.  Treat yourself to my favorite ultra-decadent hot chocolate.  And most importantly, don't forget to be a good citizen and shovel your sidewalk!
Pumpkin, Sausage, and Black Bean Soup
An easy, hearty soup for cold winter nights. Make ahead — freezer friendly!
Ingredients:
2 links Italian hot sausage (or mild if preferred)
1 onion, finely chopped
2 cloves of garlic, finely chopped
3 cups vegetable broth
1 (15-ounce) can black beans, drained
1 (15-ounce) can diced tomatoes, with juices
1 cup corn, frozen
1 (15-ounce) can pumpkin puree
1 cup milk
1 tablespoon curry powder
1 tablespoon cumin
pinch cayenne pepper (optional)
pinch salt (to taste)
Directions:
  Remove the sausage from the casing and cook over medium heat in a large stock pot or dutch oven.  Crumble the sausage and cook until no longer pink.  Add in the onions and garlic and saute until translucent, about 5 minutes.
Stir in the vegetable broth, black beans, tomatoes, corn, and pumpkin.  Bring the soup to a boil, then reduce heat to medium and simmer for 10-15 minutes.
Reduce heat further to low and stir in the milk, curry powder, and cumin.  Simmer an additional 10 minutes until the soup is warm throughout.  Season to taste with cayenne and salt.
A Bunsen Burner Bakery Original Protocol