July 3, 2019
Blueberry Pie Ice Cream
It's your favorite summer pie… in ice cream form! Blueberry Pie Ice Cream is the ultimate summer treat. A creamy vanilla ice cream base paired with homemade blueberry pie filling and graham cracker crumbs — it's the best kind of dessert mashup.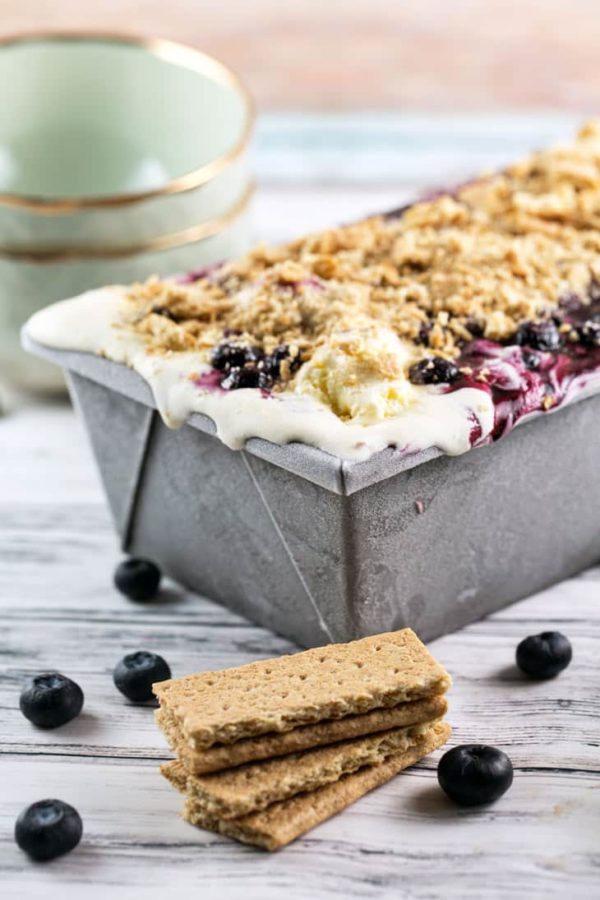 Do you love ice cream? Of course you do. And if you love ice cream enough to have your own ice cream maker — well — I have the ultimate treat for you!
The best parts of summer are obviously ice cream and fresh summer produce. And how better to combine the two than with blueberry ice cream?
Wait, scratch that. How do you make blueberry ice cream even better? You make blueberry pie ice cream.
That's right. My all-time favorite dessert — in ice cream form.
Components of Ice Cream
Ice cream consists of six basic components: ice crystals, fat, sweeteners, air, "other solids," and a bonus component: emulsifiers.
Let's do a quick breakdown of each (hello, kitchen chemistry!), because understanding how ice cream works helps us make even better ice cream!
Ice Crystals: Without ice crystals, we'd just have… cream.  Obviously, ice crystals are super important!  When we make ice cream, we mostly care about the size of the ice crystals –> the smaller the crystals, the smoother the ice cream.
Fat: Fat, which comes from heavy cream and milk, adds richness and keeps the ice cream smooth.  In order to be classified as ice cream, we need a minimum of 10% fat content.
Sweeteners:  Sugar (or honey, maple syrup, etc.) is not only important for taste but also for the structure and stability of ice cream.  Sweeteners lower the freezing point of ice cream, ensuring that it stays softer even when frozen.
Air: When we churn ice cream, we add air to the base.  This increases the volume of the ice cream and also contributes to the softer texture — freezing the base without churning leads to a dense, heavy rock.
Other Solids: You know, all the other stuff (like blueberries and graham cracker crumbs) that contribute flavor.  There's also a balancing point here — too few other solids and ice cream gets an icy texture, but too many and the ice cream starts to get crumbly.
Emulsifiers: Okay, this one is a little extra at the end — the emulsifier is what holds all the other components together. For our ice cream, we're using egg yolks.
Let's talk a little bit more about these emulsifiers, and why egg yolk plays such a huge role in the best ice cream texture!
Kitchen Chemistry

As an emulsifier, egg yolks bind together all the components of ice cream, combining together the ice, fat, sugar, air, and other solids in ice cream to create a thicker, creamier consistency. Furthermore, the lecithin in egg yolks improves the stability of ice cream, delaying the melting and keeping it in a frozen state for longer, which also reduces the thaw-freeze cycles that result in an icy texture.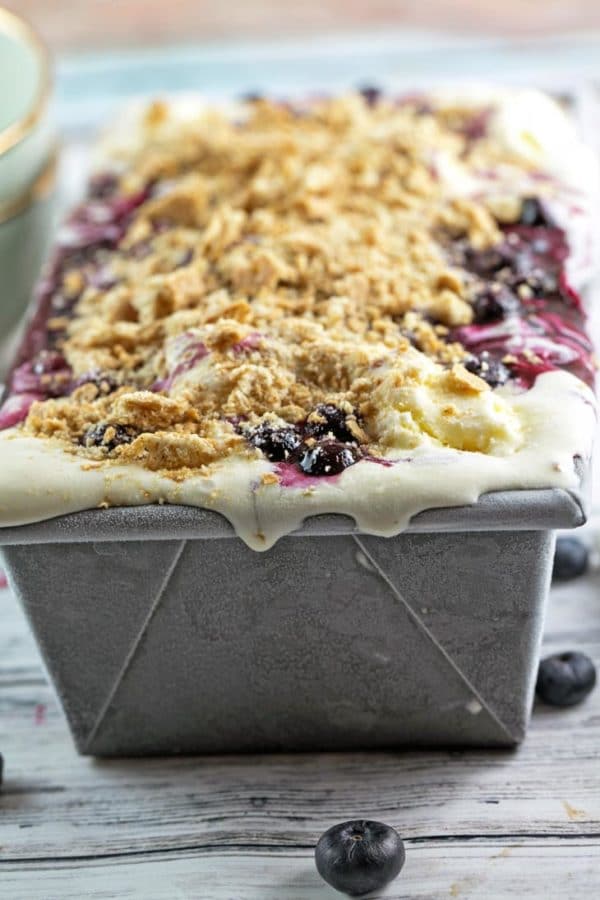 Making Homemade Ice Cream Base
Now we're ready to start making ice cream!
First we make the liquid base — this is where we mix together our liquids (milk and heavy cream), eggs, salt, and vanilla.
To do this, we use a process called tempering to ensure we don't overcook the egg yolks (no one wants scrambled egg ice cream!).
We'll start by heating the milk until steaming, and then whisk just a little of this milk mixture in with the eggs and sugar.  The sugar helps protect the egg yolks, and using just a little hot milk lowers the overall temperature of the eggs slowly enough that they won't start to curdle.
This tempered egg mixture will then get poured back into the rest of the hot milk mixture, while whisking constantly, to slowly bring the egg yolks up to a high enough temperature.
Next we need to chill this heated base – and then churn away, so go ahead and get your ice cream makers ready!
There are two major types of home ice cream makers (and I've had both) — the kind where you freeze a bowl solid and attach it to your stand mixer, and the kind with a compressor that cools for you.
Both work just fine — but you'll want to make sure your base is as cold as possible if you're starting with a frozen bowl.
During the churning process, the liquid base is frozen, while air is continuously whipped in to lighten the base.
Towards the end of the churning process, we'll add our "other solids" that take this from plain ice cream to blueberry pie ice cream.
Graham Crackers + Blueberry Pie Filling
Now that we've covered the general basics of ice cream making, let's talk about this ice cream!
Instead of flavoring the entire ice cream with blueberries, we're using our (homemade!) blueberry pie filling and graham crackers as a mix-in.
A smooth, sweet vanilla custard base. Fresh blueberries, cooked down with some sugar and cornstarch, just like you would for a blueberry pie. A thick layer of crumbled graham crackers.
Assemble in layers, and each scoop of ice cream has the perfect balance of vanilla ice cream, blueberry pie filling, and graham cracker crumble. Ice cream perfection.
No, seriously. It doesn't get much better than this, people. Unless you ate a scoop of this blueberry pie ice cream… on top of a slice of blueberry pie. Can you even handle it? (Yes. Yes, you can.)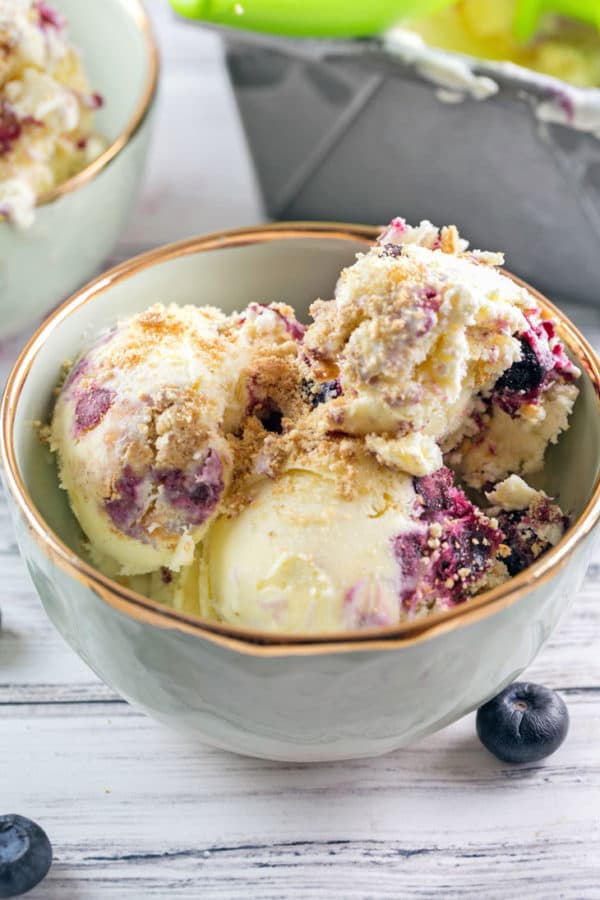 Recommended Tools to Make Homemade Ice Cream
More Blueberry Recipes: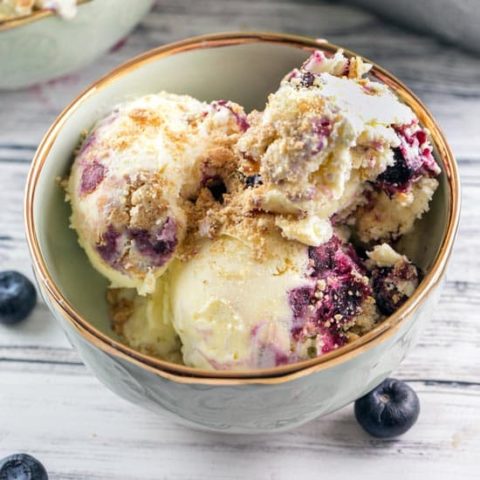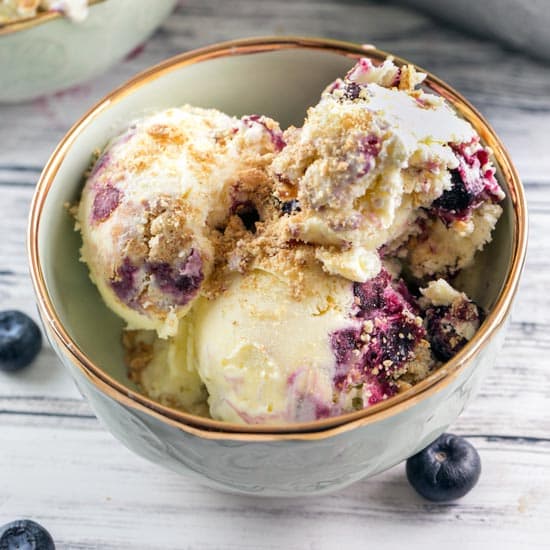 Blueberry Pie Ice Cream
It's your favorite summer pie… in ice cream form! Blueberry pie ice cream is the ultimate summer treat.
Ingredients
For the Ice Cream Base:
6 egg yolks
1 cup sugar
2 cups whole milk
2 cups heavy cream
pinch of salt
1 tablespoon vanilla extract
For the Blueberry Pie Filling:
3 cups fresh blueberries
1 tablespoon lemon juice
1/2 cup sugar
2 tablespoons corn starch
1 cup graham cracker crumbs
Instructions
In a medium bowl, whisk together egg yolks and sugar.
In a heavy saucepan over medium low heat, stir together milk and cream. Heat until steaming, but not boiling. Ladle 1/2 cup of the hot milk mixture an whisk into the egg yolk mixture to temper the eggs. Pour the egg mixture back into the rest of the milk, stirring constantly. Cook over low heat until thickened, 5 to 6 minutes. Stir in salt and vanilla and strain through a sieve into a large bowl.
Cover tightly with plastic wrap and chill until completely cool.
While ice cream is chilling, make the blueberry pie filling. Combine all ingredients in a small, heavy-bottomed saucepan over medium heat. Cook for 8-10 minutes, stirring frequently, until filling is thick enough to coat the back of a spoon. Remove from heat and chill.
Process the cooled custard in an ice cream machine. Once fully churned, layer 1/3 of the ice cream, 1/2 the blueberry pie filling, and 1/3 of the graham cracker crumbs, followed by another layer of ice cream, blueberry pie filling, and graham cracker crumbs. Top with the remaining ice cream and graham crackers. Freeze until hard.
Recommended Products
As an Amazon Associate and member of other affiliate programs, I earn from qualifying purchases.
Nutrition Information:
Yield:

12
Serving Size:

1 scoop
Amount Per Serving:
Calories:

343
Total Fat:

19g
Carbohydrates:

40g
Protein:

4.5g