April 23, 2021
Glazed Lemon Blueberry Scones
Sweet and creamy and packed full of fresh blueberries and lemon zest with blueberry and lemon glazes, Glazed Lemon Blueberry Scones are the perfect addition to spring and summer brunches.
The days are getting longer, the weather is getting warmer (it's in 80s today in Philly – what?!), the flowers are blooming (ah-choo!). Spring has arrived!
Lemon and blueberry is one of my favorite flavor combinations for spring and summer. And scones are perfect for all the spring brunches, like Mother's Day and bridal showers.
Have you tried scones in the past that are dry and tasteless? This recipe is anything but — moist and tender thanks to the heavy cream and egg, Just enough lift to be light, thanks to a little baking powder. And especially flavorful, bursting with fresh blueberries and lemon zest.
Frozen Butter for the Best Scones
What's the best way to make perfectly flaky, crumbly lemon blueberry scones? Frozen butter, grated into the batter!
Much like my No Fail Pie Crust, we're going to work cold butter into the dry ingredients. The flour coats the butter and as you continue to work the butter into the flour, it breaks into smaller and smaller pieces. Why is this so important? It's time for my favorite subject… kitchen chemistry!
Kitchen Chemistry

As the tiny flour-coated pieces of butter melt in the oven, the butter releases steam. These little pockets of steam help the scones rise taller and keep them softer, flakier, and more tender with a crumbly exterior.
To achieve tiny pieces of frozen butter, freeze your stick of butter for at least two hours before making the scones. Then grate using a box grater or microplane grater (affiliate links) right into the flour mixture!
Shaping Homemade Scones
Most home-baked scone recipes call for either a scone pan or forming the scone into a ball and cutting into 8 wedges. You can absolutely do that here, but I prefer the look of individual scones.
By scooping the scones, you reduce the risk of overworking the dough by rolling to cut with a biscuit cutter or by forming the dough into a loose ball.
Spray an ice cream scoop (affiliate link) lightly with nonstick spray and scoop equal portions of dough onto the prepared baking pan. Easy peasy!
Lemon and Blueberry Glazes
The glaze is optional, but highly recommended – both for flavor and for appearance!
I like to make both lemon and blueberry glazes, by combining lemon juice and pureed blueberries with confectioners sugar. Add enough sugar to create a drizzle-able glaze, then pour over top.
Not into glazes? Then serve these lemon blueberry scones with jam or my easy homemade lemon curd for an extra special treat!
Storing Homemade Scones
Scones are the very best the day they are made, but can be stored in an airtight container for 2 to 3 additional days at room temperature.
For longer term storage, wrap each scone individually in aluminum foil, place in a heavy duty freezer bag, and freeze for up to 3 months. Thaw at room temperature before enjoying.
Prefer your lemon blueberry scones warm? Just microwave for 20 seconds before serving!
More Blueberry Dessert Recipes: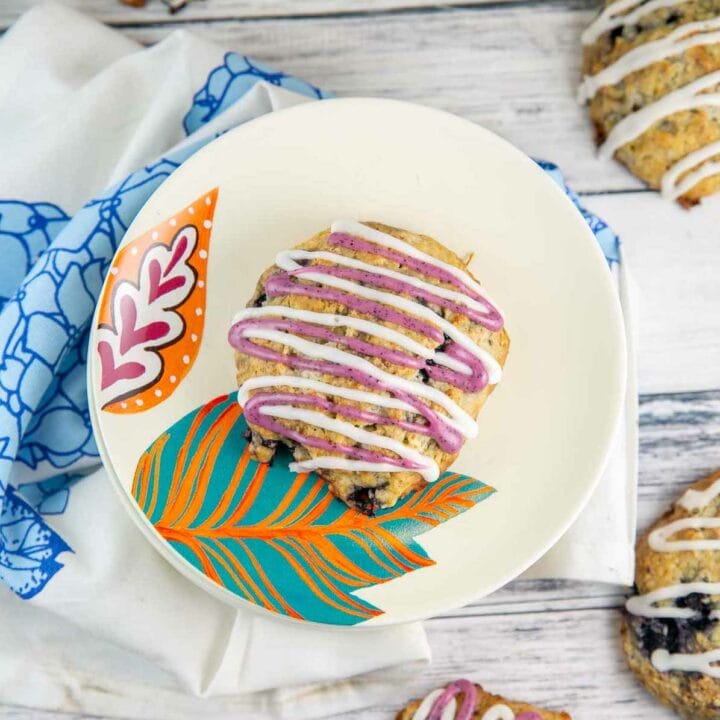 Glazed Lemon Blueberry Scones
Sweet and creamy and packed full of fresh blueberries and lemon zest with blueberry and lemon glazes, Glazed Lemon Blueberry Scones are the perfect addition to spring and summer brunches.
Ingredients
For the Scones:
2 3/4 cups (330 grams) all purpose flour
1/2 cup (99 grams) granulated sugar
3/4 teaspoon salt
1/2 tablespoon baking powder
1/2 cup (113 grams) unsalted butter, frozen
zest of 1 medium lemon (~1 tablespoon)
1 cup (170 grams) blueberries
2 large eggs
2 teaspoons vanilla extract
1/2 cup (113.5 grams) heavy cream
1/4 cup (57 grams) whole milk
For the Lemon Glaze:
1 cup (113.5 grams) confectioners sugar
1 1/2 tablespoons lemon juice
For the Blueberry Glaze:
1 cup (113.5 grams) confectioners sugar
1/4 cup (43 grams) blueberries
1 teaspoon lemon juice
Instructions
Preheat oven to 375° F. Line a baking sheet with parchment paper.
In a large mixing bowl, whisk together the flour, sugar, salt, and baking powder. Remove the butter from the freezer and grate into the bowl, using the large sides on a box grater. Using your fingers, mix the butter into the flour mixture until sandy and crumbly; some larger pieces of butter will remain. (Alternatively, cut cold butter into the flour with two knives). Stir in the lemon zest and blueberries.
Whisk together the eggs, vanilla extract, heavy cream, and milk. Make a well in the center of the dry ingredients and pour in the liquid ingredients. Stir gently until the mixture is sticky and holds together.
Use a muffin or ice cream scoop to scoop ~1/3 cup of batter into mounds on the prepared baking sheet. Top with coarse sugar crystals. Bake for 30 minutes, until lightly browned. Remove from the oven and rest for 5 minutes on the baking sheet.
To make the glazes, whisk together the confectioners sugar and lemon juice in one bowl. Using a blender or food processor, pulse the blueberries until a thick liquid consistency; whisk in the lemon juice and confectioners sugar. Add additional confectioners sugar or lemon juice to either to make a thick paste-like consistency, then drizzle on scones.
Notes
For best scone texture, use frozen butter and cold milk and eggs for the scone batter.
Scones are best served warm, but can be heated in the microwave for 20 seconds to warm before enjoying.

Scones can be stored at room temperature in an airtight container for up to 3 days, or frozen for up to 3 months.
A Bunsen Burner Bakery Original Protocol
Recommended Products
As an Amazon Associate and member of other affiliate programs, I earn from qualifying purchases.
This Glazed Lemon Blueberry Scone recipe was originally published on 04/11/2017 and republished with new photos and helpful tips on 04/23/2021.