May 4, 2018
Tequila Lime Margarita Pie
Enjoy your margarita in dessert form, with this Tequila Lime Margarita Pie with a salted graham crust. A silky smooth lime custard, made with tequila and triple sec, bakes in only 25 minutes and can be made ahead of time for easy entertaining. Don't forget a side of salted lime wedges!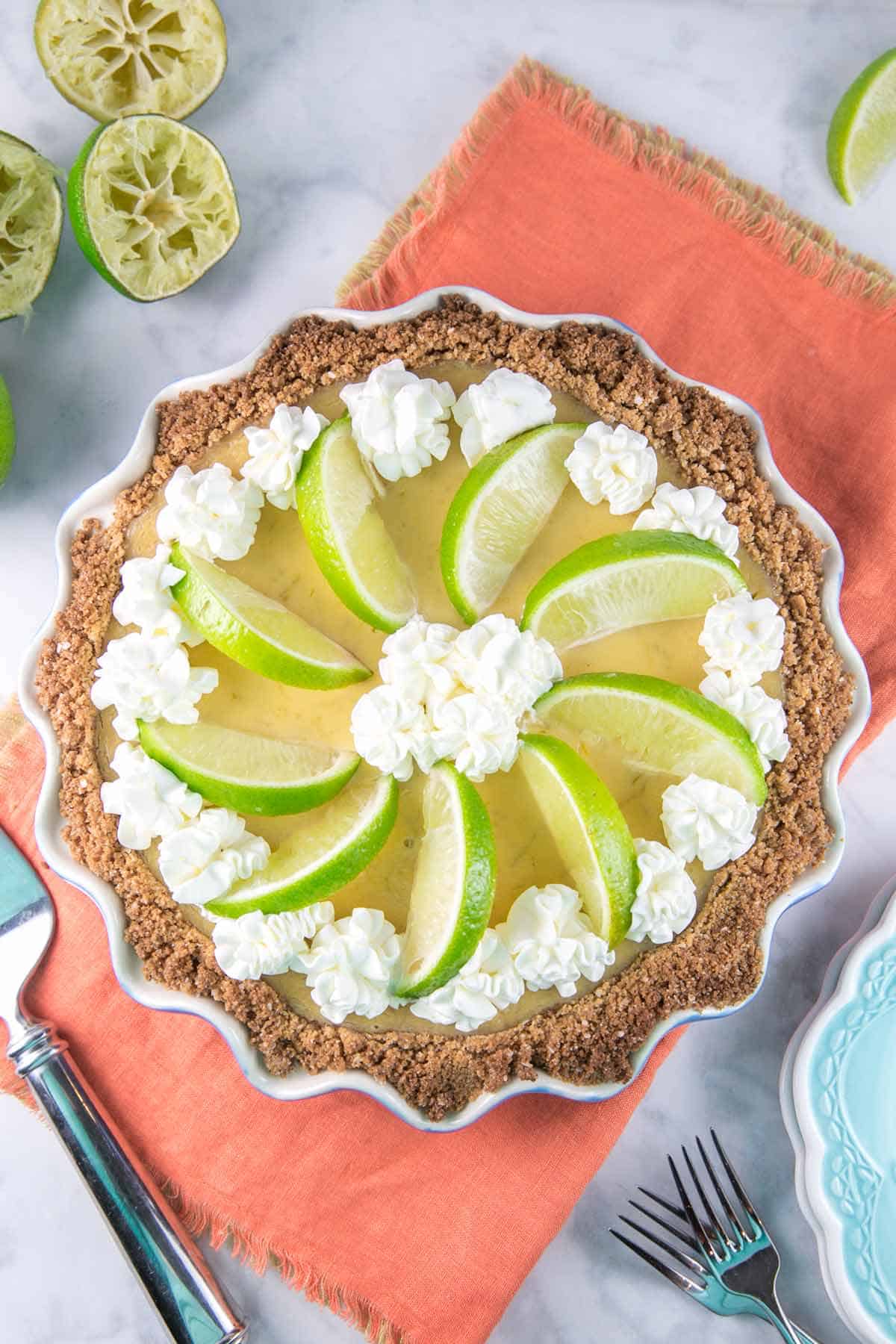 Pie of the Month. Cinco de Mayo. You know what's coming. As a big tequila lover, how could I not?
The obvious choice for May's Pie of the Month was clearly something margarita themed, and full of tequila!
(Sadly, I made this while I was still pregnant, so I limited myself to a few bites of a slice. Believe me, if I was making this today… ALL FOR ME. Hands off my margarita pie, thankyouverymuch.)
Similar to the lemon pie I shared earlier this year, this tequila lime margarita pie contains a graham cracker crust and a citrus-infused custardy layer.
But instead of a regular graham cracker crust, this one gets a salted graham crust. (Because if you don't order your margaritas on the rocks with a salted rim, I just don't get you.)
Obviously, we'll use lime juice instead of lemon juice. And because it's a margarita pie, we'll include both a healthy glug of tequila and a splash of triple sec.
This pie is the perfect combination of sweet, tangy, and boozy, making it a great dessert for any adult gathering, and I can't wait to enjoy it all summer long!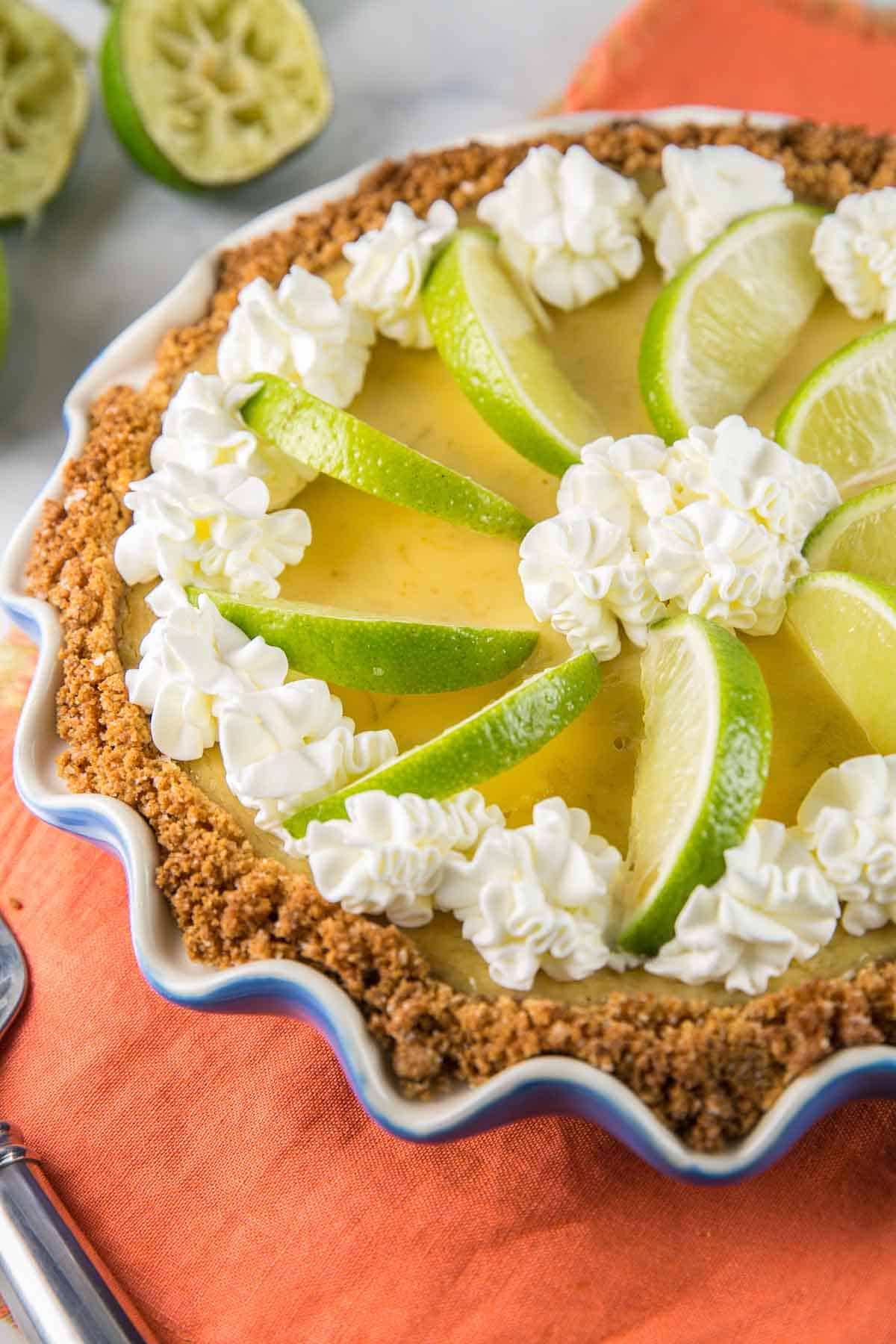 Ingredients & Substitutions
Graham Cracker Crumbs: Start with crushed graham crackers for the crust. I prefer to crush my own with a food processor, but store bought crumbs work, too. If you'd like to keep this pie gluten-free, use gluten-free graham cracker crumbs.
Sugar: We'll add some granulated sugar into the crust to make it a touch sweeter.
Salt: To play off the salted rim of a margarita glass, we're going to make this a salted graham cracker crust. Don't like salty sweets? Feel free to leave it out!
Butter: I use unsalted butter for baking. If you only have salted butter, leave a pinch of salt out of the crust recipe.
Sweetened Condensed Milk: The thick sweetened condensed milk provides the structure of the pie. Be sure to use full fat sweetened condensed milk, and don't accidentally grab a can of evaporated milk instead!
Limes: We'll need both the zest and juice from the limes. Use fresh limes for the juice – bottled lime juice doesn't pack a lot of flavor.
Egg Yolks: We only need the yolks for the lime custard. Use your leftover egg whites to make this berry pavlova or lemon meringue cake!
Tequila/Triple Sec: I use both tequila and triple sec to really drive home the margarita flavors in this pie! If you only have tequila, leave out the triple sec, but if you have both, add some of each!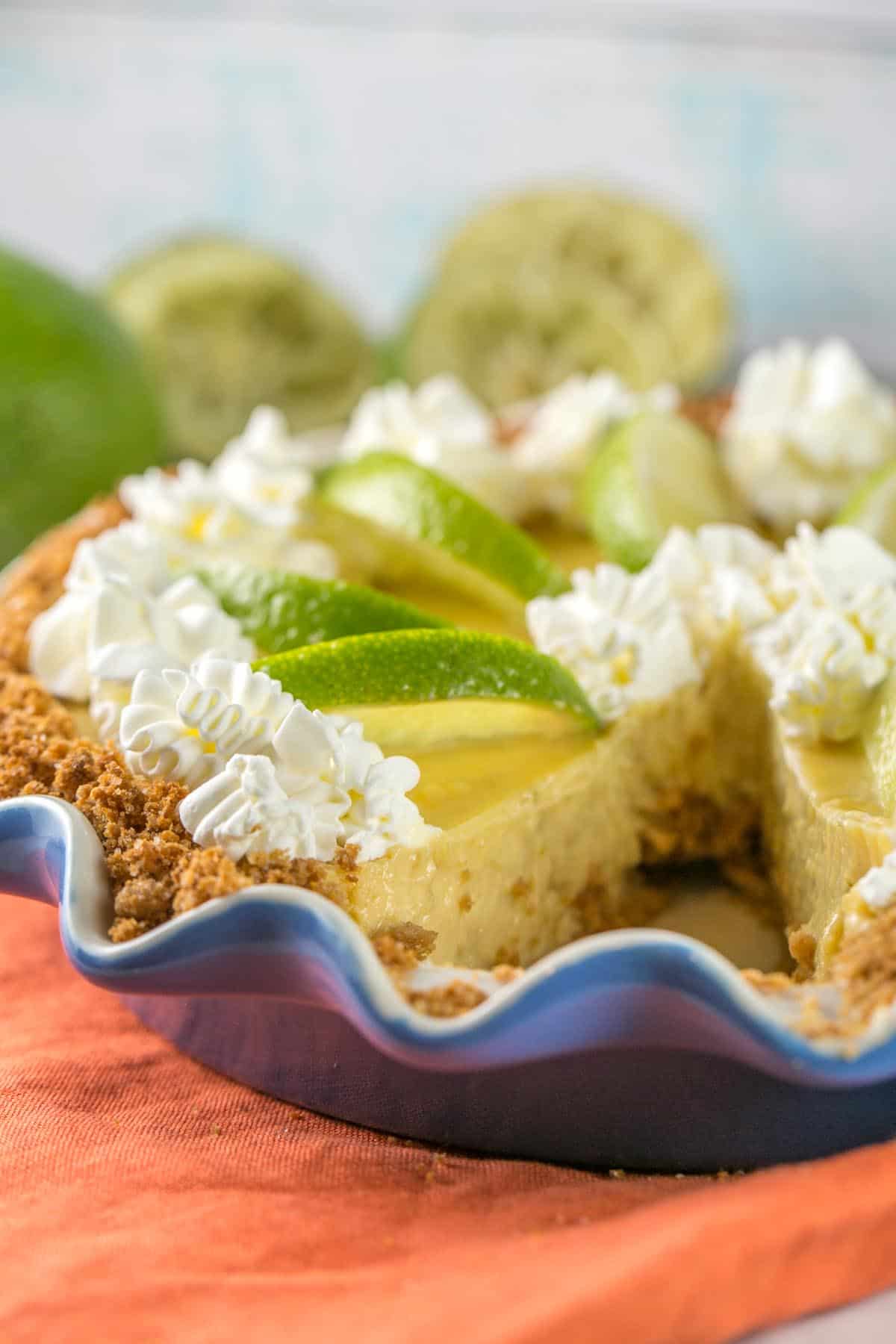 Salted Graham Cracker Crust
Citrusy, custardy pies always pair so well with a classic graham cracker crust. In this case, we're adding a little salt to make a salted graham cracker crust!
Mix the crumbs with the sugar, salt, and melted butter, then press the mixture into your pie dish. To keep the crust nice and crunchy, bake it for a few minutes and set aside to cool completely before adding the custard.
If you'd like to switch things up, this pie would also be delicious with a pretzel crust using crushed pretzels instead of graham crackers!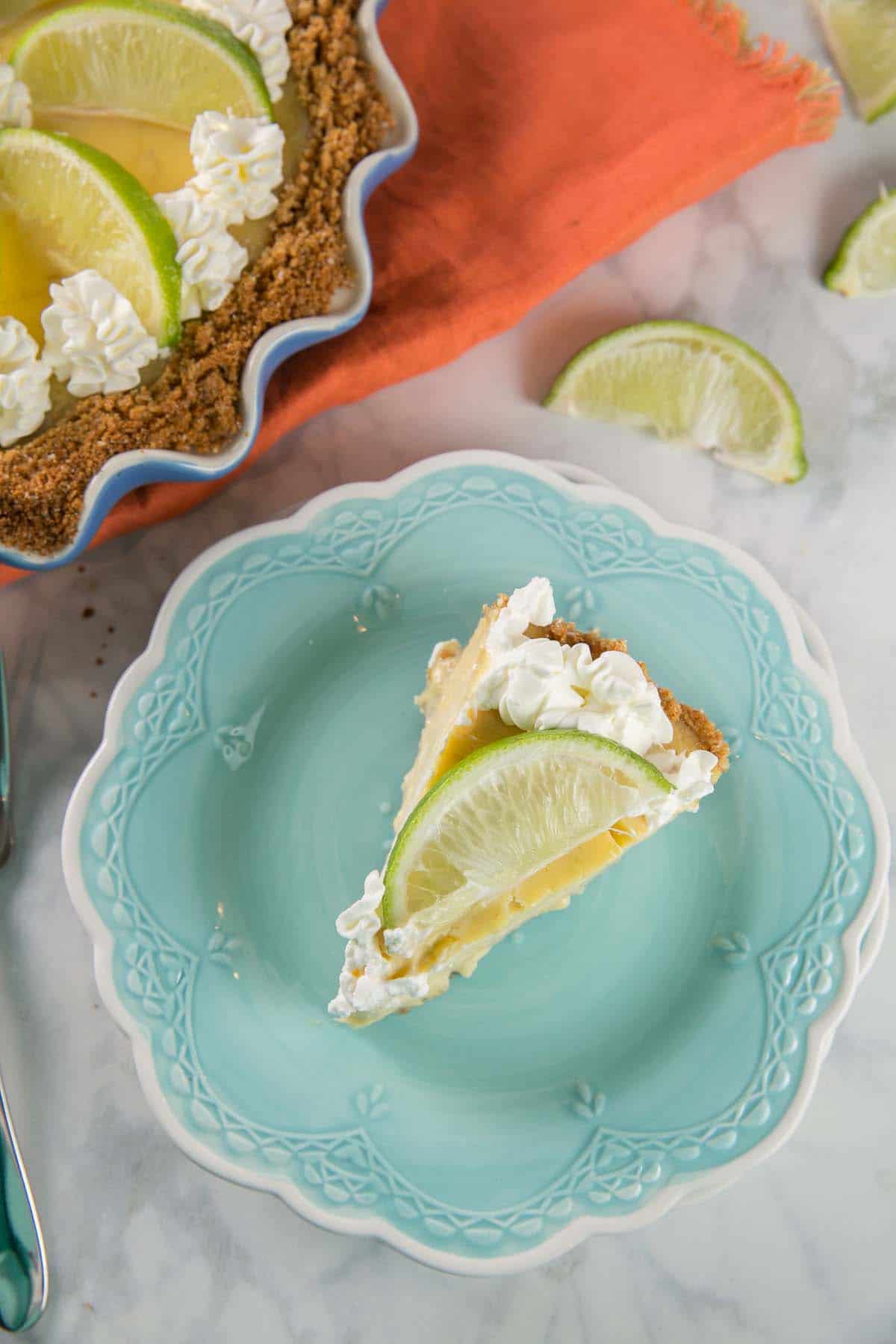 Margarita Lime Filling
The filling for this margarita pie was one of those recipes, like my coconut bundt cake, that required quite a bit of tweaking.
I love big, bold flavors, and I really wanted this pie to taste distinctly of lime and tequila.
Not so tequila-y that it brings back bad college memories, of course. But tequila-y enough that it doesn't taste like a plain old key lime pie. (No disrespect to key lime pies – I love them! But this is a margarita pie.)
As you can probably imagine, the first few attempts were either not tequila or lime-y enough, or involved so much liquid that the custard never set. Trial and error is the name of the game!
But I eventually found the perfect ratio of condensed milk, egg yolk, lime juice, and tequila for a creamy, dreamy, margarita pie.
Why are we using sweetened condensed milk in this custard pie? The answer, of course, all comes down to my favorite subject.. kitchen chemistry!
Kitchen Chemistry

Sweetened condensed milk contains a high amount of sugar, which stabilizes the proteins in the egg yolks and helps prevent them from overcooking and curdling. As the pie heats in the oven, the proteins in the egg yolks start to unfold. Without enough sugar, these denatured proteins will attach to other denatured egg proteins and form coagulated lumps of curdled eggs. In the presence of sweetened condensed milk, however, the sugar coats the egg proteins and prevents them from binding to each other.
Of course, all this magic happens without us while the custard is setting in the oven. All we have to do is whisk together the sweetened condensed milk, lime juice, lime zest, egg yolks, tequila, and triple sec and pour everything into the pie crust!
Recommended Tools to Make Margarita Pie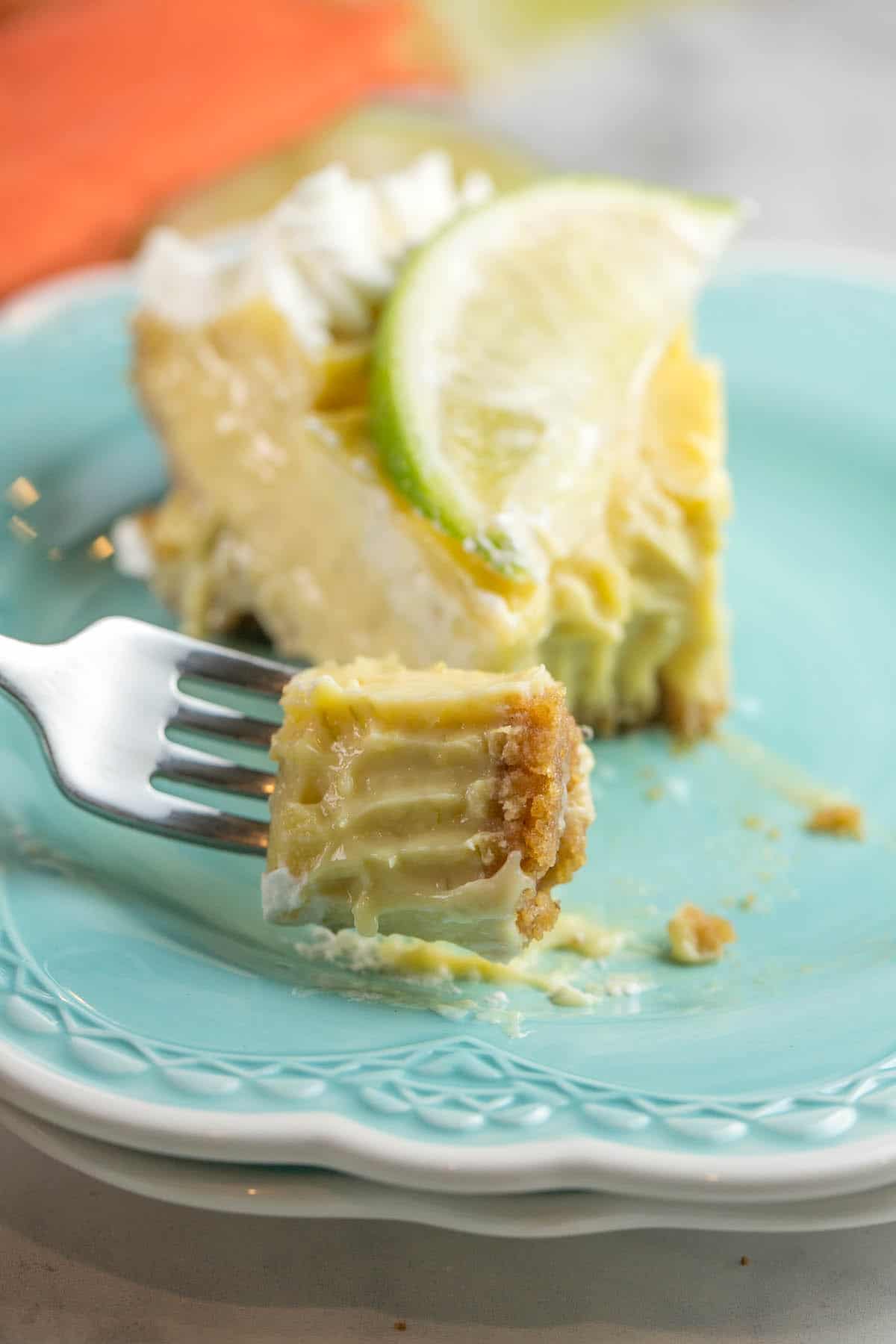 Tips and Tricks for the Best Tequila Lime Margarita Pie
Use fresh lime juice and zest for the best flavor. Bottled lime juice tastes dull and flat in comparison to fresh.
Don't overmix the filling! This can lead to a tough, rubbery texture – whisk just until everything is combined.
What's the best way to ensure the pie is baked properly? Use an instant-read thermometer! The center of the pie should register between 170-175°F when fully cooked – it will still be slightly jiggly in the middle.
Let the pie cool to room temperature before refrigerating it, which helps prevent condensation from forming on the pie.
Top the pie with whipped cream and lime slices just before serving for a little extra decoration.
Use a sharp knife to slice the pie, wiping the knife off between cuts, for perfect pie presentation.
This margarita pie can be stored in the refrigerator for up to 3 days after baking or frozen for up to 3 months.
More Citrus Desserts:
2018 Pie of the Month Series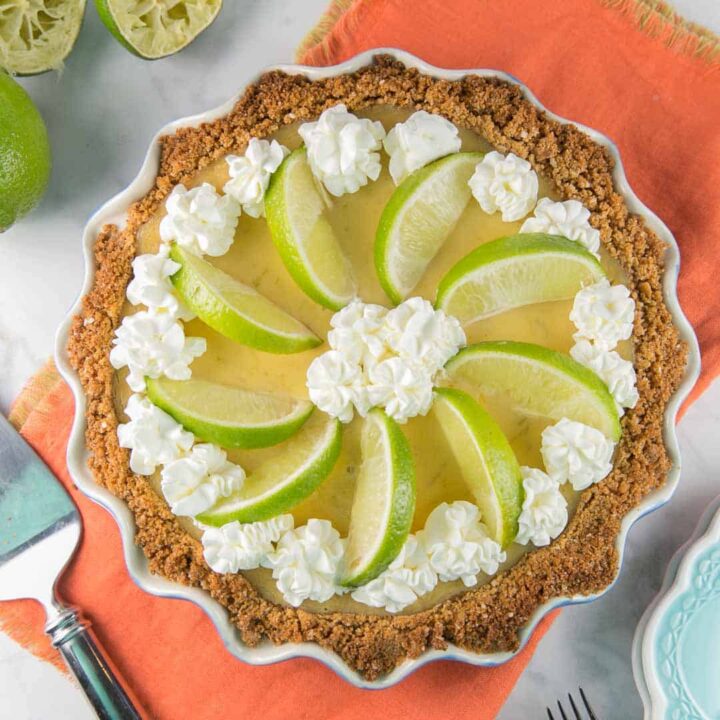 Tequila Lime Margarita Pie
Total Time:
1 hour
40 minutes
Enjoy your margarita in dessert form with a silky smooth lime custard made with tequila and triple sec and a salted graham crust.
Ingredients
For the graham cracker crust:
1 1/2 cups (150 grams) graham cracker crumbs
1/3 cup (66 grams) granulated sugar
1 1/2 teaspoons kosher salt
6 tablespoons (85 grams) melted butter
For the filling:
2 (14 ounce) cans full-fat sweetened condensed milk
1 cup (227 grams) freshly squeezed lime juice (5-6 medium-sized limes)
zest of 3 limes
5 large egg yolks
1/2 cup tequila
2 tablespoons triple sec
optional garnish: freshly whipped cream, salted limes
Instructions
Preheat the oven to 350 °F.
Prepare the graham cracker crust according to instructions, adding in the salt with the sugar. Remove from oven and let cool briefly while making lemon pie filling.
In a large bowl, whisk together the sweetened condensed milk, lime juice, lime zest, egg yolks, tequila, and triple sec until well combined. Pour into the graham cracker crust.
Bake the pie for 20-25 minutes, until the pie is set along the edges but still jiggly in the center. An instant-read thermometer inserted into the center of the pie should register 170-175°F. Remove from oven and cool to room temperature, then transfer to refrigerator and chill for 1 hour, up to 4 days.
Top with desired garnish just before serving: freshly whipped cream and/or salted limes.
Notes
This margarita pie can be made ahead of time.  After baking, cool at room temperature, then loosely wrap with plastic wrap and store in the refrigerator for up to 4 days, or cover tightly with a layer of plastic wrap and aluminum foil and freeze for up to 3 months.  Thaw overnight in the refrigerator.
Recommended Products
As an Amazon Associate and member of other affiliate programs, I earn from qualifying purchases.