October 1, 2018
Nutella Bundt Cake
A rich, buttery vanilla cake with swirls of Nutella and a decadent Nutella glaze.  This Nutella Bundt Cake is easy to make, but worthy of entertaining.  Let this cake shine as the star of your next celebration!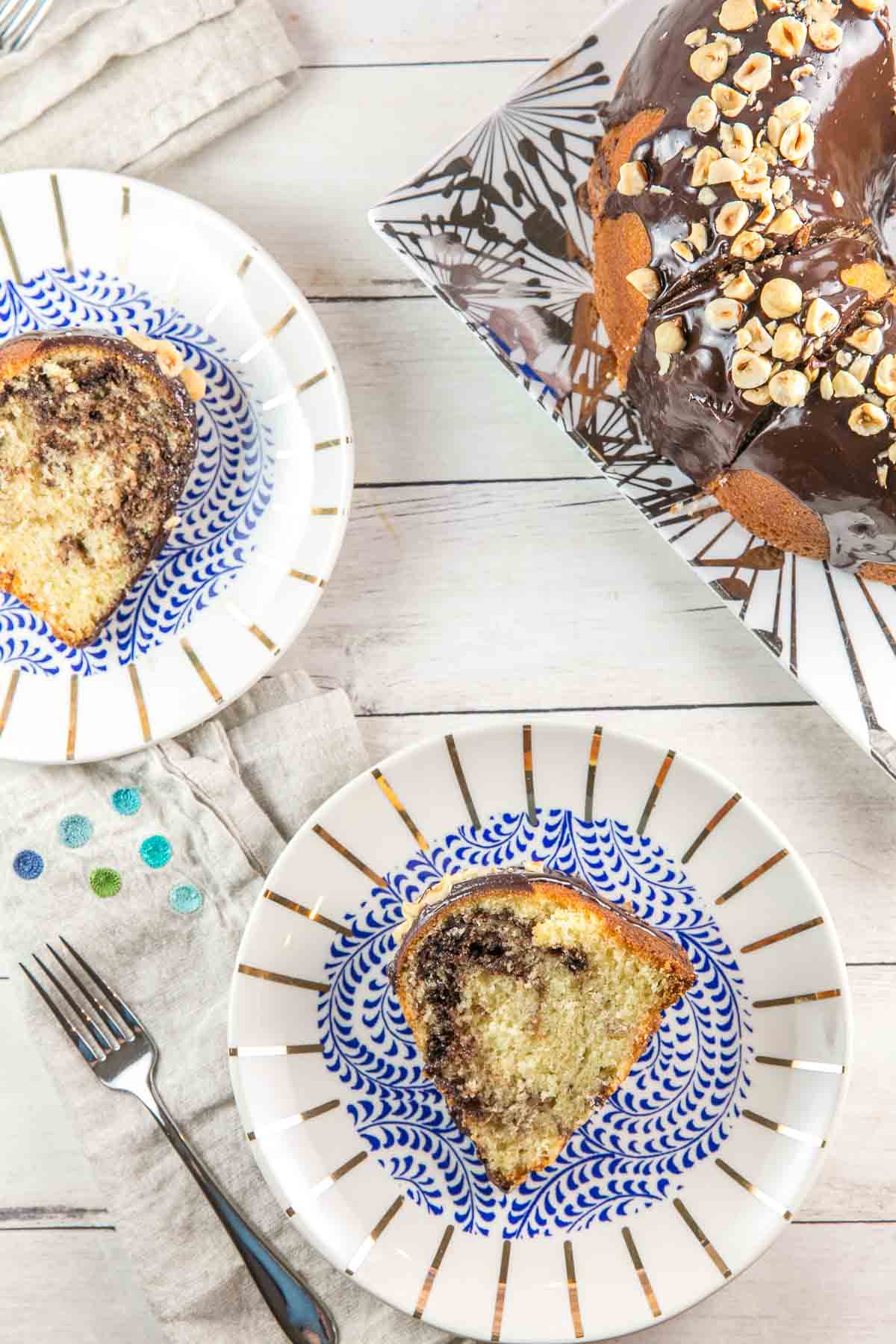 It's a little hard to believe that I did an entire yearlong series on bundt cakes, and yet never shared a recipe with everyone's favorite dessert condiment: Nutella!  Let's fix this now, with a deliciously decadent Nutella bundt cake.
Nutella is really the perfect match for a bundt cake.  It's rich and creamy on its own — perfect for a cake that doesn't use frosting.  The Nutella swirls into the batter, almost making it seem like the cake is mixed with frosting.
As if that isn't enough, we'll then make a Nutella glaze to pour right on top. If you love all things hazelnut, a sprinkling of toasted hazelnuts on top takes it right over the edge.
And the best part?  It's so dang easy.  It's way easier than a layer cake, yet fancy enough for any sort of celebration.  Talk about a cake win!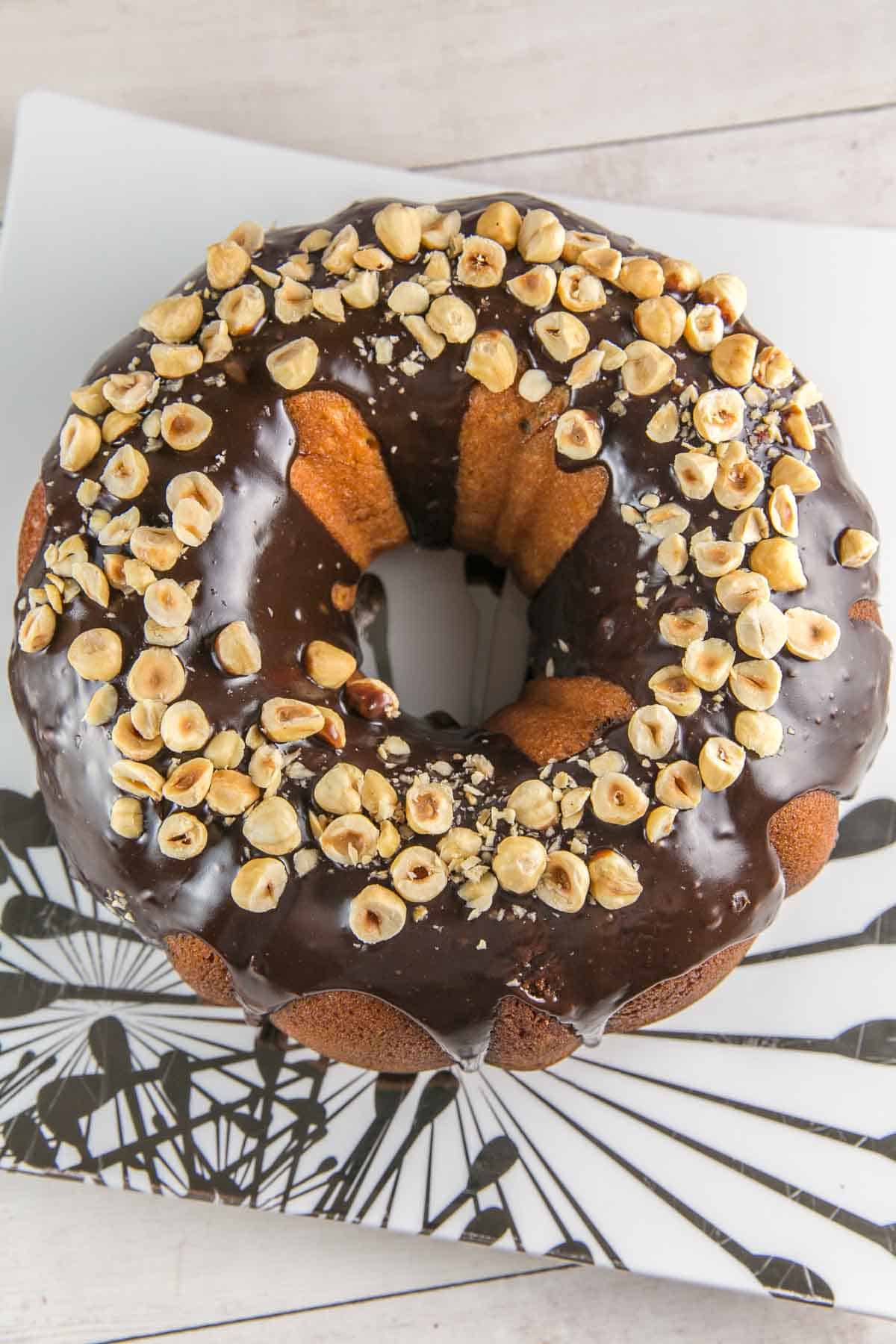 Best Butter-Based Bundt Cake Batter
Let's dive right in. This cake has a similar base to my much-loved marble bundt cake. Except instead of flavoring half the batter with chocolate, we're keeping it all vanilla.
It's a butter-based cake, which means the cake itself has a rich, buttery flavor, and it's a little denser.  I tested this cake out twice, once with an oil base and once with a butter base, and the butter base was the hands-down winner.
The cake made with butter not only tasted a little better, but it also had a much better texture. Of course, this can all be explained by my favorite subject… kitchen chemistry!
Kitchen Chemistry

Because bundt cakes are so thick, they tend to come out denser than a sheet cake or layer cake.  When we cream together butter and sugar, the sugar granules cut through the butter and create little pockets of air.  This is a process known as "mechanical leavening."  These air pockets will continue to puff up in a hot oven as they fill with steam, helping to provide additional lift and fluffiness to a cake.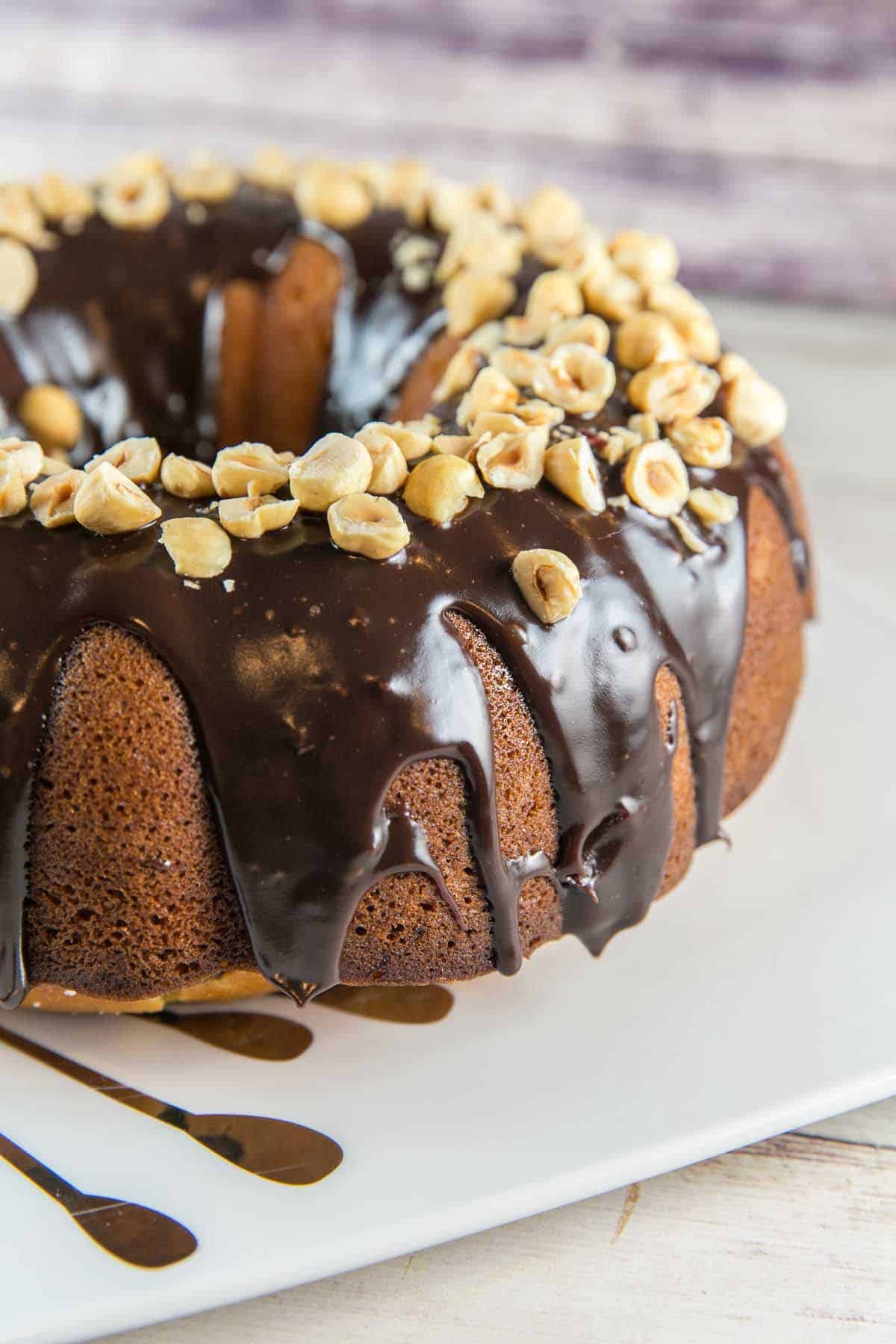 Thick Nutella Swirls
After pouring half of the batter into the bowl, spoon in the Nutella. 
I like to warm it in the microwave for 10-15 seconds, so it pours and swirls a little easier. This isn't fancy, just spoon it on top and take a knife to swirl it around a little. Then scoop the rest of the batter on top.
Once the cake cools, you'll cover the whole thing in a Nutella glaze. 
Whisk together the heavy cream and Nutella on the stovetop, then let it cool slightly.  Pour over the cake, using a spatula to gently push it over the edge of the bundt cake. 
Top with some toasted hazelnuts for a little crunch. Perfection.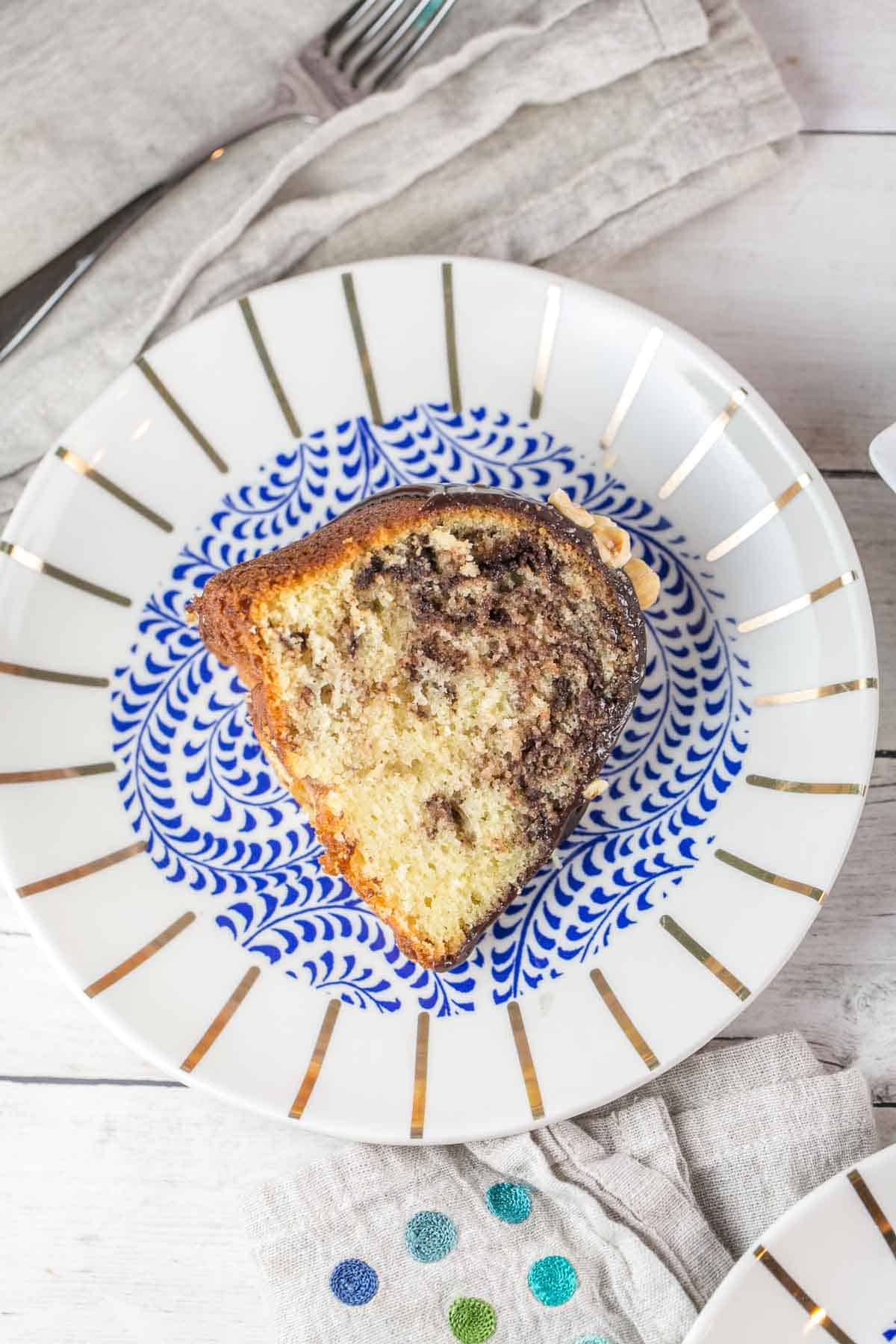 Recommended Tools to Make Nutella Bundt Cake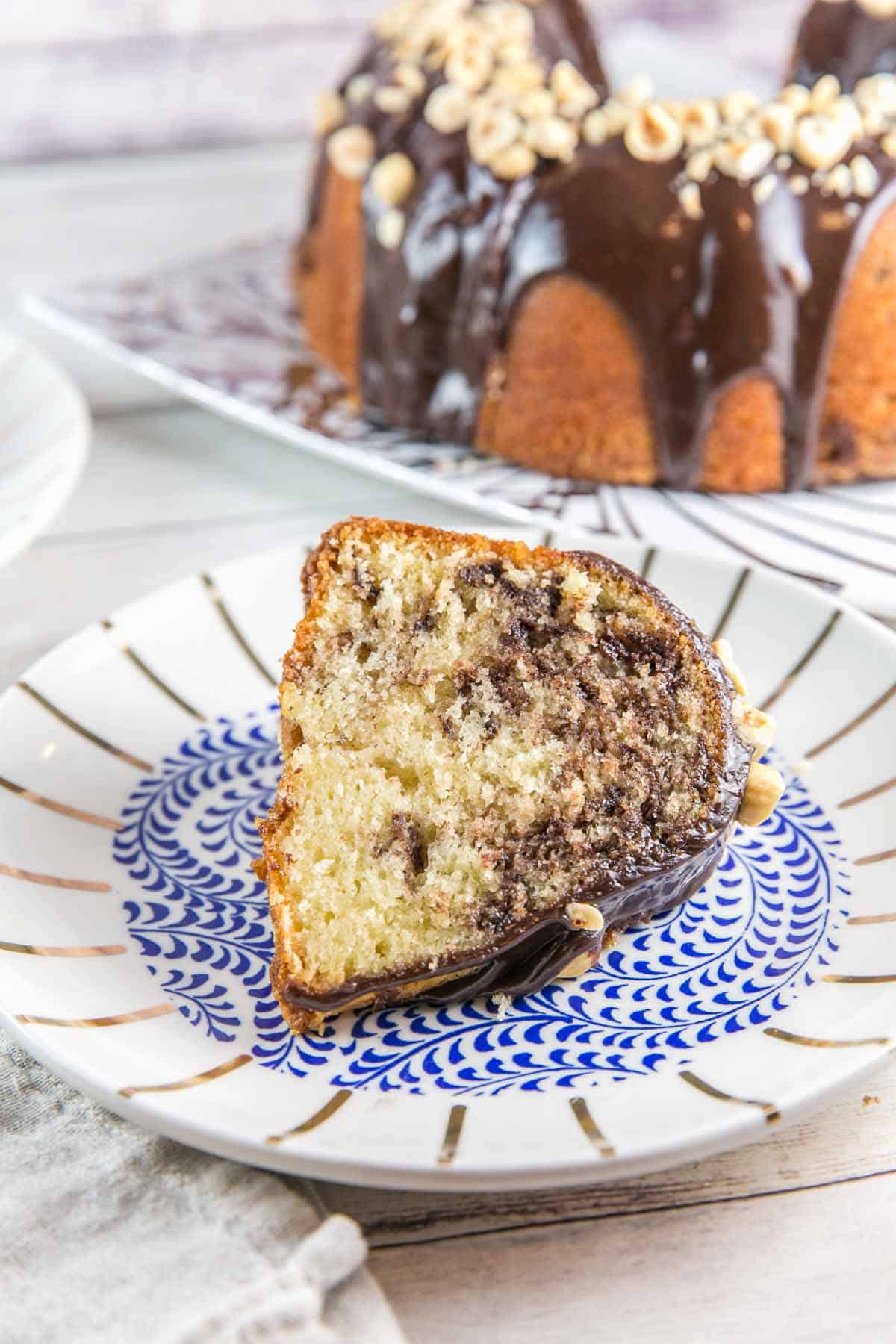 Tips and Tricks for the Best Nutella Bundt Cake
New to baking in bundt pans? Looking for the best tips and tricks to ensure your cake doesn't stick? Check out THIS POST for all my best bundt tips!
No bundt pan? No problem! Bake this cake in two loaf pans instead of a bundt pan. Divide between two well-greased 9×5-inch loaf pans and bake for 40-50 minutes.
Don't overbake the cake – this will result in a drier, crumbly texture. Bake just until the edges begin to pull away from the pan and the top is springy when pushed back.
Wait until the cake is fully cooled before adding the frosting – otherwise it will not set and will run off the sides of the cake.
Bought buttermilk to make this cake and have extra? Freeze your leftover buttermilk and use it for future baking!
More Nutella Desserts: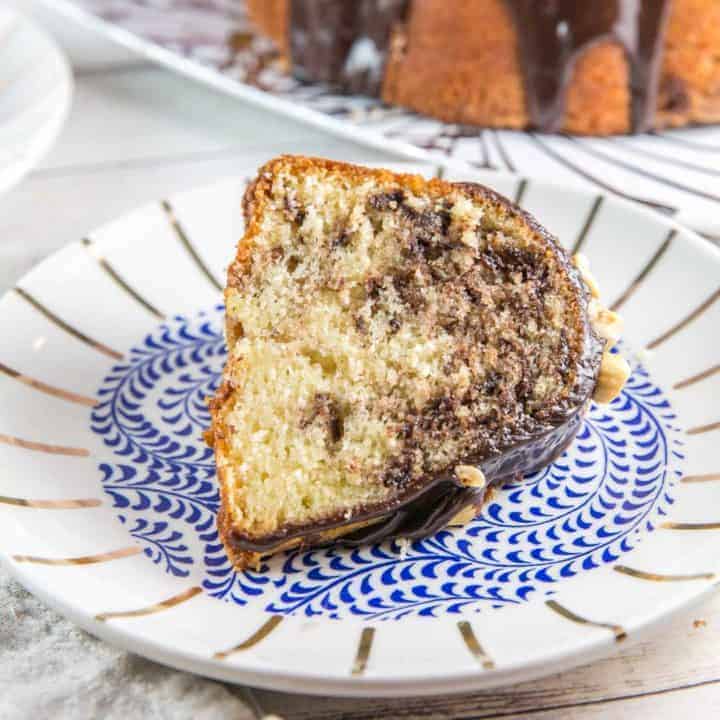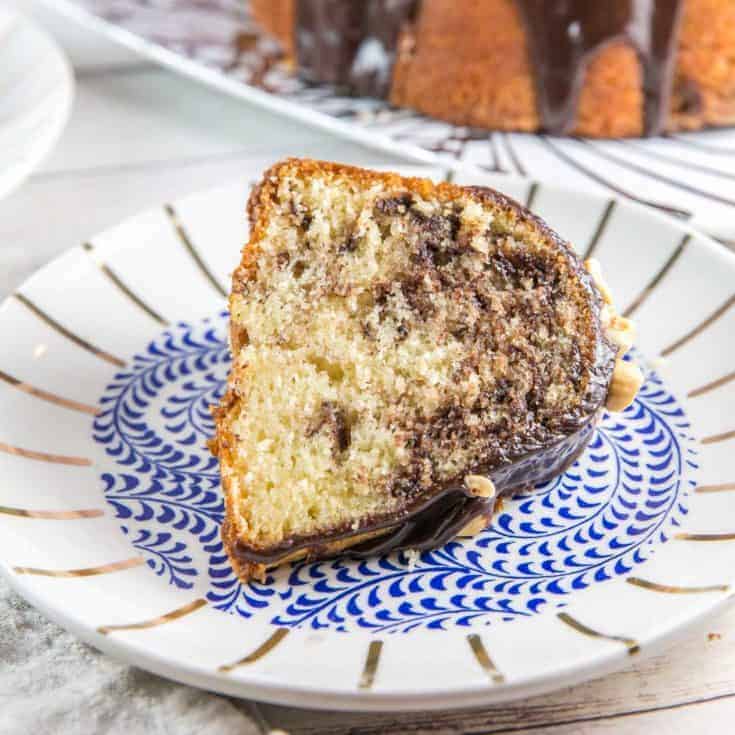 Nutella Bundt Cake
A rich, buttery vanilla cake with swirls of nutella and a decadent nutella glaze. This nutella bundt cake is easy to make, but worthy of a celebration.
Ingredients
FOR THE CAKE:
1 1/4 cup (282.5 grams) unsalted butter, room temperature
2 cups (396 grams) granulated sugar
5 large eggs, room temperature
1 1/2 tablespoons vanilla extract
1/2 cup (113.5 grams) full-fat sour cream
2 teaspoons baking powder
1 teaspoon baking soda
1/2 teaspoon salt
3 cups (360 grams) all purpose flour
3/4 cup (170.3 grams) buttermilk, room temperature
1/2 cup (160 grams) nutella
FOR THE GLAZE:
1/2 cup (113.5 grams) heavy cream
1/2 cup (160 grams) nutella
For topping:
1/2 cup (85 grams) chopped toasted hazelnuts
Instructions
Preheat the oven to 350 °F.
In a large bowl, beat together the butter and sugar until light and fluffy, 2 to 3 minutes. Add eggs, one at a time, followed by the vanilla and sour cream. Beat until smooth. Add in the baking powder, baking soda, salt, and half the flour, continuing to mix. Add in the buttermilk, followed by the rest of the flour. Continue to mix just until no streaks of flour remain.
Generously grease and flour a 12 cup metal bundt pan. Spread half the cake batter in the pan and smooth the top with a spatula. Scoop the nutella on top of the batter, then swirl into the batter with a knife. Pour in the rest of the cake batter. Gently but firmly bang the pan on the counter a few times to release any air bubbles.
Bake for 50-55 minutes, or until a toothpick inserted into the center of the cake comes out clean. Allow the cake to cool in the pan for 10 minutes, then invert onto a wire rack and cool completely.
While the cake cools, make the glaze. Combine the heavy cream and nutella in a small saucepan over low heat. Whisk together until smooth and fully combined. Remove from the heat and cool for 10 minutes, until slightly thickened. Pour the glaze over the cooled cake and sprinkle with the toasted hazelnuts.
Notes
Cake will keep stored in an airtight container at room temperature for 3-4 days. To freeze, wrap cake tightly in plastic wrap, followed by a layer of aluminum foil. Allow to thaw overnight at room temperature before serving.
Recommended Products
As an Amazon Associate and member of other affiliate programs, I earn from qualifying purchases.