April 22, 2022
Dark Chocolate Cookie Cake
Made in one bowl with no need to chill the dough, this Dark Chocolate Cookie Cake is quick, easy, and perfect for all occasions! Thicky, fudgy, and filled with chocolate chips — and don't forget the fudgy whipped ganache frosting to take it to a whole other level!
It's no secret that I'm a big fan of cookie cakes. They're such a good all-occasion dessert! Faster than cake or cookies, but just as celebratory – and the flavor possibilities are endless!
No baking and frosting layers. No waiting for the dough to chill and rolling it into lots of little balls.
Just mix ingredients together in one bowl and bake in one pan. Decorate with some easy whipped ganache frosting. Or not – naked cookie cakes are delicious, too!
For this particular version, we're using a dark chocolate cookie cake base, filled with triple chocolate — Dutch-process cocoa powder, semi-sweet chocolate chips, and white chocolate chips.
Birthday? Anniversary? End of school year celebration? Just because it's a random Wednesday and you deserve a cookie cake? Yes, yes, and yes.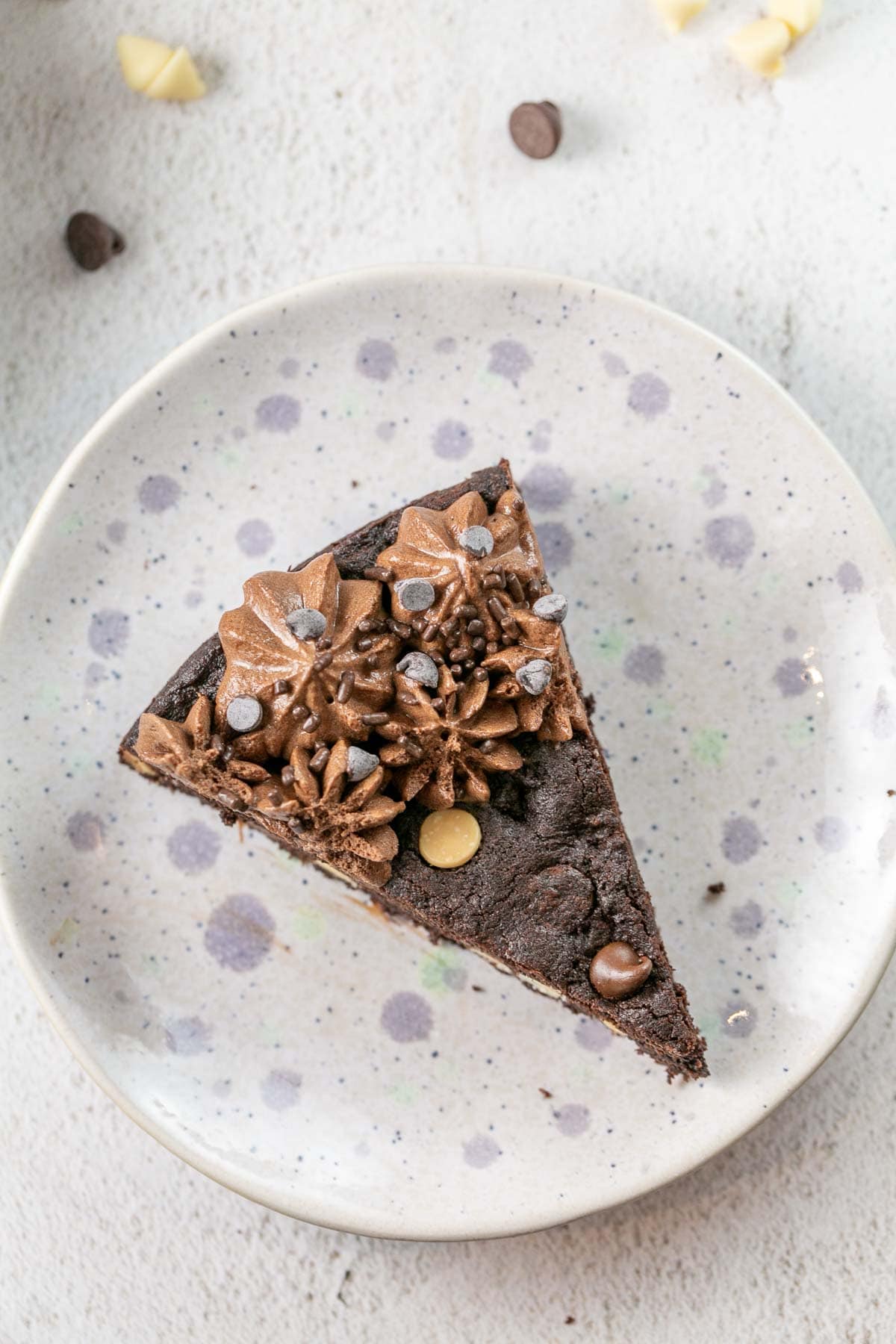 Not Just a Giant Cookie
Don't get me wrong – I wouldn't turn down a giant cookie! But a cookie cake is not just a super-sized version of your favorite cookie recipe.
There are cookies cooked in a skillet or on a pizza stone. And then there are cookie cakes.
Cookie cakes are thicker, chewier, and more… cakey. Just like a cake should be. Even a cake of the cookie variety.
Because they're so thick, the outside of the cookie cake can get a little crisp, but the inside stays ooey-gooey and super soft.
It's the best of both worlds, and it can all be yours in under an hour!
Brown Sugar for Extra Softness
To keep our cookie cake extra cakey (i.e., soft and chewy), we're going to use brown sugar instead of granulated.
Playing with the ratio of brown and granulated sugar is one of my favorite tricks when it comes to making cookies or cakes chewier or, well, cakier. And in this case, we're going all in — 100% brown sugar!
Adding this much brown sugar keeps the inside super soft and moist – it almost feels undercooked in the middle. (But don't worry – it will be fully cooked and perfectly safe to eat!)
You can use either light brown or dark brown sugar for this dark chocolate cookie cake. Traditionally dark brown sugar contained more molasses than light brown, but over time the difference in amount has been getting smaller (and some companies use practically the same amount but add additional coloring to dark brown sugar!).
So how does this added molasses make brown sugar different than white sugar? It's time for my favorite subject… kitchen chemistry!
Kitchen Chemistry

Molasses adds moisture to the sugar, but more importantly, it adds acidity. Unlike granulated sugar, brown sugar is acidic, which lowers the pH of the cookie batter. This causes the proteins to firm up faster while they bake, creating a chewier texture. The brown sugar also reacts with the baking soda in the recipe to produce carbon dioxide, which creates additional lift as the cookie cake bakes, resulting in a softer interior texture.
Chilling Dough Optional
One of the reasons this dark chocolate cookie cake is so quick is because we don't have to chill the dough!
When rolling out typical cookies, the butter should be as solid as possible before going into a hot oven. This helps cookies retain their shape, rather than spreading too quickly.
But a cookie cake is contained inside a pan, so spreading doesn't matter! The dough can be pressed into the pan as soon as it's made and baked immediately.
Not ready to bake your cookie cake right away? No problem! Go ahead and chill the dough.
Flavors continue to develop the longer the dough sits, so refrigerate the dough for up to 24 hours for a deeper flavor, or freeze the dough for up 3 months before baking.
Best Fudgy Ganache Frosting
While I'll say that frosting a cookie cake is optional, deep down I do truly feel like a cookie cake needs some frosting!
And for this dark chocolate cookie cake, we're going to use my favorite dark chocolate fudgy ganache frosting!
Have you had chocolate ganache spread across the top of a cake or pie before? Did you know we can turn this into pipeable frosting… just by whipping it?!
We can, and it's delicious! It packs all the super chocolatey flavor of chocolate ganache with a lighter texture, perfect for decorating!
I find it's almost too rich to spread all over a cake, so I love to use it to add a little decoration, like piping a little along the edge of a cookie cake.
Use good quality chocolate for the frosting, make sure to let it cool before whipping, and don't forget to add a pinch of salt to help cut the sweetness!
Tips and Tricks for the Best Dark Chocolate Cookie Cake
Use room temperature butter and eggs. Chilled butter won't incorporate into the batter as well, but butter that is too soft and melty won't aerate with the sugar well enough.
Use baking soda, not baking powder! Baking powder is more common for baking and I'm often asked if this is an error – it's not! The brown sugar lowers the pH of the batter, so the only necessary leavening agent is baking soda.
A combination of dark and white chocolate chips makes the best visual appearance. Only have one? No problem. Or try substituting peanut butter chips or butterscotch chips! Don't forget to press a few additional chips on top right before baking to ensure they are visible on top of the cake.
Chill the ganache frosting for at least 2 hours before whipping. If the ganache is still warm, it won't whip properly and the frosting will never set into a pipeable consistency.
Cool the cookie cake before frosting and serving. Cutting the cake while warm will result in a more crumbly mess. If you want the experience of a warm, melty cookie, cool the cake, cut it into slices, and then reheat each slice in the microwave for 20 seconds.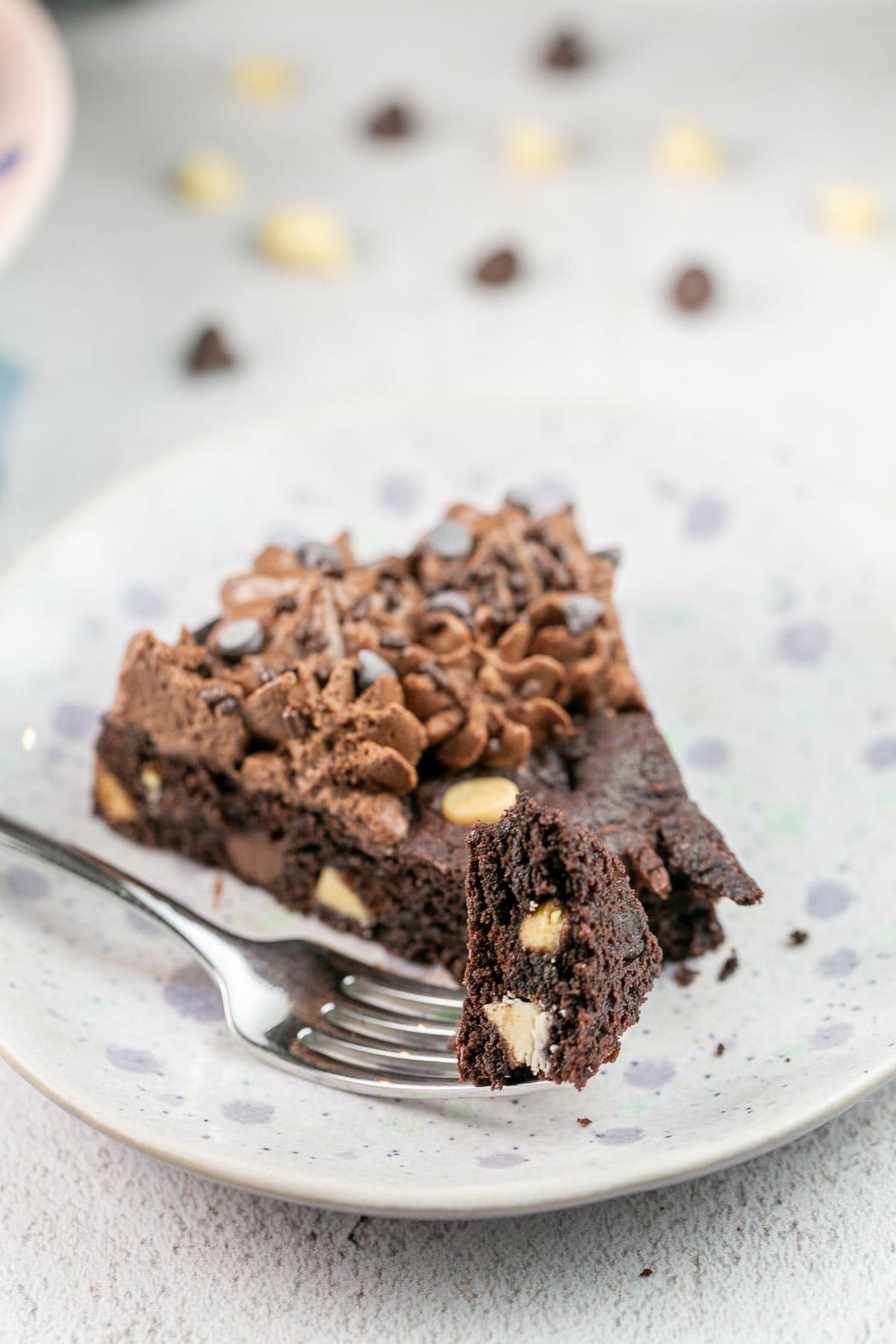 More Cookie Cake Recipes:
Dark Chocolate Cookie Cake
Made in one bowl with no need to chill the dough, this Dark Chocolate Cookie Cake is quick, easy, and perfect for all occasions! Thicky, fudgy, and filled with chocolate chips — and don't forget the fudgy whipped ganache frosting to take it to a whole other level!
Ingredients
For the Cookie Cake:
1/2 cup (113 grams) unsalted butter, room temperature
3/4 cup (160 grams) brown sugar, packed
1 large egg, room temperature
1 teaspoon vanilla extract
1 cup (120 grams) all-purpose flour
1/2 cup (42 grams) dutch process cocoa powder
1/2 teaspoon baking soda
1/2 teaspoon salt
1/2 cup (85 grams) chocolate chips
1/2 cup (85 grams) white chocolate chips
For the Whipped Ganache Frosting:
1 cup (227 grams) heavy cream
6 ounces (170 grams) dark or semisweet chocolate, chopped
pinch of salt
Instructions
Preheat the oven to 350 °F. spray a 9″ springform pan (or cake pan or pie plate) with nonstick cooking spray.
Make the cookie cake dough. Using an electric mixer, cream together the butter and brown sugar until light and fluffy, about 4 minutes. Add in the egg and vanilla extract, continuing to beat together until well combined. Slowly mix in the flour, cocoa powder, soda, and salt until just combined, scraping down the sides of the bowl. Stir in the chocolate chips by hand.
Bake the cookie cake. Transfer the dough to the prepared baking dish. Bake for 25 minutes, or until the top is golden brown and the dough is set. Allow the cookie cake to cool until room temperature.
Make the frosting. While the cookie cake is cooling, combine the heavy cream and chopped chocolate in a small microwave-safe bowl. Microwave for 30 seconds and stir well. Repeat this process until the chocolate is fully melted and smooth, whisking in the pinch of salt at the end. Whip this chocolate ganache using the whisk attachment of a mixer or immersion blender on medium speed until the ganache is just able to hold its shape in a pipeable consistency (do not overwhip).
Decorate the cookie cake. Remove the cooled cookie cake from the pan and pipe or spread on the whipped chocolate ganache frosting. Decorate with additional chocolate chips or chocolate sprinkles, as desired.
Notes
Use room temperature ingredients for the best texture.
The dough can be prepared ahead of time before baking, and stored in the refrigerator for up to 24 hours or in the freezer for up to 3 months. Thaw fully before baking.
Let the cake cool completely before slicing. To eat a warm slice of cookie cake (delicious with ice cream!), microwave a slice for 20 seconds before serving.
Dark Chocolate Cookie Cake can be stored in an airtight container at room temperature for up to 4 days or frozen for up to 3 months.
Recommended Products
As an Amazon Associate and member of other affiliate programs, I earn from qualifying purchases.