January 29, 2021
Oatmeal Jam Bars
Whip up an easy batch of these one-bowl Oatmeal Jam Bars for delicious fresh fruit flavor year round. Easy to make, easy to share, and freezer friendly!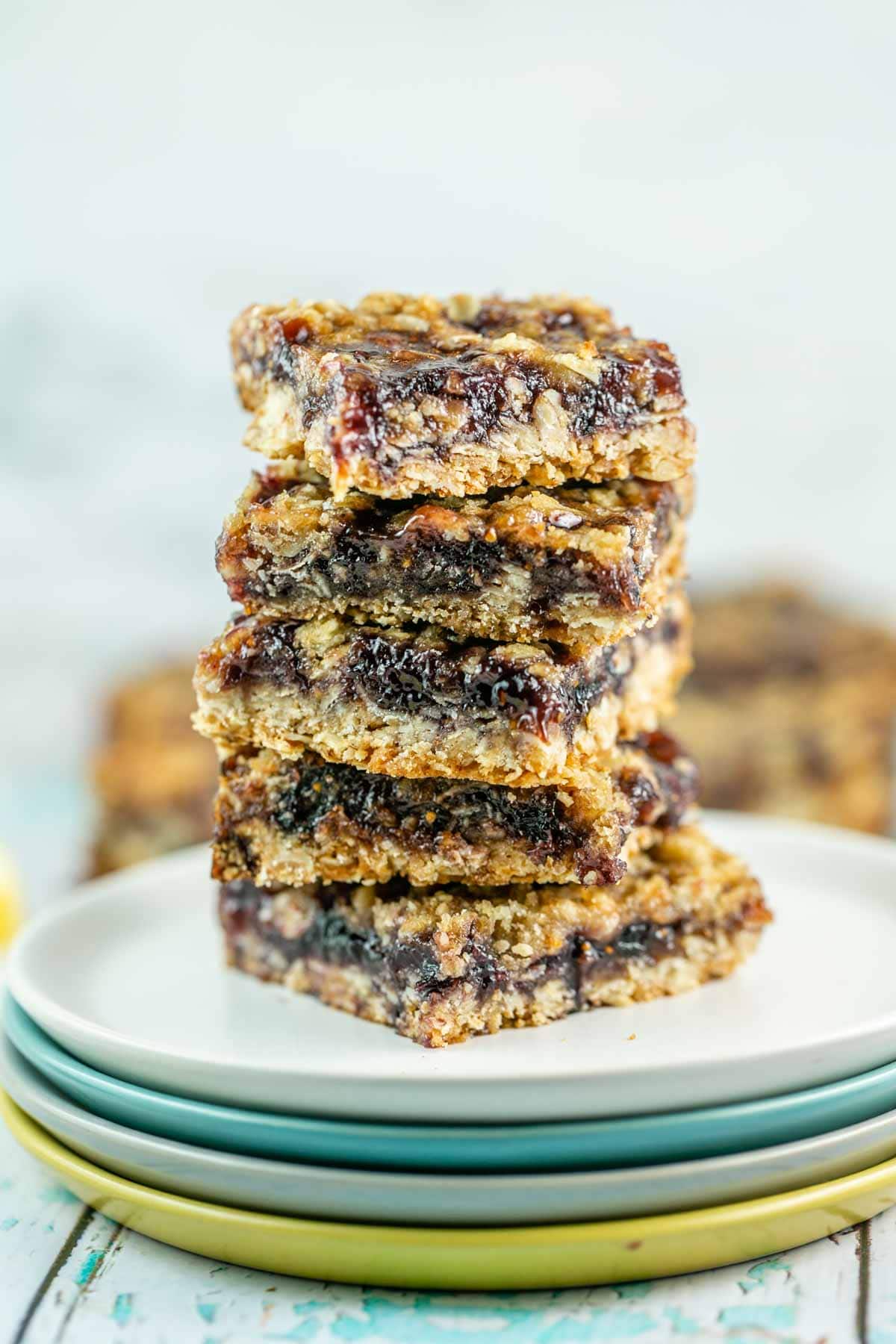 If you know one thing about my dessert preferences, it's probably that I love fruit desserts above all other desserts.
As such, I love baking in the summer. So much wonderful ripe fresh fruit – I just can't get enough!
But as we move into fall, and now into the dead of winter – it's hard. Fruit options are pretty slim – berries are expensive and many other summer staples are nowhere to be found.
The good news? You can find good quality jam year-round, and it's the perfect way to get your fruit dessert fix – and it's even easier than baking with fresh fruit! (Prefer to bake with whole fruit instead? Try these Berry Oatmeal Crumble Bars!)
Not only are these oatmeal jam bars easy (and fruity), they're perfect to share with friends or neighbors (individually cut desserts: so social distancing friendly!) or to stock in your freezer for a later day.
And most importantly: they're really delicious. I shared these with a friend who has sampled many, many of my desserts over the past 5 years, and she declared this one of her top 5 favorites.
An easy, foolproof dessert that can be made days (or months!) ahead of time, requires all ingredients that are easy to keep in your kitchen, and rave-worthy? Yes, please!
One Bowl Oatmeal Shortbread Crust
The crust for these is seriously easy — as in, one bowl, mix by hand, level easy.
And the best part: the crust pressed into the bottom of the pan and the mixture sprinkled on top of the bars is exactly the same.
To keep this easy, we're using melted butter in the crust – no need to pull out a mixer to cream the butter or cut cold pieces of butter into the dough.
Stir in flour, rolled oats (the old-fashioned kind – not a packet of oatmeal), and a few other ingredients, mixing just until combined, then press roughly 2/3rds of the mixture into your baking pan.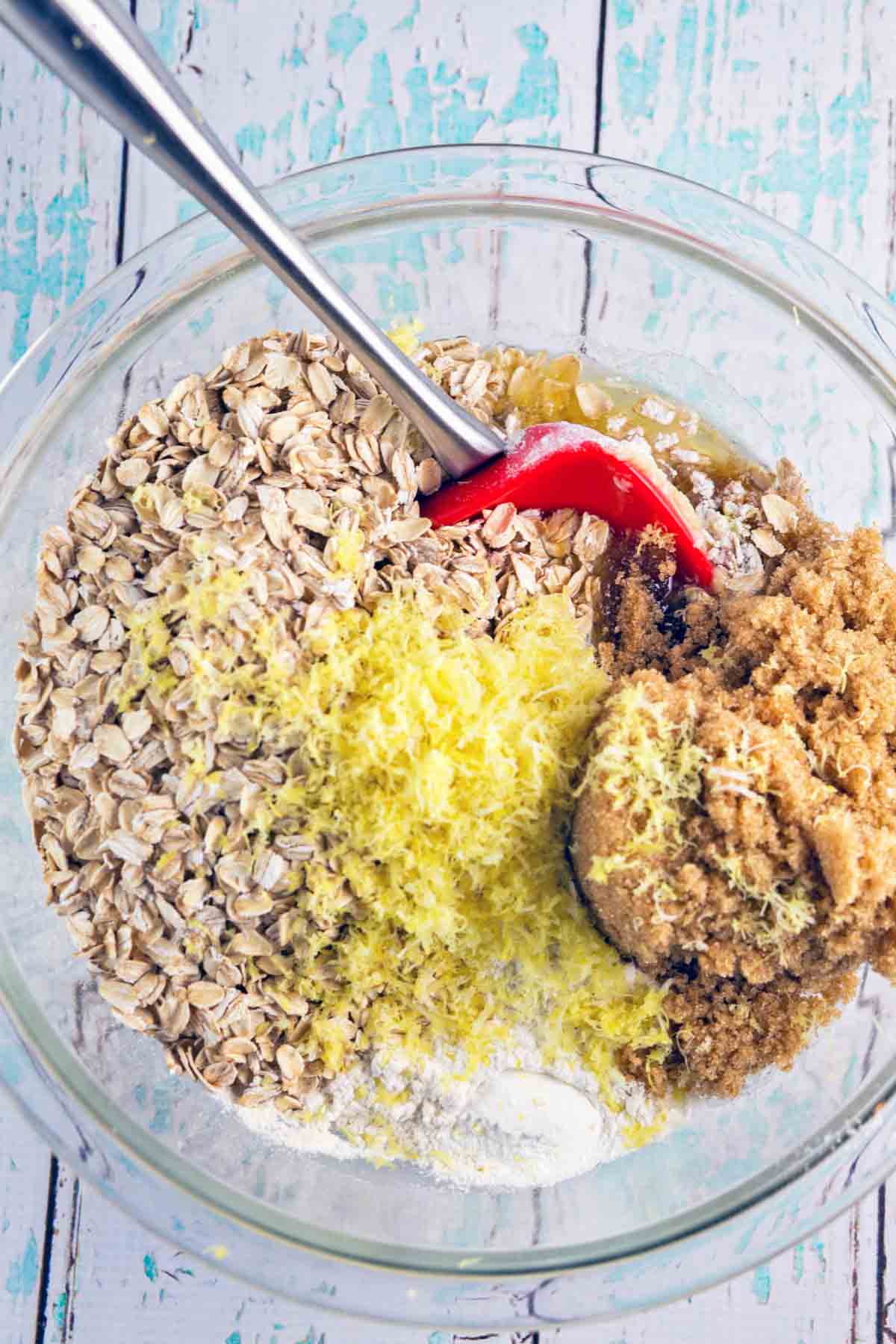 Easy Jam Layer
Feel free to use your favorite good quality jam or fruit preserves for the filling — personally, I'm partial to blueberry with some fresh lemon zest. (I love love love blueberry desserts.)
One thing I don't recommend? Using jelly. Why is jam better than jelly for most baking? It's time for my favorite subject… kitchen chemistry!
Kitchen Chemistry

The fruit flavor in jelly comes from fruit juice, while jam uses fruit pulp or mashed fruit. Because jam uses crushed whole fruit, it tends to be less stiff and more flavorful. Since it contains the whole fruit that has been cooked down, jam also holds its texture better when baked.
Jam (or fruit preserves, which have large chunks of fruit than jam) packs more fruit flavor, is easier to spread an even layer across the oatmeal crust, and maintains a better texture when baking.
It's a fairly similar consistency to cooking down lots of fresh berries with sugar before making a pie – but easy to find year-round, whether or not it's berry season!
Recommended Tools to Make Oatmeal Jam Bars
9 x 13 inch Springform Pan: A springform pan makes these jam bars so easy to remove, although a regular 9×13-inch baking dish lined with parchment paper works as well.
Glass Mixing Bowl: These glass mixing bowls are my favorite – many sizes and microwave, oven, and dishwasher safe!
Good Quality Jam: Good quality jam, bursting with fruit flavor, makes the best-tasting jam bars!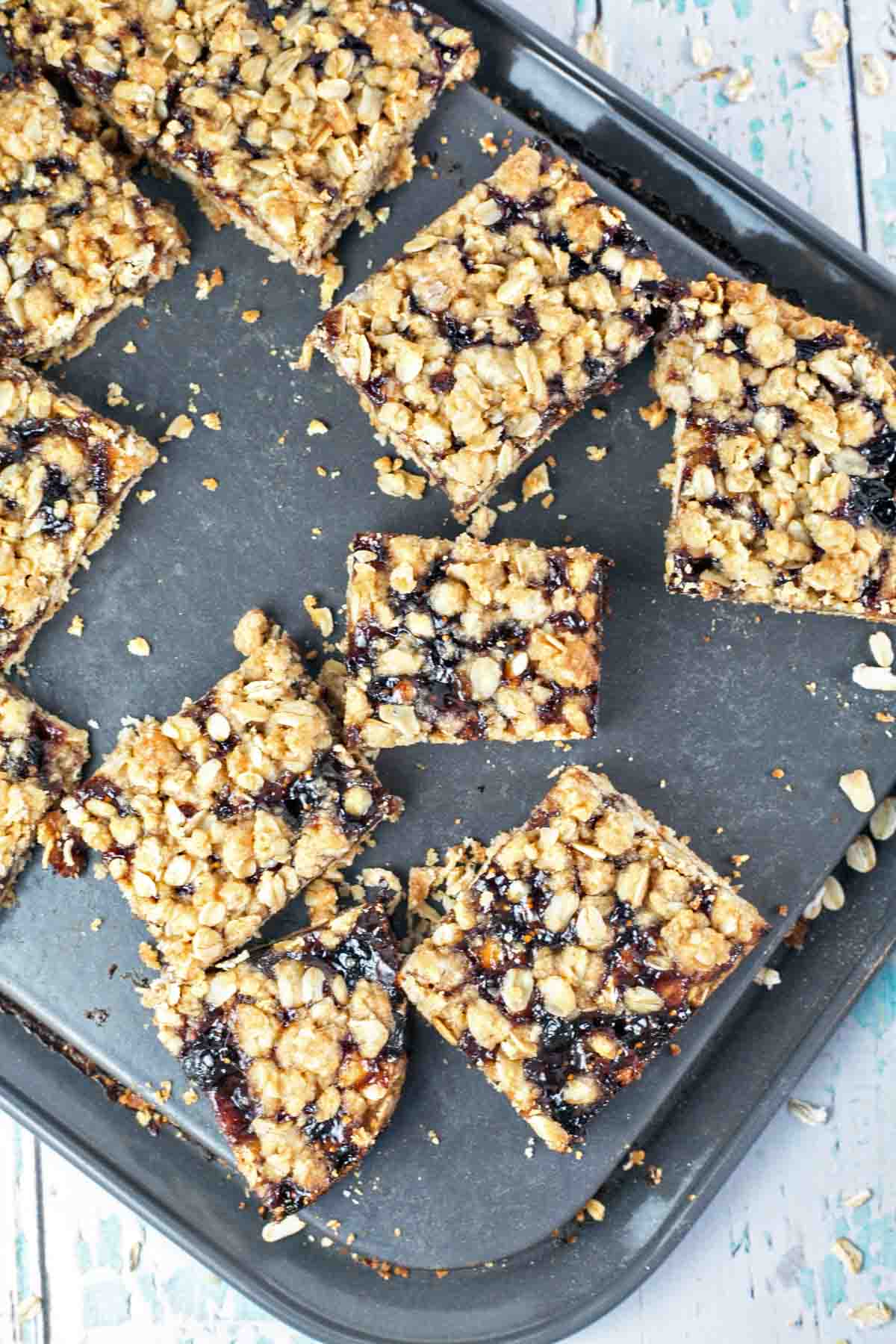 Frequently Asked Questions about Oatmeal Jam Bars
What kind of jam is best for this recipe?
Any good quality jam or fruit preserve will work, but avoid jelly if possible. Some of my favorite brands for baking include Bonne Maman, Sarabeth's, and Crofters.
How do you remove oatmeal jam bars from the pan?
The easiest answer to this, by far, is to use a rectangular springform pan (affiliate link) – after removing the sides, the bars can be cut on the pan. Otherwise, line your baking pan with foil leaving an overhang on each edge, and lift out of the pan once fully cooled.
How do you cut oatmeal jam bars neatly?
Cool the bars completely before cutting. The bars will crumble if you try to cut them while still warm.
Can oatmeal jam bars be frozen?
These freeze wonderfully. Wrap individual bars in aluminum foil and store them in a freezer-safe plastic bag for up to 3 months. Thaw at room temperature before eating.
More Easy Dessert Bars: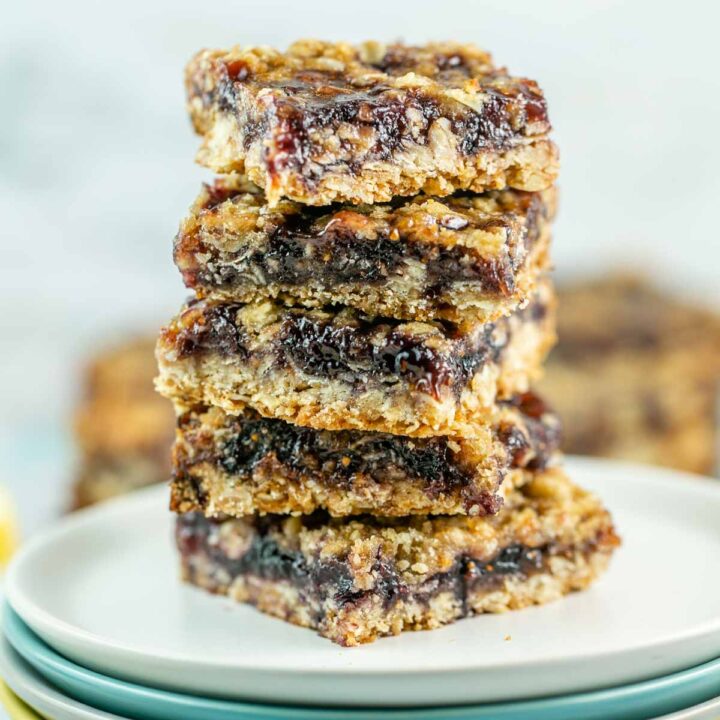 Oatmeal Jam Bars
Whip up an easy batch of these one bowl, one spoon Oatmeal Jam Bars for delicious fresh fruit flavor year round.
Ingredients
1 cup (226 grams) unsalted butter, melted
2 cups (240 grams) all-purpose flour
2 cups (178 grams) old fashioned rolled oats
1 1/2 (319.5 grams) cup brown sugar, divided
1/2 teaspoon salt
3/4 teaspoon baking powder
2 teaspoons vanilla extract
1 tablespoon lemon zest
18 ounces (510 grams) jam or fruit preserves
Instructions
Preheat the oven to 350 °F. Spray a 9×13-inch rectangular springform pan with cooking spray, or line a normal 9×13-inch pan with aluminum foil, extending over the sides of the pan, then spray with cooking spray.
In a large, microwave safe bowl, melt the butter. Add in the flour, rolled oats, 1 cup (213 grams) of the brown sugar, salt, baking powder, vanilla extract, and lemon zest. Stir to combine; no streaks of flour should remain. The mixture will be quite thick and it may be easiest to mix with your hands.
Set aside 1 1/2 cups of the oat mixture. Press the rest into the bottom of the prepared pan, using the bottom of a glass to push the dough into a solid, flat layer. Spoon the jam over the bottom crust and spread evenly with a knife. Add the remaining 1/2 cup brown sugar to the reserved dough. Using your fingers, crumble the dough and mix with the additional sugar. Crumble this over top the layer of jam.
Bake for 30-35 minutes, until the jam is bubbling and the top crumble is golden brown. Remove from the oven and cool completely. To serve, run a sharp knife along the inside edge of the springform pan or lift the entire layer of jam bars from the pan using the aluminum foil as a handle. Slice into bars and serve.
Notes
Bars can be kept in an airtight container at room temperature for up to 3 days, refrigerated for up to a week, or frozen for up to 3 months.  To freeze, wrap bars in plastic wrap and store in a zippered freezer bag.
Recommended Products
As an Amazon Associate and member of other affiliate programs, I earn from qualifying purchases.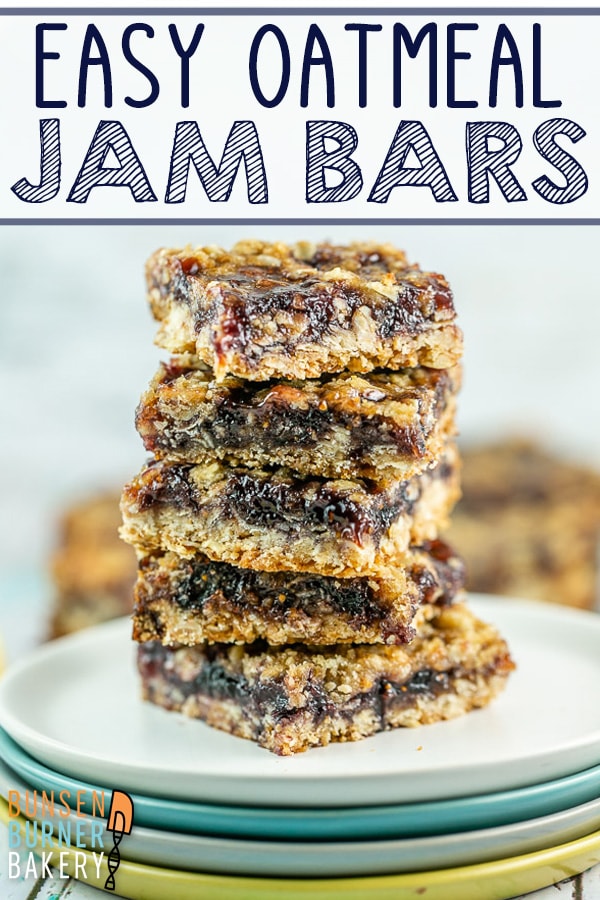 This Oatmeal Jam Bars recipe was originally published on 12/08/2016 and republished with new photos and helpful tips on 01/29/2021.