December 8, 2016
Oatmeal Jam Bars
Thank You for supporting the brands that support me and allow me to continue to grow my blog. This shop has been compensated by Collective Bias, Inc. and its advertiser. All opinions are mine alone. #EasyHolidayEats #CollectiveBias
Whip up an easy batch of these one bowl, one spoon Oatmeal Jam Bars for your next gathering. Easy, delicious, and freezer friendly.
As you may have noticed from my recent posts, I'm focusing on easy holiday entertaining desserts right now. Hosting holiday parties is my jam!
(Get it? A recipe for Oatmeal Jam Bars… parties are my jam… yeah. It's almost 2am. I should probably go to bed, because I'm sure that's not actually as funny as it sounds in my head right now.)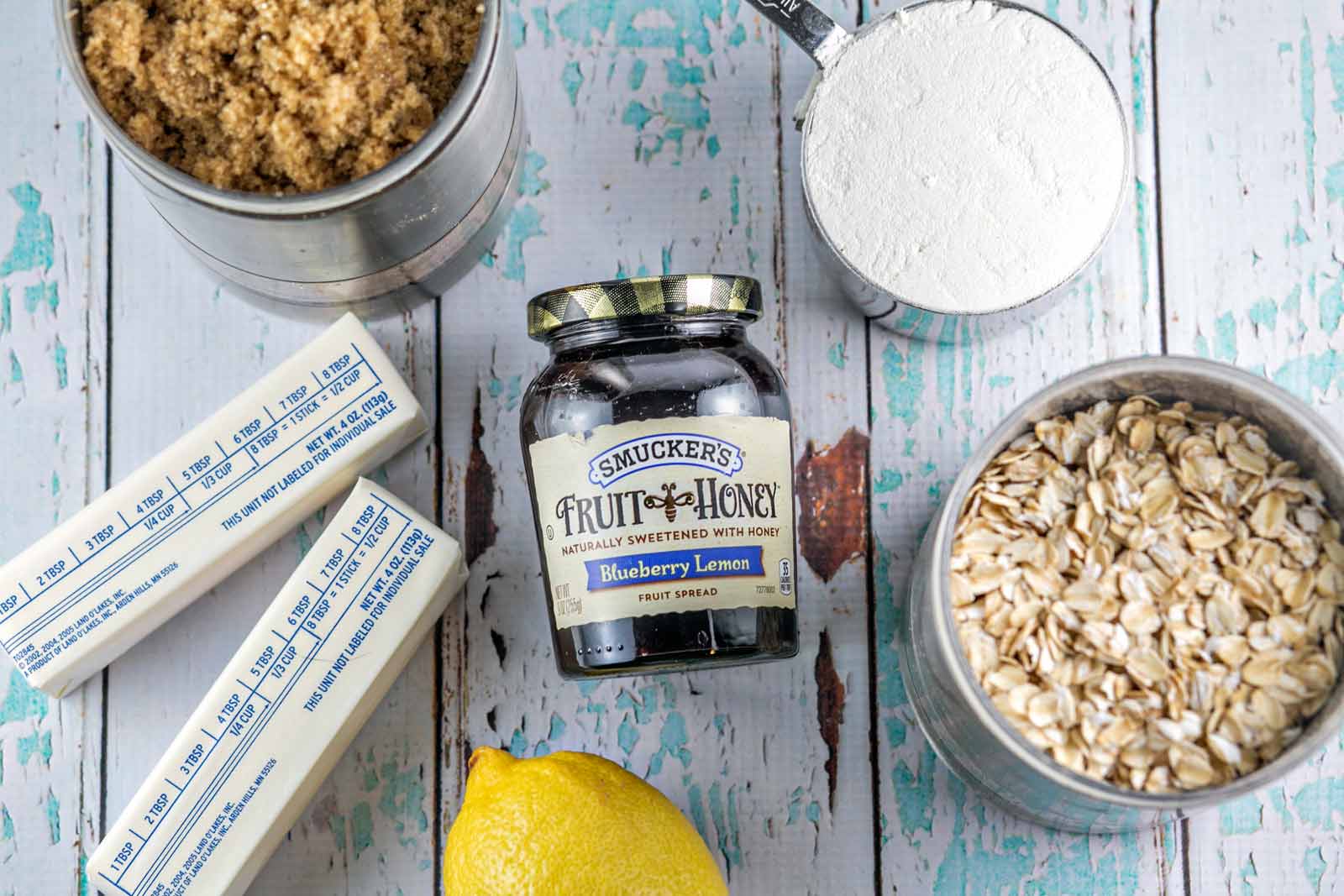 Every year, we throw a big "Chrismukkah" celebration, inviting 70 of our nearest and dearest to our home for a night of delicious food, beverages, and all-around fun. There are dips of all sorts of varieties, a crockpot full of meatballs, and of course – dozens of freshly-fried latkes.
And while that's all well and good, let's be honest. People come for the desserts. (And the latkes. Always the latkes.)
I've hosted a lot of Chrismukkah parties (and 4th of July parties, and New Years Eve parties, and Super Bowl parties – what can I say? I love to host a good party!). I know the most important thing about throwing a good party: finding good, tried and true recipes that can be made ahead of time.
The day of the party, there is so much going on. Your oven is full of hot appetizers. The last thing you want to do is stress over how to finish the baked desserts.
Let me share an easy, foolproof dessert that can be made ahead of time – a day or two, or even a few months and frozen – to make your holiday entertaining a breeze.
Cookie exchanges, teacher gifts, work parties – it's perfect for all of these. Enter: oatmeal jam bars.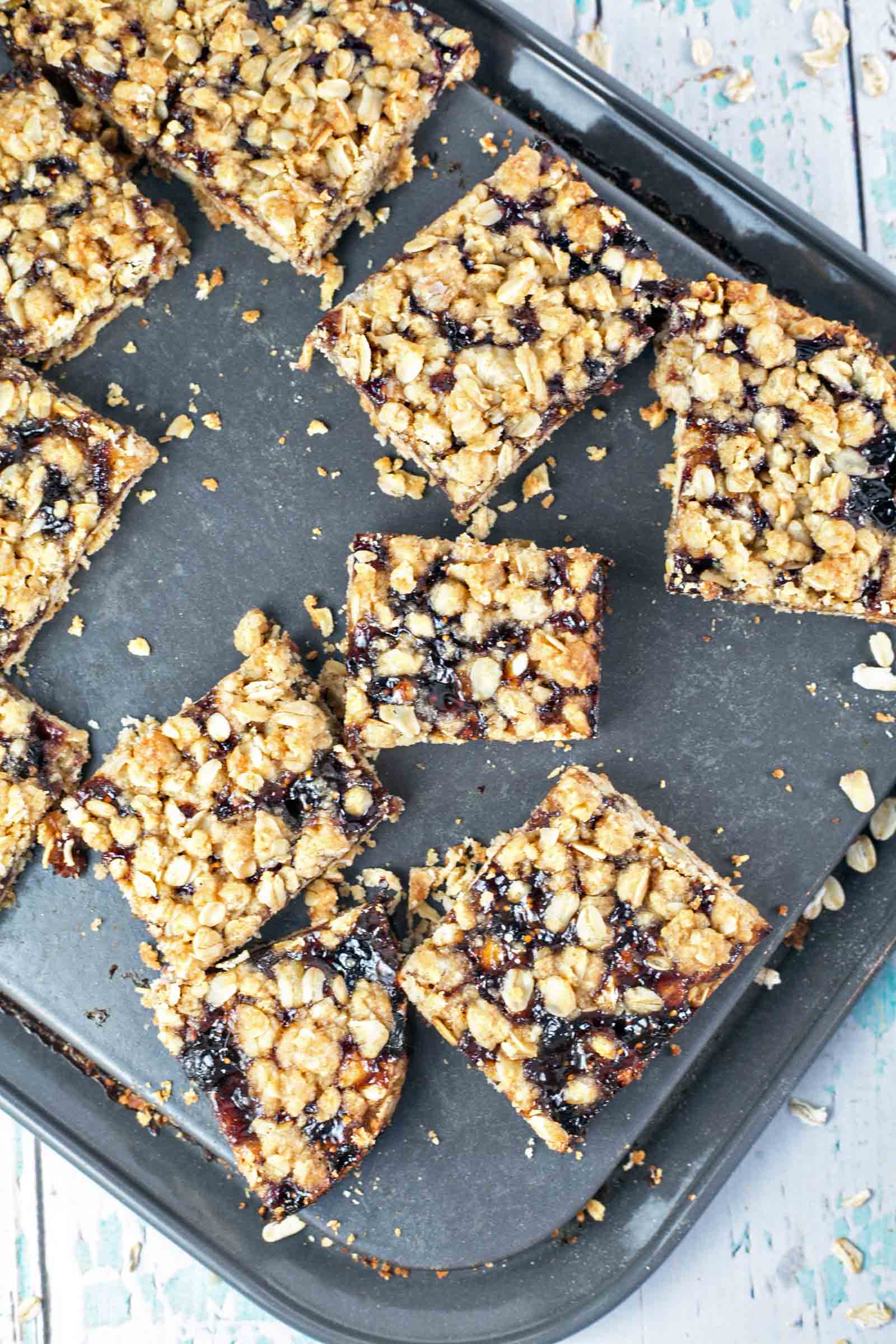 A deliciously buttery oatmeal shortbread crust. (So easy: no creaming butter or cutting it into the dough. We're using melted butter!). A sweet layer of Smucker's Fruit & Honey Blueberry Lemon Fruit Spread (or mix and match flavors!). An oatmeal and brown sugar crumble topping. Fresh lemon zest. Fruity, chewy, crunchy oatmeal jam bars to stand out in a sea of Christmas cookies.
I often make a version of these bars in the summer with fresh summer berries. This time of year, however, fresh berries are hard to come by and so expensive. So instead, I used Smucker's Fruit & Honey Fruit Spread (click for more recipe and entertaining ideas!). I really like the Smucker's Fruit & Honey Fruit Spreads because they're all naturally sweetened with honey. The honey adds a great flavor and I always like to avoid the high fructose corn syrup found in most jellies and jams. They also come in a variety of other flavors – Strawberry, Triple Berry, Concord Grape – even Strawberry Jalapeno!
I really like these bars for a few reason. First off, they're really easy. One bowl, one spoon easy. Boom. I also like them because they're not super sweet. Don't get me wrong, these clearly fall into the dessert category, but next to snickerdoodles or royal icing covered sugar cookies, they're not overly sugary.
They also freeze really, really well. It's easy to mix and match flavor combinations. I also find them really refreshing, thanks to the lemon in the fruit spread and the lemon zest.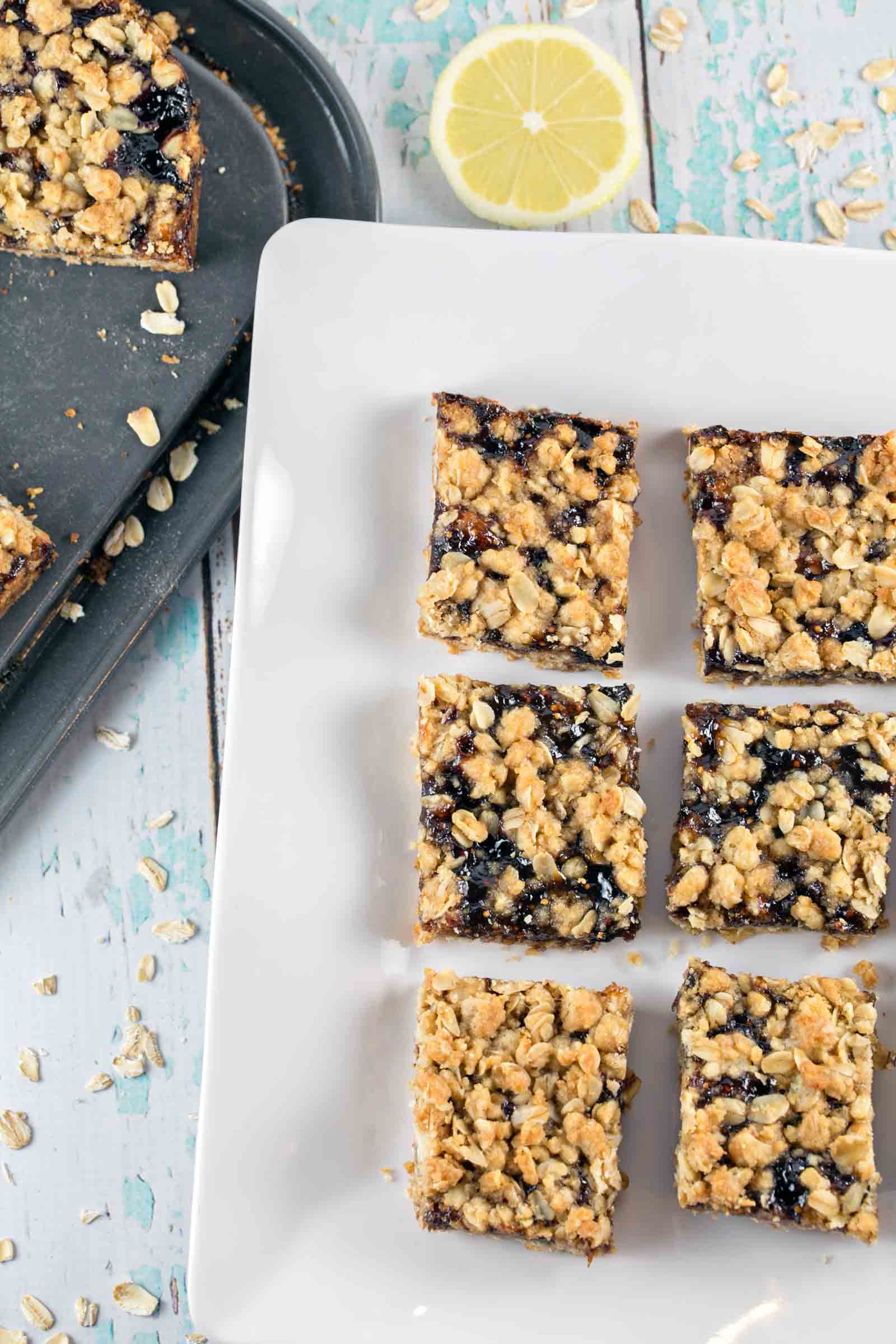 Blueberry Lemon is a delicious flavor combination, but not one generally associated with winter holidays. There will be dozens of chocolate cookies, peanut butter blossoms, snickerdoodles, rolled sugar cookies, peppermint chocolate everything – reach for a fruity jam bar for something a little unexpected.
Oatmeal Jam Bars
Whip up an easy batch of these one bowl, one spoon Oatmeal Jam Bars for your next gathering.  Easy, delicious, and freezer friendly.
Ingredients:
1 cup butter, melted
2 cups flour
2 cups rolled oats
1 1/2 cup brown sugar, divided
3/4 teaspoon baking powder
2 teaspoons vanilla extract
1 tablespoon lemon zest
2 jars Smucker's Fruit & Honey Blueberry Lemon Fruit Spread
Directions:
Preheat the oven to 350 °F.  Spray a 9×13-inch springform pan with cooking spray, or line a normal 9×13-inch pan with aluminum foil, extending over the sides of the pan, then spray with cooking spray.
In a large, microwave safe bowl, melt the butter.  Add in the flour, rolled oats, 1 cup of the brown sugar, baking powder, vanilla extract, and lemon zest.  Stir to combine; no streaks of flour should remain.  The mixture will be quite thick and it may be easiest to mix with your hands.
Set aside 1.5 cups of the oat mixture.  Press the rest into the bottom of the prepared pan, using the bottom of a glass to push the dough into a solid, flat layer.
Spoon the jam over the bottom crust and spread evenly with a knife.
Add the remaining 1/2 cup brown sugar to the reserved dough.  Using your fingers, crumble the dough and mix with the additional sugar.  Crumble this over top the layer of jam.
Bake for 30-35 minutes, until the jam is bubbling and the top crumble is golden brown.  Remove from the oven and cool completely.  To serve, run a sharp knife along the inside edge of the springform pan or lift the entire layer of jam bars from the pan using the aluminum foil as a handle.  Slice into bars and serve.
Bars can be kept in an airtight container at room temperature for up to 3 days, refrigerated for up to a week, or frozen for up to 3 months.  To freeze, wrap bars in plastic wrap and store in a zippered freezer bag.
A Bunsen Burner Bakery Original Protocol