October 9, 2017
Pumpkin Cheesecake Brownies
Why choose between cheesecake and brownies? With these rich and decadent pumpkin cheesecake brownies, you don't have to decide! Easy homemade brownies topped with a smooth and creamy layer of pumpkin cheesecake, these are the perfect fall dessert!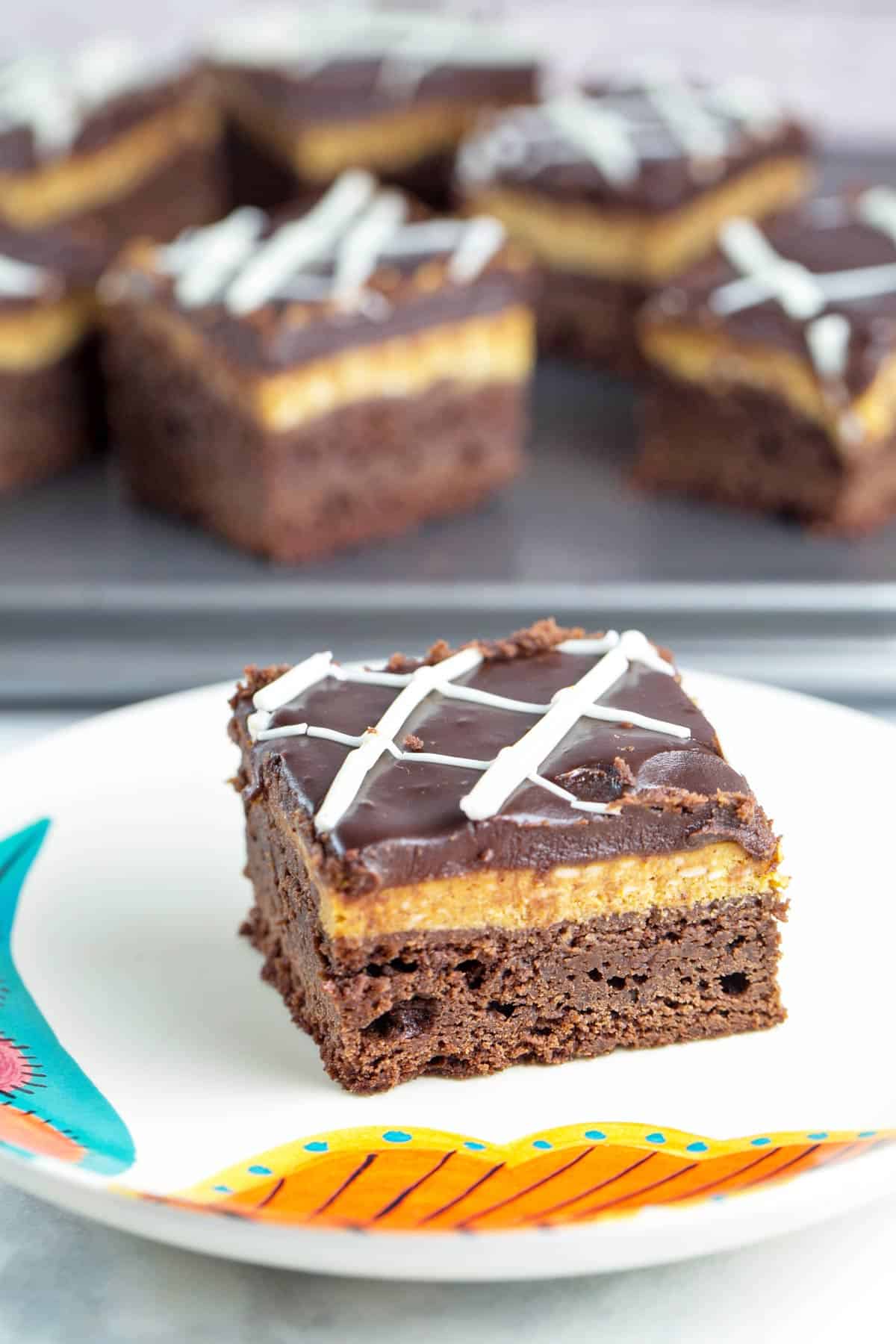 Despite the unseasonably warm weather, there's no denying that fall is in full swing.  Pumpkins line the steps to rowhomes in our neighborhood.  Everyone is thinking about Halloween costumes for their kids.
And I'm finally willing to step on the pumpkin dessert bandwagon.
It's not that I don't like pumpkin desserts — I do!  It's just that I can't get into them until it really feels like fall — which is not early September.  Sorry, folks.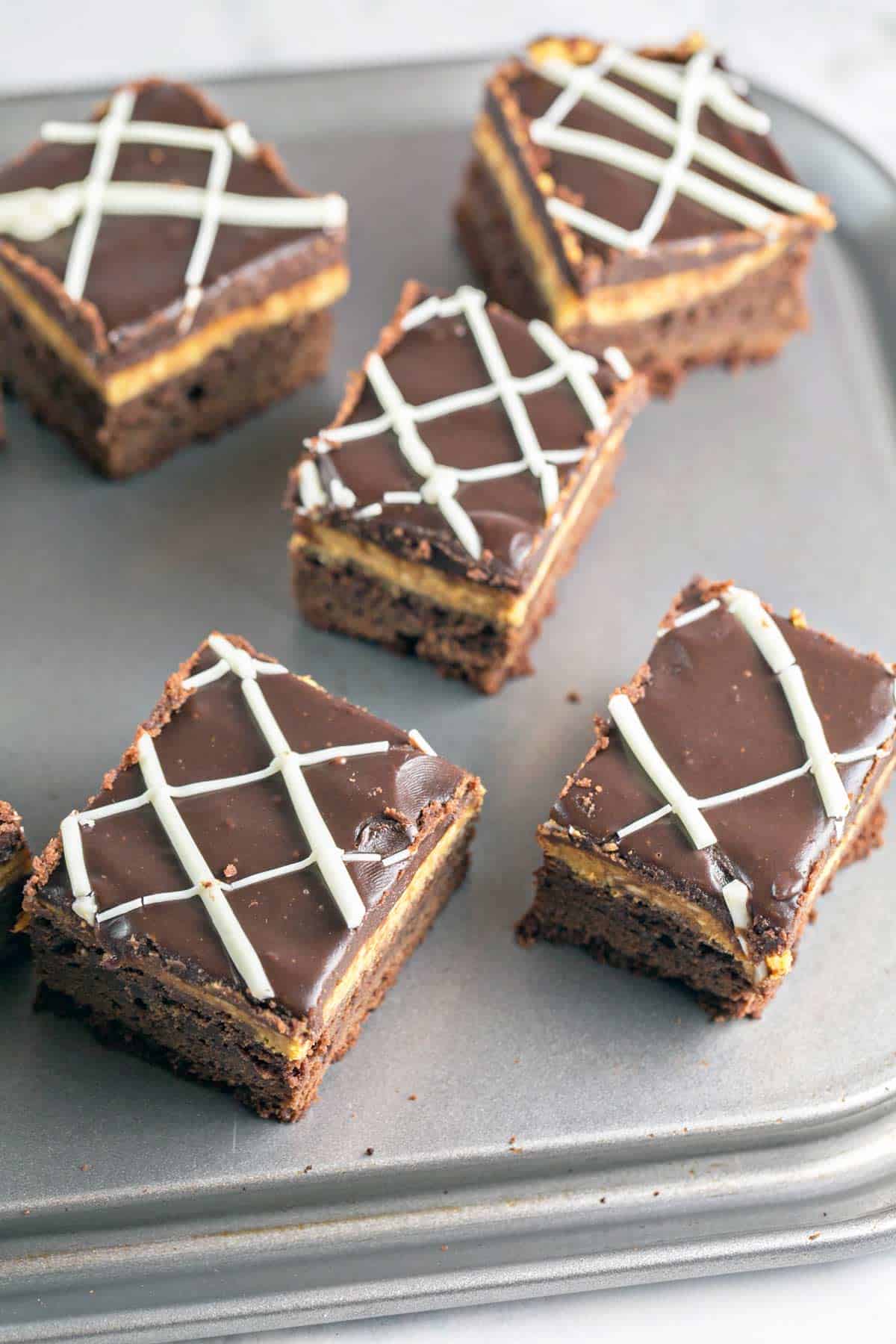 But now that we've hit the second week of October, it's about time.  So this week, I'm bringing you not one, but two, pumpkin desserts!
Where are you in the fall dessert scheme?  Team pumpkin? (Find all my pumpkin recipes here!) . Team maple?  (Maple recipes here!)  Team cranberry?  (Cranberry recipes here!)
Personally, I like all three.  But only in season!  (No pumpkin, maple, OR cranberry recipes before October, thank-you-very-much.)
Let's start with these easy, delicious pumpkin cheesecake brownies.  Simple homemade brownies topped with a smooth and creamy layer of pumpkin cheesecake.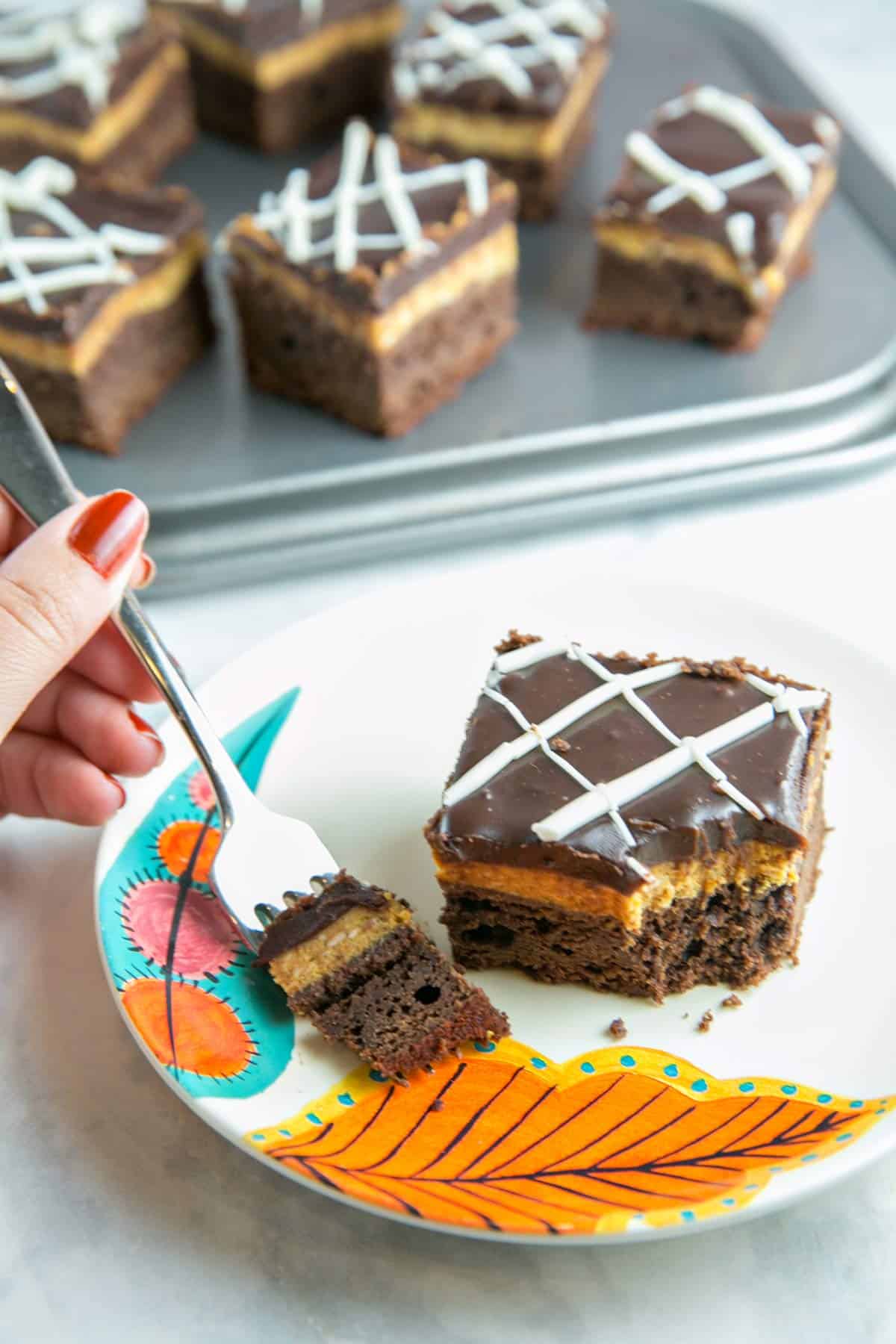 How to Make Pumpkin Cheesecake Brownies
First up, the brownies!  These are easy homemade brownies — we're talking mix by hand in one bowl easy.  Like, shouldn't possibly be so easy to make something so delicious brownies.
Next up: pumpkin cheesecake layer.  You'll probably want to pull out your mixer for this one, unless you have some serious arm power to beat that cream cheese.  But it's also super easy — just dump the ingredients in a bowl and mix until well combined.
Now bake in the oven. (Whew, can you keep up with how hard these are?)
Once they're baked, we'll make these finger-food friendly.  No one wants to hold on to a layer of cheesecake.  We'll solve this problem by adding a layer of chocolate ganache on top, and then a few white chocolate drizzles.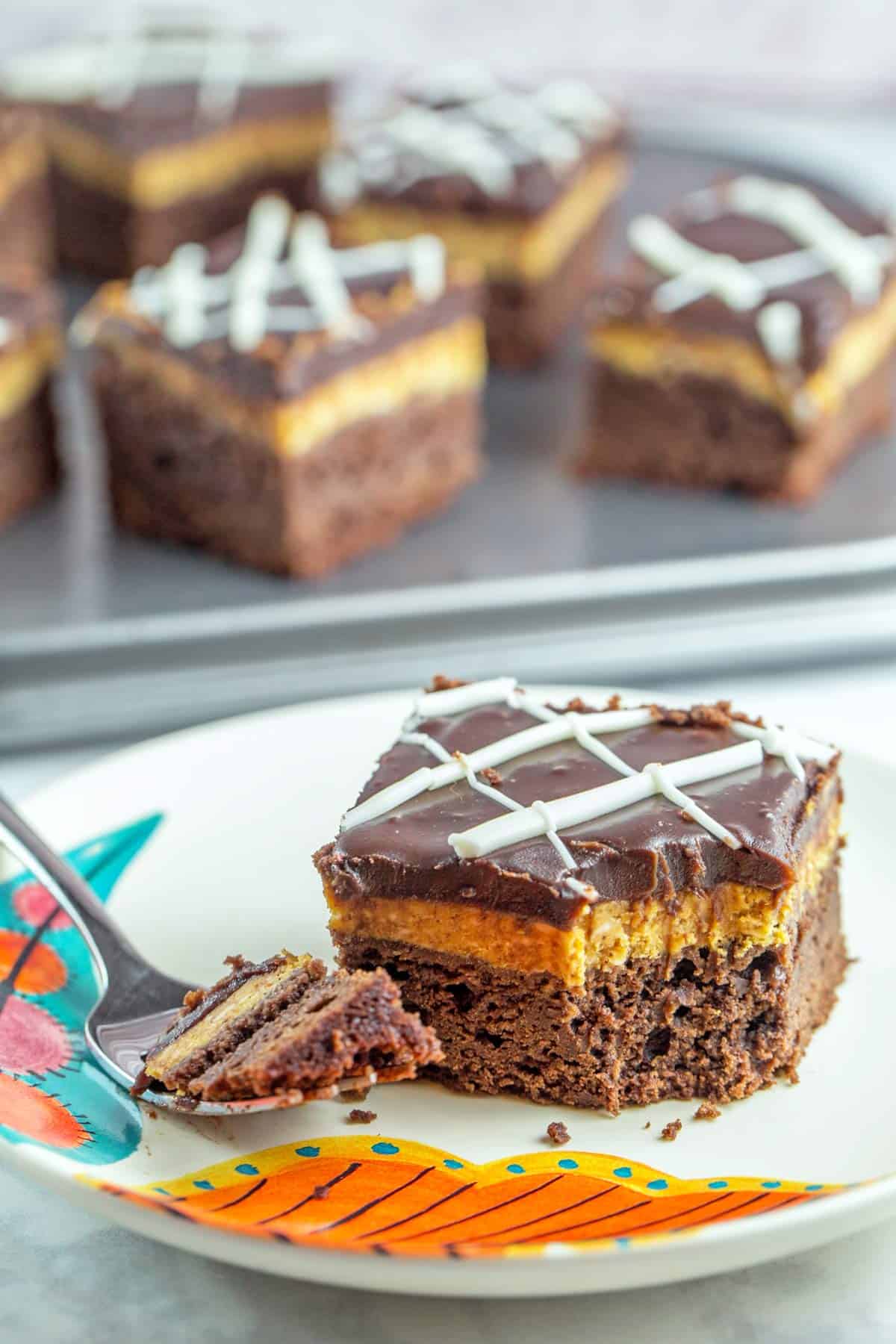 Do You Have To Refrigerate Cheesecake Brownies?
This is one of the most commonly asked questions I get about these brownies.  And in order to answer this, we need a little… kitchen chemistry!
Sugar acts as a preservative.  Sugar is hygroscopic, meaning it absorbs water.  It can draw the water out of dairy , thus reducing the amount of water available for growth of bacteria.  Butter, cream, and cream cheese are stabilized by all the sugar, and thus safe to store at room temperature for up to three days if the sugar content is sufficient.
Cream cheese is roughly 33% fat and up to 55% water.  You'd need (roughly) one pound (4 cups) of sugar half-pound (8 ounces) of cream cheese to stabilize the cheesecake layer enough to let it sit out at room temperature.
Of course, these are baked, which does dry out some excess moisture.  But there is still not nearly enough sugar (1/3 cup) to account for all the liquid in the cheesecake layer (cream cheese AND canned pumpkin) to safely store these without refrigeration.
So the answer then is: yes!  These cheesecake brownies should be stored in the refrigerator. And the good news is: they're delicious straight out of the fridge.  The brownie feels extra dense and fudgey when cold – the perfect compliment to the smooth cheesecake layer.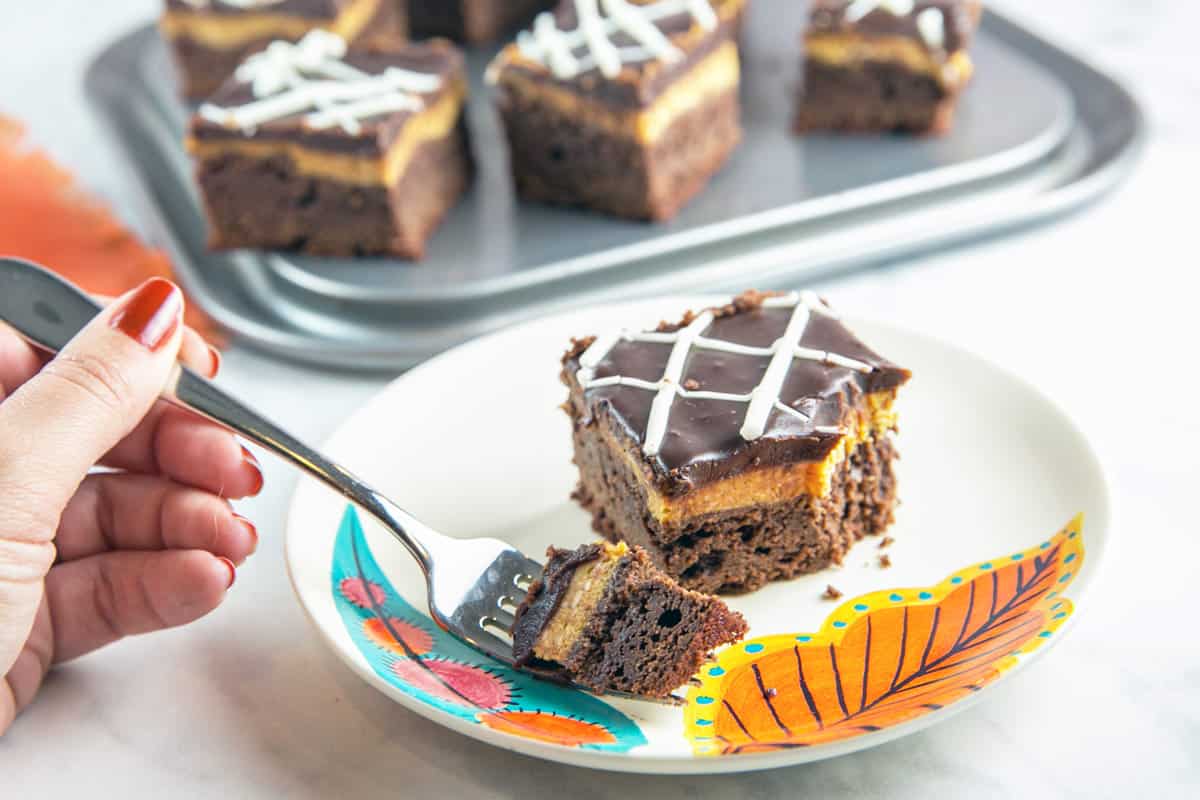 These pumpkin cheesecake brownies are perfect for sharing — or keeping all to yourself.  I chose to share mine at our annual weeklong beach trip with our college friends, where they've been a big hit.
The perfect combination of rich brownie, smooth and creamy pumpkin, and chocolate coating.  What a delicious way to welcome fall!
More Pumpkin Dessert Recipes: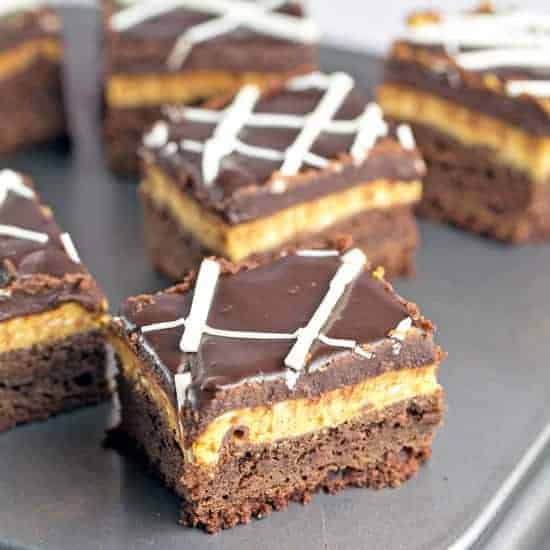 Pumpkin Cheesecake Brownies
Total Time:
4 hours
10 minutes
Why choose between cheesecake and brownies? With these rich and decadent pumpkin cheesecake brownies, you don't have to decide!
Ingredients
FOR THE BROWNIES:
3/4 cup butter, melted
1 1/2 cups sugar
3 eggs
3/4 cup cocoa powder
3/4 teaspoon salt
3/4 teaspoon baking powder
1 tablespoon vanilla extract
1 1/4 cups all-purpose flour
FOR THE PUMPKIN CHEESECAKE:
8 ounces cream cheese, softened
1 cup canned pumpin
2 eggs, room temperature
1/3 cup brown sugar, packed
1 teaspoon ground cinnamon
1/2 teaspoon ground nutmeg
1/8 teaspoon salt
1 teaspoon vanilla extract
FOR THE CHOCOLATE GANACHE:
1 cup semi-sweet chocolate chips
1/2 cup heavy cream
1/4 cup white chocolate, chopped
Instructions
Preheat the oven to 350 °F. Line a 9″ square baking dish with aluminum foil, extending the foil over the edges to form handles, and grease the foil.
Combine the melted butter and sugar together in a small bowl, whisking until smooth and shiny. In a large bowl, combine the eggs, cocoa powder, salt, baking powder, and vanilla. Whisk by hand for about 5 minutes, until well combined. Add the melted butter mixture to the cocoa mixture, stirring until smooth. Add in the flour, stirring just until the flour is incorporated.
To make the pumpkin cheesecake layer, combine all ingredients in a large bowl and beat with an electric mixer until smooth.
Spread brownie batter in prepared pan. Pour the pumpkin cheesecake layer evenly over the brownie layer. Bake 55 to 60 minutes, until a toothpick inserted into the center comes out almost clean. Leave at room temperature until cool, then refrigerate for 1 to 2 hours.
Combine the chocolate chips and heavy cream in a microwave-safe bowl. Microwave at 50% power for 1 minute, stirring well. Repeat until chocolate ganache is smooth. Pour ganache over the brownies and smooth with an offset spatula. Return to refrigerator until ganache is set. Melt white chocolate and drizzle overtop brownies. Cut into 12 bars and serve. Store covered in the refrigerator.
Notes
Pumpkin cheesecake brownies can stored up to 5 days in the refrigerator, or frozen for up to 3 months. To freeze, wrap a full pan in foil or freeze individual bars on a cookie sheet, then wrap in foil and once fully frozen and store in a freezer bag. Thaw overnight in the refrigerator.
A Bunsen Burner Bakery Original Protocol
Recommended Products
As an Amazon Associate and member of other affiliate programs, I earn from qualifying purchases.