November 4, 2022
Nutella Banana Bread
Take your banana bread to the next level with this Nutella Banana Bread! Swirling layers of chocolate hazelnut spread in a tender banana bread make for an amazing dessert or snack.
Over the course of the pandemic, banana bread was everywhere! It felt like everyone I knew was baking banana bread, and the banana bread recipes on my site were soaring in popularity. It wasn't without reason, of course. Banana bread is delicious, easy, and a great way to use up old bananas.
It's been a while since we made banana bread in our house, and it was time – and now I'm wondering why I took a break from making it! It's so easy, our kids love it, and it's nice to have a homemade snack waiting when they get home from school.
This variation takes things a notch with chocolate. Add not just any chocolate, but Nutella (name brand not necessary – use the chocolate hazelnut spread of your choice!) Not into Nutella? Substitute in the nutty spread of your choice, like peanut butter, almond butter, or chocolate tahini! The swirls of Nutella added in this recipe add a perfectly sweet, nutty flavor to much-beloved banana bread.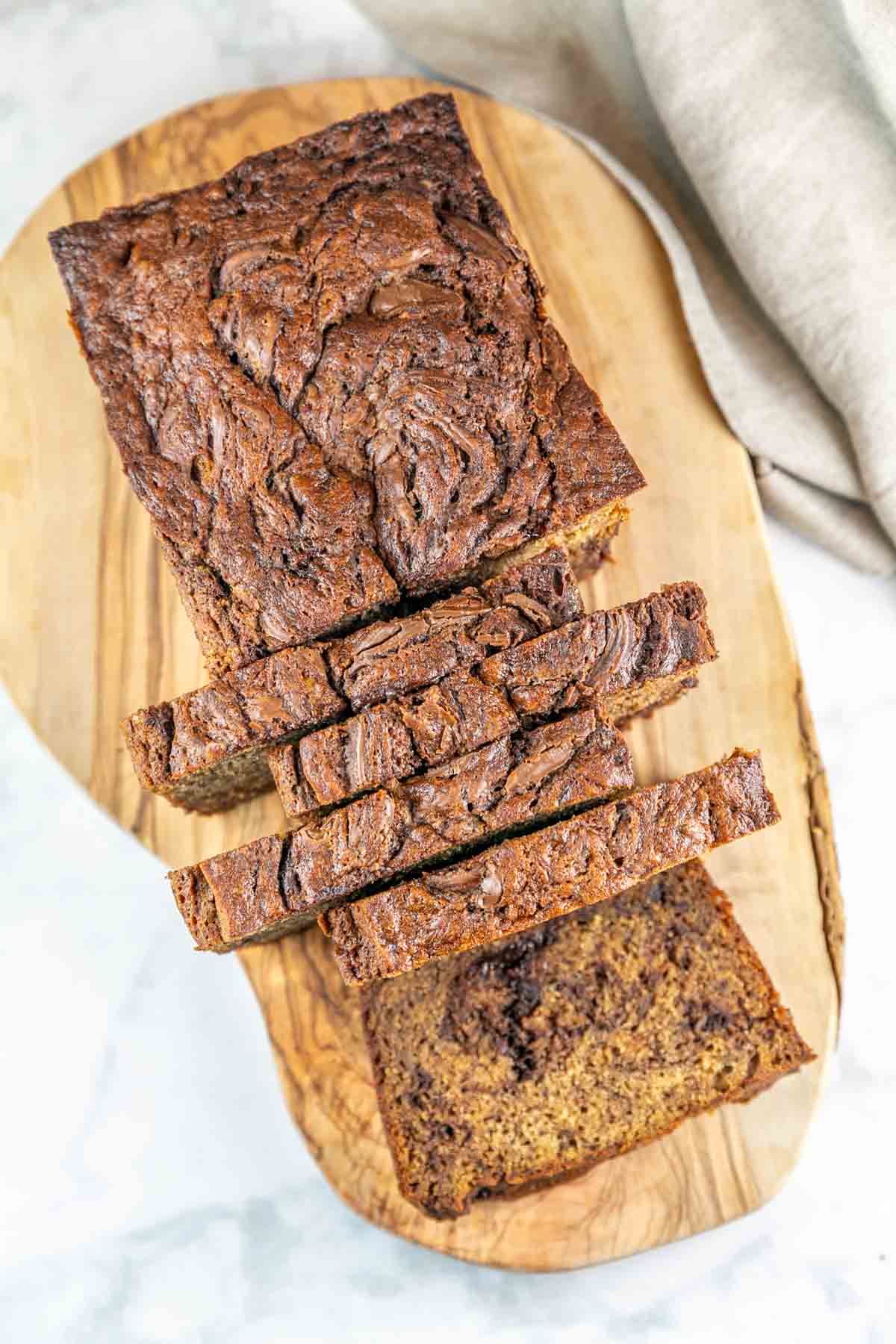 Extra Moist Banana Bread
The great thing about banana bread is that it is hard to mess up. I don't think I have ever had a banana bread that I didn't like!
Have you ever wondered why banana bread loaves always come out so moist and tender? It could be magic.. but of course, we can explain the answer with my favorite subject, kitchen chemistry!
Kitchen Chemistry

Adding bananas to baked goods decreases the percentage of gluten in the batter by adding an additional ingredient, while still maintaining a balance of liquids and solids. By decreasing the gluten, the final baked goods are softer and more tender.
Baking with Bananas
When you're baking with bananas, just be sure to use ripeness that aligns with what the recipe uses. Some recipes call for ripe bananas, while some specifically call for overly ripe bananas. The pH of a banana changes as it becomes riper, so it's important to use what the recipe used!
Frozen bananas are ALWAYS perfect to use for banana bread! When your bananas are starting to get a little too ripe, peel them and store them in the freezer in a freezer-safe storage bag. When you're ready to bake, thaw the bananas in a bowl and discard the extra liquid at the bottom of the bowl before mashing the bananas.
Swirls of Chocolate Hazelnut Spread
For those of you who might live under a rock, Nutella is a chocolate hazelnut spread that can go on just about anything. (I was going to say anything that you can put peanut butter on, but really, it can go on just about anything. Nutella-covered Brussels sprouts? I'd try it.) It is perfectly sweet and nutty and has just the right texture!
In this Nutella banana bread recipe, we're going to swirl the Nutella into the banana bread mixture for a beautiful design and the perfect amount of Nutella in each bite. To create these beautiful swirls, add half of the banana bread mixture into the loaf pan, then I added some dollops of Nutella and swirl with a butter knife. Add the rest of the banana bread mixture, the rest of the Nutella, and swirl again.
Don't worry about making your swirls perfect, a rustic swirly look is perfect for this banana bread!
Tips and Tricks for the Best Nutella Banana Bread
You can use frozen bananas for this recipe, but thaw before using and discard any excess liquid before mashing.
Use ripe bananas for the best results. Riper bananas are sweeter and softer, resulting in sweeter and more moist banana bread. (But don't use bananas that are TOO ripe – if they're starting to get black spots or are super squishy, don't use them.)
Don't over-mix! Once you add the flour to the wet ingredients, be sure not to overmix the mixture, which results in dense and tough banana bread.
If you have any leftover Nutella banana bread, it is perfect to use in banana bread french toast!
If you love warm banana bread (with or without a little butter), microwave the banana bread for 10-15 seconds before eating it.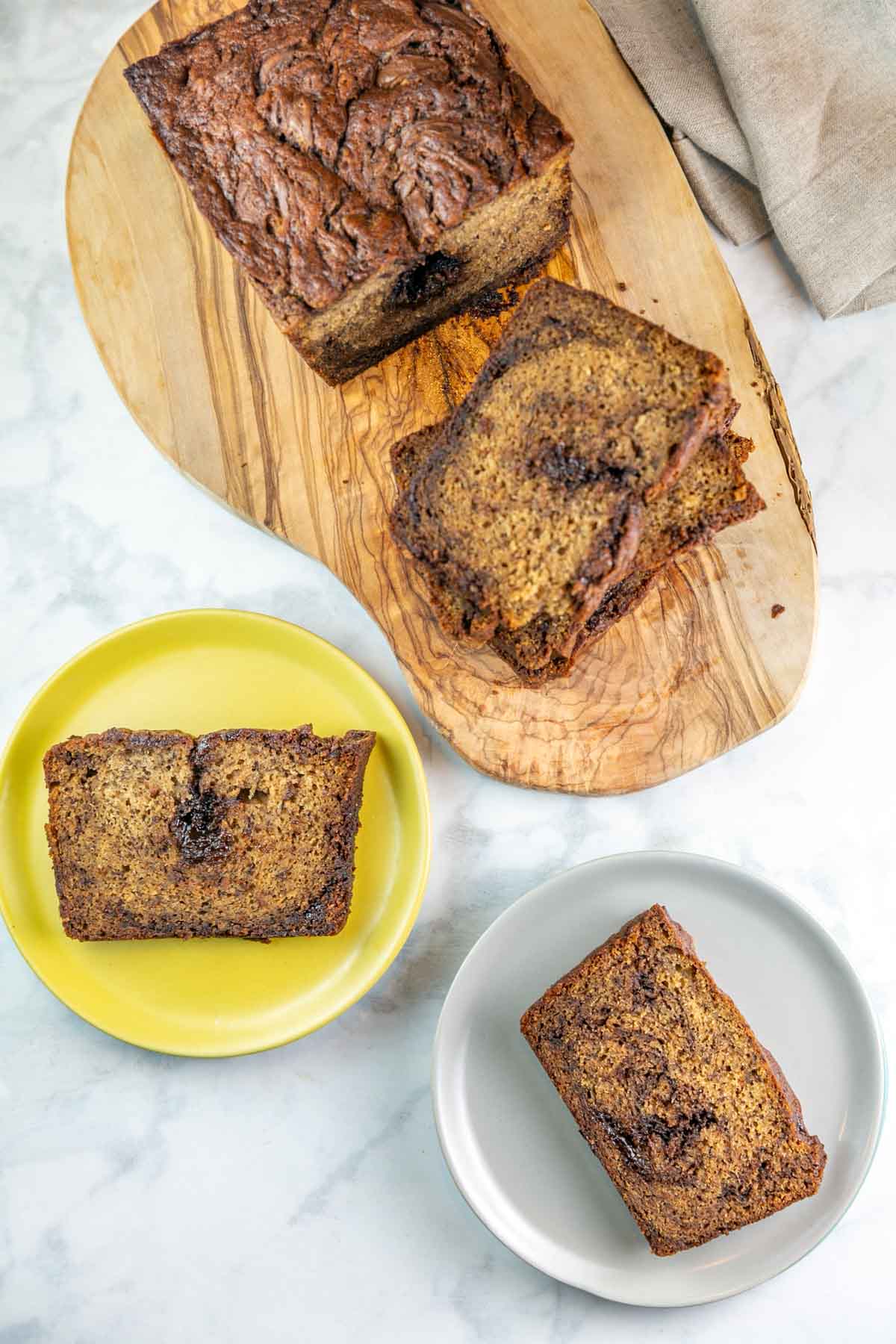 More Banana Recipes to Try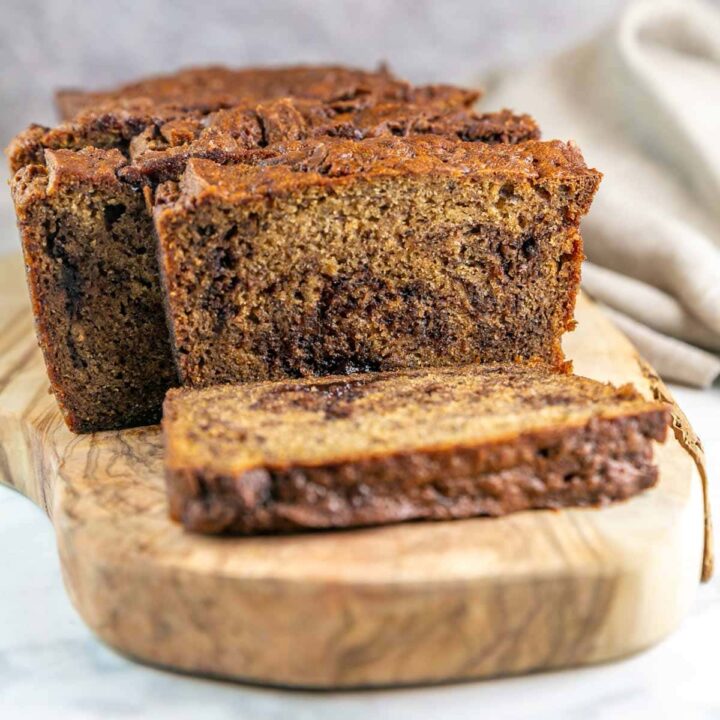 Nutella Banana Bread
Yield:
1 loaf (12 slices)
Cook Time:
1 hour
15 minutes
Total Time:
1 hour
30 minutes
Take your banana bread to the next level with this Nutella Banana Bread! Swirling layers of chocolate hazelnut spread in a tender banana bread make for an amazing dessert or snack.
Ingredients
1/2 cup unsalted butter (113 grams), room temperature
1 cup (198 grams) granulated sugar
2 large eggs, room temperature
2 cups (454 grams) ripe bananas, mashed (about 4 large bananas)
2 teaspoons vanilla extract
1 1/2 cups (180 grams) all-purpose flour
1 teaspoon baking soda
1/2 teaspoon salt
1 teaspoon cinnamon
2/3 cup (213 grams) chocolate hazelnut spread, divided
Instructions
Preheat the oven to 325 °F. Grease and flour an 8.5 x 4.5-inch loaf pan.
Using an electric mixer, beat together the butter and sugar. Add the eggs, bananas, and vanilla extract, continuing to beat until well combined and no chunks of banana remain.
Whisk together the dry ingredients in a mixing bowl. Slowly add the dry ingredients to the wet ingredients, mixing just until no streaks of flour remain.
Pour half of the batter into the prepared loaf pan. Use a spoon to drop dollops of half the Nutella on the batter and swirl with a knife. Add the rest of the batter to the loaf pan and top with the rest of the Nutella. Use a knife to swirl the Nutella and batter together gently.
Bake for 70 to 75 minutes, or until a tester inserted into the center comes out clean. If the top of the bread is getting too dark, tent the top of the loaf pan with foil (begin checking around 45 minutes). Cool in the pan for 15 minutes, then invert onto a wire cooling rack and cool until room temperature.
Notes
If using frozen bananas, thaw the bananas and discard any excess liquid before mashing.
Use fully ripe bananas, but not overly ripe bananas for the best texture.
Wait until the banana bread fully cools before slicing, but for warm banana bread, microwave a slice for 10-15 seconds.
Banana bread can be stored at room temperature for up to 3 days, refrigerated in an airtight container for up to 5 days, or frozen for up to 3 months.
Recommended Products
As an Amazon Associate and member of other affiliate programs, I earn from qualifying purchases.