March 3, 2016
Italian Wedding Soup
Italian wedding soup is a delicious, comforting favorite with meatballs and leafy greens, made with things already found in your freezer and pantry.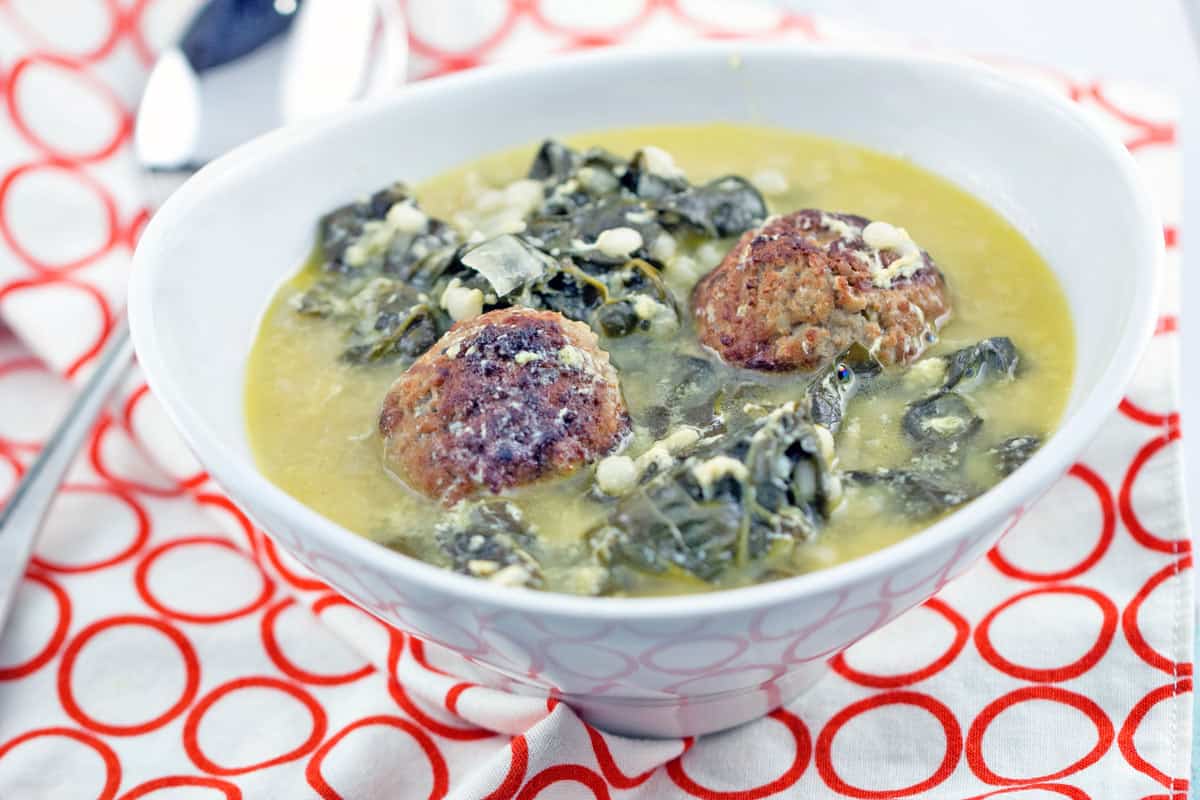 Are you a soup person?  I was never a soup person until very recently.  For the first 30 or so years of my life, soup was only for two occasions: extreme illness or matzoh ball soup on Passover.  I wanted absolutely nothing to do with soup outside of those two occasions.
Now that I'm a little older, wiser, and really appreciate the ease of throwing things in a pot, taking care of a few things around the house, and coming back to dinner, I'm singing a slightly different tune when it comes to soup.  If we're going to make it a stand-alone dinner, though, I want it to be full of "things."
Tomato soup is great with grilled cheese, but you need the grilled cheese on the side.  A bowl of tomato soup for dinner is just depressing.  I want to chew something while I still have all my teeth – there will be plenty of time in my 80s for pureed soups.
Enter: Italian wedding soup.  I should probably call this "Italian" wedding soup.  Or "soup with meatballs and leafy greens in a lemony chicken broth."  Is there even such a thing as authentic Italian wedding soup?  [Please hold while I check Wikipedia.]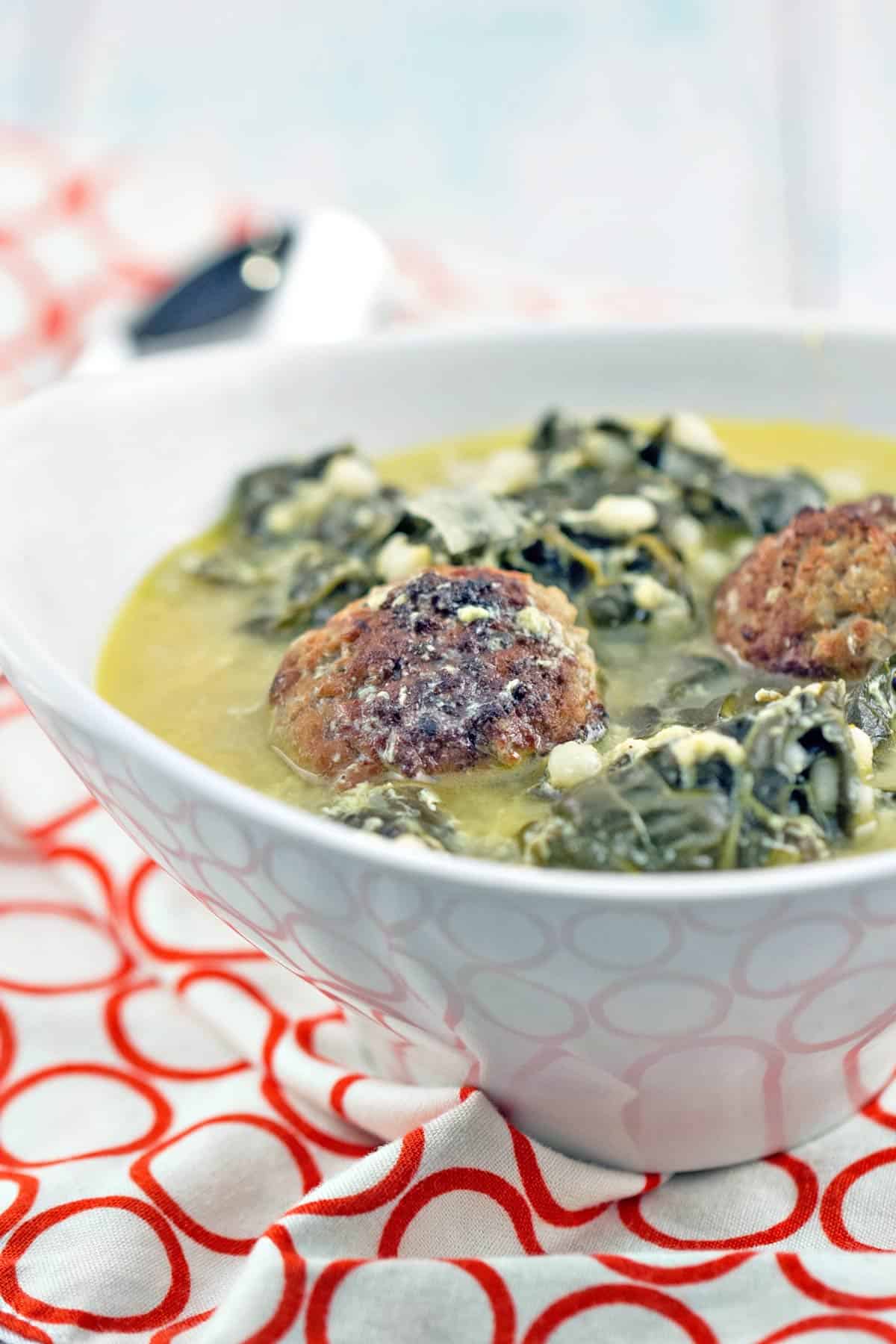 What is Italian Wedding Soup?
According to the powers-that-be (i.e., Wikipedia), Italian wedding soup consists of green vegetables and meat in a clear, chicken-based broth.  Check, check, and check.  We're good – no quotes necessary!
I don't think I've ever had Italian wedding soup before, but my freezer was (and is, still) overflowing with meatballs.  Desperate to regain some freezer space, I've been brainstorming ideas for how to use meatballs.  For whatever reason, wedding soup popped into my head.  I figured even if the soup wasn't great, we could at least fish out the meatballs and the greens and call it dinner.  Friends, let me tell you — this was great.
Giant meatballs (I think traditionally, tiny meatballs are used in soup, but I certainly wasn't going to make more meatballs when I was trying to use up the ones in my freezer!) simmering in a bright lemony chicken broth, surrounded by leafy greens, pearl couscous (again, using what I already have on hand), and ribbons of egg.
Using Ingredients on Hand to Make Italian Wedding Soup
Not only was this Italian wedding soup delicious, but I also made it using things already found in my cabinets.  Definitely the best kind of cooking, right?  I often get calls from friends in semi-panicked states who are in the middle of cooking or baking and realize they are missing a key ingredient and want to know about substitutions.  Now with baking, certainly, things get a little trickier, but when it comes to cooking?  Go for it!
Giant meatballs instead of tiny ones?  Sure!  Pearl couscous instead of pastina?  Why wait an additional few days to purchase pastina when I can make this immediately with something already on hand?  Swiss chard instead of escarole?  Practically the same thing!  I was a Girl Scout for many years — I repeated that line from the Girl Scout law about "use resources wisely" roughly a bajillion times in my childhood.
Italian wedding soup is truly a perfect winter dinner, and now that I find myself congested with a cold (ugh, parenthood) I'm seriously craving another bowl. And hey, since this is made with all items I routinely keep stocked in my pantry and refrigerator, I just might go ahead and make a little more.
More Soup Recipes: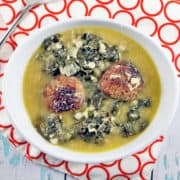 Italian Wedding Soup
A delicious, comforting favorite, made with things already found in your freezer and pantry.
Ingredients:
18 meatballs (make the meatballs from my swedish meatball recipe or make it REALLY easy and buy frozen meatballs!)
 2 tablespoons olive oil, divided
1 medium to large yellow onion, diced
4 cloves garlic, minced
8 cups chicken stock
2 bunches Swiss chard or other leafy greens
1 cup Israeli couscous, dry
2 eggs
2 lemons
1/2 cup grated Romano cheese
Directions:
In a large skillet, heat 1 tablespoon of the olive oil over medium high heat.  Add the meatballs in batches and cook, turning until all sides are browned, 3 to 5 minutes.
In a large soup pot, heat the remaining 1 tablespoon of olive oil over medium heat.  Add the onion and garlic and sauté until the onions are translucent and soft, about 5 minutes.  Add the chicken stock and bring to a boil.  Add the greens and couscous, cover the pot, and reduce the heat to low.  Simmer the soup for 10 minutes, then add the meatballs and cook another 5 minutes.
Using a fork, whisk together the eggs and Romano cheese in a small bowl.  Once the meatballs are heated through, slowly pour the egg mixture into the soup, stirring constantly.  Cover and simmer until the egg is set, about 30 seconds.
Season to taste with salt and pepper and the juice of two lemons.