February 25, 2020
Triple Chocolate Pound Cake
Dark and rich, this Triple Chocolate Pound Cake is a true chocolate lover's dream! With the slightly dense texture and fine crumb of a classic buttermilk pound cake, a deep chocolate flavor, and a thick layer of chocolate ganache, this is a cake ready for a celebration.
Both my children have birthdays in early-to-mid April. Unfortunately for them, this means their birthdays will often fall during Passover — meaning less than desirable birthday cakes.
So to combat this, we also celebrate their half birthdays with, obviously, half a cake!
(As far as what to do with the other half? Share with friends! Give to neighbors! Freeze for later! But for the true half-birthday experience, we only present them with half of a cake on their half-birthdays.)
This year, my daughter celebrated with half of this apple cider donut cake for her 1 ½ birthday.
My son, however — well, he doesn't let me experiment with flavors as much.
Chocolate cake with chocolate frosting, always and forever.
His half-birthday always falls during our annual October shore trip with our college friends.  This triple chocolate pound cake came along in the car and everyone shared in his half-birthday tradition.
One of the reasons I chose to do a pound cake, instead of a traditional cake? Pound cake tastes even better a few days after it's made.
It's the perfect make-ahead cake for parties, potlucks, or packing up the car and going on vacation.
And as for the chocolate-loving half-birthday boy?  He was delighted because, after all, this is a triple chocolate pound cake. 
Cocoa powder for a chocolate cake base, chopped chocolate mixed into the cake, and a decadent chocolate ganache glaze on top.
In other words, this is a cake for true chocolate lovers, even the 4 ½-year-old kinds.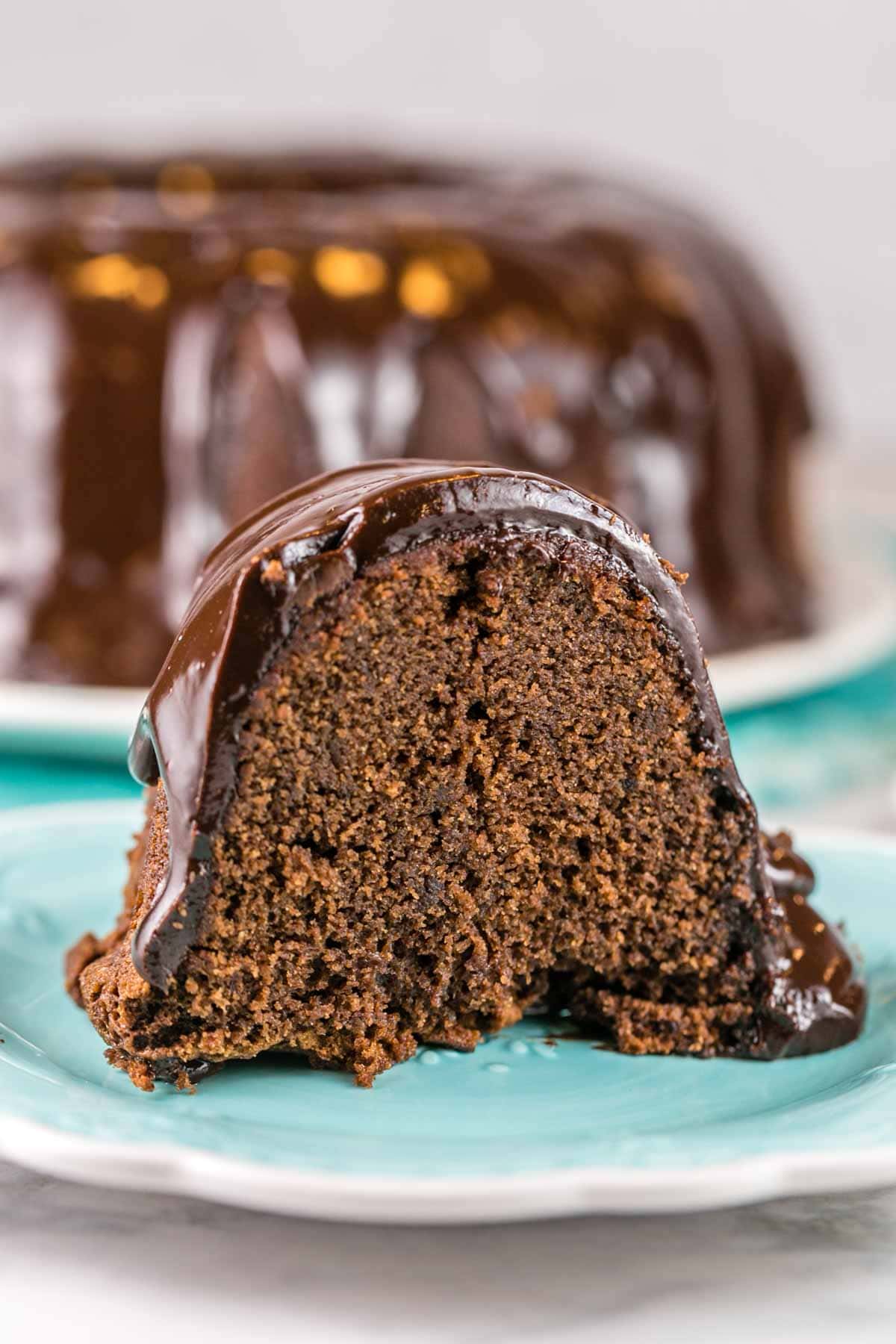 History of Pound Cake
Traditionally, pound cake gets its name because the cake used to be made with a pound each of butter, sugar, eggs, and flour. Easy to remember and easy to bake!
It's thought that pound cakes were the first cakes baked without yeast, thus paving the way for the style of cakes we enjoy today.
Somewhere in the 20th century, we started adding leaveners to pound cake, but just a little — after all, a pound cake is known for its more dense texture and fine crumb.
This triple chocolate pound cake doesn't adhere to those traditional "pound each" ratios, but the end result has a classic pound cake texture with a super chocolatey flavor.
Baking with Cocoa Powder
Forget the melted chocolate – cocoa powder is the real superstar in your pantry… if you know how to use it correctly.
Want to know how to make your chocolate desserts taste even chocolatier, using always-available cocoa powder? It's time for my favorite subject… kitchen chemistry!
Kitchen Chemistry

For the richest, most deep chocolate flavor, make sure to bloom your cocoa powder. By mixing cocoa powder with a hot liquid, the cocoa powder dissolves and releases its flavor particles. Properly dissolving the cocoa powder also helps combat the drying tendency of cocoa powder, resulting in a more moist cake.
For this triple chocolate pound cake, we're going to start by adding a little boiling water to our cocoa powder and stirring to make a thick paste. This will hydrate the cocoa powder and help it dissolve better.
Next, we're going to add in some just-barely-warmed buttermilk (because a buttermilk chocolate pound cake is the best pound cake!).  Buttermilk does not like to be heated, thanks to lactic acid.  Lactic acid starts the curdling process, and adding too much heat too quickly will fully curdle the buttermilk.
I usually microwave the buttermilk for 20 seconds at 30% power, stir gently, and stick in a finger to see if it's warm. We don't want to exceed 90° F. If it's not warm, repeat once or twice more.
Once the buttermilk is between 80-90° F, gently stir it into the cocoa powder paste to form a chocolatey liquid, which we will pour in with our liquid cake ingredients.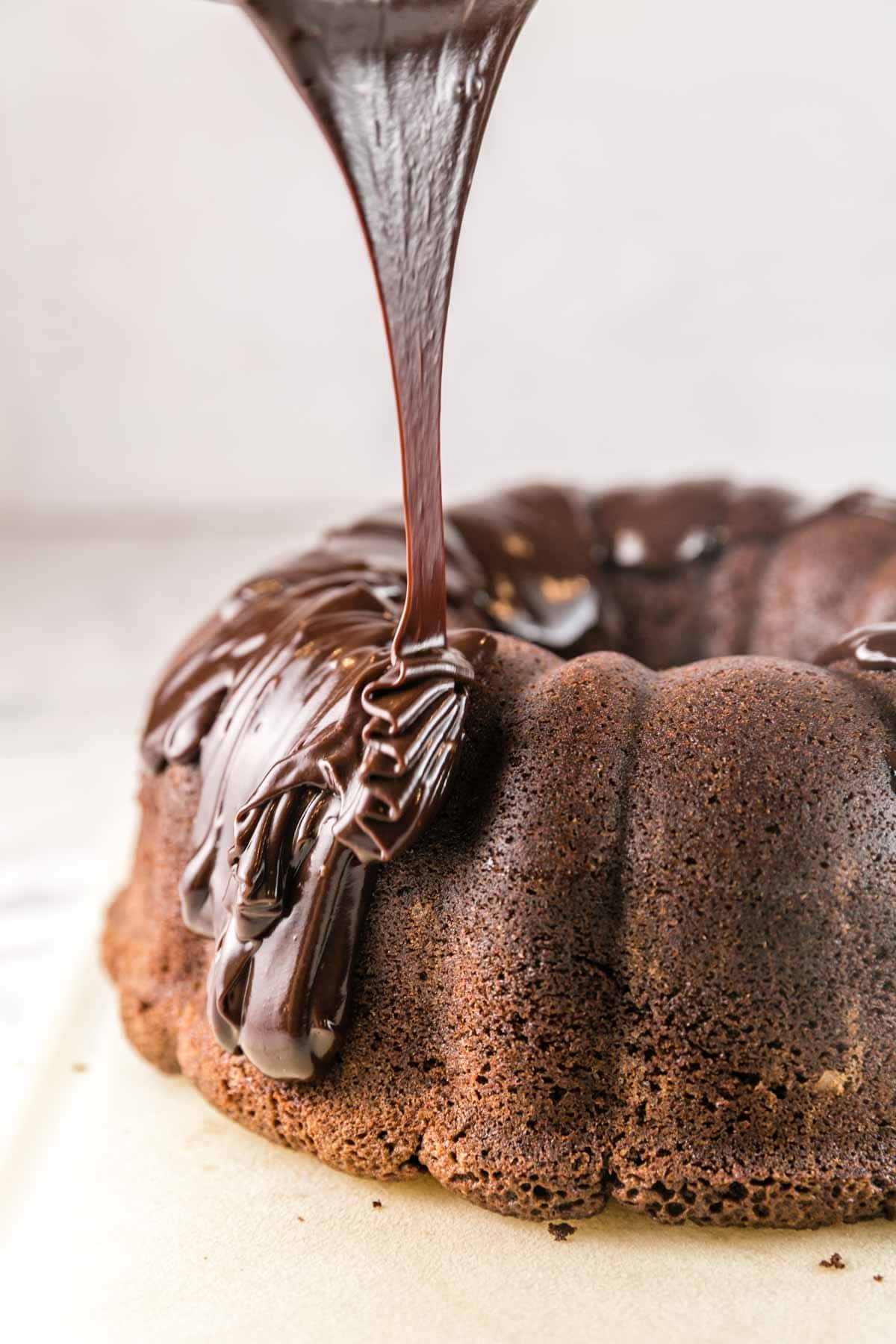 Serving Suggestions
I opted to cover the cake with an easy chocolate ganache. The slightly soft, barely chewy ganache adds a perfect texture contrast to the cake.
Since this cake came on the road with us, we served it with no other accompaniments.
But if I was making this at home, it would be delicious with a big dollop of whipped cream, a scoop of vanilla ice cream, or sliced strawberries!
Not into chocolate ganache? Skip it altogether and have a double chocolate pound cake, and dust with a little confectioners sugar instead.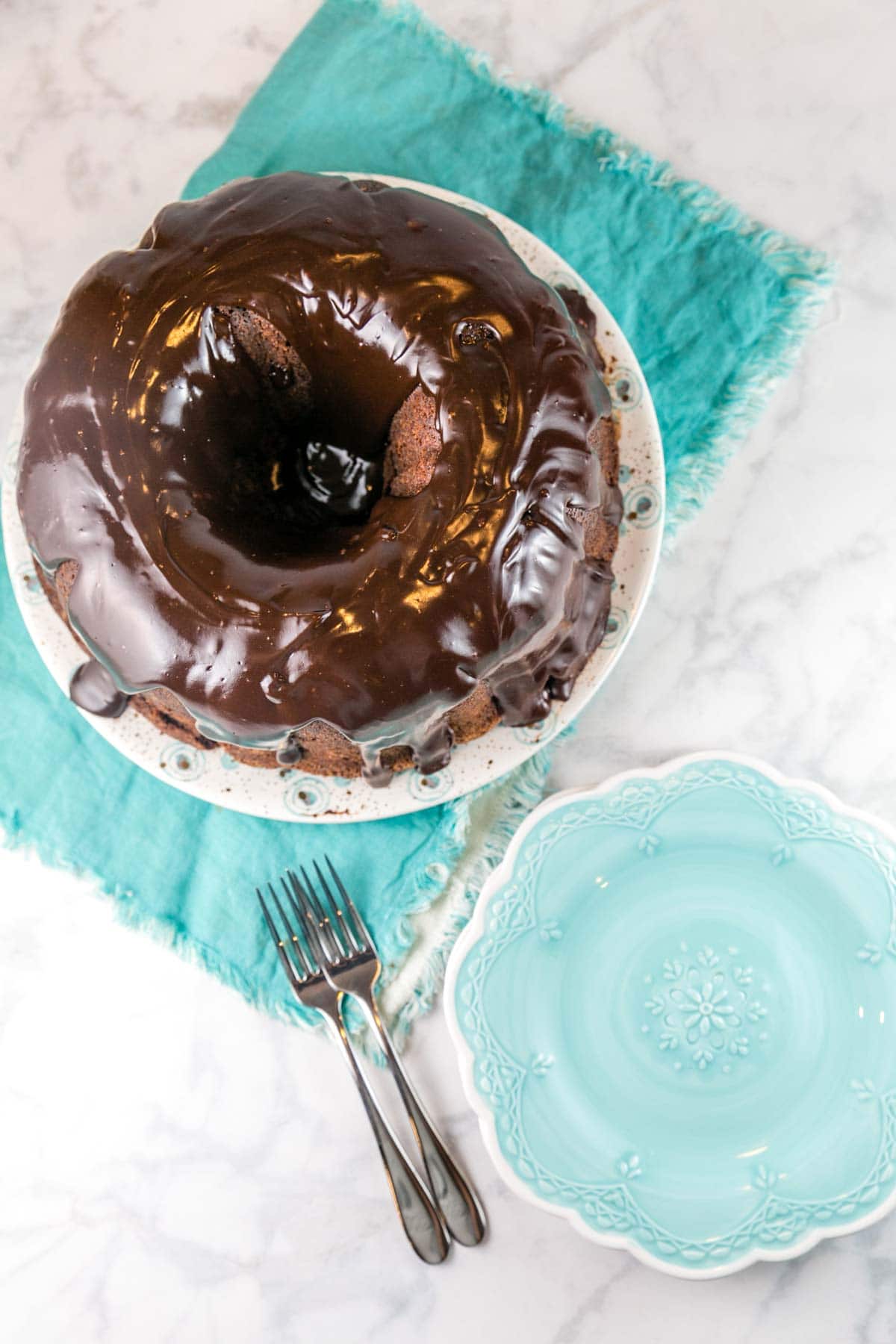 Recommended Tools for Triple Chocolate Pound Cake
Tips and Tricks for The Best Triple Chocolate Pound Cake
New to baking in bundt pans? Looking for the best tips and tricks to ensure your cake doesn't stick? Check out THIS POST for all my best bundt tips!
Make sure the butter and eggs are at room temperature before baking. This is essential for the full incorporation of ingredients and achieving the fine crumb of a classic pound cake.
Bloom your cocoa powder to maximize chocolate flavor! While not absolutely essential, taking the extra 5 minutes to do this will result in a more flavorful cake.
Add espresso powder for an even more chocolaty-tasting pound cake. Coffee enhances the flavor of chocolate, so adding espresso powder bumps up the chocolate flavor even more.
No bundt pan? No problem! Bake this cake in two loaf pans instead of a bundt pan. Divide between two well-greased 9×5-inch loaf pans and bake for 40-50 minutes.
Triple chocolate pound cake is perfect to make ahead. Store the cake at room temperature, covered tightly, for up to 5 days. To freeze an entire cake, allow the pound cake to cool and freeze in the bundt pan or wrapped tightly in plastic wrap and aluminum foil without the ganache. Thaw fully, then add ganache before serving. Individual slices with ganache can be frozen — place cut slices in the freezer on a sheet pan until frozen solid, then wrap in a layer of plastic wrap followed by aluminum foil and store in a freezer bag. Unwrap before thawing.
More Delicious Chocolate Cake Recipes: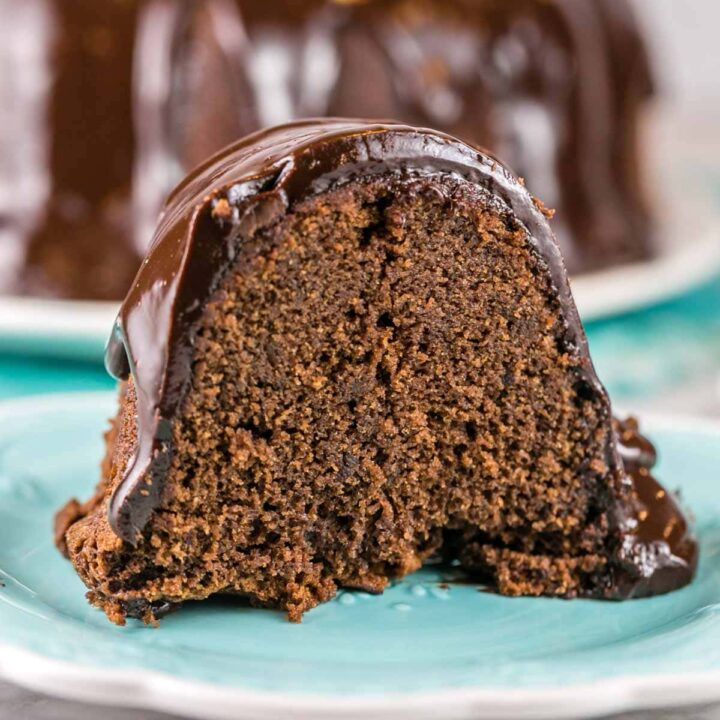 Triple Chocolate Pound Cake
Cook Time:
1 hour
10 minutes
Total Time:
4 hours
40 minutes
Dark, rich, and covered in chocolate ganache, this triple chocolate pound cake is a true chocolate lover's dream!
Ingredients
For the Cake:
3/4 cup (63 grams) natural unsweetened cocoa powder
1/2 cup (113.5 grams) boiling water
3/4 cup (170 grams) buttermilk
2 teaspoons instant espresso powder
1 1/2 cups (339 grams) butter, room temperature
3 cups (594 grams) granulated sugar
5 large eggs, room temperature
2 cups (240 grams) all-purpose flour
1/2 teaspoon baking powder
1 teaspoon salt
2 teaspoons vanilla extract
6 ounces (170 grams) dark chocolate, chopped (or 1 cup chocolate chips)
For the ganache:
8 ounces (227 grams) dark chocolate, chopped (or 1 1/3 cup chocolate chips)
3/4 cup (170 grams) heavy cream
1/4 cup (78 grams) light corn syrup
Instructions
Preheat the oven to 325 F.
Bloom the cocoa powder. Whisk together the cocoa powder and boiling water, creating a thick paste. Gently heat the buttermilk to just slightly warm, between 80 and 90 F. Microwave the buttermilk for 30 seconds at 30% power, stir gently, and repeat until warm. Gently stir the warmed buttermilk into the cocoa powder paste, stirring until the cocoa powder dissolves. Stir in the espresso powder. Set aside.
Make the batter. Using a stand mixer or hand mixer, beat the butter for 2 to 3 minutes, until smooth. Add in the granulated sugar and beat an additional 2 to 3 minutes until lightened in color and fluffy. Add in the eggs, one at a time, beating until incorporated.
Mix in 1 cup of the flour, along with the baking powder and salt, and beat at low speed until just incorporated. Pour in the chocolate buttermilk mixture and vanilla extract, stir to combine, and add the remaining 1 cup of flour. Fold in the chopped chocolate.
Prepare the pan. Grease a 12-cup bundt pan with melted butter or baking spray. Pour the thick batter into the pan, smoothing the top with a spatula.
Bake the cake. Bake at 325 F for 1 hour 10 minutes to 1 hour and 20 minutes, or until the top is cracked and a toothpick inserted into the thickest part of the cake comes out with a moist crumb but no wet batter. Cool on a wire rack, still in the pan, for 20 minutes. Remove from the pan and cool completely.
Make the ganache glaze. For the glaze, combine heavy cream, corn syrup, and remaining chopped chocolate in a small saucepan over medium heat, stirring constantly, until smooth. Set aside off of the heat until slightly thickened, about 30 minutes. Pour glaze over the cake.
Notes
Using room temperature butter and eggs is essential to obtain the dense texture and fine crumb associated with pound cakes.
The espresso powder is optional, but adding it results in a richer chocolate flavor.
The pound cake can be baked in two loaf pans instead of a bundt cake. Divide between two well-greased 9×5-inch loaf pans and bake for 40-50 minutes.
If the ganache looks curdled or grainy, the emulsion has broken.  To fix the broken ganache, warm it in a double boiler while whisking fast and continuously until the emulsion comes back together and is smooth.
The pound cake can be stored at room temperature for up to 5 days (and tastes even better after sitting overnight). Leftover cake can be frozen for up to 3 months. To freeze a full cake, wrap the plain cake (no ganache) in plastic wrap and a layer of aluminum foil. Thaw completely, then add ganache before serving. To freeze individual slices, freeze on a sheet pan for a few hours, then wrap in a layer of plastic wrap and store in a freezer bag. Unwrap before thawing.
Recommended Products
As an Amazon Associate and member of other affiliate programs, I earn from qualifying purchases.