June 16, 2016
Light & Fluffy Belgian Waffles
Be a brunch superstar with these light and fluffy classic Belgian waffles.  No matter what topping you choose, these waffles are sure to be a big hit.
Belgian waffles are the extra-special, fancy, high-maintenance member of the breakfast food family.
Pancakes and eggs are quick and easy, but waffles require you to drag out your giant waffle iron.  Then there's the one-at-a-time aspect, meaning someone (probably you, since you're the one reading the waffle recipe) has to man the waffle iron and churn them out, while everyone else eats.
 And then at the end, you have to figure out how to clean the waffle maker.  Nope, not quick and easy at all.
And yet in spite of, or perhaps because of, all this extra work, Belgian waffles are arguably the best of the breakfast food options.  Light and fluffy, with crispy little pockets just waiting for a pool of butter or maple syrup.
Regular waffles can be a little dense, but Belgian waffles?  It's like eating air.  Delicious, delicious, light and fluffy air.
So let's talk about how we achieve those light and fluffy pancakes with crisp pockets.

How to Make Belgian Waffles
First up, you need a Belgian waffle iron.  I really like this Cuisinart Belgian waffle iron (Amazon links are affiliate!) with multiple heat settings, allowing you to customize the crispiness of the waffle.  I also really like that you pour in the batter and then rotate the waffle iron upside-down, ensuring the top and bottom cook equally.
When it comes to the batter, I like to use lots of butter for a rich flavor and crispiness.  In order to get height (more height = fluffier waffle), I think adding extra leavening agents works better than folding in whipped egg whites.  It's common to separate eggs and fold in whipped egg whites, but I always think these waffles turn out more chewy than fluffy.
How to Keep Belgian Waffles Fluffy
First up, make sure to not overwork the batter – lumps are okay when you mix by hand!  And for something like this, you should mix by hand – a stand mixer will overbeat the batter.
Secondly, how you store the hot waffles makes a huge difference.  If you're waiting to serve all the waffles together, you might be tempted to stack them on top of each other on one plate.  Don't do this! The steam released from the hot waffle sandwich makes them super soggy.
Instead, let each waffle sit in a single layer on a plate, on a cooling rack, or even in a single layer on a cookie sheet in a warm oven.  But don't create a giant waffle stack (you know, like pictured below… do as I say, not as I do!) unless you want soggy, extra chewy waffles.
How to Freeze Belgian Waffles
Don't want to deal with waiting one at a time to make waffles for guests?  Make them all ahead of time!  Also perfect for a weekday morning breakfast.  Whenever I make these waffles, I make a few extra and store them, and my toddler loves a piece in the morning before I head off to work.
Cool each waffle on a wire rack, then freeze in a single layer on a cookie sheet until hard.  Move the frozen waffles into a freezer-safe bag and store for up to 3 months.  Whenever you want a waffle, remove from the freezer and reheat straight from frozen in a toaster or oven.  Easy peasy!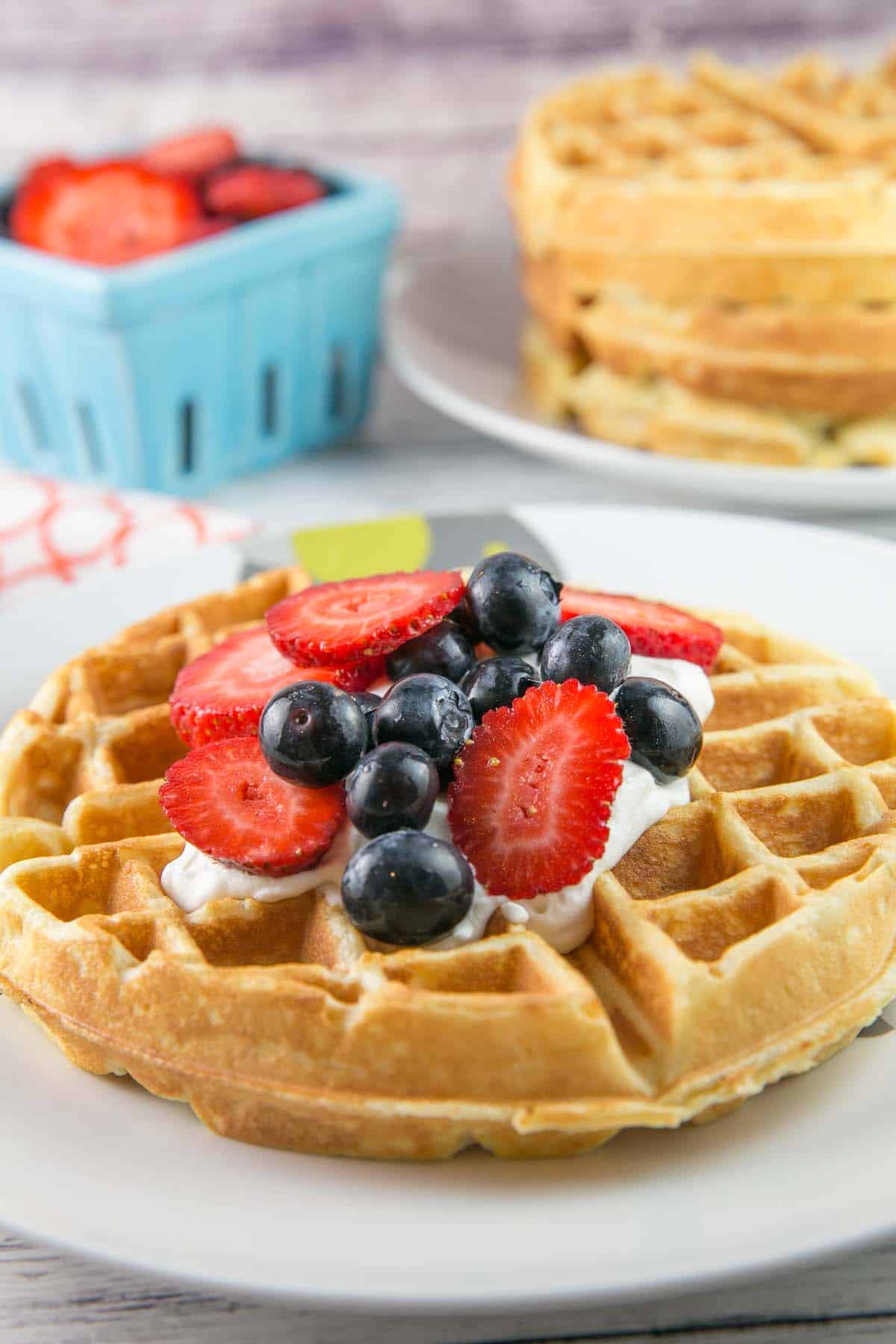 Toppings for Belgian Waffles
Now the fun part: the toppings!  Melted butter or maple syrup are the classic waffle accoutrements.  Jam spread on a waffle is quite delicious, and my husband even likes to spread some peanut butter on his.
If you're feeling extra splurgy, a scoop of ice cream is delicious.  The cold ice cream starts to melt against the warm waffle and all those little pockets collect that melty ice cream and… sorry. I'm losing my train of thought in my waffle and ice cream daydream.
As for me, I like to go with a dollop of freshly-whipped cream and some ripe berries.  Nice and classic — like a good Belgian waffle.
Belgian Waffles
Be a brunch superstar with these light and fluffy classic Belgian waffles.  No matter what you top them with, they're sure to be a big hit.
Ingredients:
2 cups flour
2 tsp baking powder
1/2 tsp baking soda
1/4 tsp salt
1/4 cup sugar
3/4 cup buttermilk
3/4 cup milk
1 teaspoon vanilla extract
2 large eggs
1/3 cup butter, melted
Directions:
Start by preheating the waffle iron.
In a large bowl, whisk together the flour, baking powder, baking soda, salt, and sugar.
In a medium bow, whisk together the buttermilk, milk, vanilla eggs, and melted butter, stirring until smooth.
Pour the liquid mixture into the flour mixture, whisking to combine.  Do not over-mix; batter will be lumpy but no streaks of flour should remain.
Scoop 1/2 to 3/4 cup batter into the waffle iron, spreading if necessary.  Cook as directed by your machine.
Serve immediately with your favorite toppings.
Leftover waffles can be frozen and reheated in a toaster oven, although they will be significantly chewier in texture.