September 3, 2020
Best Belgian Waffle Recipe
The BEST Belgian waffle recipe – light and fluffy inside with a crispy outside! Made with buttermilk, these Belgian waffles are delicious plain or piled high with toppings. Time to be a brunch superstar!
This post may include affiliate links. As an Amazon Associate I earn a fee from qualifying purchases.
Belgian waffles are the extra-special, fancy, high-maintenance member of the breakfast food family.
Pancakes and eggs are quick and easy, but waffles require you to drag out your giant waffle iron. Then there's the one-at-a-time aspect, meaning someone (probably you, since you're the one reading the waffle recipe) has to man the waffle iron and churn them out, while everyone else eats.
And then at the end, you have to figure out how to clean the waffle maker.
And yet in spite of, or perhaps because of, all this extra work, Belgian waffles are arguably the best of the breakfast food options. Light and fluffy inside, with crispy little pockets just waiting for a pool of butter or maple syrup.
So let's talk about how we achieve those light and fluffy waffles with crisp pockets.
The Best Waffle Iron
First up, you need a Belgian waffle iron.
For a moderately priced option, I really like this Cuisinart Belgian waffle iron with multiple heat settings, allowing you to customize the crispiness of the waffle. I also like that you pour in the batter and then rotate the waffle iron upside-down, ensuring the top and bottom cook equally.
If you're willing to splurge on a waffle iron, we recently upgraded to the All Clad waffle iron. It felt like a ridiculous amount to spend on a waffle iron, but it has been worth every penny. It also has 7 different heat settings and a steam vent to allow excess steam to escape (which means a crispier outside).
Light and Fluffy Waffles
For the fluffy inside, we need to get some height in our batter.
Traditionally, Belgian waffles were made with yeast, but proofing the batter can take extra time. Nowadays, we use chemical leaveners (i.e., baking powder and baking soda) to keep the waffles tall and fluffy.
Additionally, we're going to whip the egg whites separately. Whipping the egg whites is the difference between a truly fluffy waffle with a crispy outside and a… slightly chewy waffle.
(In other words, they're both good, but one has a better texture. If I'm just making weekday waffles for my kids, I don't whip the egg whites. If I'm making waffles to impress for weekend brunch or company, I always whip the egg whites.)
For the best texture, whip the egg whites with sugar — and add the sugar once the egg whites start to get a little foamy. Why does this make a difference? It's time for my favorite subject… kitchen chemistry!
Kitchen Chemistry

Sugar interacts with the proteins from the egg whites, which helps make a stable foam. Sugar absorbs water from the eggs, which allows the whipped egg whites to better hold their shape, while also making the foam more elastic, allowing the protein structure to expand and absorb gasses from the leavening agent, providing even more lift.
You'll also want to mix this batter by hand. Be careful not to overwork it — overmixing will lead to too much gluten formation, forming a tough, chewy waffle.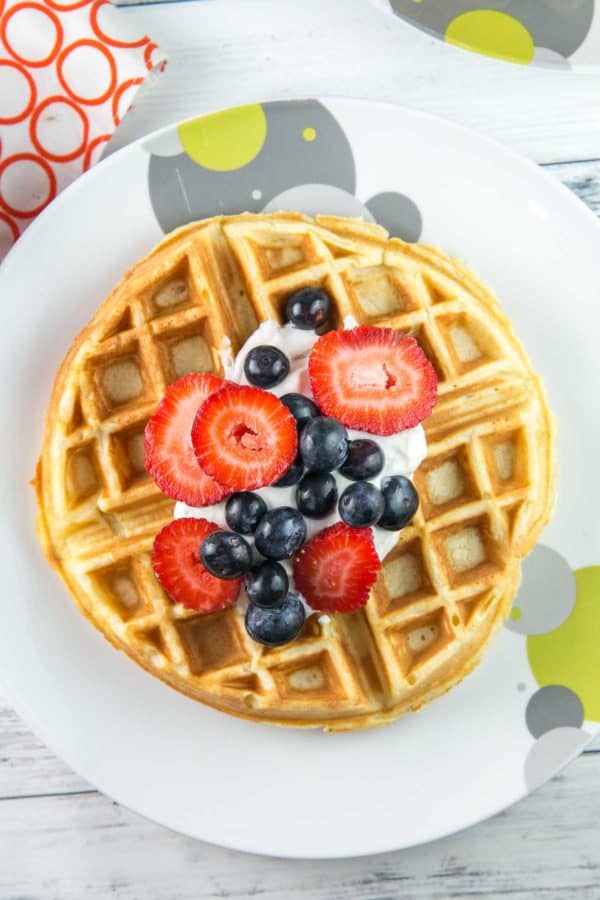 How to Keep Belgian Waffles Crispy
If you whip the egg whites, your waffles will be nice and crispy as soon as they come out of the waffle iron. But wait 10 minutes, and they start to soften up again!
How you store the hot waffles makes a huge difference. Stacking hot waffles on top traps steam and makes them soggy!
Instead, let each waffle sit in a single layer on a cooling rack, allowing for steam to escape from both the top and bottom.
To keep the waffles warm while you make more, place this cooking rack in a 200 °F oven – this will help crisp the waffles even further!
How to Freeze Belgian Waffles
Whenever I make Belgian waffles, I double (or triple!) the batch and fill the freezer for fast weekday breakfast.
Cool each waffle on a wire rack, then freeze in a single layer on a cookie sheet until frozen. Transfer to a freezer-safe bag and store for up to 3 months.
To reheat, place the waffle directly on an oven rack and bake at 250 °F for 10 minutes.
Toppings for Belgian Waffles
Now the fun part: the toppings! Melted butter or maple syrup are the classic waffle accoutrements. Lemon curd (or blueberry curd!) spread on a waffle is quite delicious, and my husband even likes to spread some peanut butter on his. I'd never say no to a waffle drizzled with some salted caramel sauce, either.
My 5 year old likes to put chocolate chips and peanut butter chips in his – the heat from the waffle melts the chocolate chips.
If you're feeling extra splurgy, a scoop of ice cream is delicious. The cold ice cream starts to melt against the warm waffle and all those little pockets collect that melty ice cream and… sorry. I'm losing my train of thought in my waffle and ice cream daydream..
But my personal favorite: a dollop of freshly-whipped cream and some ripe berries. Nice and classic — like a good Belgian waffle.
Tips and Tricks for the Best Homemade Belgian Waffles:
Whip the egg whites separately and fold in gently by hand. This guarantees a fluffy inside and a crisp outside!
Don't overmix the batter. A few small lumps left in the batter are fine.
Don't overfill the waffle iron. Too much batter hinders the release of steam, which means the waffle will not rise and will be dense and soggy. Better to err on the side of underfilling than overfilling.
To make high protein waffles, replace 2/3 cup of the flour with protein powder and add 1/2 cup of Greek yogurt to the batter.
Waffles are best consumed immediately after cooking, but can be placed on a rack in the oven to keep warm until serving.
More Breakfast Recipes:
Best Belgian Waffle Recipe
Yield:
4 waffles (8 servings)
The BEST Belgian waffle recipe – light and fluffy inside with a crispy outside!  Made with buttermilk, these waffles are delicious plain or piled high with toppings.
Ingredients
2 cups (240 grams) all purpose flour
2 teaspoons baking powder
1/2 teaspoon baking soda
1/4 teaspoon salt
3/4 cup (170 grams) buttermilk
3/4 cup (170 grams) milk
1 teaspoon vanilla extract
1/3 cup (75 grams) unsalted butter, melted
2 large eggs, separated
1/4 cup (50 grams) sugar
Instructions
Start by preheating the waffle iron.
In a large bowl, whisk together the flour, baking powder, baking soda, and salt.
In a medium bow, whisk together the buttermilk, milk, vanilla extract, melted butter, and egg yolks, stirring until smooth.
Pour the liquid mixture into the flour mixture, whisking to combine. Do not over-mix; batter will be lumpy but no streaks of flour should remain.
Add the egg whites to a bowl and whip, using an immersion blender or a mixer with a whisk attachment. Once the egg whites are foamy, slowly pour in the sugar down the edge of the bowl, continuing to whip until medium-stiff peaks form.
Gently fold the egg whites into the batter until no large streaks of egg whites remain.
Scoop 3/4 cup batter into the waffle iron, or until achieving amount necessary to fill individual waffle irons, spreading if necessary. Cook to desired level of doneness as indicated by waffle iron.
Serve immediately with your favorite toppings.
Notes
Waffles are best served immediately after removing from waffle iron. For best texture, do not stack waffles on top of each other; place in a single layer on a cooling rack.
To keep waffles warm, place in the oven in a single layer at 200 °F.
Waffles can be frozen for up to 3 months. To reheat, place directly on the rack of a 250 °F oven for 10 minutes.
A Bunsen Burner Bakery Original Protocol
Recommended Products
As an Amazon Associate and member of other affiliate programs, I earn from qualifying purchases.
Nutrition Information:
Yield:

8
Serving Size:

2 quarters
Amount Per Serving:
Calories:

240
Total Fat:

9.6g
Carbohydrates:

31.6g
Protein:

6.2g
This Best Homemade Belgian Waffle recipe was originally published on 06/26/2016 and was republished with an updated recipe and additional tips on 09/03/2020.