August 10, 2023
S'mores Cupcakes
S'mores Cupcakes are a delectable twist on the classic campfire dessert that you can make in the comfort of your own home! They perfectly capture the classic flavors of s'mores with a graham cracker base layer, chocolatey cupcake, and toasted marshmallow meringue frosting on top!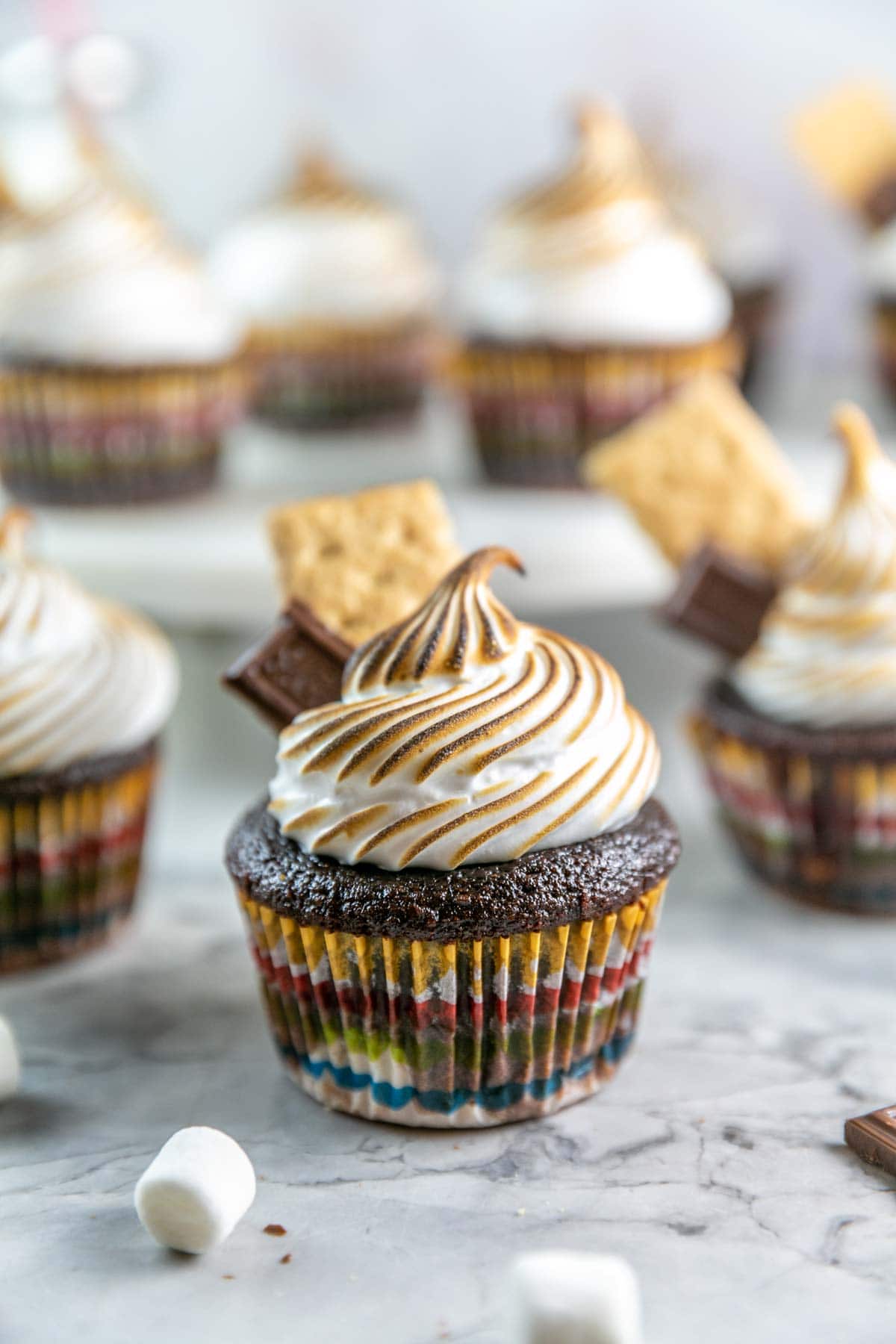 I am convinced that s'mores may quite possibly be the perfect dessert. Crunchy graham crackers, melty chocolate, and fluffy charred marshmallows just pair together SO well! It's no surprise that I have a lot of s'mores desserts on my site. You can find everything from s'mores cheesecake and a three layer s'mores cake to s'mores babka and s'mores brownies!
Today it's time to revamp what was the oldest s'mores dessert on my site, which is practically retro at this point — these s'mores cupcakes were originally posted in 2014!
They're long overdue for an update, and I'm bringing it to you today, in honor of National S'mores Day, my favorite completely useless, totally made-up holiday!
These toasted s'mores cupcakes are simple but have all of the flavors to take you back to childhood camping adventures around a campfire. They have a crunchy graham cracker base, fluffy chocolate cake middle, and an absolutely to-die-for marshmallow meringue frosting on top.
Ingredients and Substitutions
Here's a rundown of some of the ingredients you need and substitution suggestions.
Graham Cracker Crumbs: Use gluten-free graham cracker crumbs to keep these cupcakes gluten-free.
Butter: Unsalted butter at cool room temperature – it should be around 65°F. If the butter is too warm, the cupcakes will have a greasy texture.
Buttermilk: Buttermilk is important for the texture – if you don't have any on hand, add some lemon juice (more on this below!).
Vegetable Oil: Substitute any neutral-flavored oil, like canola oil or grapeseed oil.
Flour: To keep the cupcakes gluten-free, you can use any 1:1 all-purpose gluten-free baking mix.
Cocoa Powder: This recipe is written for natural unsweetened cocoa powder, not Dutch-processed.
Hot Coffee: Hot coffee really helps the cupcakes taste even more chocolatey, but you can use hot water instead of coffee. The hot liquid helps dissolve the cocoa powder
Egg Whites: Use fresh egg whites, not egg whites from a carton.
Graham Cracker Base
It wouldn't be a s'mores-themed dessert without graham crackers, right? I actually prefer eating a s'mores cupcake to eating an actual s'mores, since the graham cracker always breaks on traditional s'mores! This version of s'mores has a caramelized and solid graham cracker base that won't go breaking on you.
This base is similar to a cheesecake base, made with crushed graham crackers, butter, and sugar. Once you bake the base a little bit, you get a perfectly buttery graham cracker base!
Just make sure the graham cracker crumbs are fine and evenly sized. If you have whole graham crackers on hand, pop them in a food processor for a simple way to break them up! Then use the bottom of a glass or a sturdy measuring cup to smoosh the graham cracker down. You want to compact them as tightly as possible in the bottom of the cupcake wrappers!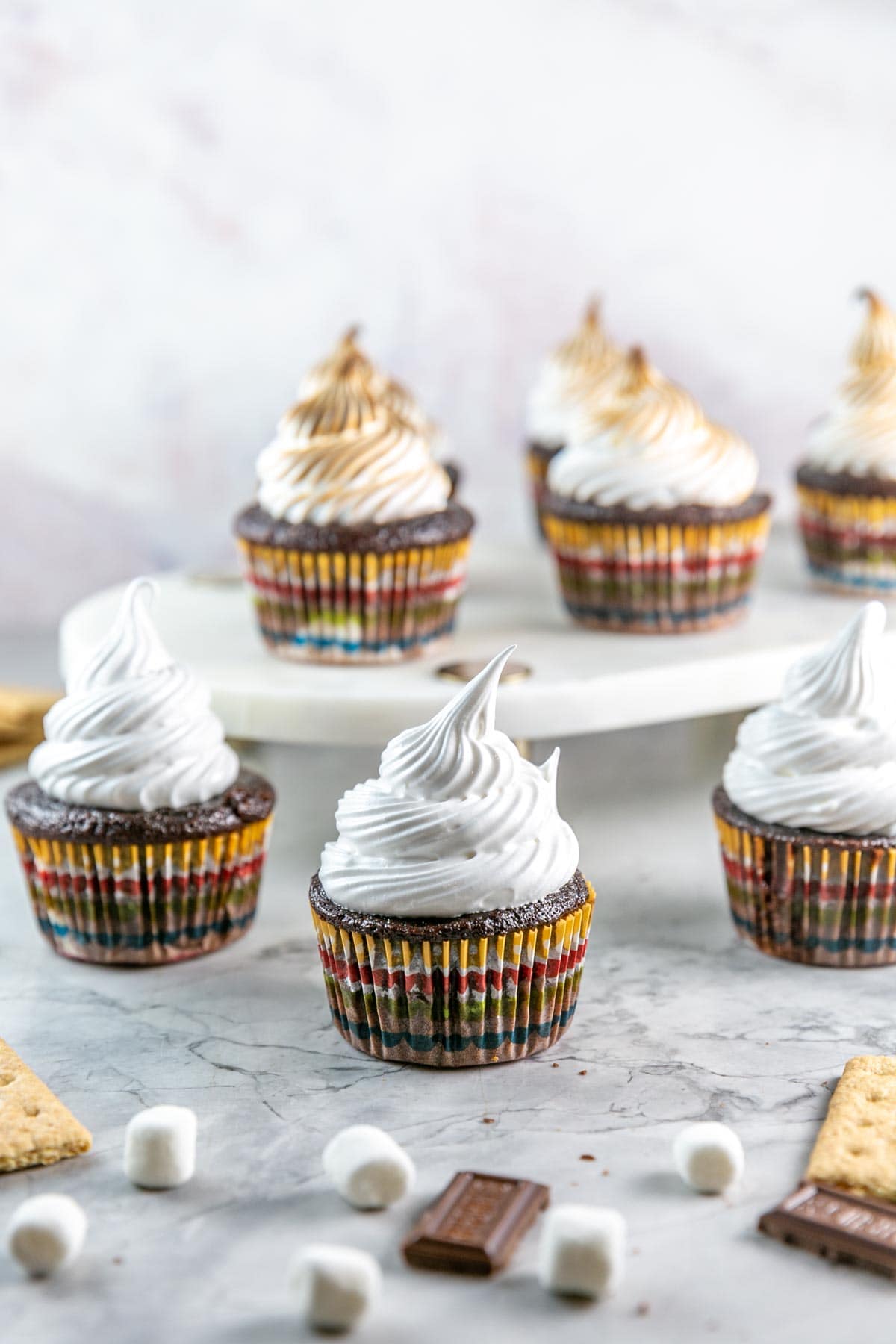 Decadent Chocolate Cupcakes
The chocolate cupcake layer in this s'mores cupcake recipe has to be packed with chocolate flavor to really get the s'mores effect! These are basically my best chocolate cake recipe but in cupcake form.
These use my favorite trick for chocolate cakes: hot coffee! Adding hot coffee blooms the cocoa powder to help it dissolve and develop more flavor. And don't worry, the end result doesn't taste like coffee at all!
Buttermilk is an important ingredient in these chocolate cupcakes to maintain a moist and tender crumb. If you can find full-fat buttermilk, use it! The difference in baking between full-fat buttermilk and the thin, watery low-fat buttermilk you usually find in the grocery store is truly unbelievable.
If you can't find buttermilk at all, this is an application where you can make your own: we're mostly using buttermilk here because it has a lower pH, not for the chunkier texture. To make your own buttermilk, add 1/2 tablespoon of lemon juice to whole milk, let it sit for 5 minutes, and then add it to the cupcake batter.
Why is it so important to use buttermilk instead of regular milk? The answer all comes down to my favorite subject… kitchen chemistry!
for a moist and tender crumb! If you're wondering why, it all comes down to Kitchen Chemistry!
Kitchen Chemistry

Buttermilk is acidic, which lowers the pH of the cupcake batter. This acidity breaks down long strands of gluten and proteins, resulting in a cake that is more tender thanks to less gluten development.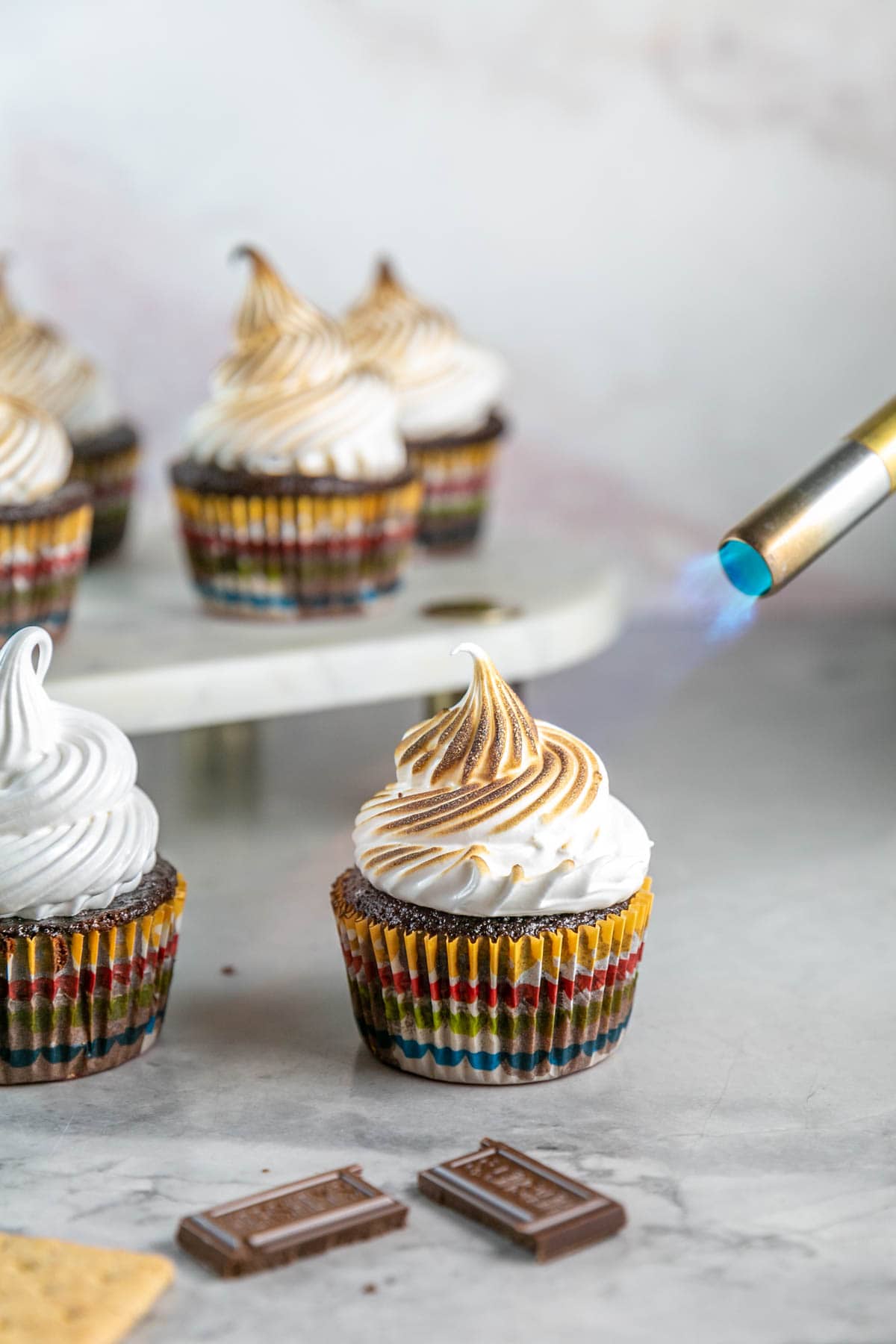 Marshmallow Meringue Topping
Now we get to the good stuff. The marshmallow top of these easy s'mores cupcakes is the star of the show! It is so light and fluffy. If you have never made meringue, it isn't as scary as you might think!
Simply mix together egg whites, sugar, cream of tartar, and salt in a glass bowl. You can whisk this part by hand! Next, rest the bowl over a small pot of boiling water – just make sure the bottom of the bowl doesn't touch the water! This allows us to gently cook the egg whites to help dissolve the sugar and ensure the eggs are safe to eat.
Once the egg white mixture reaches the proper temperature, transfer the mixture to the bowl of a mixer fitted with the whisk attachment and whisk until stiff, glossy peaks form.
Once the cupcakes have completely cooled, pipe the meringue on top of the cupcakes. Then, you can toast the meringue with a kitchen torch, or toast them under the broiler in the oven. If you are broiling the cupcakes, keep a close eye on them and take them out when they are just golden brown on top!
You can decorate them even more with a sprinkle of graham cracker crumbs and a square of chocolate, or simply eat them as is and enjoy.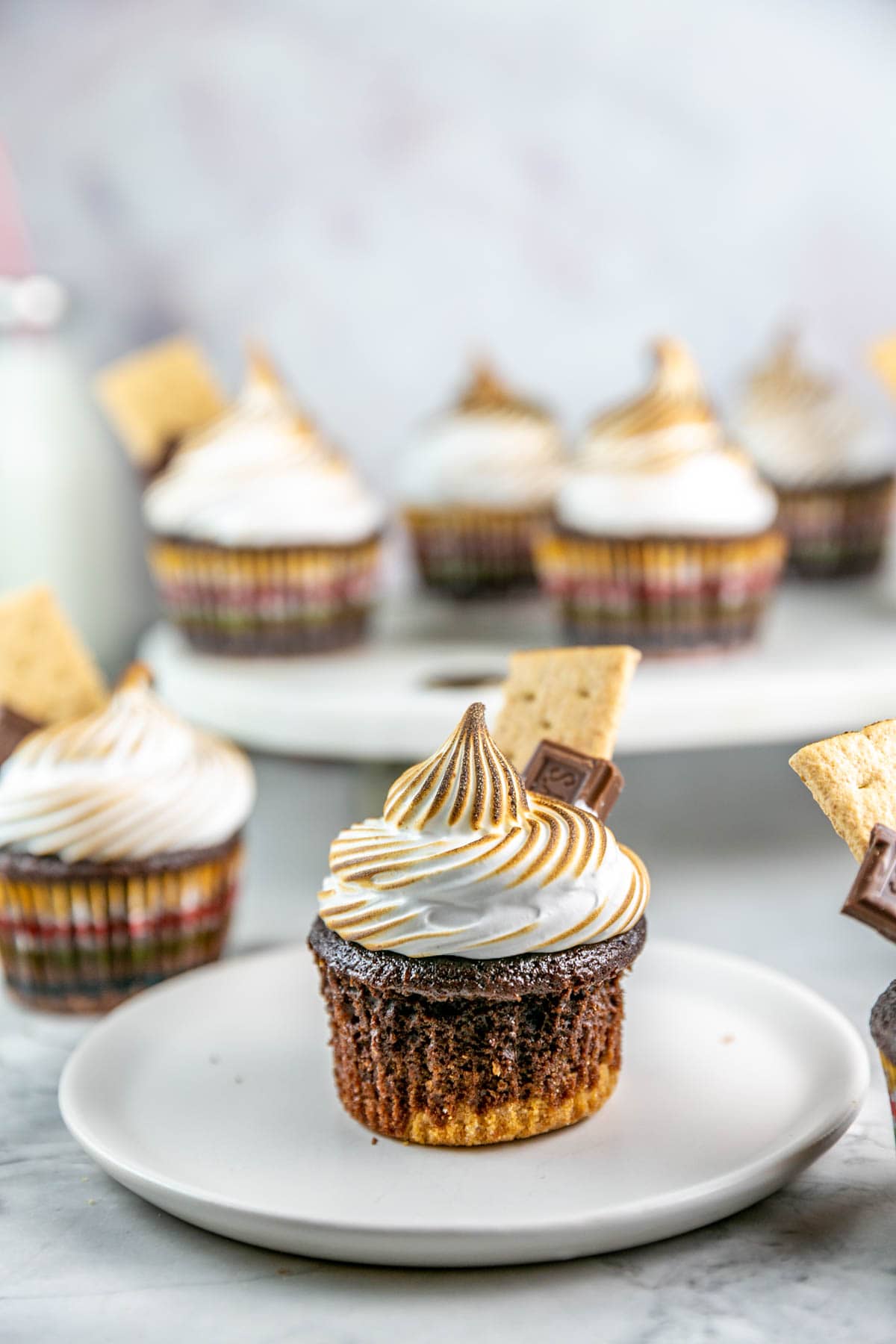 Recommended Tools to Make S'mores Cupcakes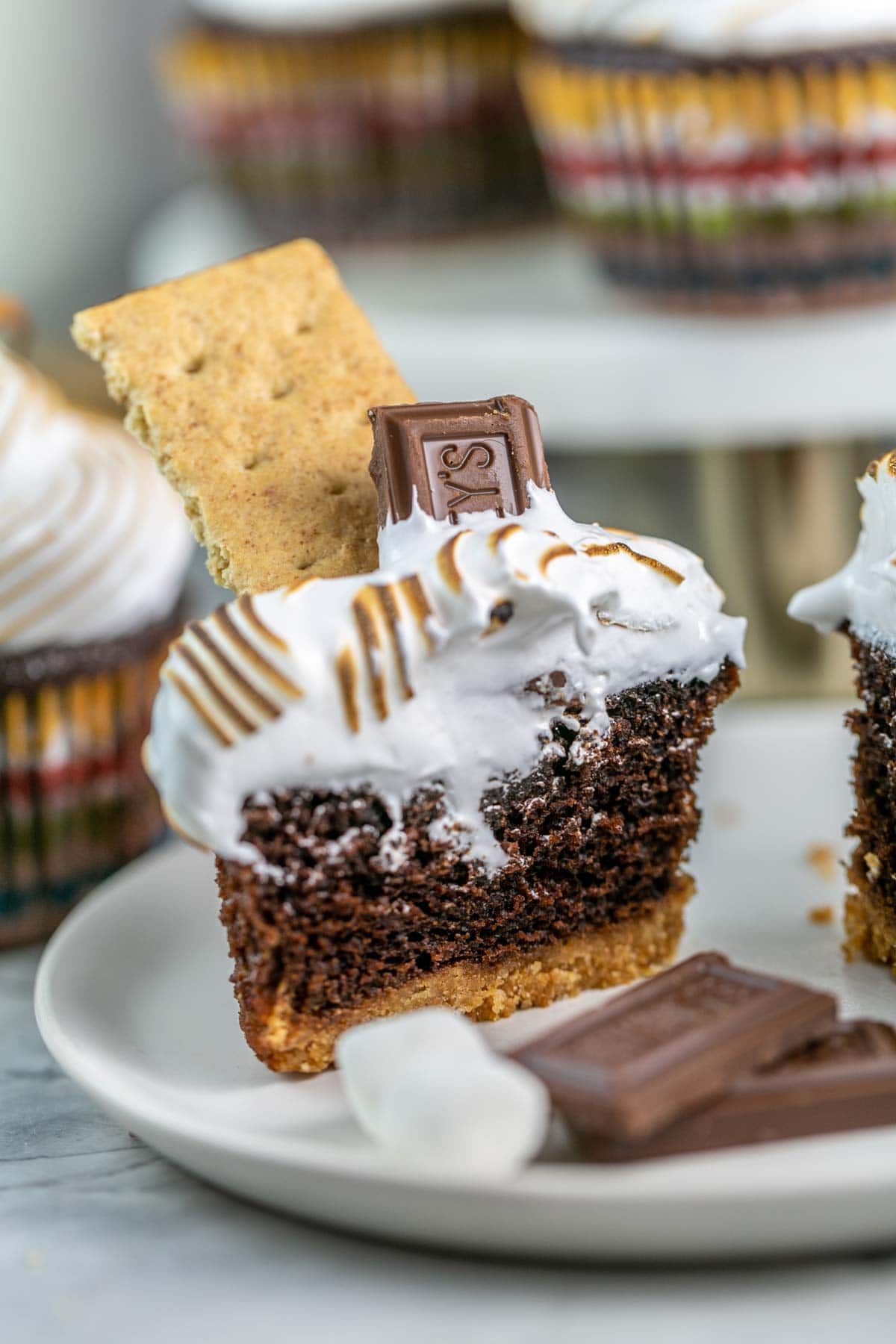 Tips and Tricks for the Best S'mores Cupcakes
Don't overmix the cupcakes. It's so easy to overmix oil-based cake batter with an electric mixer, so don't over do it. The texture of the cupcakes will be dense and rubbery if you mix too much.
These cupcakes can be made ahead of time. Store the unfrosted chocolate cupcakes at room temperature for up to 3 days, or freeze them for up to 3 months. When you are ready to serve them, whip up the meringue and decorate the cupcakes!
If you're not up to making your own marshmallow meringue frosting, top the cupcakes with marshmallow fluff! I don't recommend trying to toast the fluff, however — you can read more about what happened when I tried it for this S'mores Bundt Cake!
Store these cupcakes in an airtight container at room temperature for up to 4 days or freeze for up to 3 months.
More Chocolate-Packed Recipes to Try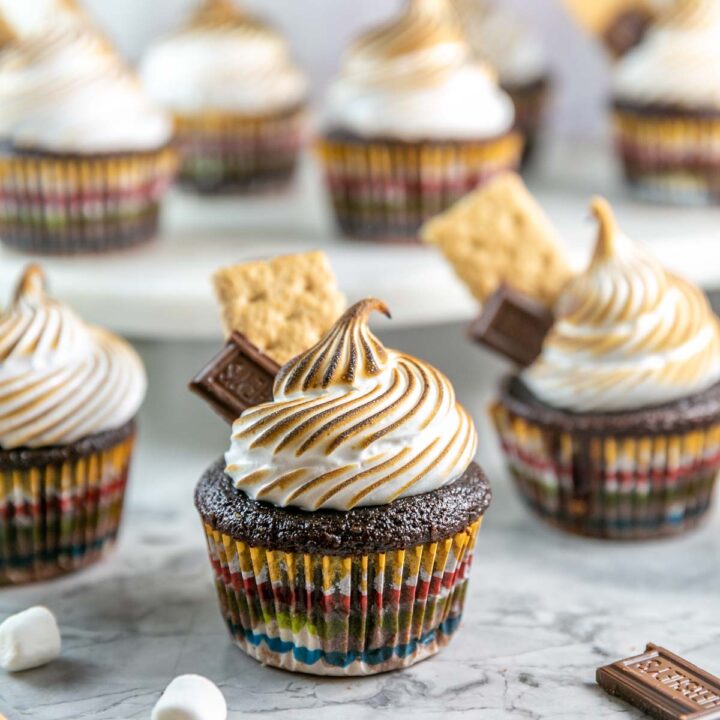 S'mores Cupcakes
Prep Time:
1 hour
30 minutes
S'mores cupcakes capture the classic flavors of s'mores with a graham cracker base layer, chocolatey cupcake, and marshmallow meringue frosting to top them off!
Ingredients
For the Crust:
3/4 cup (75 grams) graham cracker crumbs
2 1/2 tablespoons (36 grams) unsalted butter, melted
1/8 cup (25 grams) granulated sugar
For the Cupcakes:
1 large egg
1/2 cup (113 grams) buttermilk
1/4 cup (50 grams) vegetable oil
1 teaspoon vanilla extract
1 cup (198 grams) granulated sugar
1 cup (120 grams) all-purpose flour
1/2 cup (42 grams) natural unsweetened cocoa powder
3/4 teaspoon baking powder
1/2 teaspoon baking soda
1/2 teaspoon salt
1/2 cup (57 grams) hot coffee
For the Marshmallow Meringue Frosting:
4 large egg whites, room temperature
1 cup (198 grams) granulated sugar
1/4 teaspoon cream of tartar
pinch of salt
1 teaspoon vanilla extract
Instructions
Preheat the oven to 325°F. Line muffin tins with 12 cupcake liners.
Make the graham cracker crust. In a medium bowl, mix together the graham cracker crumbs and sugar. Add the melted butter and stir until well combined. Add 1 tablespoon of the graham cracker crumb mixture into each cupcake liner. Use the back of a spoon to press the crumbs into a flat layer.
Bake the crusts for 5 minutes. Remove the pans from the oven and increase the temperature to 350°F. Allow the crusts to cool for at least 5 minutes before adding the cupcake batter.
Make the cupcake batter. While the crusts cool, combine the eggs, milk, oil, and vanilla in the bowl of a stand mixer fitted with the paddle attachment. Add the sugar and mix until combined. Then slowly add the flour, cocoa, baking powder, baking soda, and salt. Beat at low speed until combined and smooth. Add in the coffee and gently stir until smooth. The batter will be quite thin. Let the batter rest for 15 minutes, and then stir again gently.
Bake the cupcakes. Fill the cupcake liners three-quarters full with batter. Bake for 16-20 minutes, until a tester comes out clean. Cool in the pan for 5 minutes and then remove to a rack to cool completely.
Make the frosting. While the cupcakes cool, fill a medium saucepan with 1 inch of water and bring to a simmer over medium heat. Add the egg whites, sugar, cream of tartar, and salt to a clean glass bowl and whisk by hand to combine. Rest the bowl over the saucepan, ensuring that the bottom of the bowl does not touch the simmering water. Heat, whisking constantly, until the sugar has dissolved and the mixture reaches 160°F (hot to the touch), about 6 minutes.
Pour the heated egg white mixture into the bowl of a stand mixer fitted with the whisk attachment. Turn the mixer to medium and whisk for 1 minute. Increase the speed to high and whisk until stiff, glossy peaks form, about 5 minutes more. Add the vanilla extract and whisk until just incorporated, about 1 minute.
Decorate the cupcakes. Pipe the frosting in tall peaks onto the completely cooled cupcakes. Toast the marshmallow icing using a kitchen torch or carefully toast under the broiler of your oven, checking frequently. Decorate the toasted meringue with additional graham cracker pieces or chocolate squares, if desired.
Recommended Products
As an Amazon Associate and member of other affiliate programs, I earn from qualifying purchases.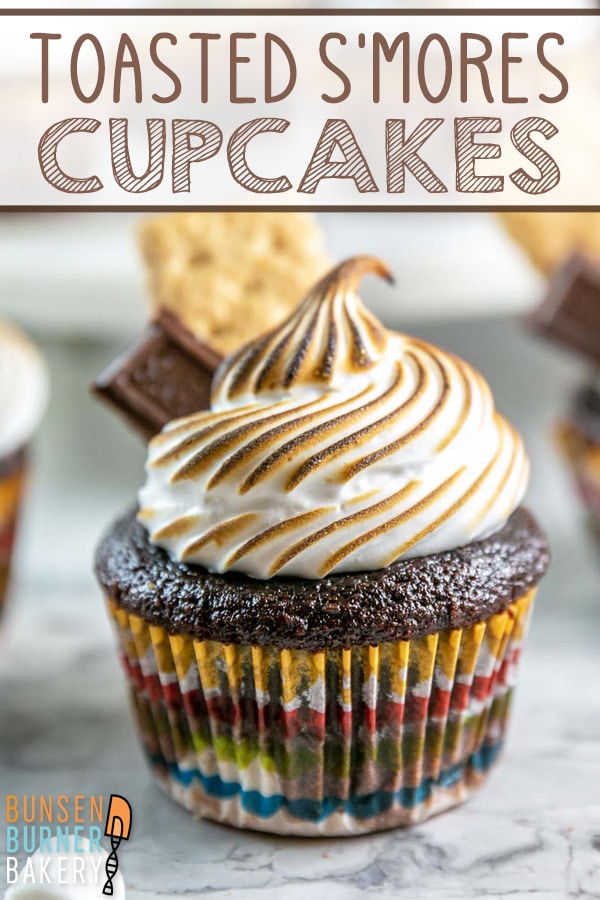 This recipe was originally posted in August 2014 and updated with new photos and helpful tips in August 2023.