March 10, 2017
Mint Irish Cream Brownies
Rich, fudgy chocolate brownies with a layer of mint Irish cream frosting and a chocolate coating.  These mint Irish cream brownies are perfect for St. Patrick's Day – or year round!
I know.  I know.  THREE Irish cream related posts in a row?  From someone who is a mere 1/8th Irish?  It's total overkill.  I get it.
But you have to strike while the iron is hot, right?  And in this case, the iron is the rest of the batch of homemade Baileys Irish cream waiting in my refrigerator.  And I guess the heated iron part is the upcoming weekend cabin trip my husband is taking with the male half of our college friend group.
The obvious solution: mint Irish cream brownies.
Because when you're spending the weekend with a bunch of guys in a log cabin existing on beer, scotch, and Doritos, what you really need are boozy brownies.  Obviously.
Wilderness Survival 101, people.  Essential.
(The ladies, meanwhile, will eat delicious home cooked food, enjoy quality conversation, and supervise all the children.  There's also talk of an International Women's Day panel at a local mosque.  Basically, the opposite of our husbands' drinking weekend in the woods.)
These mint Irish cream brownies start with a thick and fudgy brownie layer, whisked by hand in one bowl.  So easy.
Top them with a minty, Irish creamy buttercream frosting – tinted with a little green food coloring.  (Because mint should always be green – I'm looking at you with side eye, white mint chocolate chip ice cream.)
Then cover the whole thing with a layer of melted chocolate (with more Irish cream stirred in, of course).
And yes, the brownies are green and contain Irish cream and are perfectly festive for St. Patrick's Day.  But they're also delicious year round – mint is always in season, right?  (Unless you're my friend Gin, who hates mint.)
Not into Baileys style Irish cream?  Leave it out – just sub in milk instead.  Like you frosting EXTRA minty?  Double the mint extract.  Want a really super duper thick layer of chocolate on top?  Double it.
For this particular batch I photographed, I doubled all the ingredients and baked them in a 9 x 13-inch springform pan.  As written, these make perfect 9 x 9-inch brownies, or slightly thicker 8 x 8-inch brownies.   Ingredient ratios are the same, just add a few extra minutes to the baking time for 9 x 13 or 8 x 8 inch pans.
Because when a group of guys is spending the weekend in the woods, you always double the batch of boozy brownies.  That's Wilderness Survival 102.
Love brownies? Check these out, too!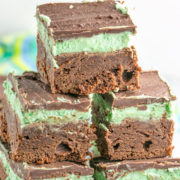 Mint Irish Cream Brownies
Rich, fudgy chocolate brownies with a layer of mint Irish cream frosting and a chocolate coating.  Perfect for St. Patrick's Day – or year round!
Ingredients:
For the brownies:
8 tablespoons butter
8 ounces seimsweet chocolate, chopped (~ 1 1/3 cups chocolate chips)
3 eggs
1 cup sugar
1/2 teaspoon salt
1 tablespoon vanilla extract
1/4 cup unsweetened cocoa powder
1 cup all purpose flour
For the mint buttercream frosting:
1/2 cup butter, room temperature
3 cups confectioners sugar
1/3 cup homemade Irish cream (or Baileys, Ryan's, etc.)
1 teaspoon mint extract
green food coloring
For the chocolate coating:
2 tablespoons butter
6 ounces semisweet chocolate, chopped (~1 cup chocolate chips)
2 tablespoons homemade Irish cream
Directions:
Preheat the oven to 350 °F.  Line a 9-inch square baking dish with aluminum foil, extended the foil over the edge.  Spray with nonstick cooking spray.
Combine the butter and chocolate in a large microwave safe bowl.  Microwave the butter and chocolate for 1 minute at 50% power and stir.  Continue microwaving in 1 minute increments at 50% power until chocolate is fully melted and mixture is smooth.
Whisk in the eggs, one at a time, followed by the sugar, vanilla, and salt.
Stir in the cocoa powder and flour with a wooden spoon.  The resulting brownie batter will be quite thick; it will take some effort to stir in all the flour.
Scrape the batter into the prepared pan, smoothing with a spatula into an even layer.  Bake for 28 – 30 minutes, or until a toothpick inserted into the center comes out with a moist crumb.  Transfer the pan to a wire rack and cool completely before frosting.
To make the frosting, beat the butter with a mixer until smooth and creamy, 2 to 3 minutes.  Add in the confectioners sugar and Irish cream, beating for an additional minute or two, until fully incorporated.  Add in the mint extract and the food coloring, one drop at a time and fully mixing before adding the next drop.  Once the desired color has been achieved, turn the mixer up to high speed and beat for one minute.  Frost the brownies with a spatula and transfer to the refrigerator.  Allow the frosting to set in the refrigerator for one hour, before covering with chocolate.
To make the chocolate layer, melt the butter and chocolate chips together in the microwave for 1 minute at 50% power, stirring until melted.  Add in the Irish cream, stirring well to combine.  Gently spread with a knife over the cold frosting.  Return the brownies to the refrigerator for an hour, until chocolate is set, before cutting.
Brownies can be kept at room temperature, but are best enjoyed refrigerated, as the frosting and chocolate layer are more firm.  Store in an airtight container for up to a week.
To make a 9 x 13 inch pan batch of brownies, double all the ingredients and bake for 35 minutes.
To freeze, keep frosted, uncut brownies in the baking sheet, cover tightly with plastic wrap and a layer of aluminum foil, and freeze for up to 3 months.  To thaw, move brownies into the refrigerator overnight.  To freeze cut brownies, wrap each individual brownie in aluminum foil and store in a gallon sized freezer bag.  Thaw overnight in the refrigerator.