February 19, 2018
Best Marble Bundt Cake
The best of both worlds, this marble bundt cake boasts strong vanilla and chocolate flavors, and isn't at all crumbly and dry like most marble cakes.  Can't decide what kind of cake to make?  This is the answer – truly the BEST marble bundt cake!
If you thought the end of 2017 meant the end of my bundt cake obsession… think again.  I did not make any bundt cakes at all in January, and after a year of making one each month, it felt strange.
Weird.  Like I was missing a part of myself.
So to make up for it, I've made two thus far in February.  Aaaah.  Life is normal again.  Bundt cake's back… ALRIGHT!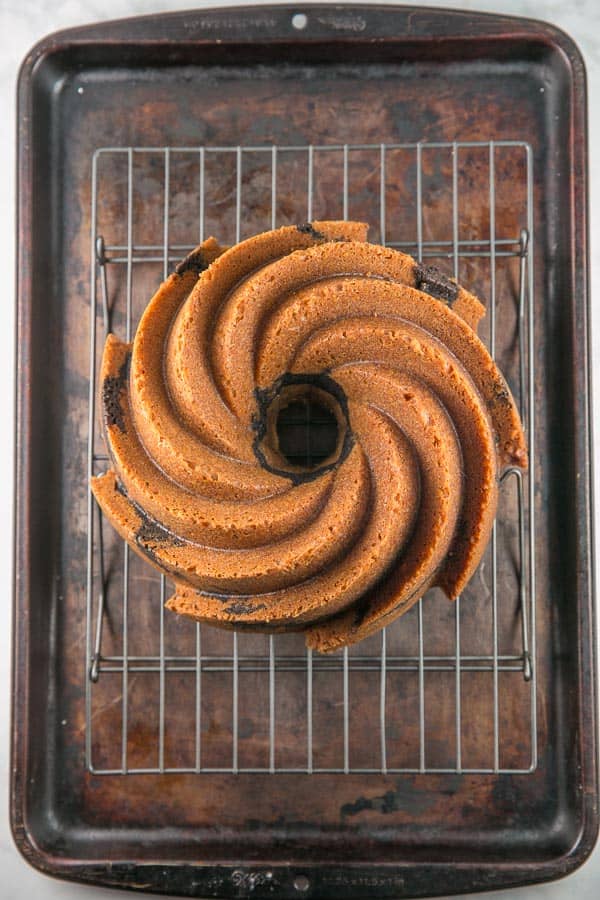 So let's get back into bundts with what I am officially deeming the best marble bundt cake recipe out there.  I'm not usually one to toot my own horn or call things "the best!" but guys, this one really is.
Let's talk about marble cakes in general.  They always look so pretty, with the deep contrasted colors, but let's be honest: they're usually not that great.
Like, if you're given the opportunity to choose any cake flavor out there, who requests marble?  No one.  Maybe a half and half cake if you're trying to please a crowd, but marble?  Nope.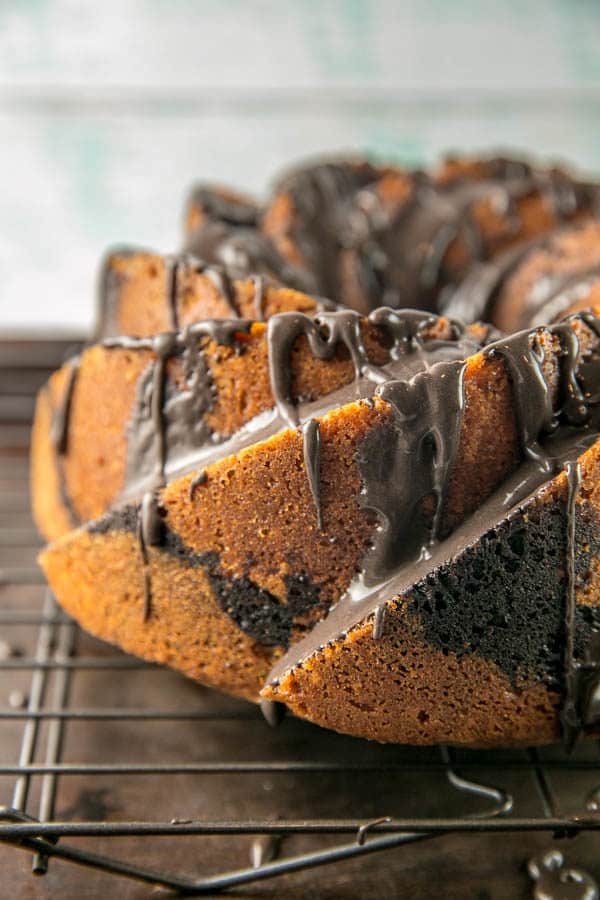 Because frankly… marble cakes are usually not very good.  A plain vanilla cake or plain chocolate cake is usually better than a marble cake. 
The flavors kind of mix, you don't get a distinct feeling of chocolate and vanilla, and don't even get me started on the texture.  Here's the problem: marble cake mixtures call for you to make a vanilla cake and add some cocoa powder to half the batter to make chocolate.
Easy, yes.  Delicious? No.  Because all you're doing is adding dry ingredients to an already appropriately made cake batter.  This means that the chocolate part of a marble cake is often drier.
Alternatively, some recipes call for adding melted chocolate, which sounds better in theory… but a cooled cake made with melted chocolate is often pretty crumbly.  Plus, melted has all the extra 'fillers' so it doesn't taste as rich and chocolatey… back to one of the original problems with marble cakes.
Either way… no thank you.
I've been struggling for a while trying to get a marble cake with distinct chocolate and vanilla flavors and the same texture between the vanilla and chocolate.  And I'm thrilled to announce that I've finally figured it out.
This, friends, is the best marble bundt cake… thanks to the addition of a little extra vegetable oil.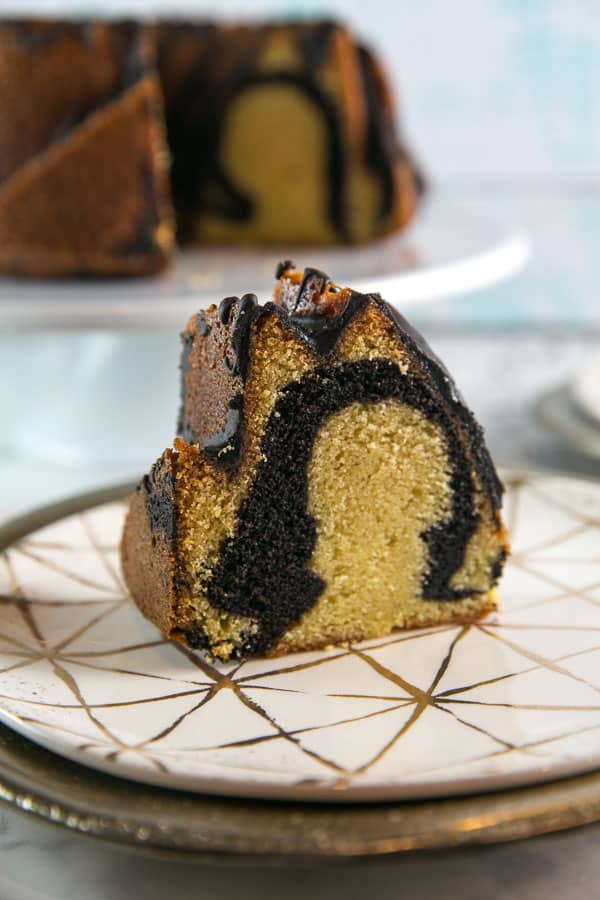 That's right.  All it took was adding a little oil to the cocoa powder to make the chocolate batter.  Not hot water.  Not more milk.  Not melted chocolate.
Just two tablespoons of vegetable oil take your marble bundt cake from meh to wow.
So wow, in fact, that one of my coworkers, who loves sweets and desserts more than anyone I've ever met, came up and gave me a high five and told me this was his favorite thing I've ever baked.
So basically: the ultimate ringing endorsement for a cake that is usually pretty mediocre.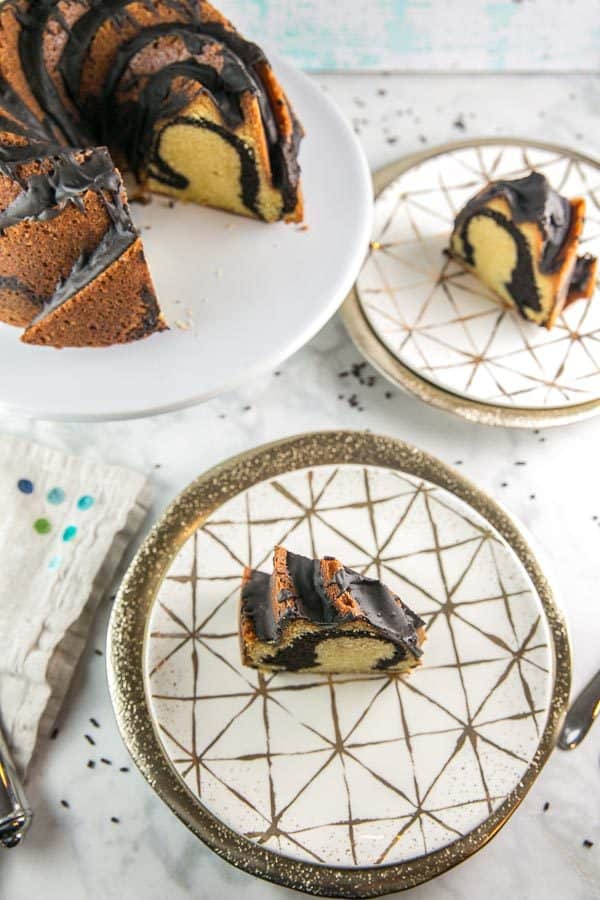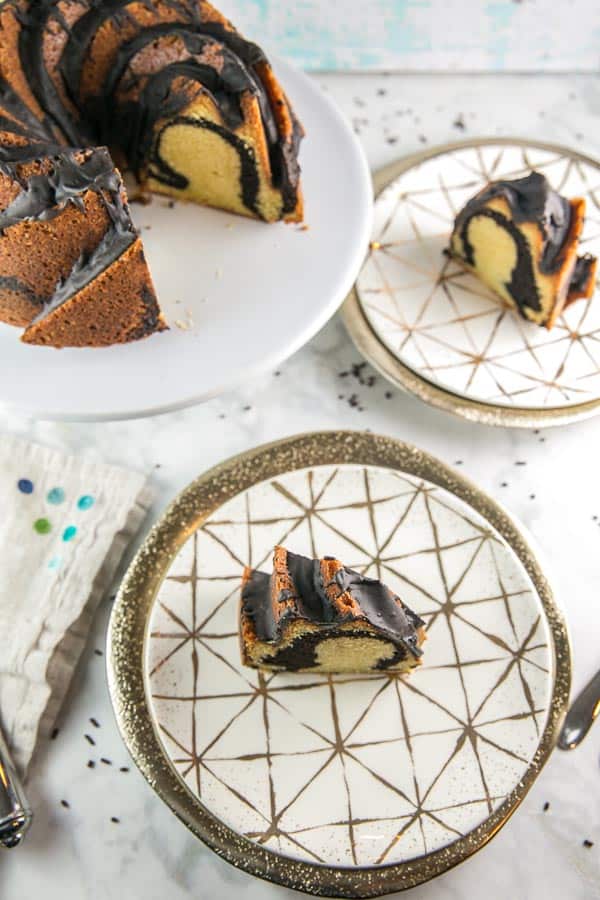 I used black cocoa powder (Amazon links may be affiliate) to achieve a really rich, dark chocolate color and flavor.  Black cocoa is a super-duper dark Dutch-process cocoa with results in an intense, dark color and extra dark, chocolately flavor.
You can absolutely sub in either regular Dutch-process cocoa or natural unsweetened cocoa, but the chocolate swirl will not be as dark or have quite as prominent a chocolate flavor.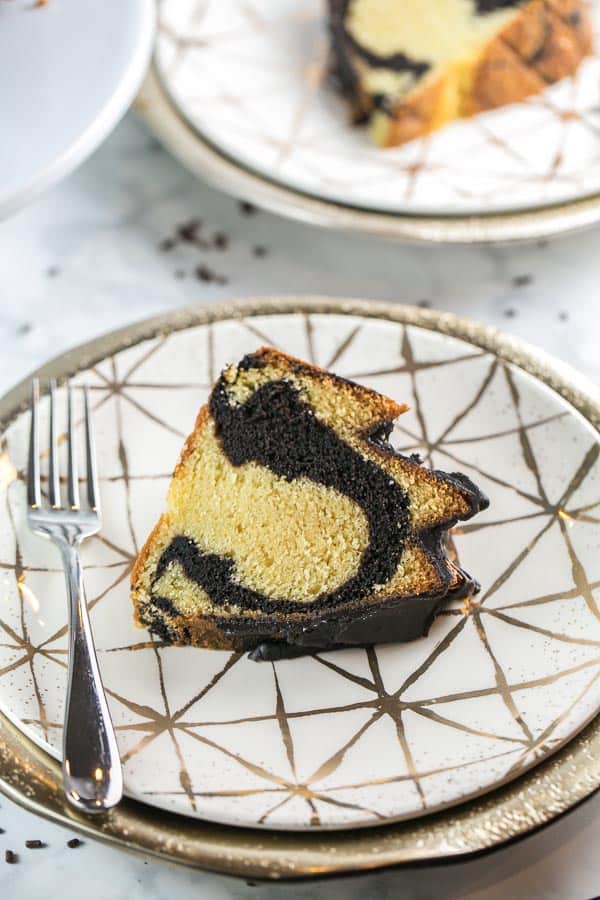 Chocolatey and vanilla-y.  Super duper moist.  Simultaneously a little dense (like a bundt cake should be), with a light crumb.
This just might be the bundt cake that knocks my funfetti bundt cake out of my personal favorite bundt spot.  Because much like my beloved black and white cookies, this cake really is the best of both worlds.
Best Marble Bundt Cake
The best of both worlds, this marble bundt cake boasts strong vanilla and chocolate flavors, and isn't at all crumbly and dry like most marble cakes.
Ingredients:
For the cake:
1 1/4 cup butter, room temperature
2 cups sugar
5 eggs, room temperature
1 1/2 tablespoons vanilla extract
1/2 cup full-fat sour cream
2 teaspoons baking powder
1 teaspoon baking soda
1/2 teaspoon salt
3 cups all purpose flour
3/4 cup buttermilk, room temperature
1/4 cup black cocoa powder
2 tablespoons vegetable oil
For the chocolate glaze:
1 cup confectioners sugar
3 tablespoons black cocoa powder
2 tablespoons heavy cream
1 teaspoon vanilla extract
Directions:
Preheat the oven to 350 °F.
In a large bowl, beat together the butter and sugar until light and fluffy, 2 to 3 minutes.  Add eggs, one at a time, followed by the vanilla and sour cream.  Beat until smooth.  Add in the baking powder, baking soda, salt, and half the flour, continuing to mix.  Add in the buttermilk, followed by the rest of the flour.  Continue to mix just until no streaks of flour remain.
Scoop half the batter into a small bowl.  Whisk in the cocoa powder and vegetable oil.
Generously grease and flour a 10 cup bundt pan.  Spread half the vanilla cake batter in the pan and smooth the top with a spatula.  Scoop in all the chocolate batter, again smoothing the top.  Scoop in the rest of the vanilla cake batter, smoothing the top to cover the chocolate batter.  Gently but firmly bang the pan on the counter a few times to release any air bubbles.
Bake for 55-60 minutes, or until a toothpick inserted into the center of the cake comes out clean.  Allow the cake to cool in the pan for 10 minutes, then invert onto a wire rack and cool completely.
To make the chocolate glaze, whisk together the confectioners sugar, cocoa powder, heavy cream, and vanilla extract.  Drizzle the glaze over the top of the cake.  Refrigerate for 15 minutes to set, then slice and serve.
Cake will keep stored in an airtight container at room temperature for 3-4 days.  To freeze, wrap cake tightly in plastic wrap, followed by a layer of aluminum foil.  Allow to thaw overnight at room temperature before serving.
A Bunsen Burner Bakery Original Protocol