October 23, 2020
Salted Caramel Pumpkin Bread with Pumpkin Buttercream Frosting
An easy mix-by-hand pumpkin bread with a salted caramel swirl and pumpkin buttercream frosting. This Salted Caramel Pumpkin Bread combines all the best fall flavors!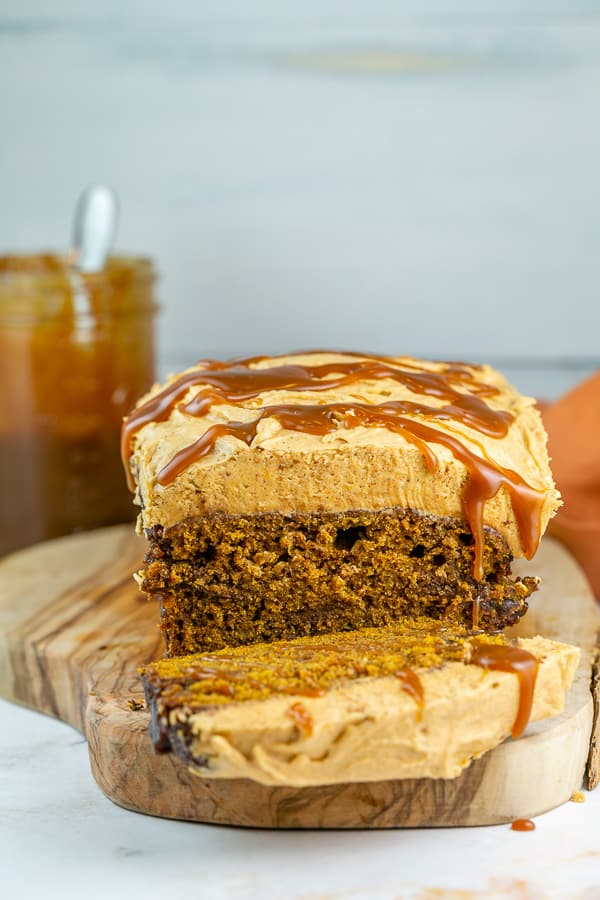 Is it even fall without sharing at least one new pumpkin recipe? 🤔
I'm pretty sure the answer is no – and this year, we're combining two of my favorite fall flavors: caramel and pumpkin.
Of course, homemade salted caramel sauce is delicious year-round, but it pairs especially well with pumpkin and fall flavors like cinnamon and nutmeg!
I'm no stranger to pumpkin bread — these chocolate chip pumpkin bread and nutella pumpkin bread recipes are in my fall baking lineup every year.
Buuuut… I'm just going to go ahead and say that this is my new favorite pumpkin bread recipe.
We have…
An easy, mix-by-hand, super moist pumpkin bread.
Homemade salted caramel layered in the batter.
Caramel pumpkin buttercream frosting.
Drizzled salted caramel.
This is the ultimate fall quick bread!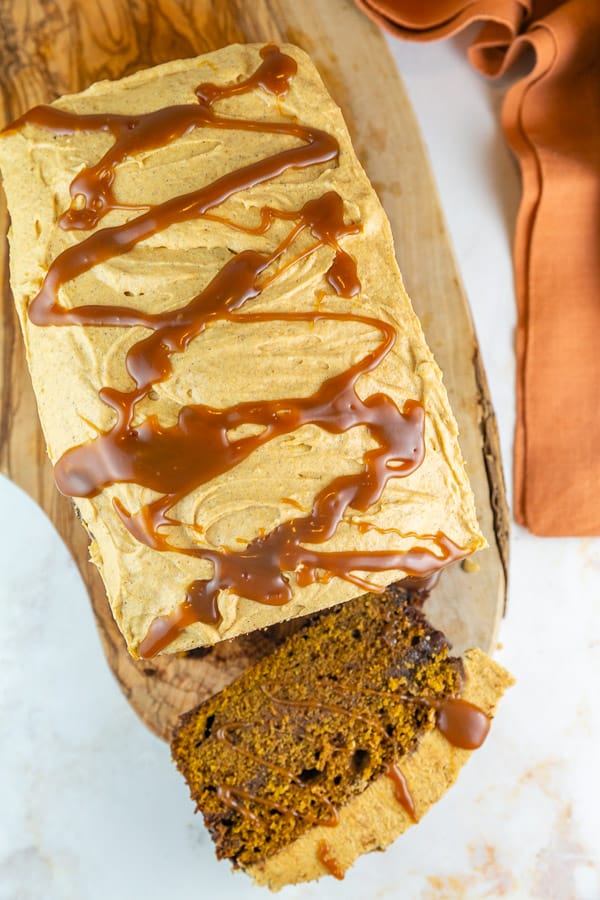 Best Pumpkin Bread Recipe
This recipe is very similar to my Nutella Pumpkin bread recipe, and it's the perfect combination of flavorful and moist!
Because it's made with oil, the pumpkin bread batter can be whisked by hand in one bowl.
We have cinnamon, nutmeg, and a little allspice to provide that classic "pumpkin spice" flavor. After all, pumpkin puree on its own is pretty bland and flavorless.
So why do we bother adding the pumpkin, anyway? Couldn't we just use a regular quick bread recipe and fill it with the pumpkin spice flavors? It's time for my favorite subject… kitchen chemistry!
Kitchen Chemistry

Pumpkin contains pectins, which are large polysaccharides that form a gel-like matrix.  Adding pumpkin to baked goods forms a gel-like structure, responsible for the extra-moist texture without having to add extra oil or butter.
Pumpkin contains a lot of pectins which are a type of polysaccharide. Pectins are large complex molecules. When making jams these pectins tend to play an important role. Thanks to the pectins the jam will thicken up well. Apples also contain quite a bit of pectin which is why they're often used in jams or butters.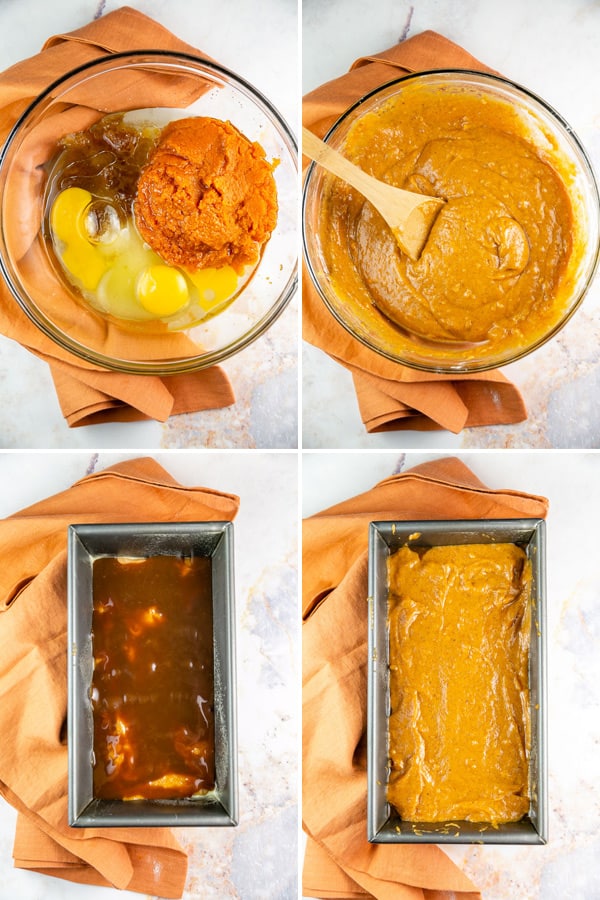 Salted Caramel Swirl
In the middle of the pumpkin bread, we'll include a layer of salted caramel.
I like to make my own homemade easy salted caramel, which is easier than you think. The recipe includes step-by-step photos so you can see exactly what each step should look like!
You can use store-bought caramel sauce or dulce de leche; just don't use ice cream topping caramel (it's too thin).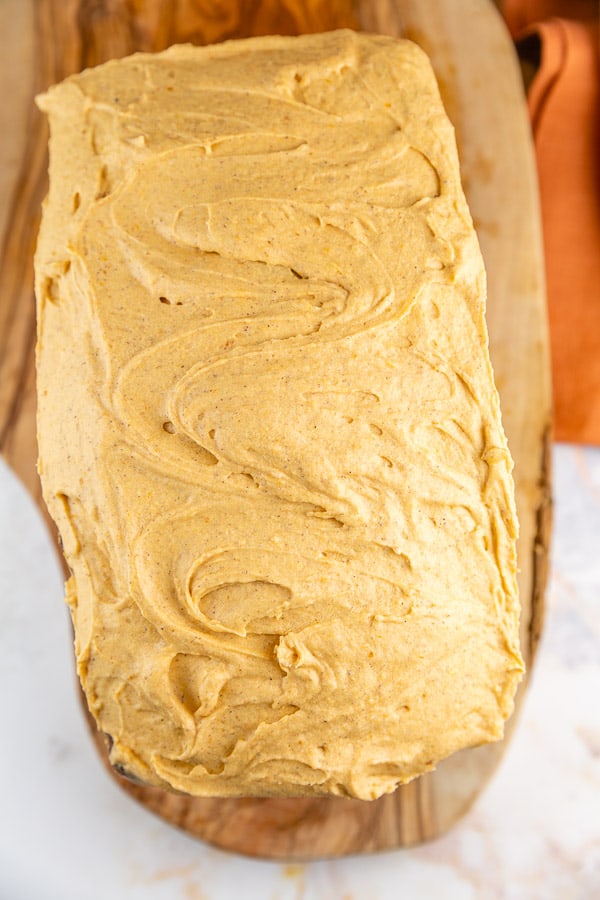 Easy Pumpkin Buttercream Frosting
We'll top the salted caramel pumpkin bread with homemade pumpkin buttercream frosting.
If you like pumpkin, this is SERIOUSLY good — good enough to make a double or triple batch and frost a whole layer cake!
The frosting includes fresh pumpkin puree and the salted caramel sauce, making it extra flavorful.
(You know how sometimes buttercream frosting just tastes… sweet? This doesn't. It has real flavor!)
And don't forget an extra drizzle of caramel sauce on top!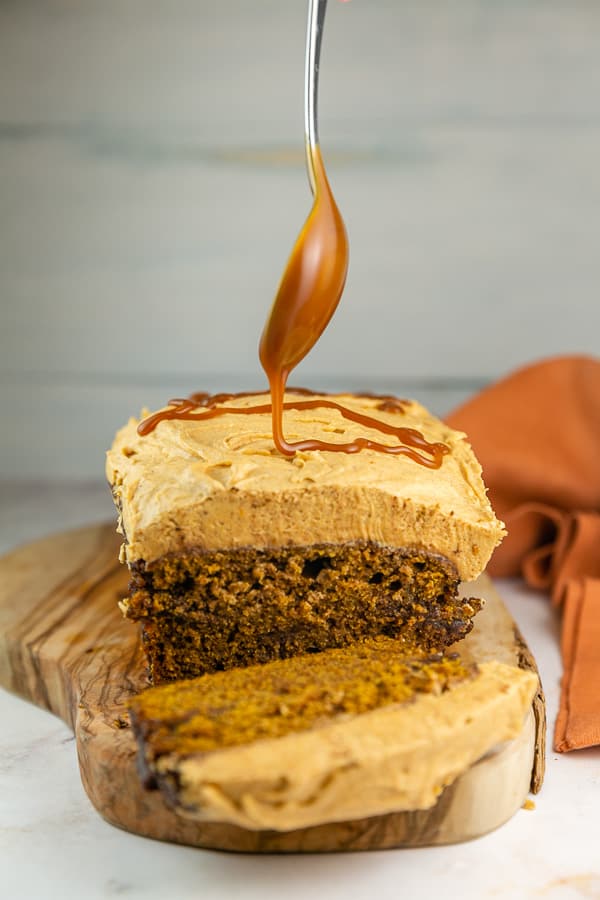 Recommend Tools to Make Caramel Pumpkin Bread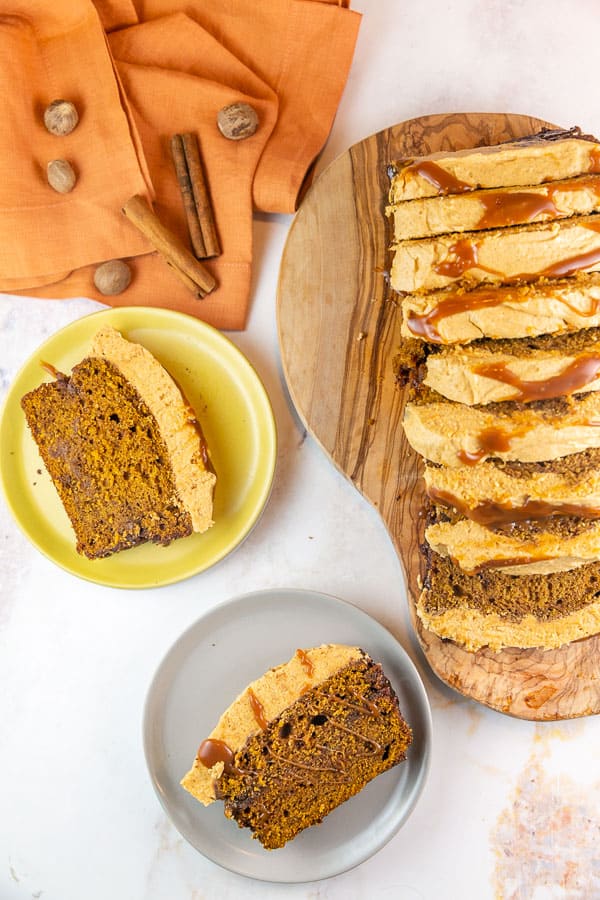 Common Questions about Salted Caramel Pumpkin Bread
Can I use store-bought caramel sauce?
Store-bought caramel sauce or dulce de leche can be used instead of the homemade sauce; just don't use caramel ice cream topping, which is too thin.
What kind of pumpkin puree should I use?
Any homemade or store-bought canned pumpkin puree can be used. Just don't use pumpkin pie filling, as this already contains sweeteners and spices!
How should I store this pumpkin bread?
Pumpkin bread can be stored in an air-tight container at room temperature for 3-4 days, although I like to store it in the refrigerator to keep the buttercream frosting on the stiffer side.
Can this pumpkin bread be frozen?
For long-term freezing, I recommend freezing the whole loaf without frosting. Thaw completely, then add frosting and caramel drizzle before eating. To freeze leftover individual slices, freeze slices on a cookie sheet, then once the buttercream is frozen completely, wrap them in plastic wrap, then a layer of aluminum foil, and store them in freezer freezer-safe bag. Unwrap completely before thawing to prevent frosting from sticking to the plastic wrap.
More Delicious Pumpkin Recipes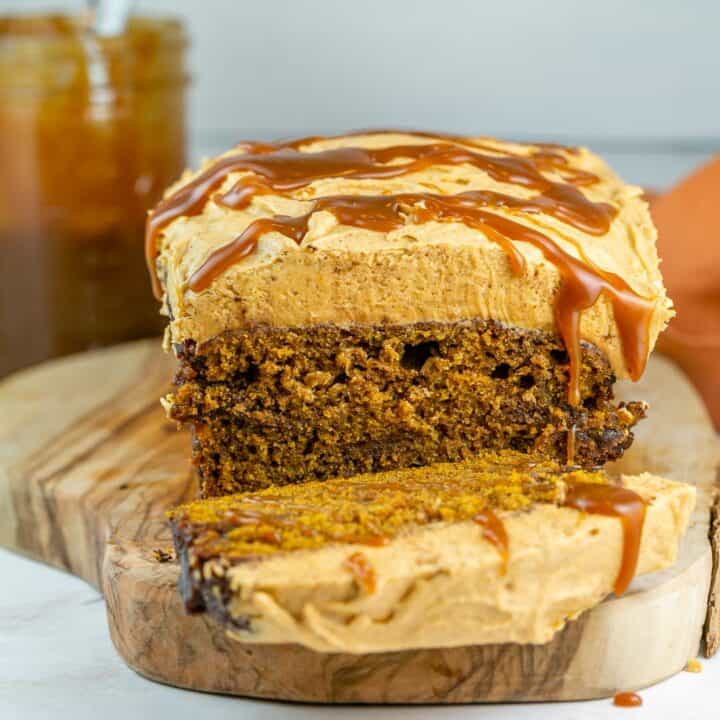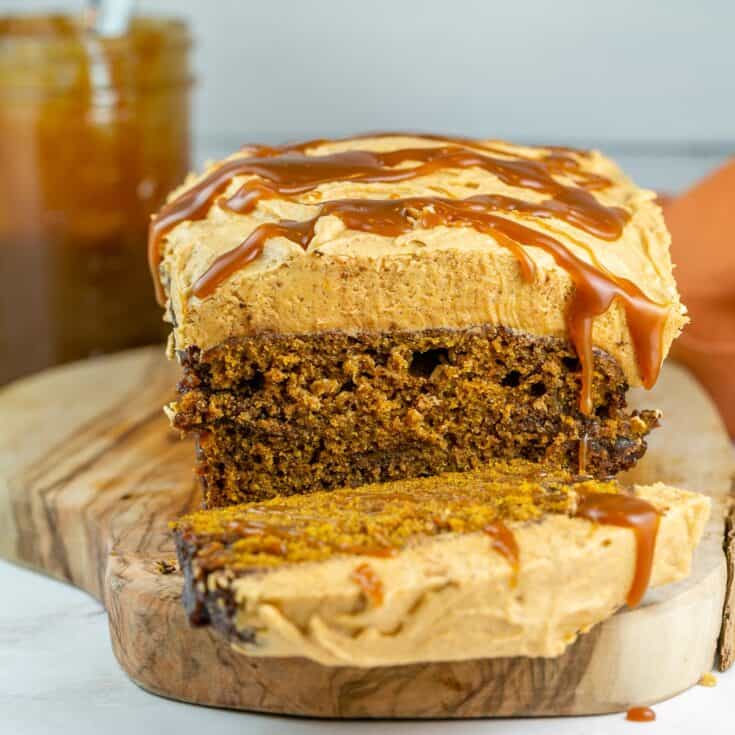 Salted Caramel Pumpkin Bread with Pumpkin Buttercream Frosting
Yield:
1 loaf (12 slices)
Total Time:
1 hour
20 minutes
An easy mix-by-hand pumpkin bread with a salted caramel swirl and pumpkin buttercream frosting.
Ingredients
For the Pumpkin Bread:
3/4 cup (148.5 grams) granulated sugar
1/4 cup (53 grams) brown sugar
1 cup (227 grams) pumpkin puree
1/2 cup (99 grams) canola oil
2 large eggs, room temperature
2 teaspoons vanilla extract
1 1/2 cups (180 grams) all-purpose flour
3/4 teaspoon baking soda
1/4 teaspoon baking powder
1/2 teaspoon salt
2 teaspoon cinnamon
1 teaspoon nutmeg
For the Pumpkin Buttercream Frosting:
1/4 cup (56.5 grams) butter, room temperature
3 tablespoons (42.5 grams) pumpkin puree
1 teaspoon cinnamon
1/2 teaspoon nutmeg
1/2 teaspoon salt
1/2 teaspoon vanilla extract
2.5-3 cups (284-340 grams) confectioners' sugar
2 teaspoons milk or heavy cream
Instructions
Preheat the oven to 325 °F. Grease an 8.5×4.5-inch loaf pan.
Make the pumpkin bread batter. In a large bowl, whisk together the sugar, pumpkin, oil, eggs, and vanilla. Gently stir in the flour, baking soda, salt, cinnamon, and nutmeg, mixing until the ingredients are just combined.
Layer the pumpkin bread. Spoon the half the pumpkin bread batter into the loaf pan. Scoop in the salted caramel, warming if necessary to create a pourable texture, then spread the rest of the batter over top;
Bake the pumpkin bread. Bake for 1 hour, or until a tester comes out clean. Cool in the pan for 10 minutes, then remove and cool completely on a wire rack.
Make the frosting. Cream together the butter and pumpkin using an electric mixer. Once well combined, add in the salted caramel, cinnamon, nutmeg, salt, and vanilla extract. Slowly scoop in 2 1/2 cups of the confectioners' sugar. Once all sugar has been added, increase the speed to medium and beat for 2 to 3 minutes, until well combined and creamy. If the frosting is too soft, add the additional 1/2 cup confectioners sugar and beat until combined. Spread the frosting over the top of the cooled bread and drizzle with additional salted caramel.
Notes
Store-bought caramel sauce or dulce de leche can be used instead of homemade, but don't use caramel ice cream topping (it's too thin).
Salted caramel pumpkin bread can be stored at room temperature or refrigerated for 3 days or frozen for up to 3 months. To cut neat slices, refrigerate first to so the frosting is stiff and cuts more evenly.
Recommended Products
As an Amazon Associate and member of other affiliate programs, I earn from qualifying purchases.
Nutrition Information:
Serving Size:

1 slice
Amount Per Serving:
Calories:

405
Total Fat:

14.7g
Carbohydrates:

66.2g
Protein:

3.5g