March 27, 2019
Pizza Babka
Rich, buttery babka dough meets Italian flavors in this savory Pizza Babka.  Roll up your favorite pizza toppings for this fun twist to pizza night!
Pizza. Babka.
The marriage of the two best uses for yeast in the history of mankind. Babka dough paired with pizza toppings.
We're going savory for this month's Babka of the Month, and I have zero regrets. None. Step aside, chocolate babka — pizza babka is the true winner.
I'm not going to claim to be original here; pizza babka is a thing. There are several other recipes on the internet. But I was surprised to find that they all use pizza dough as the base (or in one case, challah dough). I'd call those a babka-shaped pizza loaf. But if we're talking about pizza babka, shouldn't we use… babka dough?
(Yes. The answer is yes.)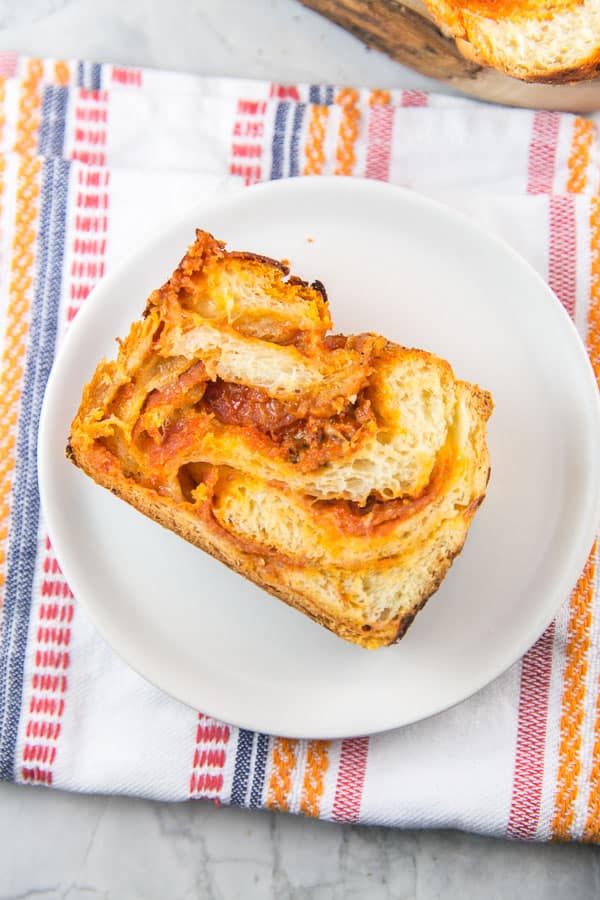 Babka Dough Basics
So what is babka dough, and how is it different from pizza dough? I answered this briefly in my chocolate babka recipe which kicked off this whole babka endeavor.  But in short, classic babka dough is rich with eggs, milk, and butter.  
My babka dough recipe (which makes two loaves) contains 1 cup of milk, 2 eggs, and 12 tablespoons of butter. I looked at zillion different pizza dough recipes in comparison (like Food Network's Giada de Laurentiis recipe, King Arthur Flour recipe, and Bon Appetit's recipe), and none contain any milk, eggs, or butter whatsoever.
In other words, pizza dough ≠ babka dough. We're going to make a REAL babka pizza today, friends!
Making Babka Pizza Dough
I wanted to keep the rich, eggy, buttery dough base that we know and love as babka, but since we're going savory, we don't need the bread to be sweet. To achieve this, I cut out some of the sugar from my original babka dough recipe and doubled the salt (and added garlic powder because everything is better with garlic).
Why include sugar at all? Does yeast actually need sugar to work? It's time for my favorite subject: kitchen chemistry!
Kitchen Chemistry

There's a common misconception that yeast needs to feed on sugar. This is false — yeast can thrive just fine on flour. So why are we adding it to this dough? Sugar acts as a tenderizer, creating a fine crumb in baked goods. We want this babka to retain the bread-like properties, so keeping some sugar in the dough keeps it soft and crumby. Sugar also promotes browning — we don't need this in a pizza since it's cooked at such high temperature. For baking at lower temepratures, however, sugar helps crusts turn brown. By adding sugar to the dough, the babka will darken while it cooks, giving a visual appearance like a pizza cooked at a high temperature.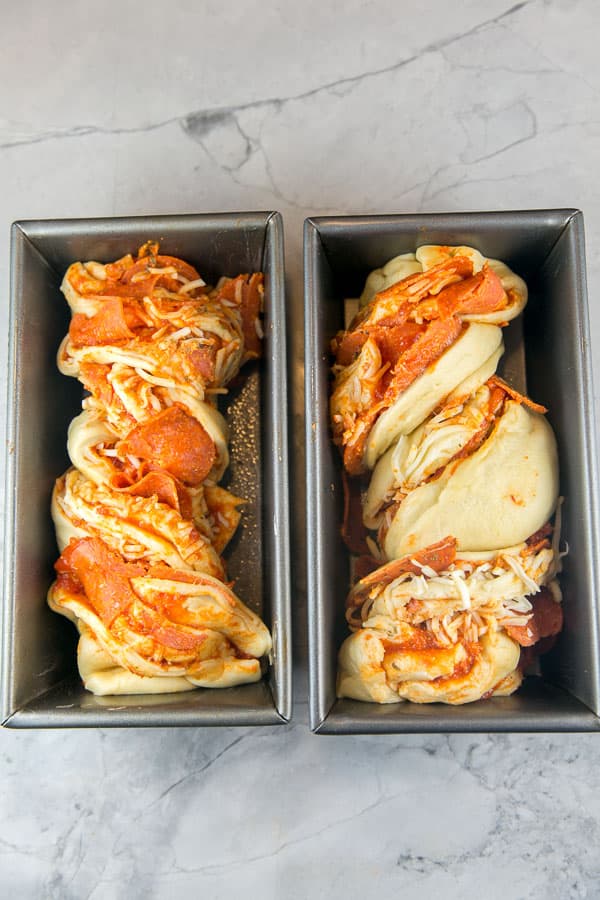 Babka Pizza Toppings
We went classic with our pizza toppings: some grated Pecorino Romano, tomato sauce, pepperoni (by request of my 3-year-old), and shredded mozzarella cheese.  The key here is to go minimal with the fillings: this isn't a loaded pizza!  Everything needs to roll up neatly into a log.
You can certainly substitute these with any of your favorite pizza toppings. Make sure nothing is too wet or it won't bake well (so dry those olives with a paper towel first!) and that any raw vegetables are cooked.  Because they're tucked inside the babka, they won't be exposed to high heat like they are on a pizza.
Need a refresher on how to roll a babka into a nice long loaf?  I have detailed pictures of shaping a babka on my best chocolate babka recipe and cinnamon hazelnut babka recipe!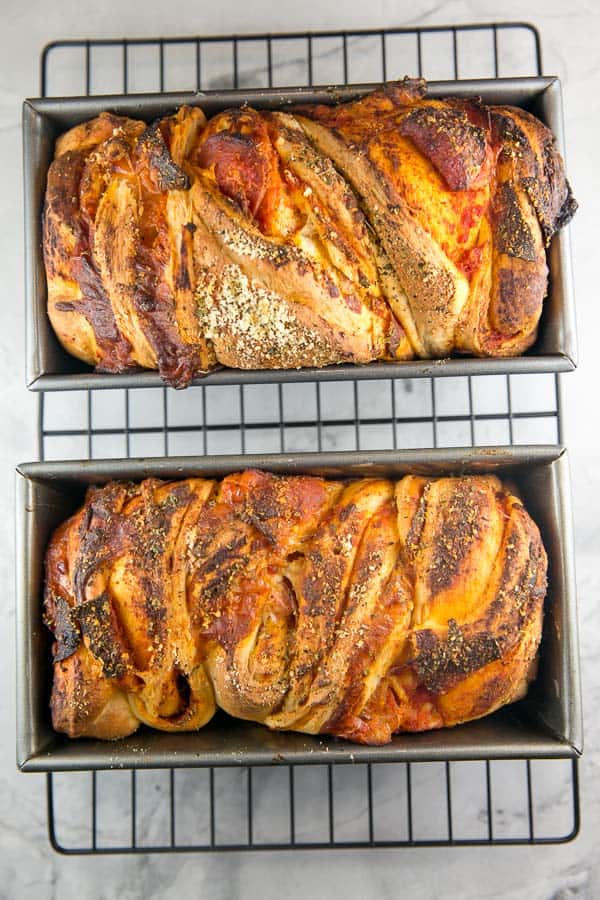 Storing Leftovers
Because this contains tomato sauce and cheese, you'll want to refrigerate your pizza babka leftovers (if you have any!). Wrap tightly in foil or store in an airtight container in the refrigerator.
Pizza babka reheats well in a 350 °F oven for 5-10 minutes or can be cooked over medium heat in a non-stick skillet until warmed through.  Buuuuut I actually wound up loving it cold.  I expected it would be better reheated, but straight out of the fridge a few days later was absolutely delicious!
Recommended Tools to Make Pizza Babka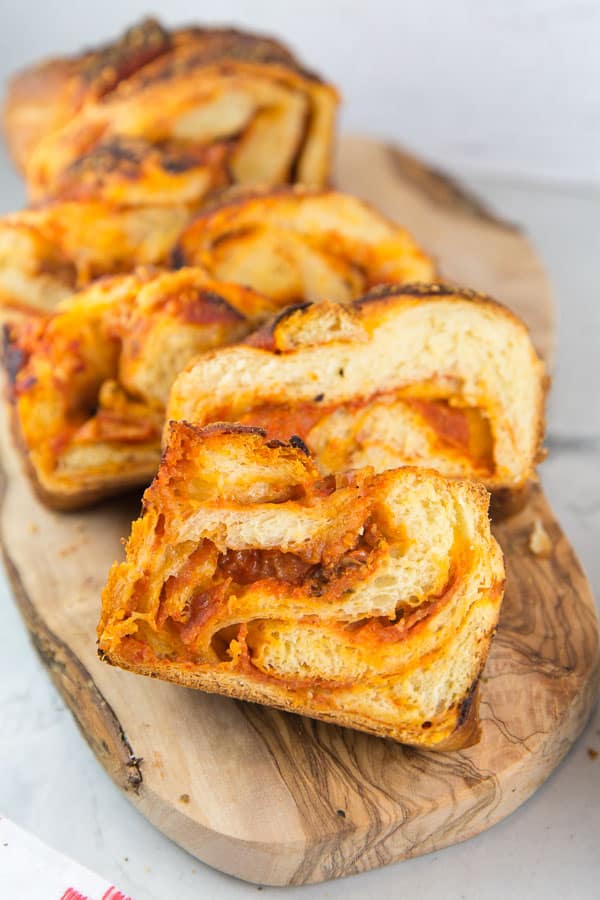 Tips and Tricks for the Best Pizza Babka
Refrigerate the dough for the second hour of the first rise.  When the dough is cold, it rolls out beautifully and with no real need to add excess flour.
Use a thicker tomato sauce as a topping.  If your sauce is too thin, reduce it on the stove for 15 – 20 minutes.
Cook and dry any vegetables before adding them as a topping.  Ensure everything is cooled – adding warm toppings to the dough will start to melt the butter in the dough.
Refrigerate the rolled babka before slicing.  This will help minimize tomato sauce and other toppings spilling out when the dough roll is sliced in half.
Brush the babka dough with olive oil and sprinkle with some additional Pecorino Romano, garlic powder, and Italian herbs before baking. This creates a delicious outside crust.
Use a thermometer to determine if the babka is done.  Babka bread is thick, and when it's full of tomato sauce and melty cheese, it can be hard to use a tester to determine if the center of the loaf is fully cooked.  Take out the guess work and use an instant-read thermometer: when the center of the loaf hits 190 °F, it's done!
Allow the babka to cool for at least 30 minutes before slicing.  I know, it's tempting to want to dig right in as soon as it comes out of the oven! But let it cool in the pan for 15 minutes and then on a wire rack for an additional 15 minutes to ensure it will slice neatly.
Real talk: this is one of my most favorite things I've ever made, and I've made a lot of things in my kitchen. I will always take savory over sweet, and I firmly believe that carbs + cheese is the ultimate match made in heaven. Yes, this is a little more hands-on than typical pizza, but it is so, so very worth it. Trust me.
More Savory Bread Recipes:
2019 Babka of the Month Series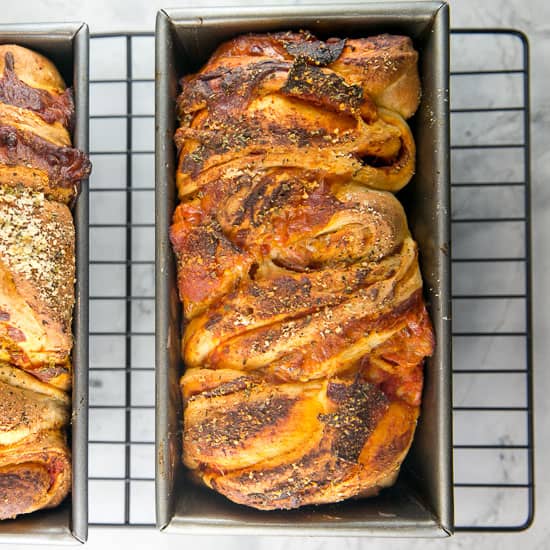 Pizza Babka
Prep Time:
3 hours
45 minutes
Total Time:
4 hours
30 minutes
Rich, buttery babka dough meets Italian flavors in this savory pizza babka. Roll up your favorite pizza toppings for this fun twist to pizza night!
Ingredients
For the Dough
1 cup (227 grams) whole milk, slightly warmed
1 tablespoon (9 grams) instant yeast, preferably SAF Red
1/4 cup (49 grams) granulated sugar
2 large eggs, room temperature
4 1/2 cups (540 grams) all purpose flour
2 teaspoons salt
1 teaspoon garlic powder
12 tablespoons (170 grams) unsalted butter, softened and cut into 12 pieces
For the fillings:
2/3 cup tomato sauce
1/2 cup grated Pecorino Romano
1 teaspoon dried Italian herb mix
4 oz pepperoni, thinly sliced
1/2 cup shredded mozzarella
For the topping:
2 tablespoons olive oil
4 tablespoons grated Pecorino Romano
2 teaspoons dried Italian herb mix
Instructions
Prepare the dough. Whisk together the flour, yeast, sugar, salt, and garlic powder in the bowl of a stand mixer fitted with the dough hook or a large glass mixing bowl. On low speed, beat in the milk and eggs, mixing just until the dough comes together, 2-3 minutes. Increase the speed to medium-low and add the butter one piece at a time, beating after each addition until all pieces have been added. Continue mixing with the dough hook until the dough is smooth and pulls away from the sides of the bowl, about 10 minutes. (Alternatively, whisk together ingredients by hand until combined; knead by hand for 10 minutes until dough is soft and smooth.)
Transfer the dough to a large lightly greased bowl and cover it with plastic wrap or a clean kitchen towel. Set aside to rise at room temperature for 1 hour. After 1 hour, transfer the bowl to the refrigerator, still covered, and set aside for 1 additional hour, or until the dough has doubled in size and is firm to the touch.
Shape the babka. Grease two 8x5 x 4.5-inch loaf pans. Remove the dough from the refrigerator and gently punch it down. Cut the dough in half; remove half from the bowl. Leave the other half of the dough in the bowl, cover, and set aside.
Roll the dough into a rectangle, approximately 12 inches long. Spread half the tomato sauce over the dough, leaving a slight border along the edges. Sprinkle half the Pecorino Romano and Italian herbs over the tomato sauce and place the pepperoni on top. Scatter the mozzarella over the pepperoni. Working from the long side of the dough, roll the dough into a long cylinder. Place this cylinder seam-side down on a baking sheet and refrigerate for 15-20 minutes, until dough is firm.
Once chilled, use a sharp knife to cut the dough in half lengthwise down the cylinder to expose the filling, creating two long logs of dough. Twist these two logs together and place the dough in the prepared loaf pan. Repeat with the remaining dough. Cover both loaf pans with plastic wrap or a dish towel and set aside to rise at room temperature for an hour.
When the dough is done with the second rise, brush the top of each loaf with olive oil and sprinkle the Pecorino Romano and Italian herbs on top.
Bake the babka. Preheat the oven to 350 °F. Once at temperature, bake the loaves for 45 to 55 minutes, until the top of the loaf is golden brown and the inside registers 190 °F using an instant read thermometer. Allow the breads to cool in the pans for 15 minutes, then transfer to a wire rack to cool for an additional 15 minutes before serving.
Notes
If you are using active dry yeast instead of instant yeast, proof the yeast before starting. Combine the yeast, warm milk, and 1 tablespoon of sugar and set aside for 5-10 minutes until frothy. Proceed with the rest of the recipe, adding this to the other ingredients and mixing.
Babka can be stored in an air-tight container in the refrigerator for up to 5 days, or frozen for up to 3 months. To freeze, wrap the fully cooled loaf in aluminum foil and place it inside a plastic freezer bag.
Unbaked babka can be prepared up and frozen in the loaf pan before baking. Fill the babka with the pizza toppings, shape and twist, and place in the loaf pan. Cover with several layers of aluminum foil and freeze for up to 3 months. Thaw for 24 hours in the refrigerator, then let stand at room temperature for 2 hours before baking.
Recommended Products
As an Amazon Associate and member of other affiliate programs, I earn from qualifying purchases.
Nutrition Information:
Yield:

16 slices
Serving Size:

1 slice
Amount Per Serving:
Calories:

305
Total Fat:

14.5g
Carbohydrates:

33g
Protein:

10.3g