October 30, 2020
Samoa Brownies
The perfect fudgy brownie with a layer of gooey coconut caramel and a drizzle of chocolate, these Samoa Brownies are a delicious version of the crowd-favorite Girl Scout cookie!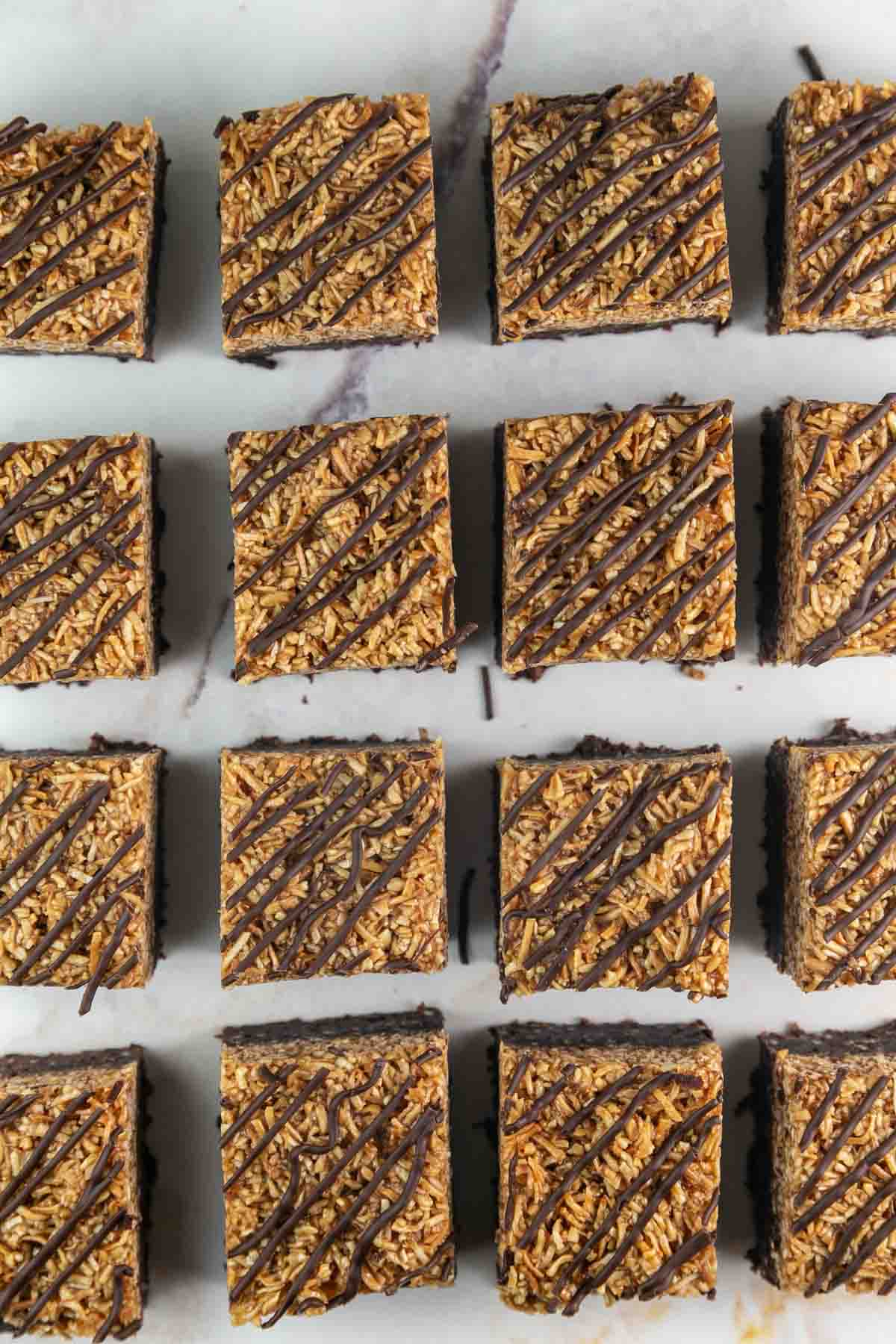 If you are at all familiar with Girl Scout cookies, you're certainly aware of Samoas (or sometimes called Caramel DeLites).
And if not, well, I'm sorry. They consist of a shortbread cookie toped with a pool of caramel, a coating of toasted coconut, and a drizzle of chocolate.
Today, we're taking those flavors as an inspiration for these Samoa Brownies: thick fudgy brownies covered with coconut caramel and of course a chocolate drizzle!
The end result is 100% worth the effort: these are delicious. And I say that a someone who doesn't actually love the original Samoa cookies all that much (Do-si-Dos and the retired Lemon Chalet Creams for me, please and thank you)!
The best thing about the Samoa Brownies? You can make them anytime you want, whether or not it's Girl Scout cookie season.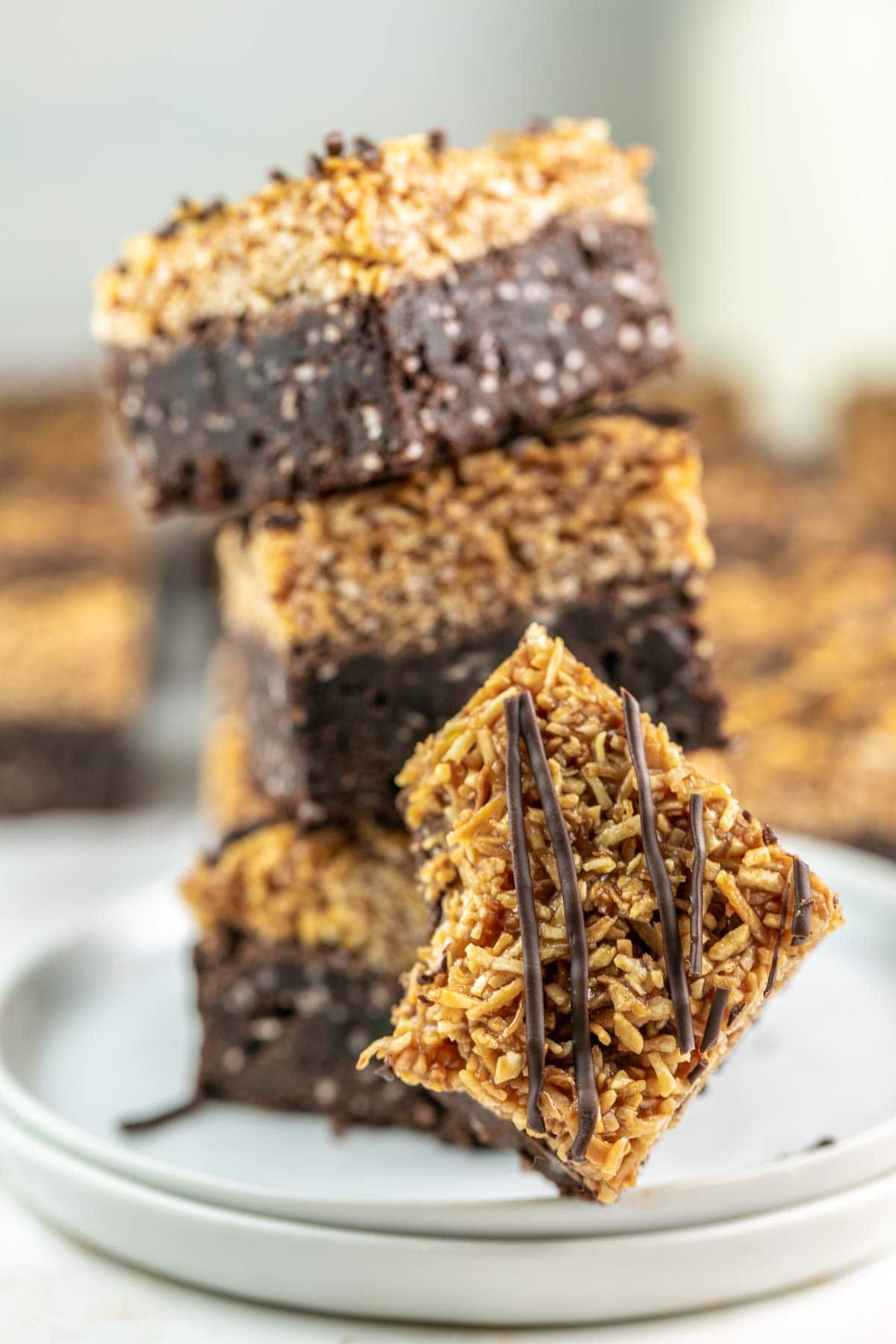 Fudgy Brownie Base
We'll start with the same fudgy brownie base that shows up in many of my brownie recipes. Thick, chewy, and delightfully fudgy!
To it, we'll add 1/2 cup of unsweetened coconut mixed into the batter to really play up the coconut flavor without adding any extracts or oils.
Toasted Coconut
One step you really don't want to skip: toasting your coconut. It only takes 5 minutes, and adds so much flavor and additional texture!
Toasting the coconut makes it crispier, darker (visually closer to a Samoa cookie), and taste so much better!
Why does coconut turn brown (and taste so different!) when we toasted it? It's time for my favorite subject… kitchen chemistry!
Kitchen Chemistry

When coconut is toasted, it undergoes the Maillard reaction: a series of chemical reactions between amino acids and reducing sugars resulting from heat exposure. Volatile aroma compounds like pyrazines are formed in the process, changing the smell and taste of the coconut.
To toast the coconut, spread unsweetened shredded coconut on a cookie sheet and bake at 400 °F for 5 minutes, stirring each minute. Keep an eye on the coconut and remove from the oven once it is evenly browned!
Homemade Coconut Caramel Layer
For the caramel, we're using my easy-peasy easy salted caramel sauce.
Making homemade caramel sauce is easier than you think! Boil together water, sugar, and salt until the sugar is a dark amber color. Pour in heavy cream and continue to stir until the sugar has a smooth, creamy consistency.
At this point, you can either pour the caramel sauce into a jar and save it to make these brownies later, or you can mix it straight in with your toasted coconut.
If you make the caramel sauce ahead of time, heat it briefly in the microwave (15-20 seconds), stir, and heat again if necessary until it's smooth and easily pourable.
Smooth Drizzled Chocolate
Once the coconut caramel layer is spread on the brownies, we'll top with a drizzle of chocolate – just like a Samoa cookie!
Melt some chocolate chips or chopped chocolate in the microwave. Scoop the melted chocolate into a zip-top bag, snip off the corner, and drizzle away!
Let the chocolate solidify before cutting the brownies into bars using a sharp knife.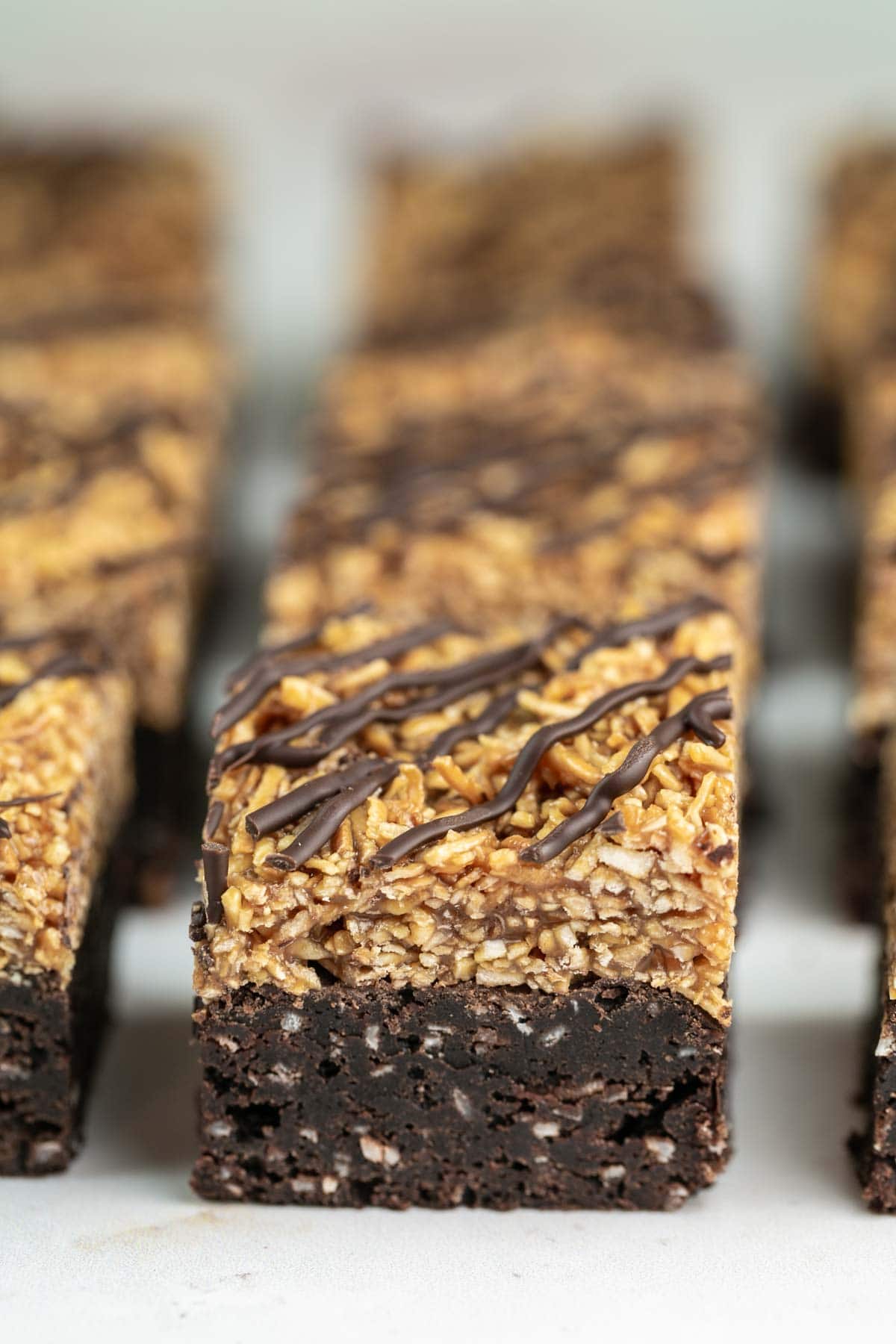 Common Questions about Samoa Brownies
Can I use boxed brownie mix?
Boxed brownie mix works for this recipe; bake according to the directions before adding the coconut caramel layer and drizzled chocolate.
Can I use store-bought caramel sauce?
Store bought caramel sauce or dulce de leche can be used instead of the homemade sauce; just don't use caramel ice cream topping, which is too thin.
Do I have to use unsweetened coconut?
The caramel sauce makes these brownies sweet, and I prefer both the flavor and texture (sweetened coconut is moister due to the added sugar) using unsweetened coconut. That said, if you prefer sweetened, it will work in the recipe.
Can samoa brownies be made ahead of time?
Absolutely! The homemade caramel sauce can be made weeks ahead of time and stored in the refrigerator. The coconut can be toasted a day or two in advance and stored at room temperature. Once the brownies are assembled, they can be stored at room temperature or in the refrigerator for up to a week.
More Coconut Recipes
2020 Brownie of the Month Recipes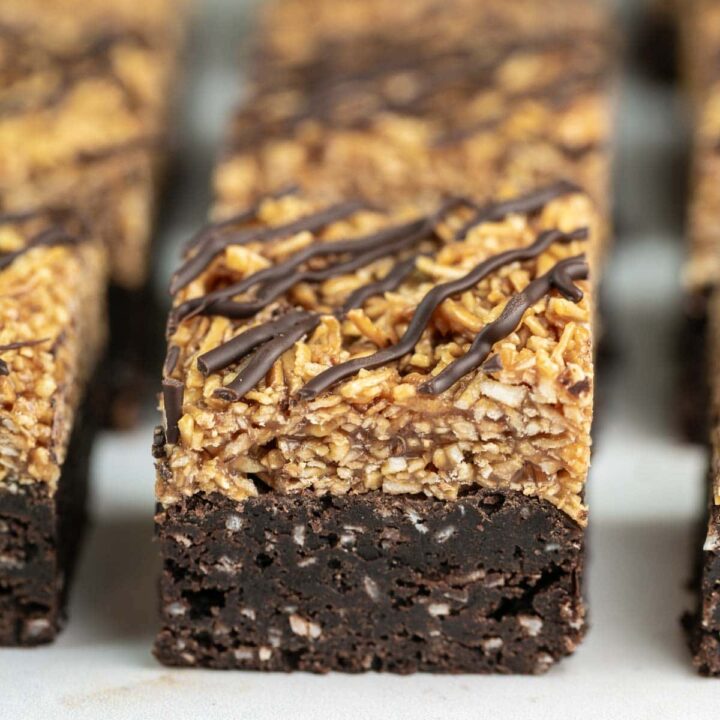 Samoa Brownies
The perfect fudgy brownie with a layer of gooey coconut caramel and a drizzle of chocolate, these Samoa Brownies are a delicious version of the crowd-favorite Girl Scout cookie!
Ingredients
For the Brownies:
3/4 cup (170 grams) unsalted butter
1 1/2 cups (270 grams) granulated sugar
3 large eggs
3/4 cup (63 grams) Dutch-process cocoa powder
1/2 teaspoon salt
2 teaspoons vanilla extract
1 cup (120 grams) all-purpose flour
1/2 cup (42 grams) shredded unsweetened coconut
For the coconut caramel layer:
3 cups (255 grams) unsweetened coconut
1/4 cup chocolate chips (42.5 grams)
Instructions
Preheat the oven to 350 °F. Line a 9″ square baking dish with aluminum foil, extending the foil over the edges to form handles, and grease the foil.
Make the brownie batter. Combine the butter and sugar in a large microwave-safe bowl. Microwave for 30 seconds, then whisk. Repeat this process twice more, or until all the butter is melted and the mixture looks shiny (granulated particles of sugar will still remain). Allow the mixture to cool for 5 minutes.
Whisk in the eggs, one at a time, followed by the cocoa powder, salt, and vanilla extract. Stir by hand with a wooden spoon until well combined and shiny. Add in the flour and 1/2 cup of shredded coconut, folding in gently until just combined and no dry streaks of flour remain.
Bake the brownies. Spread the brownie batter into the prepared pan. Bake 25 to 30 minutes, until a toothpick inserted into the center comes out almost clean. Leave at room temperature until cool.
Toast the coconut. While the brownies cool, toast the coconut. Spread three cups of flaked coconut on a large cookie sheet. Bake at 400 F for 5 minutes, or until golden brown, stirring after each minute. Set asie.
Make the coconut caramel layer. If caramel sauce is stiff, heat in the microwave for 15-20 seconds, stir well, and repeat if necessary until sauce is smooth and easily pourable. Combine the caramel sauce and toasted coconut in a large bowl, stirring until the coconut is evenly covered. Salted caramel can be made ahead of time or prepared while the brownies bake and stirred in with the coconut while still hot. Once the brownies are cool or slightly warm, spread the coconut caramel mixture across the top of the brownies, to the edges.
Drizzle the chocolate. Melt the chocolate chips in the microwave at 50% power for 30 seconds. Stir and repeat until the chocolate is fully melted and smooth. Transfer to a zip-top plastic bag, snip off a small hole in the corner, and drizzle the chocolate across the brownies in a diagonal pattern. Allow the chocolate to cool and solidify, then cut brownies into 16 square.
Notes
Sweetened shredded coconut can be used, but unsweetened is recommended for better flavor and texture.
Homemade caramel sauce can be made up to a month ahead of time for this recipe and stored in the refrigerator until ready to use.
The coconut can be toasted up to 3 days in advance and stored at room temperature.

Samoa brownies can be stored at room temperature or refrigerated (refrigeration recommended for the fudgiest texture) for up to a week. Brownies can be frozen for up to 3 months.
Recommended Products
As an Amazon Associate and member of other affiliate programs, I earn from qualifying purchases.
Nutrition Information:
Yield:

16
Serving Size:

1 brownie
Amount Per Serving:
Calories:

338
Total Fat:

18.4g
Carbohydrates:

42.8g
Protein:

4.24g