October 25, 2018
Pumpkin Swirl Brownies
Give your brownies a fall twist with these pumpkin swirl brownies! Easy, mix-by-hand chocolatey brownies mixed with pumpkin batter for a customizable chocolate and pumpkin treat! Which one will you grab: more chocolate or more pumpkin?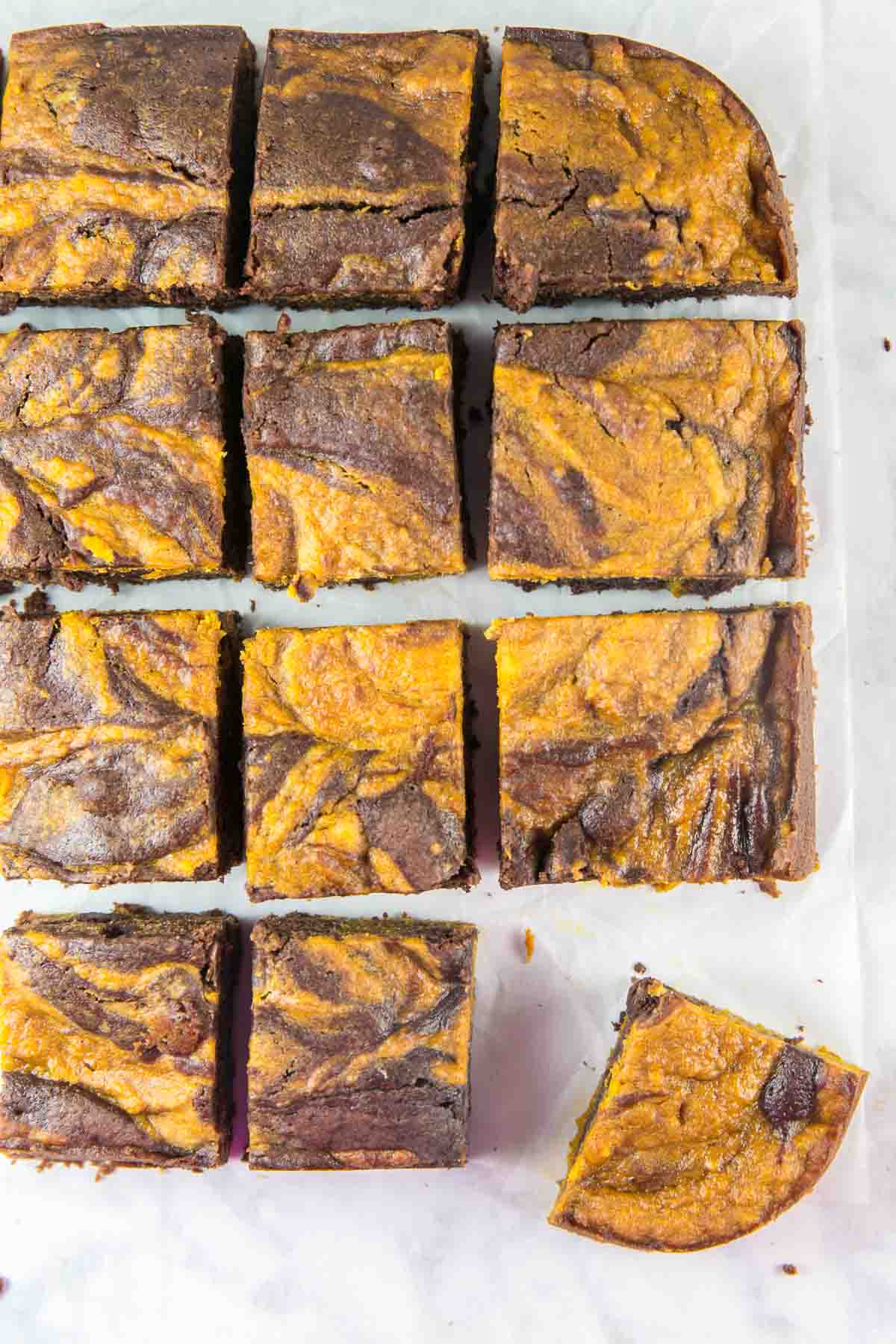 Is it really even fall if a food blogger doesn't share a new pumpkin recipe?  No, no it is not, so today I will fulfill my contractual duty.
I love pumpkin, but I live with a bunch of chocolate lovers.  How better to meld the two than with some pumpkin swirl brownies?
For these pumpkin swirl brownies, I wanted brownies and I wanted pumpkin flavor.  I did not want pumpkin cheesecake brownies, however (been there, done that).  Most recipes for pumpkin swirl brownies actually mix the pumpkin with cream cheese before swirling.  This just dilutes the pumpkin flavor, so no thank you.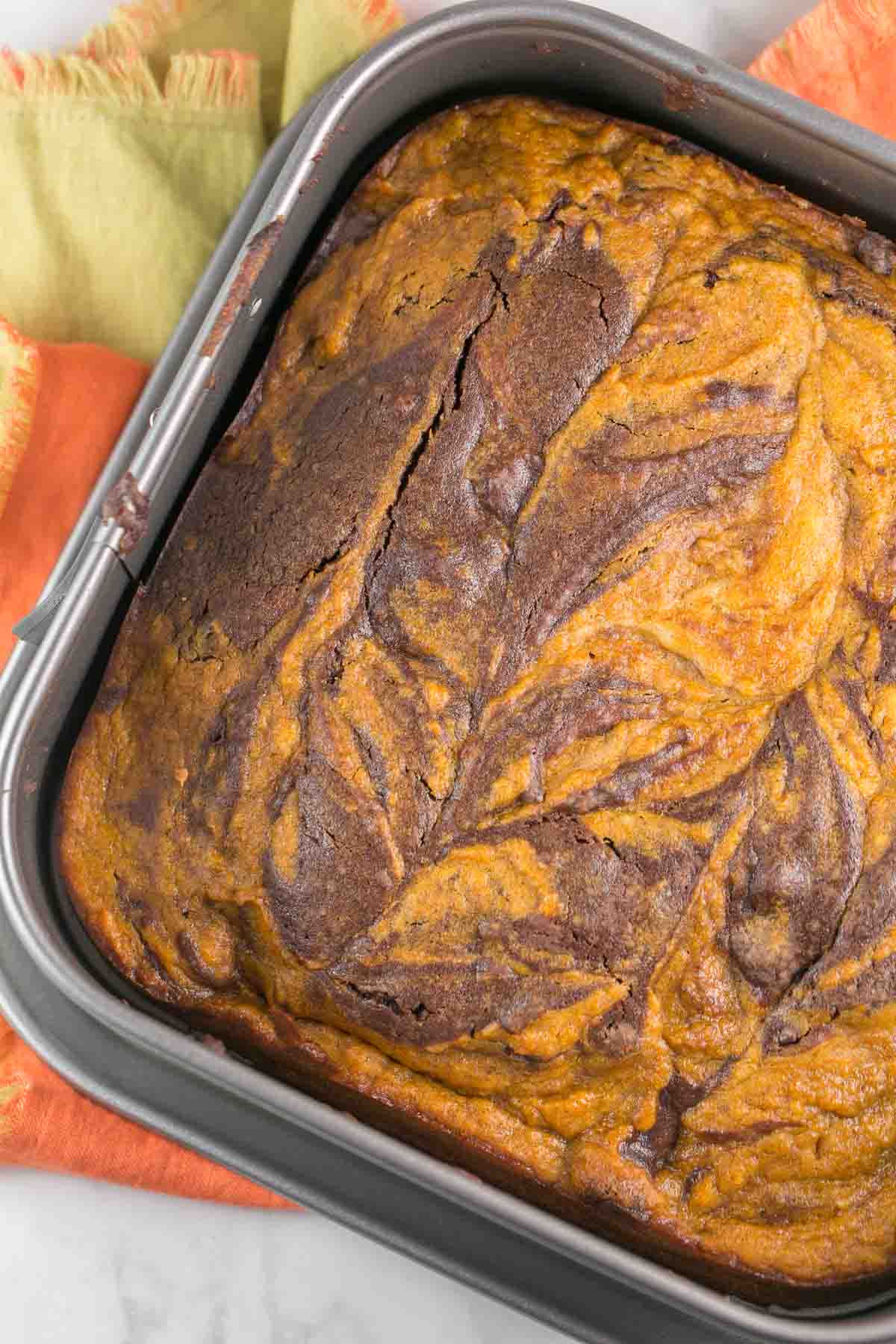 But then I started to wonder: is this for a reason? Does the cream cheese help stabilize the pumpkin? Would just plain pumpkin puree not set properly?
There's only one way to find out — to the experimental kitchen!
This is one of those recipes that I thought about for a really long time.  I wanted to make one batter base and split it in two, adding chocolate to one side and pumpkin to the other.  If I used melted chocolate, the fat content would be much higher on the brownie side than the pumpkin side.  If I used cocoa powder, the flour-to-liquid ratio would be way different.
(These are the kind of things you think about for days when you're both a scientist and a baker.)
And so, I set off with three recipes to test: one with cocoa powder (which makes the best brownies, in my opinion) in one batter and pumpkin in the other, one cocoa powder in one batter and pumpkin + additional flour in the other, and one with melted chocolate in one batter and pumpkin + additional oil in the third.
I never even got around to testing the last two options, because the first one was just right.
Cocoa Powder vs Melted Chocolate
Let's pause here for a second to talk about my favorite subject… kitchen chemistry!  I mentioned above that melted chocolate would add more fat than cocoa powder.  Why is this? What's the difference?  Let's learn!
Chocolate is composed of two parts: cocoa solids and cocoa butter.  Cocoa solids are responsible for the rich flavor, while cocoa butter brings the silky smooth texture.  Cocoa powder is mostly comprised of cocoa solids, containing only roughly 10% cocoa butter.  It's packed full of chocolate flavor, but much lower in fat (and thus has a chalky texture).  Pure solid unsweetened chocolate, on the other hand, contains around 55% cocoa butter, resulting in the smooth, melty texture we expect from solid chocolate.
Because cocoa powder has a greater percentage of cocoa solids, it brings more chocolate flavor to baked goods.  Since this is a baked dessert, we don't need the extra creaminess from the cocoa butter, and I really wanted to play up the chocolate flavor against the pumpkin, which is why my first attempt used cocoa powder, instead of melted chocolate.  Success!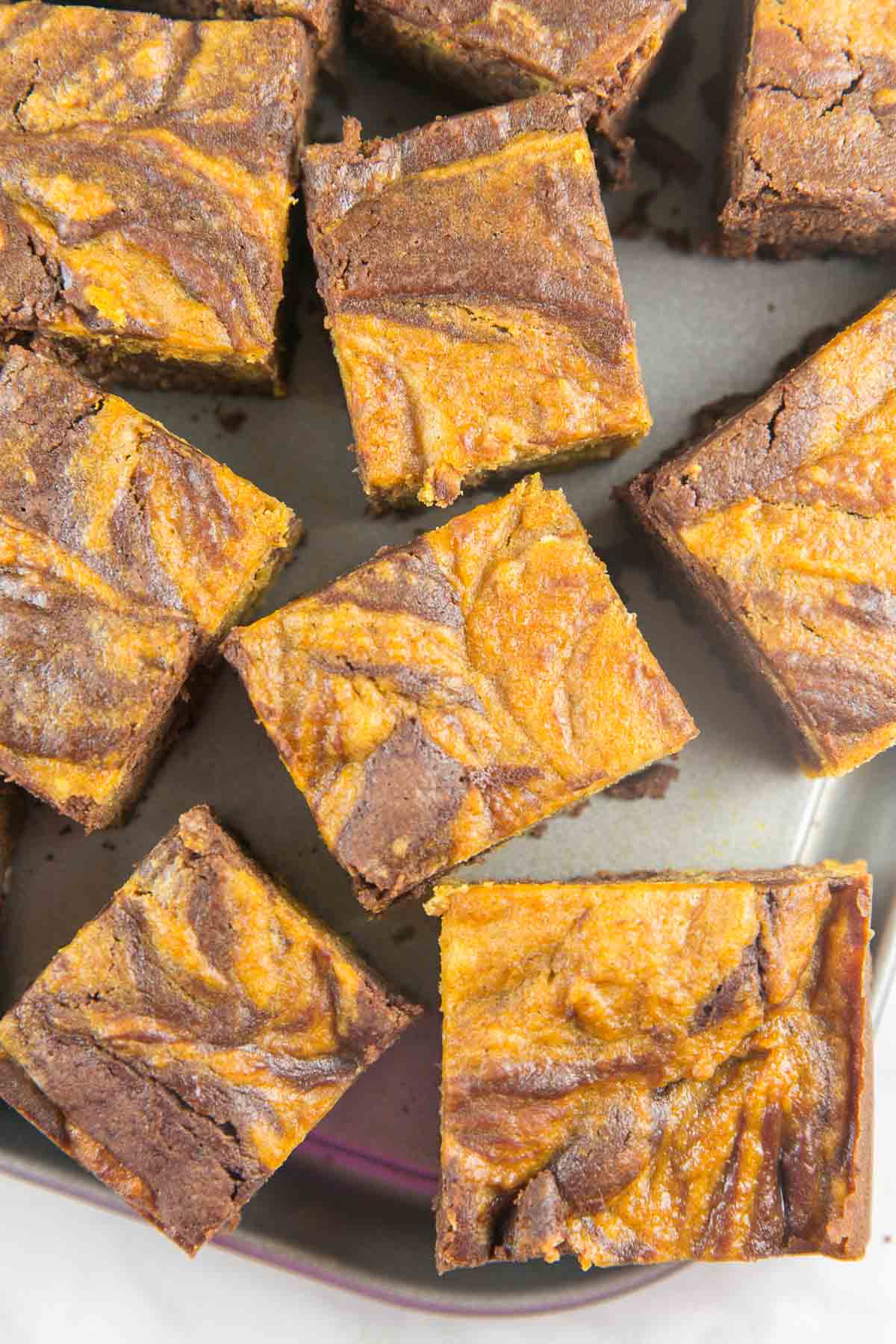 How to Make Pumpkin Swirl Brownies
These are seriously, seriously easy brownies.  The base is the same as my simple fudgy brownie recipe, except we'll hold off on adding any cocoa powder in the beginning.  One of the reasons I really love this recipe is because it uses melted butter, so the whole thing can be whisked by hand.  No need to break out the mixer!
At this point, divide the batter into two bowls.  I did this by eye, but you can certainly do it by weight if you want to be exact!  To one bowl, we'll add the cocoa powder.  The batter is pretty thick, so mix it in with a spatula rather than a whisk.  I also stirred in some chocolate chips — don't skip this step!  The added texture from the bite of chocolate is A+.
To the other bowl, we'll whisk in some pumpkin puree, cinnamon, and nutmeg.  You know, those "pumpkin spice" flavors. Except just the right amount.  I like pumpkin; I do not care for overbearing pumpkin spice.  This still tastes like pumpkin and not just nutmeg!
How to Swirl Brownies
There's a couple of options for how to combine the two batters.  You could make these as layered brownies, spreading all the chocolate batter on the bottom and the pumpkin batter on the top, ensuring an equal bite of chocolate and pumpkin in each.
Instead, I dropped dollops of alternating batters along the bottom of the pan, smoothing with the back of a spoon as I went.  When the bottom of the pan was covered, I added more dollops of batter on top.  Then I took a knife and ran it through both batters in an "S" pattern in each direction.
In the end, this meant that some of the brownies were mostly chocolate with a little bit of pumpkin.  Some were mostly pumpkin with a little bit of chocolate.  And some were a perfect mix of both.  In the end, I really liked this, because it lets everyone choose their own preferred chocolate-to-pumpkin ratio!
(Surprising no one, my husband and 3 year old immediately reached for the chocolatiest ones, while I grabbed a nice orange one, full of pumpkin.  Everybody wins! Oh, and that bright orange color? Totally natural, from the pumpkin!)
How to Store Pumpkin Swirl Brownies
Baked goods with fruit (in this case, the pumpkin) are more likely to spoil faster because of the increased moisture content.  These brownies will last just fine up to 5 days at room temperature, but any longer than that and I'd recommend refrigeration in an air-tight container.
Or make them ahead of time and store in the freezer for a pumpkin swirl brownie anytime you'd like!  Freeze precut brownies in a single layer, then combine in a freezer bag once frozen solid.
Because who's to say that pumpkin desserts should only be enjoyed in fall?  Make a batch now and enjoy them all year long!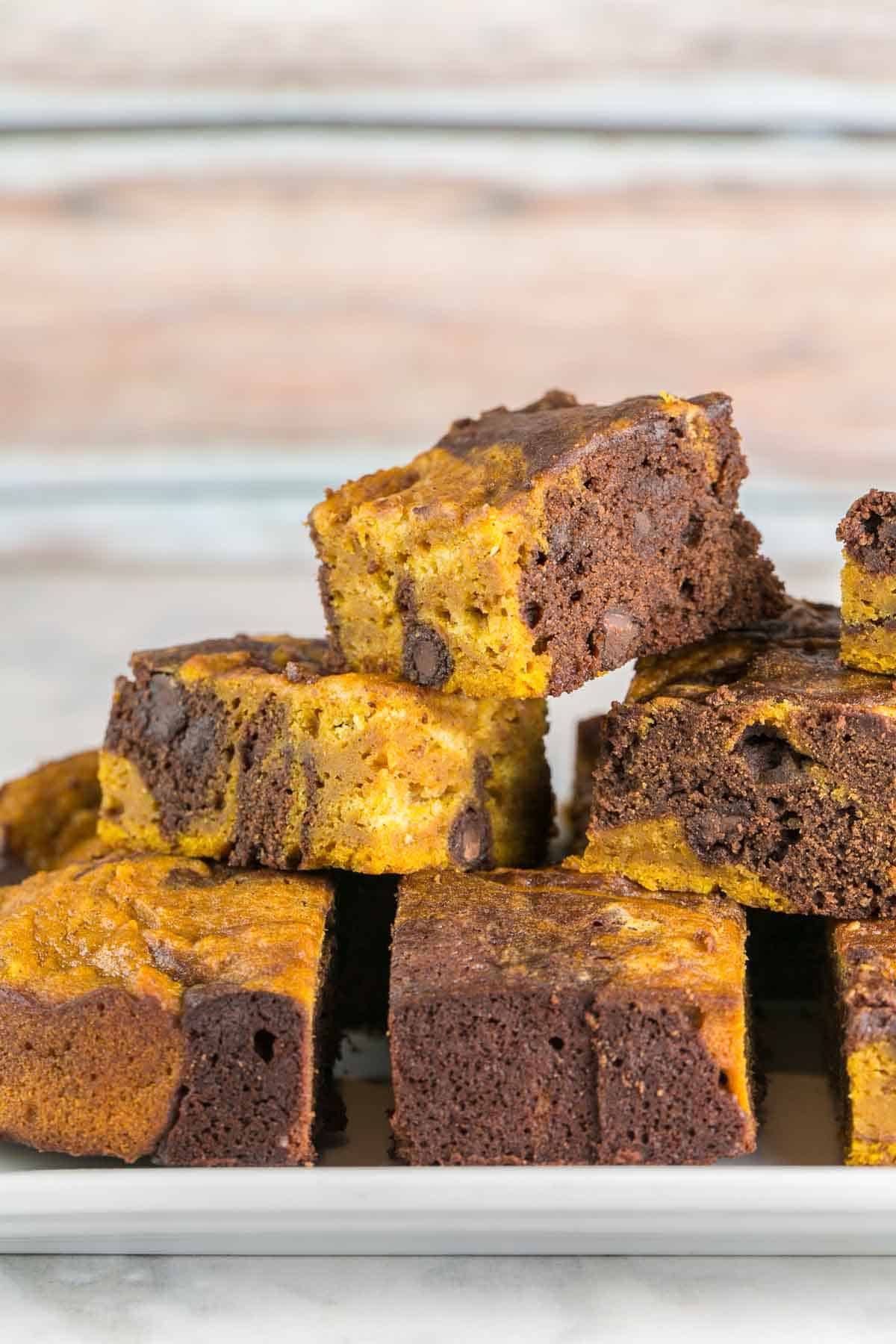 More Pumpkin Desserts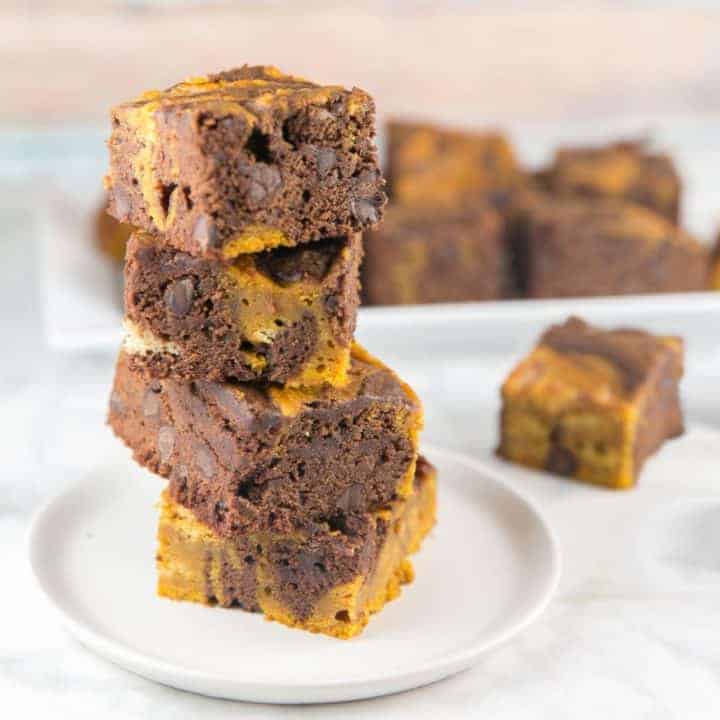 Pumpkin Swirl Brownies
Give your brownies a fall twist with these pumpkin swirl brownies! Easy, mix-by-hand chocolatey brownies mixed with pumpkin batter.
Ingredients
1 cup butter, melted
1 3/4 cups sugar
4 eggs
1 teaspoon salt
1 teaspoon baking powder
2 teaspoons vanilla extract
1 2/3 cups flour
1/2 cup natural unsweetened cocoa powder
1/2 cup chocolate chips
1 cup pumpkin puree
1 teaspoon cinnamon
1/4 teaspoon nutmeg
Instructions
Preheat the oven to 350 °F. Lightly grease a 9x9-inch square baking pan.
Melt the butter in a large microwave-safe bowl for 30 second increments, mixing after each, until fully melted. Whisk in the sugar until well combined. Whisk in the eggs, one at a time. Use a rubber spatula or wooden spoon to stir in the salt, baking powder, vanilla extract, and flour.
Divide the batter into two bowls. To one bowl, add the cocoa powder, stirring until just combined and no streaks of cocoa powder remain. Fold in the chocolate chips. Add the pumpkin puree, cinnamon, and nutmeg to the other bowl and whisk to combine.
Scoop spoonfuls of each batter into the prepared baking pan, alternating between the chocolate and pumpkin. After distributing all batter, smooth the surface and use a knife to swirl the two batters together.
Bake the brownies for 45 minutes, or until a tester inserted into the center comes out with just a few moist crumbs. Remove from the oven and cool on a rack before slicing and serving.
Notes
Brownies can be stored at room temperature for a few days, but should be refrigerated or frozen for longer storage.
A Bunsen Burner Bakery Original Protocol
Recommended Products
As an Amazon Associate and member of other affiliate programs, I earn from qualifying purchases.
Nutrition Information:
Yield:

16
Serving Size:

1 brownie
Amount Per Serving:
Calories:

290
Total Fat:

15g
Carbohydrates:

38g
Sugar:

25g
Protein:

4g