March 19, 2019
Cake Mix Hamantaschen
Love making hamantaschen but want to shorten the process? This Cake Mix Hamantaschen dough recipe tastes like the real deal, but only takes 3 minutes to mix.  Perfect for baking with kids, too!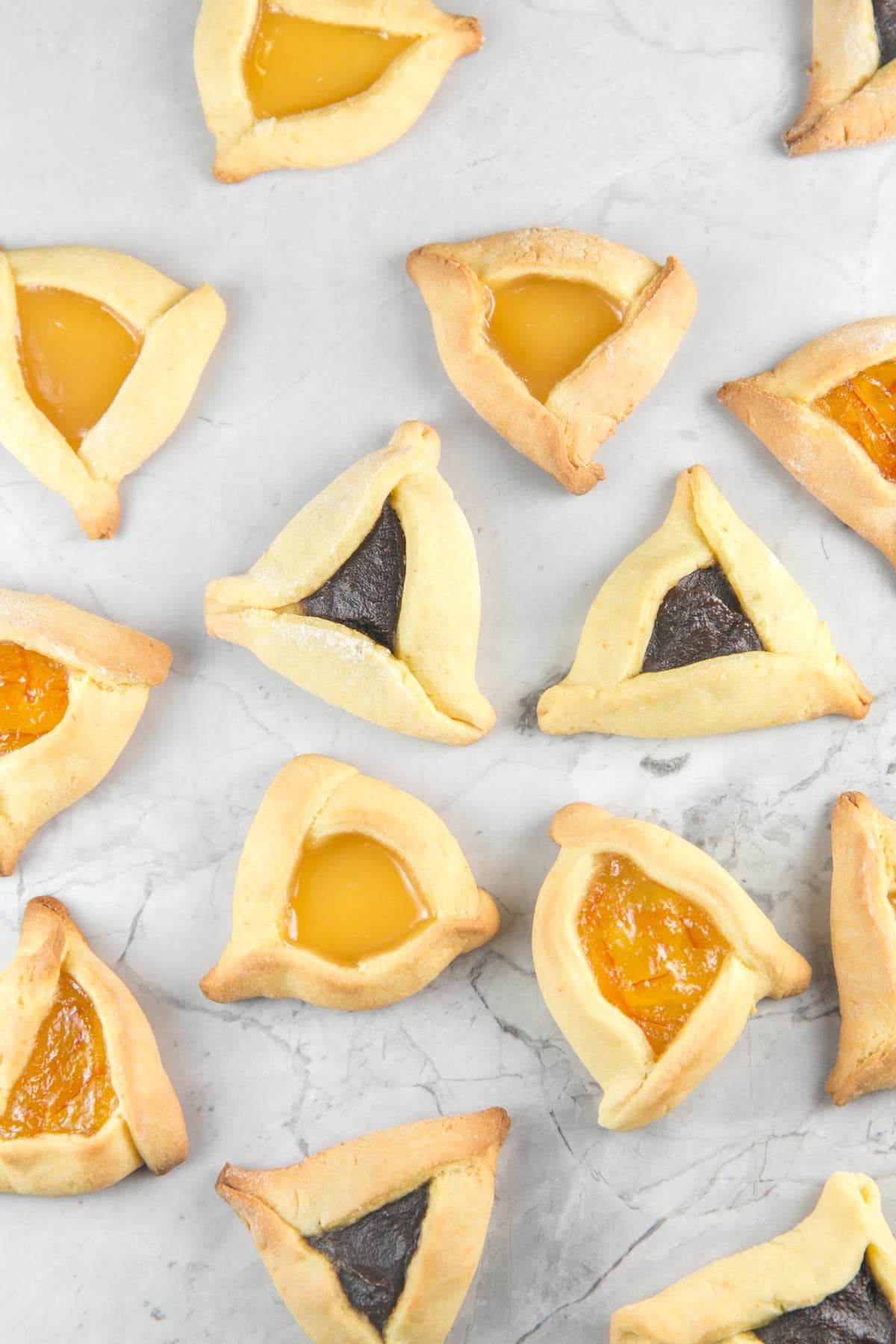 Purim is this week, which means it's time for the most delicious of all holiday-themed cookies: hamantaschen!
A few years ago, I shared a delicious, easy, made entirely-from-scratch traditional homemade hamataschen dough recipe. It rolls out like a dream, is easy to fold over, and stays closed while you bake it.
Buuuuut I also mentioned that the recipe wasn't quite what I was looking to replicate.
I have spent years (YEARS! DECADES! MY ENTIRE ADULT LIFE!) trying to replicate the hamantaschen from my childhood — those giant, artificially yellow-ish, super crumbly, much more cake-like than cookie-like, perfectly triangular hamantaschen.
So when my mother said this year, she made hamantaschen from a cake mix I was super excited. I generally prefer to bake from scratch, but how better to replicate cakey hamantaschen than using a cake mix?
(Spoiler alert: this was not the cakey hamantaschen recipe of my dreams, which I am convinced may not really exist. Perhaps I am misremembering?)
But, what we have here, is a very good, very easy recipe, that is not entirely too dissimilar from my traditional homemade hamantaschen recipe, except the dough rolls a little thinner.
And also, it's made from cake mix, so it's the PERFECT solution to those of you who want hamantaschen but aren't super into baking from scratch. Or the perfect first hamantaschen for little bakers – this is such an easy "cooking with kids" recipe!
Yes, this is made from cake mix — I see you baking purists shuddering. But it also takes like three minutes to make the dough, and then you get to the fun part: filling and folding.
Let's back up a second first, though. Purim? Hamantaschen? What's all this about?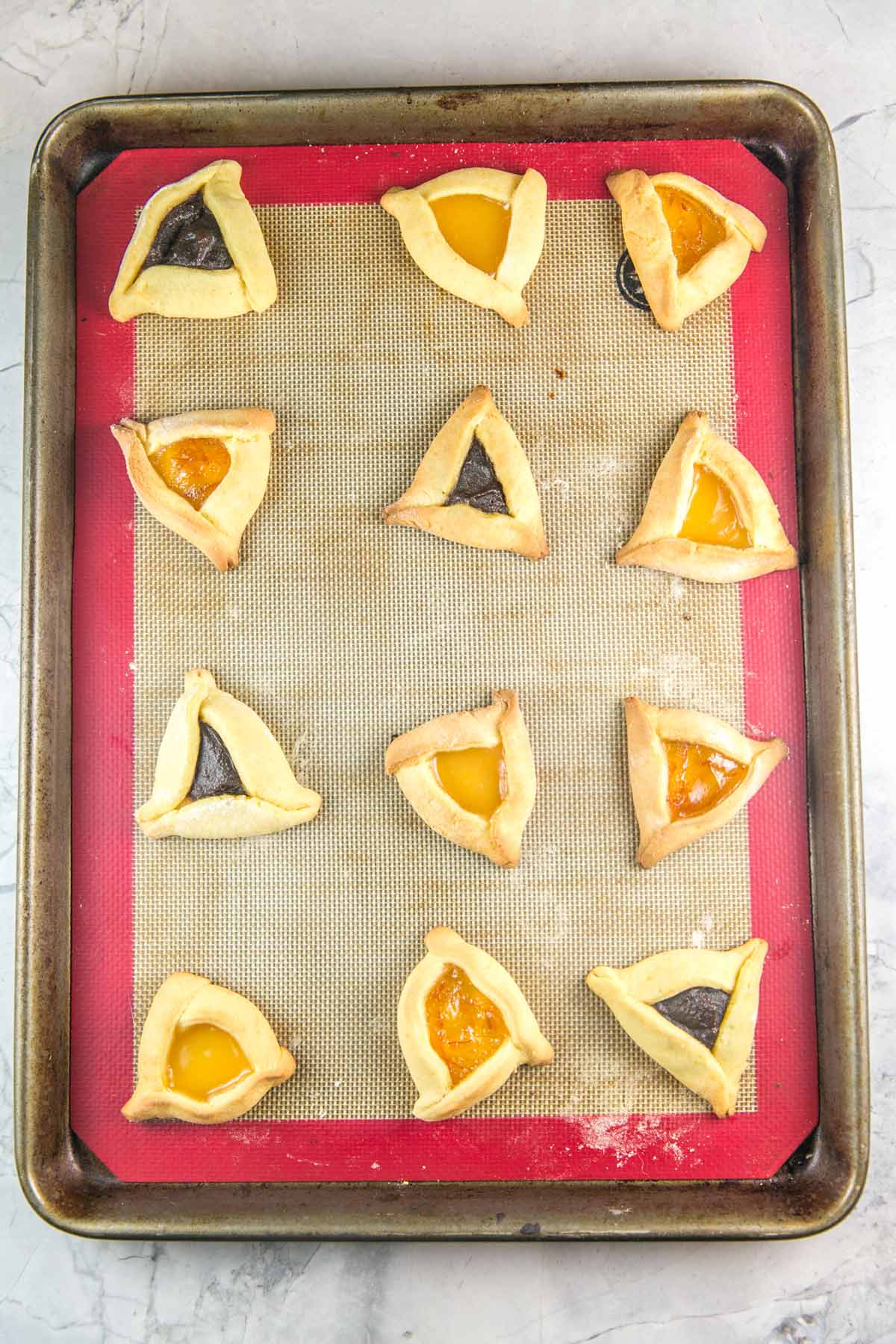 What are Hamantaschen?
Hamantaschen are triangular-shaped cookies associated with the Jewish holiday Purim.  At Purim, we celebrate when Esther triumphed over the evil vizier Haman, who tried to destroy all the Jews.
To make the classic three-cornered shape, cookies are rolled into a circle, a small amount of filling is placed in the center, and the sides are folded (or pinched) up around the filling to create a little triangular pocket.
We eat hamantaschen on Purim (which falls in late winter/early spring) because, like so many things in Judaism, it's tradition! But what's the root of this tradition? There are lots of different theories…
The most obvious, of course, is the reference to Haman in the name hamantaschen.  The three-corned triangular shape is thought to be a reference to the three-cornered hat worn by Haman (and my 3 year old now likes to call them hat cookies).  Tash in Hebrew means weakened — a nod to God weakening Haman to allow his defeat.  Haman-taschen, thus meaning Haman was weakened.
Another theory, however, goes to the Yiddish root of the word: mohn meaning poppy (which is the classic filling) and tasche meaning pocket. A poppy-filled pocket cookie! Ooooor maybe the pocket reference is because Haman offered to pay money — emptying his pockets — to the king to receive permission to kill the Jews.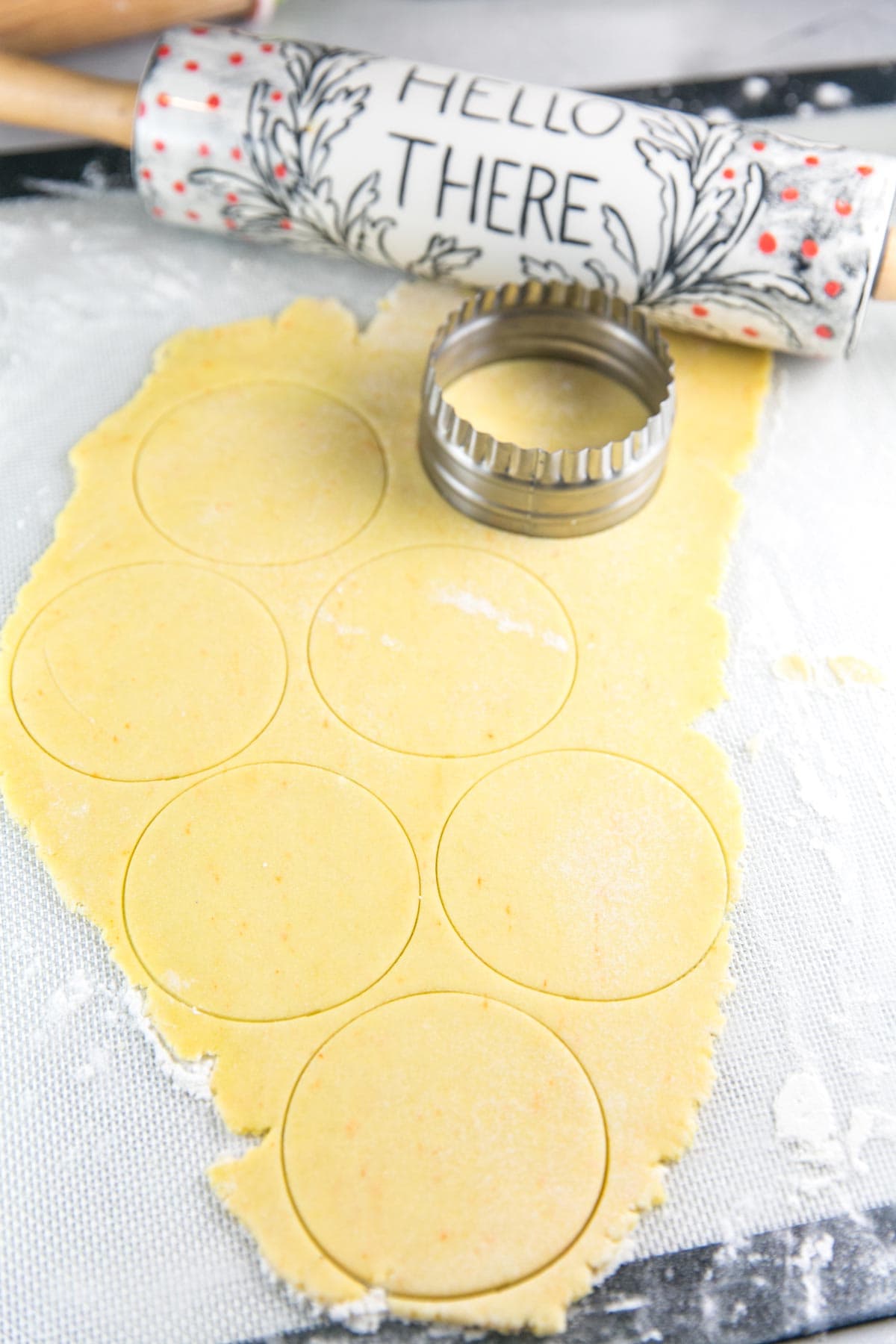 Using Cake Mix for Cookie Dough
Hamantaschen are a little more involved than most cookies because of rolling out and filling the dough.  So in order to make things super duper extremely easy, cake mix hamantaschen start with a box of cake mix.
All you need to add to the cake mix is flour, vegetable oil, eggs, and a little water. That's it!
Mix together all the ingredients, by hand or with a mixer, until a stiff dough forms.  If you use a stand mixer, it takes a whopping 3 minutes to bring this dough together.
In fact, you don't even need to refrigerate this dough before rolling it out! We do for my regular traditional hamantaschen recipe, but not for these. Why the difference? It's all in my favorite subject… kitchen chemistry!
Kitchen Chemistry

Any roll-out cookies made with butter require refrigeration so the butter can solidify as it chills. Vegetable oil, however, is liquid both at room temperature and under refrigeration, so the dough will not get stiffer with chilling. Instead, the dough has a lower hydration level to ensure the cookies are stiff enough to roll and cut.
Faster dough to make AND able to roll out the cookies immediately? Now that's what I call a win-win situation!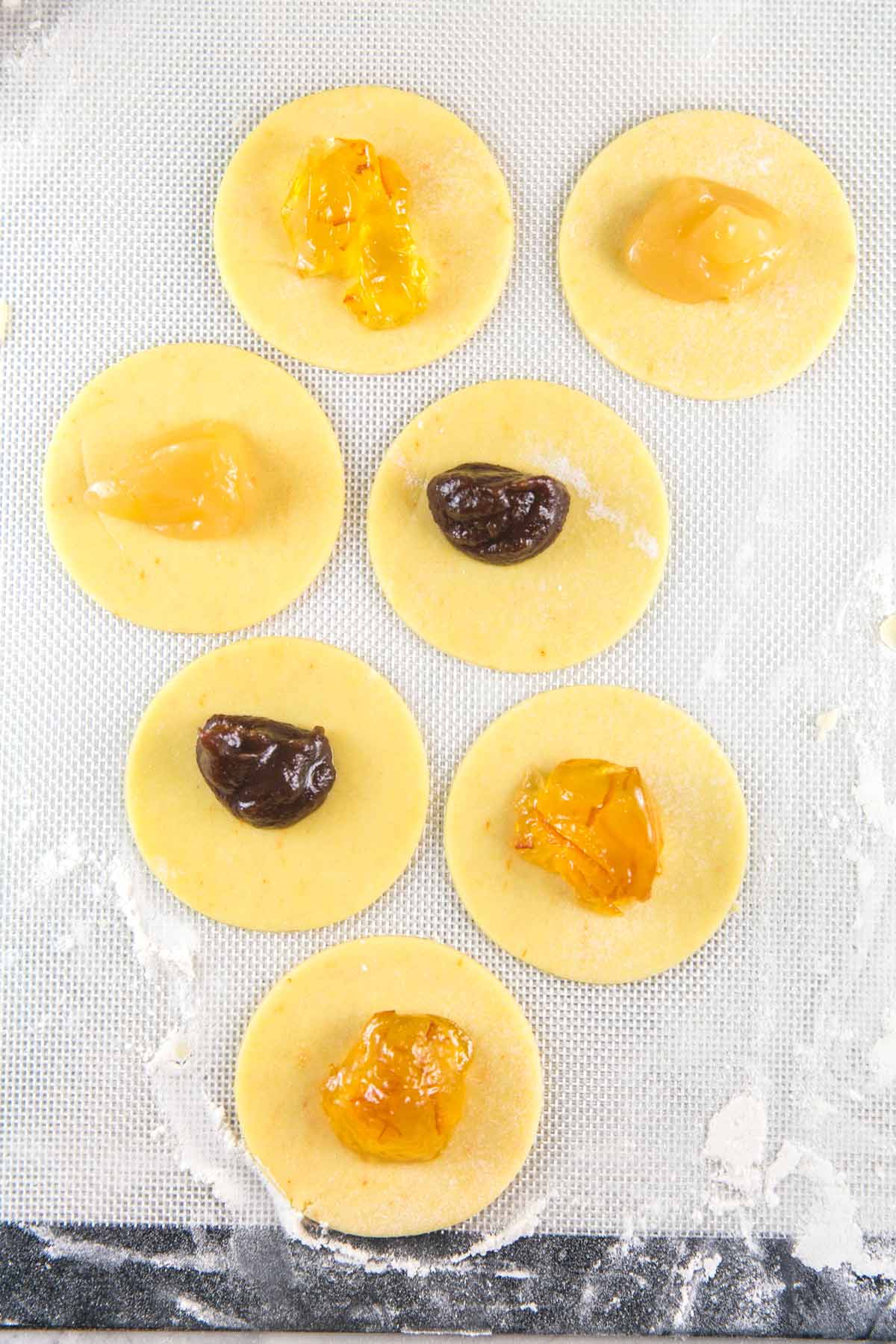 Shaping Hamantaschen
Lightly flour your working surface and roll the dough out to 1/8th-inch.  Use a round cookie cutter to cut the dough into 3-inch circles.  Place a teaspoon of filling into the center of the dough, then fold or pinch.
Whether you fold or pinch the edges of hamantaschen is a VERY controversial topic. I tried both methods to confirm it would work for everyone's preferences) the sides up into a triangle!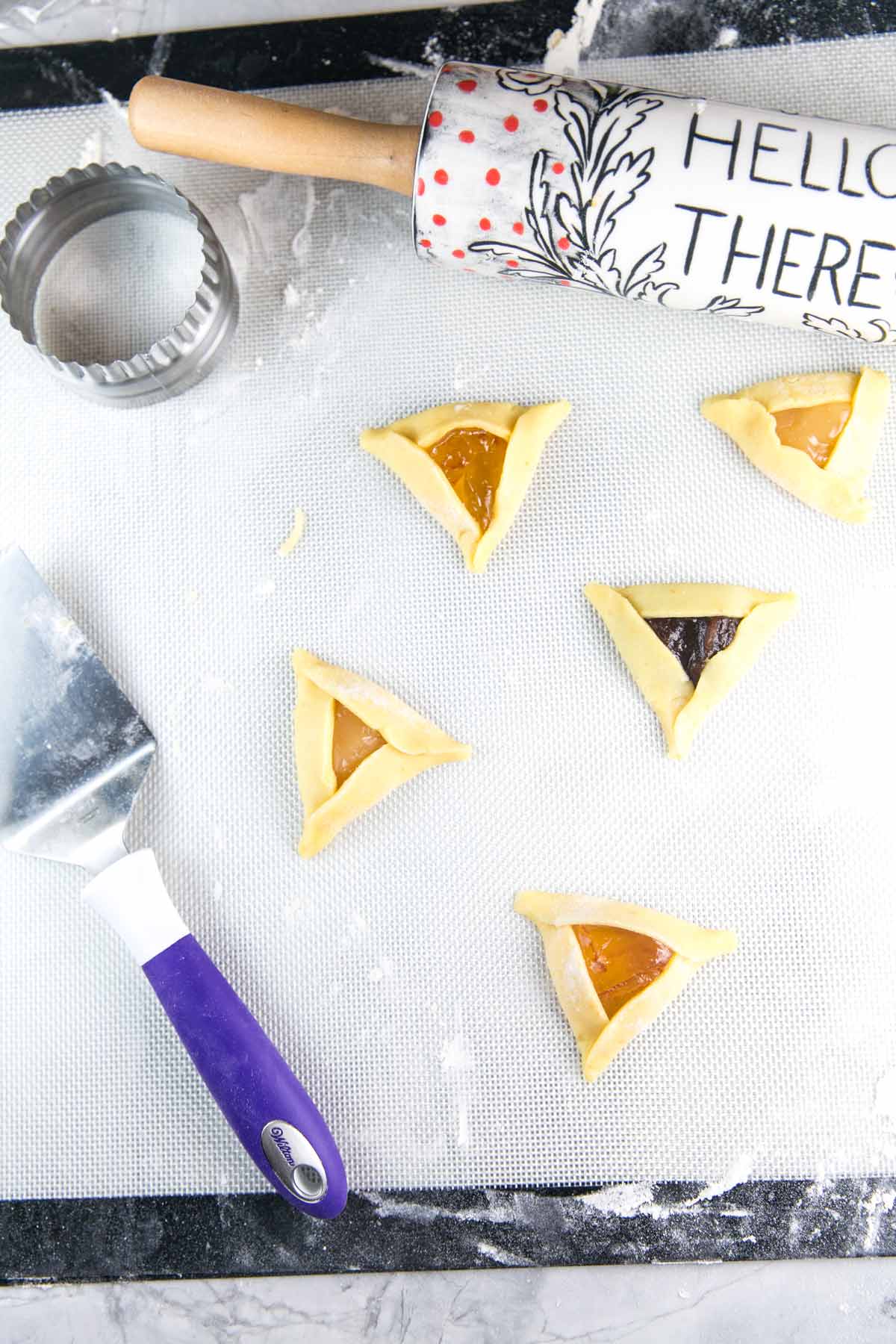 Filling Options
In this day and age, anything goes! The traditional filling is poppy, but apricot and prune are also classics.
From here, other fruit flavors started popping up: any variety of jam or preserves.  These are my personal favorites, and I consider Purim to be the perfect opportunity to go through my refrigerator cupboards and find what various jars of jam and fruit preserves we've collected over the past few months.
For this batch, I used some lemon curd (because I love lemon curd), apple butter (from a random jar that I realized we would never otherwise open), and orange marmalade (leftover from making this Instant Pot Orange Chicken).  The lemon curd is delicious but the apple butter was the surprise winner in my book.  I even made an extra two dozen to bring to my son's preschool class!
Nowadays, if it's a thick enough filling, people have added it to hamantaschen. Brownie batter. Nutella. Mint chocolate chip. Blueberry goat cheese. It's all in there.
In fact, The Nosher has an "Ultimate Ranking of Hamantaschen Fillings" in which they suggest s'mores filling.  You guys know I love everything s'mores (see: s'mores cookie cake, s'mores pie, gooey s'mores bars, s'mores bundt cake, small batch s'mores brownies) so I think I know what I'm trying next year!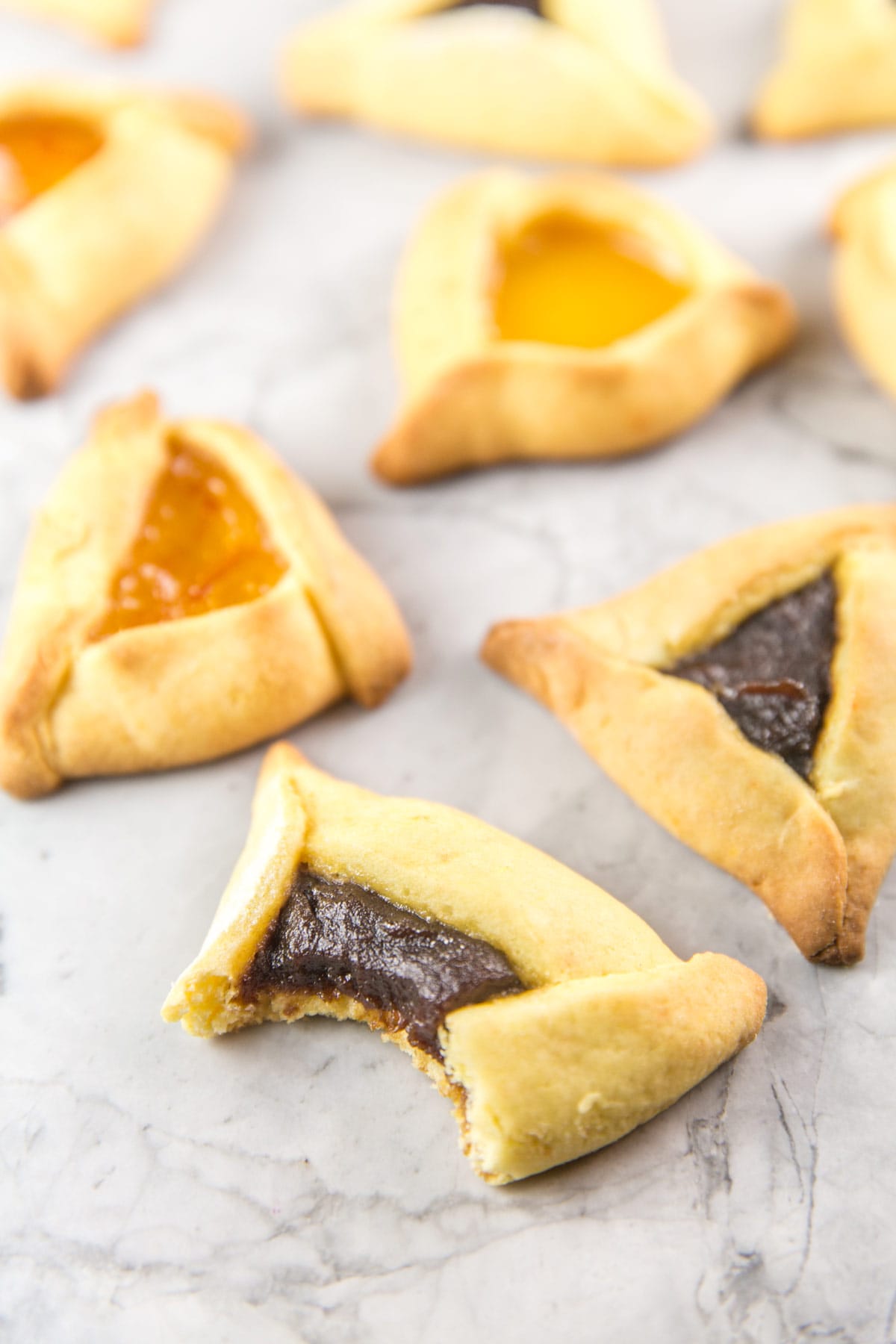 Tips and Tricks for Perfect Cake Mix Hamantaschen
Use a thick filling. If your filling is too thin, it will bubble over or run down the sides.
Use at least a 3-inch cookie cutter to cut the circles. Small Hamantaschen are cute, but the smaller the circle, the harder it is to seal the corners tightly.
Speaking of sealing, use water to help hold the corners of the dough together. This dough is thick enough that it's not necessary, but if you're having trouble keeping the hamantaschen properly folded before baking, dip your finger in a little water and run it over the dough to help seal the corners shut.
Don't overfill the hamantaschen! Too much filling and it will spill out while the cookies bake. One to one and a half teaspoons is all you need for a 3-inch circle.
If you're using a looser filling, chill the cookies before baking. While this dough does not require refrigeration before rolling it out, some fillings benefit from a quick 15-20 minute chill in the refrigerator. The colder the fillings (like brownie batter or Nutella), the less likely they are to spread and leak out of the corners.
Play around with flavors! Use chocolate cake mix instead of yellow, or try apple spice. Add two teaspoons of vanilla extract, lemon extract, or almond extract to change the flavor profile.
Hamantaschen are best eaten the day they are baked as the fillings make the cookies a little soggy. After cooling completely, transfer to an air-tight storage container and keep at room temperature for up to three days.
To make hamantashen ahead of time, freeze the cookies. Freeze the cookies on a cookie sheet in a single layer, then transfer to an air-tight storage bag. Remove from the bag and thaw at room temperature.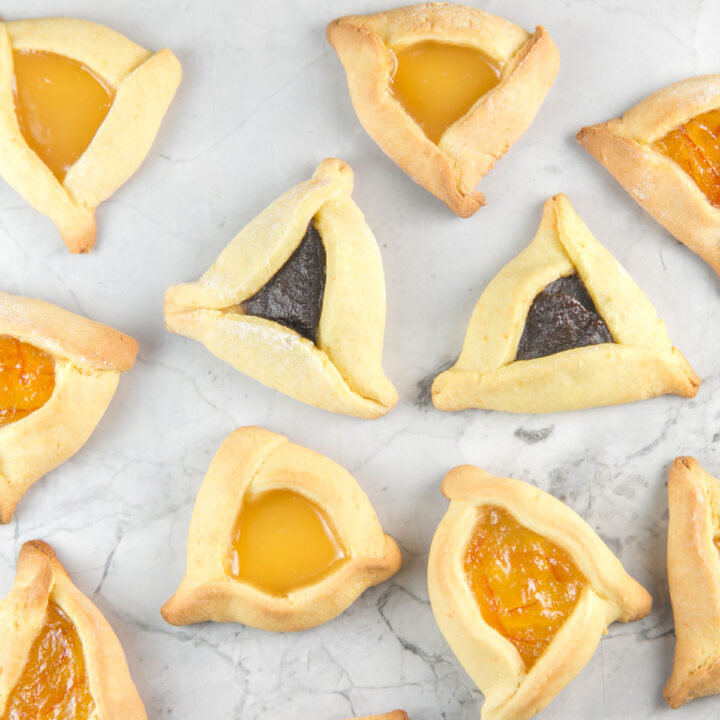 Cake Mix Hamantaschen
Love making hamantaschen but want to shorten the process? This cake mix hamantaschen dough recipe tastes like the real deal, but only takes 3 minutes to mix.
Ingredients
1 (15.25 ounce) box of cake mix
5/6 cup (100 grams) all-purpose flour (1/3 cup + 1/2 cup)
1/4 cup (50 grams) vegetable oil
2 large eggs
2 tablespoons water
20 ounces fruit preserves for filling
Instructions
Preheat oven to 375 °F. Line cookie sheets with parchment paper or silicone baking mats.
In a large bowl, mix together the cake mix and flour. Stir in the eggs, oil, and water until fully combined.
Roll out the dough on a lightly floured surface with a floured rolling pin. Roll the dough to 1/8-inch thickness. Use a 3-inch circular cookie cutter to cut out cookies. Dough scraps can be rerolled to make more cookies. Place circles of dough in a single layer on the prepared cookie sheet.
Place 1 - 1.5 teaspoons of filling in the center of each cookie and fold or pinch the sides to form three corners. Dip a finger in water and run along the corners to hold dough together, if necessary. Place the cookie sheet in the refrigerator for 15 to 20 minutes to thicken the filling, if necessary.
Bake cookies for 10 minutes, or until the edges are lightly browned. Cool on the sheet for 5 minutes, then transfer to a wire rack to cool completely.
Notes
Hamantaschen can be stored at room temperature in an airtight container for 3 days. To freeze, place fully cooled cookies in a plastic freezer bag and store for up to 3 months. Thaw at room temperature before eating.
Recommended Products
As an Amazon Associate and member of other affiliate programs, I earn from qualifying purchases.
Nutrition Information:
Yield:

28
Serving Size:

1 cookie
Amount Per Serving:
Calories:

154
Total Fat:

3.1g
Carbohydrates:

29.8g
Protein:

1.6g