April 12, 2023
Blueberry Swirl Pound Cake
Take your pound cake game to the next level with Blueberry Swirl Pound Cake! Featuring a classic lemon pound cake base with swirls of blueberry sauce topped off with a dreamy blueberry glaze!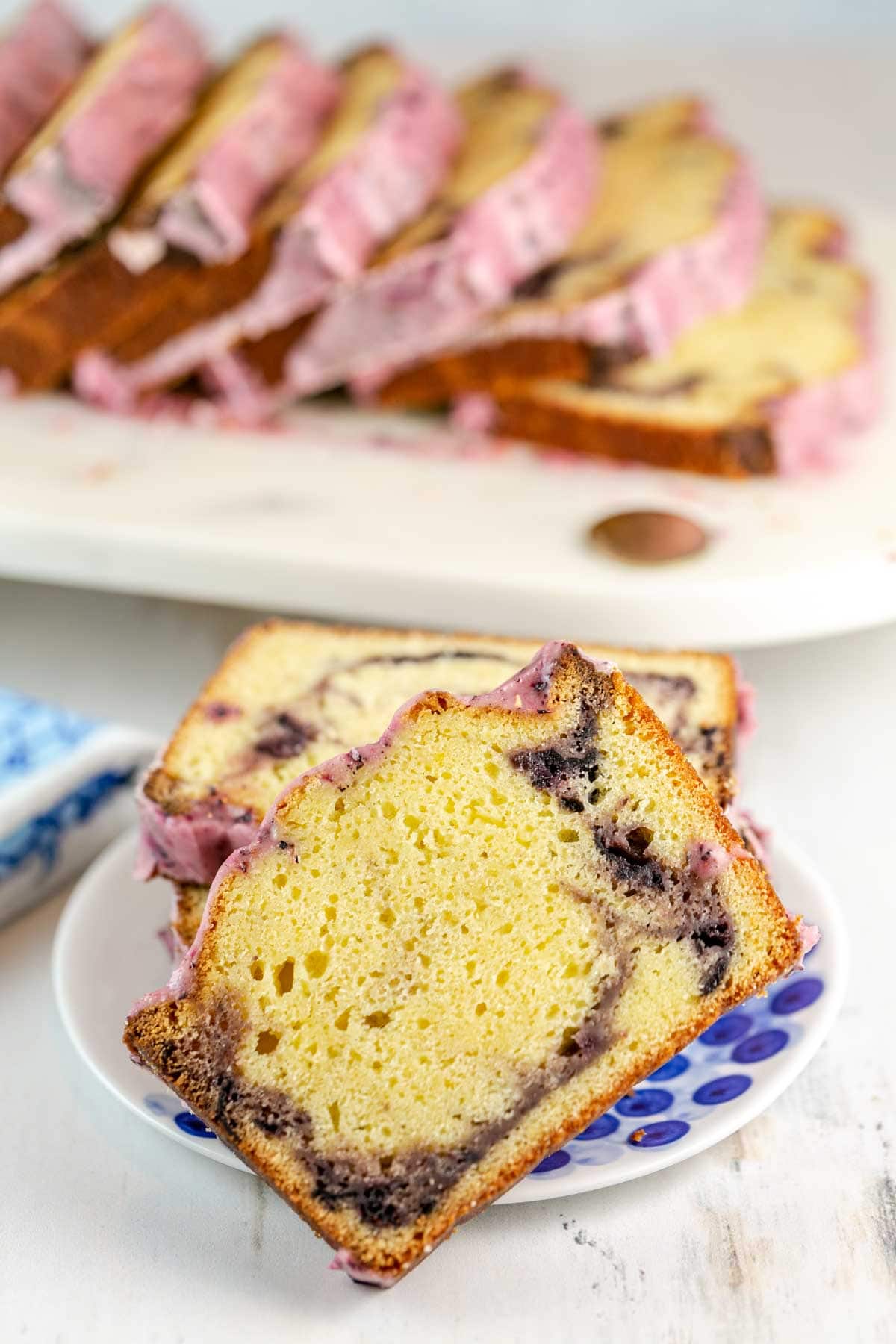 Spring has arrived here in Philadelphia – and with that comes the desire to bake all the springy things! (Springy things = lemons and blueberries, in my mind.)
But regardless of the weather, this easy blueberry swirl pound cake with a blueberry glaze is the perfect anytime treat. It is slightly sweet, tangy, and perfectly fruity.
One of the beauties of homemade pound cake is that it is super easy to make. Don't let the three different steps – the cake, the blueberry swirl, and the glaze.- deter you. It's still simple and comes together quickly! Follow along for ingredient notes and tips and tricks for the perfect blueberry swirl pound cake!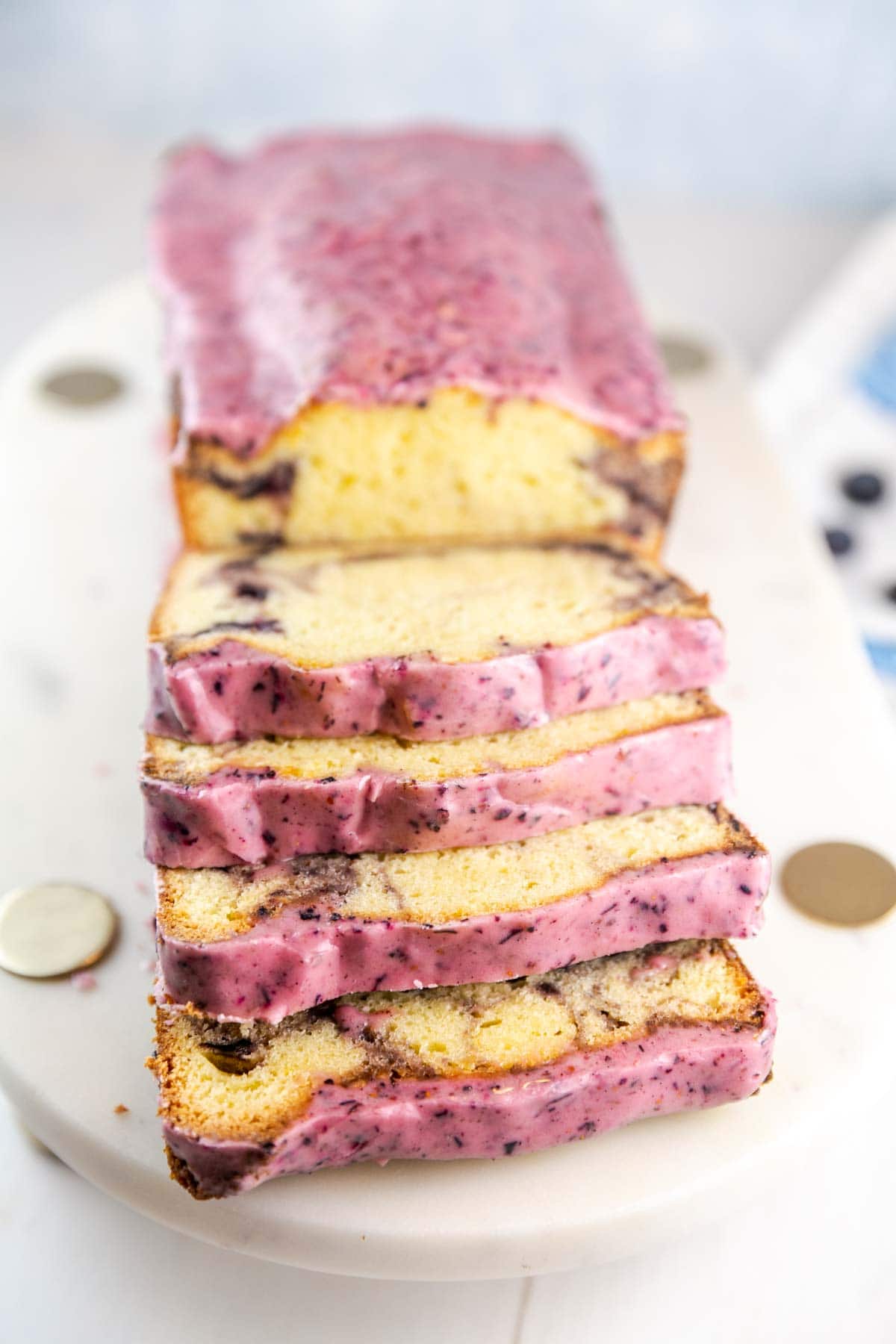 Ingredients and Substitutions
Blueberry Swirl
Sugar & Lemon Juice: For the blueberry swirl, we are basically making blueberry jam. You will just cook some sugar, lemon juice, and blueberries together and add some cornstarch to thicken!
Cornstarch: The blueberry swirl needs a bit of cornstarch to thicken it up! Mix the cornstarch with water in order to get rid of any clumps before adding it to the sugar and lemon juice!
Blueberries: You can use fresh or frozen blueberries that have been thawed.
Pound Cake
Butter: Room-temperature butter is needed for this cake (but not too warm – around 65°F is ideal). Unsalted butter is best to ensure you get just the right amount of salt in this recipe.
Sugar: White granulated sugar – and while there are lots of places where you can cut down on the amount of sugar, I don't recommend this cake as one of them. We need the full amount of sugar to beat into the butter to help create a little lift and aeration.
Sour Cream: Sour cream is key to making a super tender pound cake. Plus, it adds a bit of tangy flavor! Full fat adds the best texture and flavor, but low-fat works as well. If you don't have sour cream, full fat Greek yogurt is a great substitute.
Eggs: Always use room-temperature eggs when making cakes! If you need to get them to room temperature quickly, set them in a bowl of warm (but not hot) water.
Vanilla & Lemon Extract: Both vanilla and lemon extract add tons of flavor! Lemon extract is optional since the lemon zest and juice will add a good amount of lemon flavor. But the lemon extract adds a little extra boost!
Lemon Zest & Lemon Juice: Fresh lemon juice always has the best flavor, and since you already have to zest the lemons… just use the fresh stuff, not bottled.
Flour: Use all-purpose flour, preferably weighed on a scale or measured by fluffing the flour, spooning into a measuring cup, and smoothing the top. To make this cake gluten-free, a 1:1 gluten-free baking mix can be substituted.
Baking Soda: Because this cake contains acidic ingredients, like sour cream and lemon juice, we need baking soda to help neutralize the excess acid.
Salt: Don't be afraid of adding salt to your desserts, it helps prevent too much gluten development and balances the flavors.
Blueberry Glaze
Confectioners' Sugar: Good old powdered sugar is the base for the sweet glaze that goes on top of the pound cake. This glaze is optional of course, but is such a treat!
Blueberries: You can use fresh or frozen and thawed blueberries!
Lemon Juice: Fresh lemon juice is best for the glaze and the rest of the components of this cake. The bottled stuff just won't taste the same!
Lemon Pound Cake
The base of this recipe is an absolutely delicious lemon pound cake. It uses a triple lemon formula: lemon extract, lemon zest, and lemon juice! The lemon extract is optional, but it does add an extra punch of lemon that the zest and juice just can't replicate.
The lemon flavor combined with blueberry is slightly sweet and so refreshing! But if you don't like lemon, don't worry. You can omit the lemon flavors and replace them with orange juice and orange zest! Or, another great option would be vanilla bean paste for a vanilla blueberry pound cake.
When mixing the batter, be sure not to over-mix. Mixing too much once flour is added to the liquids can cause a dense and tough cake!
Kitchen Chemistry

Once flour comes into contact wet ingredients, it starts to develop gluten. The more batter is mixed, the more gluten develops, which results in gluten strands that cause the cake to become dense and chewy! This is great when making things like bread, since the gluten provides the structure to support the loaf. However, when it comes to cakes, cookies, and cupcakes, too much gluten development results in tough, dense baked goods.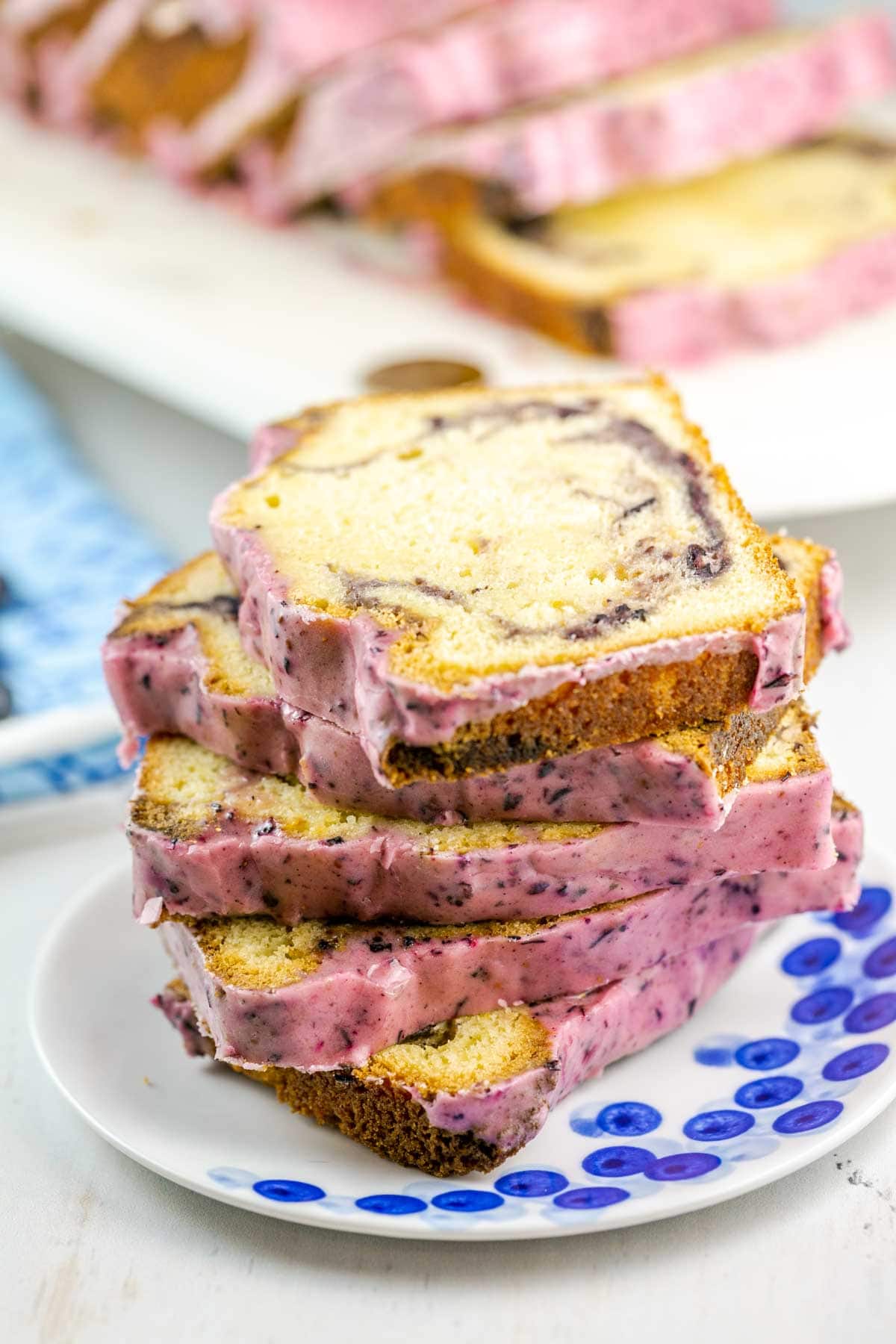 Homemade Blueberry Sauce and Glaze
A homemade blueberry sauce can be used for so many things! In this case, we are going to use it to make delicious blueberry swirls in our lemon pound cake.
You can use either fresh or frozen blueberries for the sauce – no need to thaw before cooking (it may just take a few extra minutes to cook down compared to using fresh). If you're using frozen blueberries for the glaze, however, be sure to thaw them first! Blot them gently with a towel after thawing to absorb some of the excess liquid, which will water down the glaze.
You can always switch out blueberries for another kind of berry like strawberry for a strawberry swirl lemon pound cake. Other berries that would be delicious are raspberries, blackberries, or even huckleberries if you can get your hands on some!
And of course, you can always substitute in a store-bought jam (of any flavor!) for the blueberry swirl – just use jam rather than jelly, since jam tends to be thicker.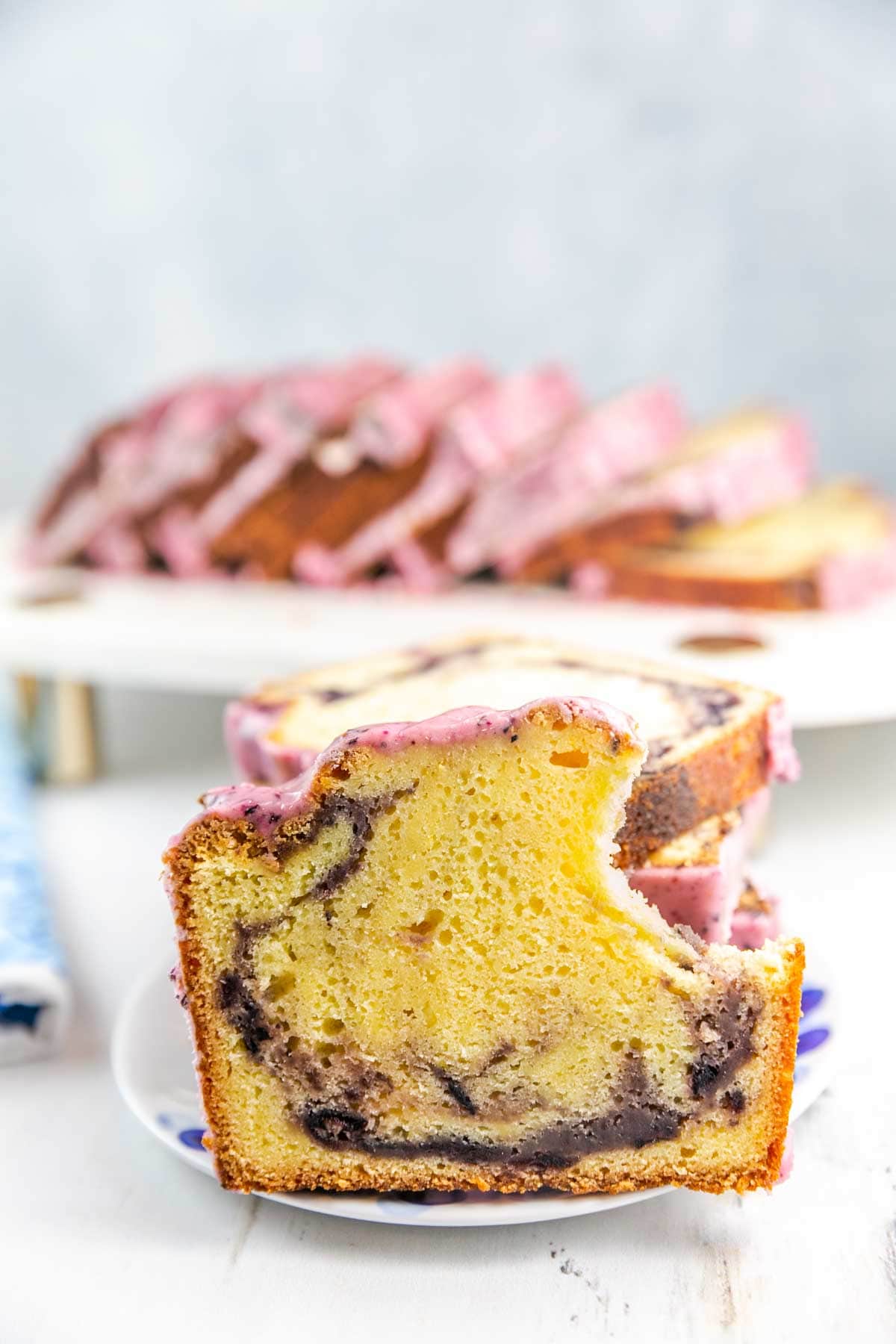 Recommended Tools to Make for Blueberry Swirl Pound Cake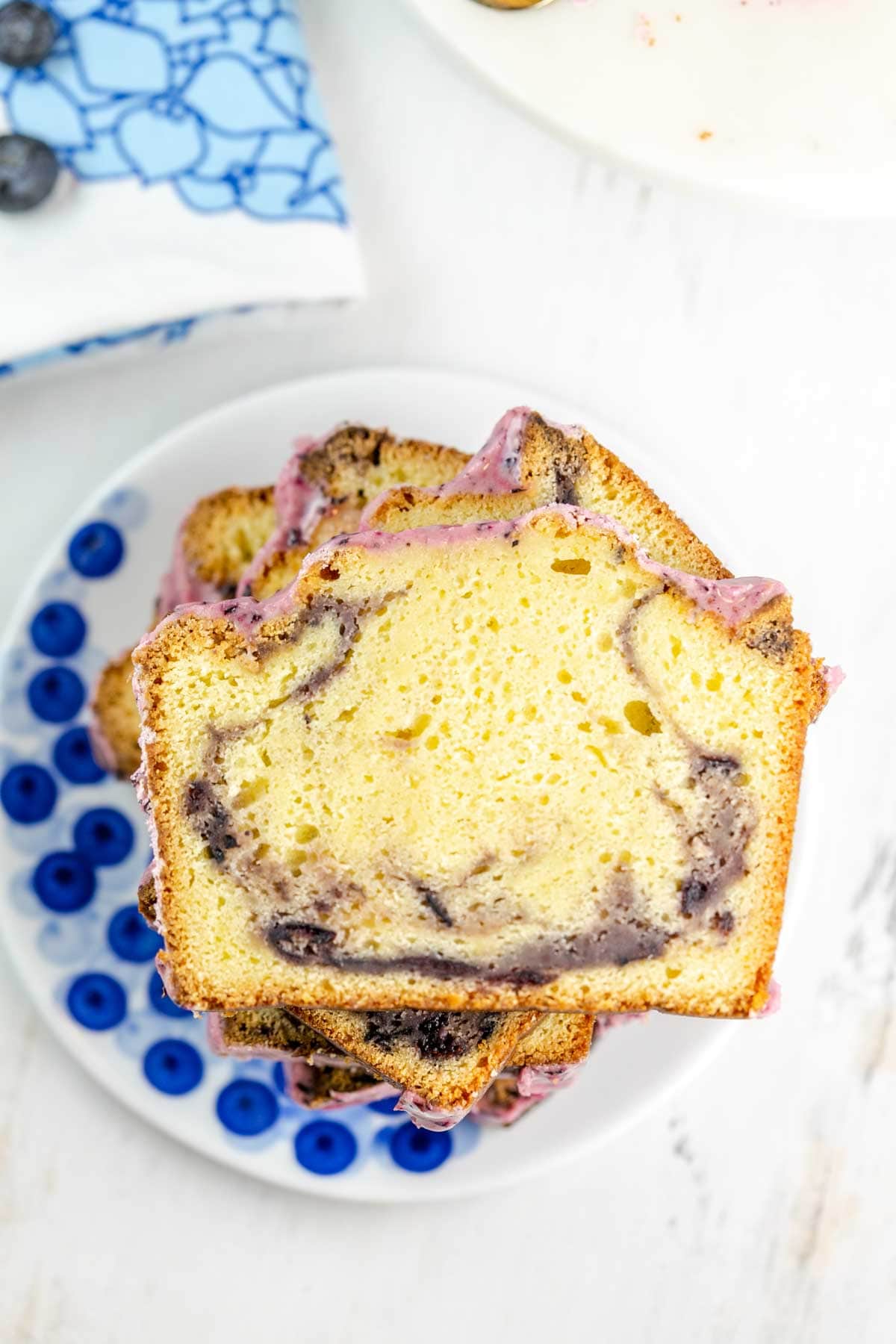 Tips & Tricks for the Best Blueberry Swirl Pound Cake
Use fresh lemon juice! This blueberry swirl pound cake turns out best if you use fresh lemon juice. Bottled lemon juice never tastes as bright and lemony as freshly squeezed lemon juice.
Don't have a loaf pan? No problem! You can also bake this pound cake as perfectly portioned muffins! Spoon the batter into muffin tins, filled 3/4ths of the way full, and bake at 375 °F for approximately 25 minutes.
Switch up the berries for a fresh new flavor – the lemon pound cake batter also pairs great with strawberries, blackberries, or raspberries.
Store any leftover pound cake in an airtight container at room temperature for up to 3 days. You can store the cake in the refrigerator for a few additional days after this, although it will start to lose moisture more quickly once refrigerated.
This cake also freezes well! Freeze an unglazed loaf by wrapping in plastic wrap and store in a zip-top freezer bag for up to 3 months before thawing at room temperature. To freeze leftover slices with glaze, lay each slice on a cookie sheet, place the sheet in the freezer for an hour or two until the glaze is fully frozen, and then wrap in plastic wrap. Unwrap the glazed slices before thawing.
More Pound Cake Recipes: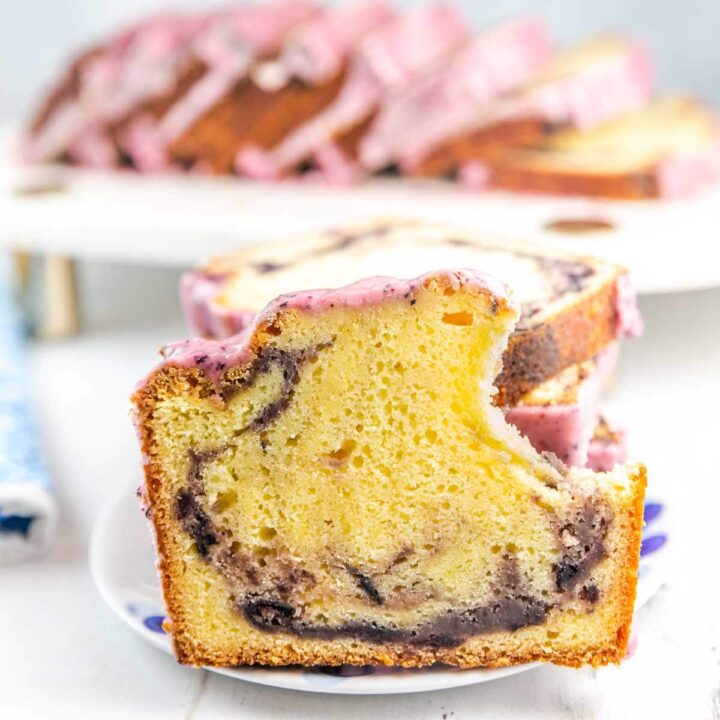 Blueberry Swirl Pound Cake
Yield:
1 loaf (12 slices)
Total Time:
1 hour
30 minutes
Take your pound cake game to the next level with Blueberry Swirl Pound Cake! Featuring a classic lemon pound cake base with swirls of blueberry sauce topped off with a dreamy blueberry glaze!
Ingredients
For the Blueberry Swirl:
1/4 cup (50 grams) sugar
1/4 teaspoon cornstarch
1 teaspoon water
1 cup (160 grams) fresh or frozen blueberries
For the Pound Cake:
3/4 cup (170 grams) unsalted butter, room temperature
1 1/2 cups (297 grams) granulated sugar
1/2 cup (113 grams) sour cream, room temperature
3 whole eggs + 1 egg yolk, room temperature
1 teaspoon vanilla extract
1 teaspoon lemon extract (optional)
2 tablespoon lemon zest
2 tablespoons lemon juice
1 1/2 cups (180 grams) all-purpose flour
1/4 teaspoon baking soda
1/4 teaspoon salt
For the Blueberry Glaze:
2 cups (227 grams) confectioners' sugar
1/2 cup (80 grams) blueberries fresh or frozen (thawed)
1 teaspoon lemon juice
Instructions
Make the sauce for the blueberry swirl. In a small saucepan, combine the sugar, lemon juice, and blueberries. Cook over medium heat, mashing down the berries with a fork to release their juices. Whisk together the cornstarch and water and stir this into the sauce, continuing to cook over medium-low until the sauce has thickened and no whole berries remain, 5 to 10 minutes. Set the sauce aside to cool.
Preheat the oven to 350°F. Grease and flour an 8.5 x 4.5-inch loaf pan.
Make the cake batter. Using an electric mixer on medium speed, beat together the butter and sugar until light and fluffy, 3 to 4 minutes. Add the sour cream, mixing until fully combined. Add the eggs and egg yolk, mixing after the addition of each egg. Add the vanilla extract, lemon extract (if using), lemon zest, and lemon juice, mixing again until combined.
In a small bowl, whisk together the flour, baking soda, and salt. Add the dry ingredients to the pound cake batter, slowly mixing on low speed, just until no large patches of flour remain. Be careful not to overmix the batter.
Swirl the blueberry batter, Remove approximately 1/4th of the cake batter and add it to the cooled blueberry sauce. Stir until combined.
Layer the cake batter. Scoop half of the lemon batter into the prepared loaf pan. Spread the blueberry batter over this, then top with the remaining lemon batter. Use a knife to gently swirl the batters together.
Bake the cake. Bake for 50 minutes to 1 hour, until a tester inserted into the center of the loaf pan comes out with a moist crumb. If the top of the cake is getting too brown, tent it with foil (check around the 35-minute mark of baking). Once the cake is cooked, remove it from the oven and cool it in the loaf pan for 20 minutes. After 20 minutes, turn out onto a wire rack to cool completely.
Make the glaze. While the cake cools, make the glaze. Combine the confectioners' sugar, blueberries, and lemon juice in the bowl of a small food processor or blender. Pulse until the blueberries are broken down completely and a glaze-like consistency has been achieved. If the glaze is too thick, add a little additional lemon juice to thin; if the glaze is too thin, stir in additional confectioners' sugar. Drizzle the glaze over the pound cake and allow it to solidify, about 30 minutes, before slicing and serving.
Notes
Use fresh lemon juice, not bottled, for the best lemon flavor.
Switch up the berries for a different flavor - strawberries, blackberries, raspberries, or cherries all work well.
To bake this as muffins, add a tablespoon of pound cake batter to a greased muffin tin, a teaspoon of blueberry swirl, and top with more pound cake batter. Swirl with a knife before baking at 375°F for 24-27 minutes.
Leftover pound cake can be stored at room temperature for up to 3 days or frozen for up to 3 months.
Recommended Products
As an Amazon Associate and member of other affiliate programs, I earn from qualifying purchases.