September 10, 2020
Fudgy Banana Brownies
Brownies or banana bread? Why decide when you can have both? These Fudgy Banana Brownies are the perfect cross between homemade brownies and banana bread!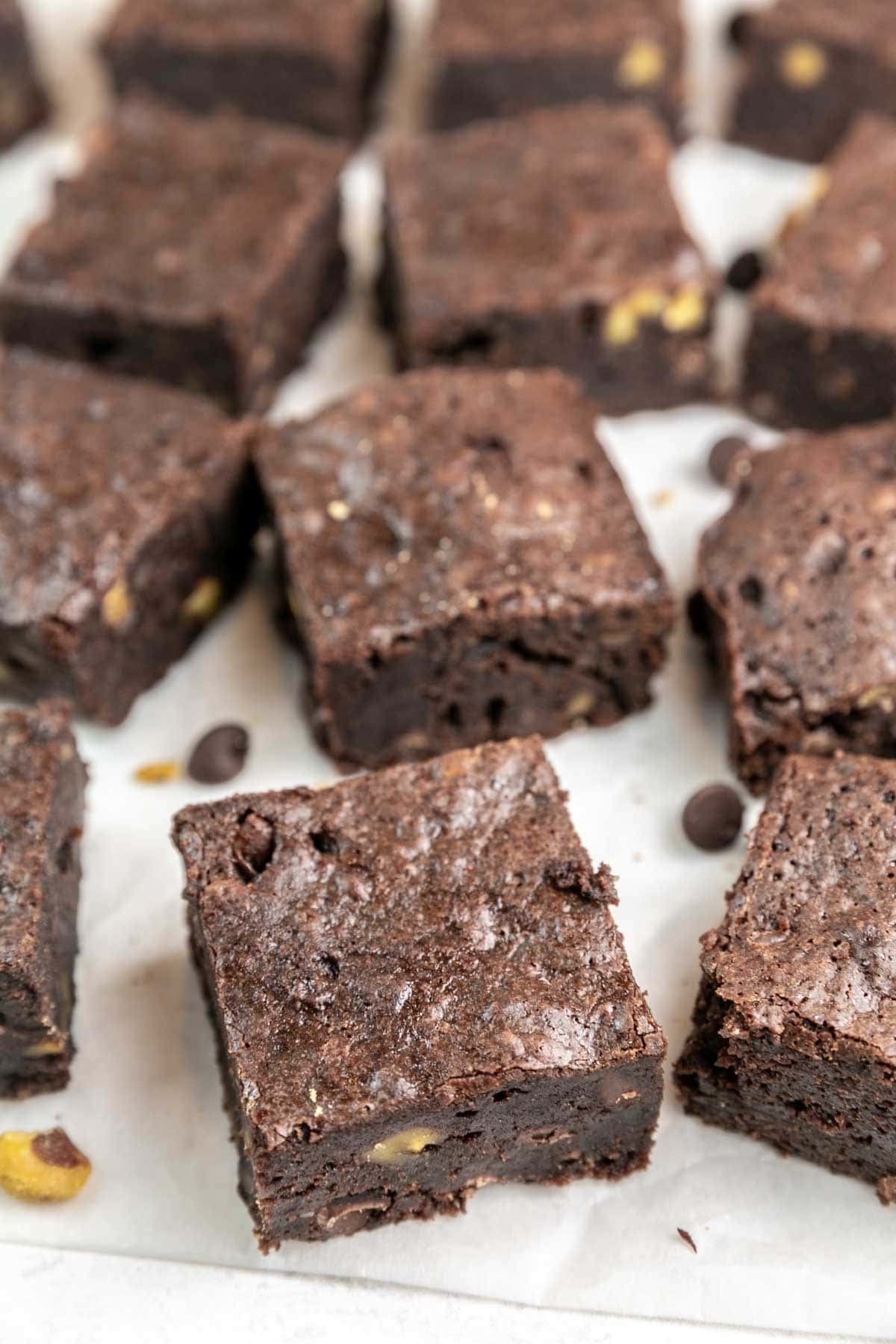 It's become apparent that banana bread is the official baked good of 2020. Banana bread recipes are everywhere!
(And if you love banana bread, don't miss my favorite chocolate chip banana bread, maple glazed banana bread, rocky road banana bread, and banana bread muffin recipes!)
Buuut… maybe you want to do something different with your ripe bananas. And maybe you also want something chocolatey.
These super fudgy, extra moist, rich chocolately banana brownies are exactly what you want need!
Banana brownies are the perfect cross between banana bread and homemade brownies. The brownies are extra moist, thanks to the banana. There's the rich chocolatey flavor, combined with a hint of banana.
The texture is a perfect combination of the two – it feels like you're biting into a piece of banana bread, but with the taste of a brownie! (And that's a good thing!)
Oh, and if adding bananas to your brownies isn't exciting enough, keep reading — because we can make these even more outrageous. A few little additions and we can make… drumroll please… banana split brownies!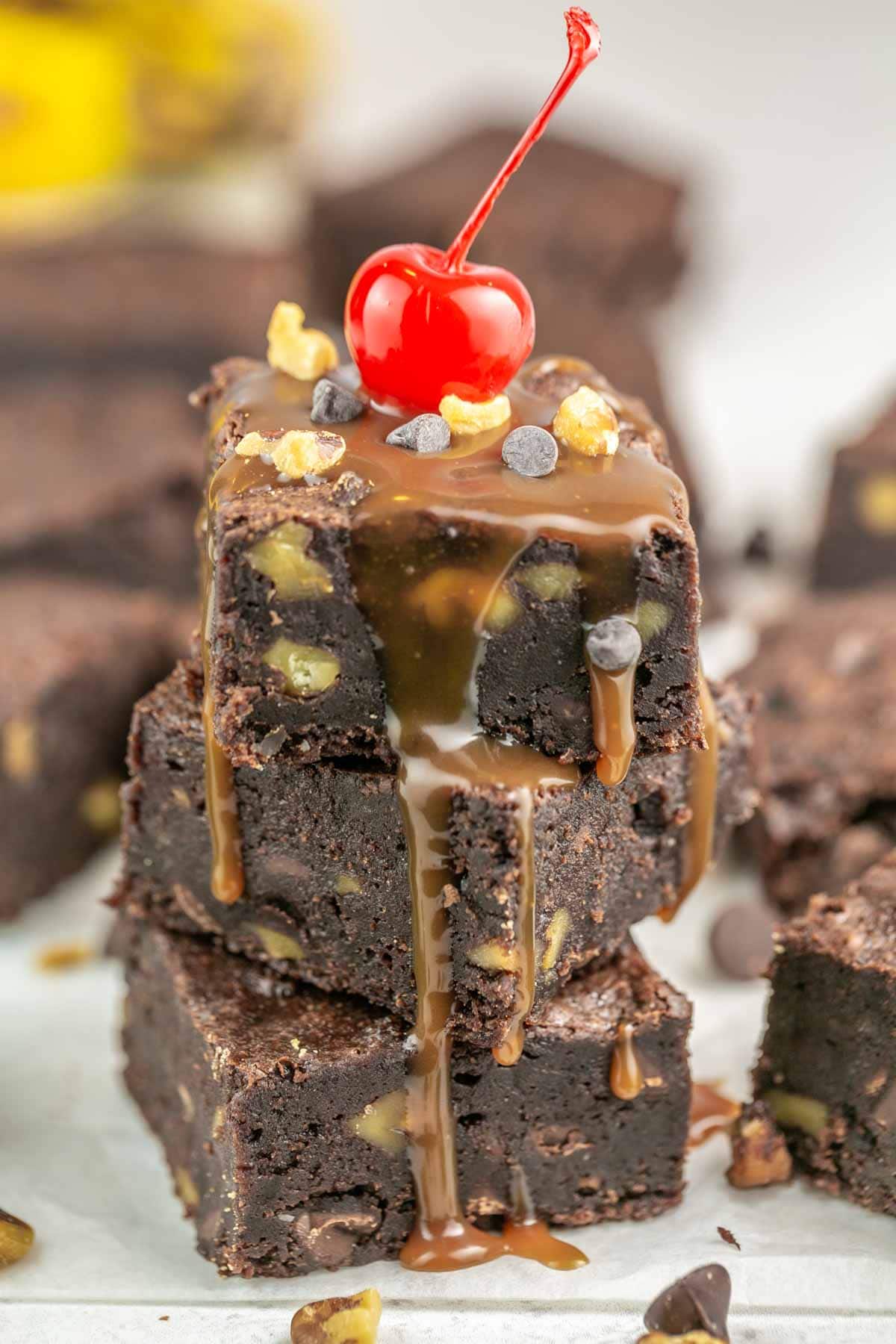 Adding Bananas to Brownies
If you think adding bananas to brownies is strange, think again.
Bananas make the brownies extra fudgy, extra thick, and extra delicious!
Because bananas are pretty mild flavored, you can add just bananas and get just a hint of banana. If you love the banana flavor, add a little banana extract (optional!) to punch up the banana.
What does adding banana do to our brownie batter? It's time for my favorite subject… kitchen chemistry!
Kitchen Chemistry

Adding bananas to baked goods decreases the percentage of gluten in the batter by adding an additional ingredient, while still maintaining a balance of liquids and solids. By decreasing the gluten, the final baked goods are softer and more tender — i.e., fudgier brownies!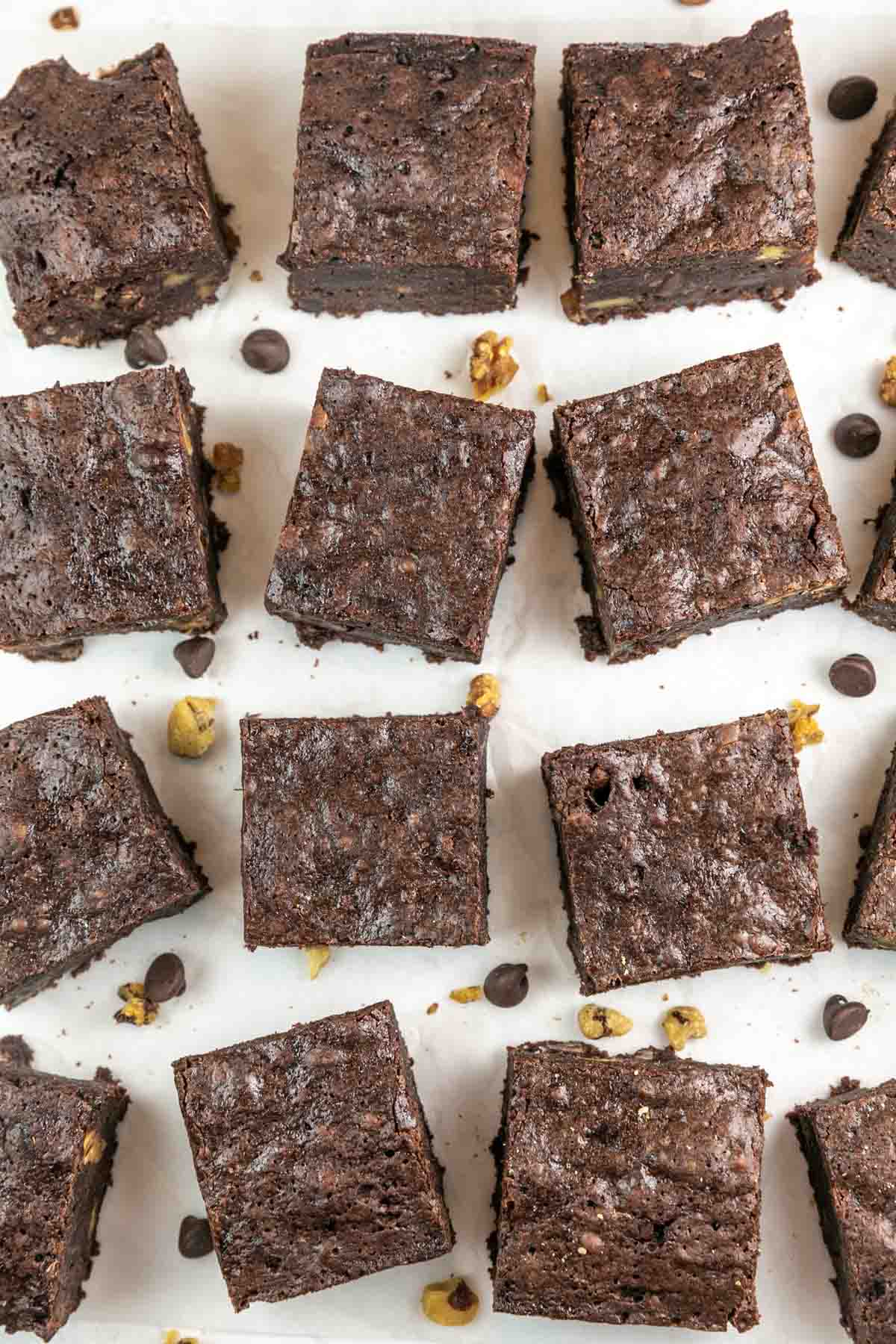 Brownie Mix-Ins
I know people are very opinionated about mix-ins when it comes to brownies. With plain simple, homemade fudgy brownies…. I don't usually love them either.
But hear me out. The texture and thickness of these brownies just beg for additions. And in this case, I went with chocolate chips and chopped pecans.
Obviously, if you don't like nuts, you can leave them out. But if you're not absolutely opposed, I strongly encourage you to add them in, especially because it means we can turn these into…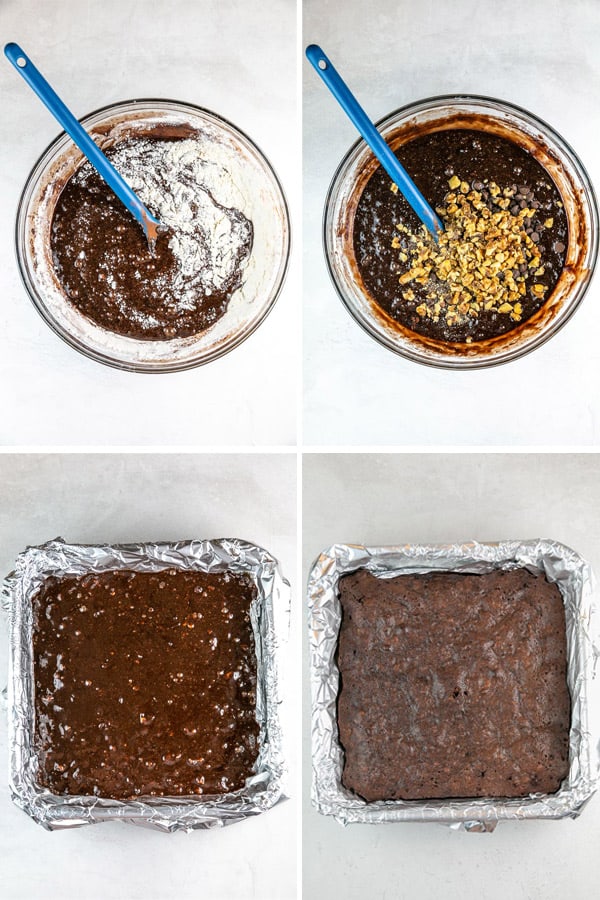 Banana Split Brownies
That's right – we can push the envelope even further on these, and turn them into banana split brownies!
A drizzle of easy homemade salted caramel sauce. An additional sprinkle of miniature chocolate chips and walnut pieces on top.
If you have whipped cream, you could probably go ahead and toss it on there!
And definitely do not forget the cherry on top!
Recommended Tools to make Banana Brownies
Common Questions About Fudgy Banana Brownies
How do you store banana brownies?
Banana brownies can be stored at room temperature or refrigerated for up to 5 days. Keeping them in the refrigerator makes them taste extra fudgy!
Can banana brownies be frozen?
Absolutely! Freeze either an entire pan or cut brownies into individual brownies, wrap them in aluminum foil, and store in a freezer bag, for up to 6 months.
How do I tell when the brownies are done?
These brownies are extra moist, so the top won't spring back when touched and the sides won't pull away from the pan. Bake until a toothpick inserted into the center comes out with a few moist crumbs.
Can this brownie recipe be baked in a 9×13-inch pan?
Yes! As you can see from the pictures, these make THICK brownies. For thinner brownies, bake in a 9×13-inch pan for 30 to 35 minutes. Because the brownies are so thick, I do not recommend doubling and baking in a 9×13-inch pan.
Can I use natural unsweetened cocoa powder instead of Dutch-processed?
Yes, because this recipe does not use chemical leaveners (baking soda or baking powder), either natural or Dutch-processed cocoa powder can be used. I recommend a good quality Dutch processed, however, for the best flavor!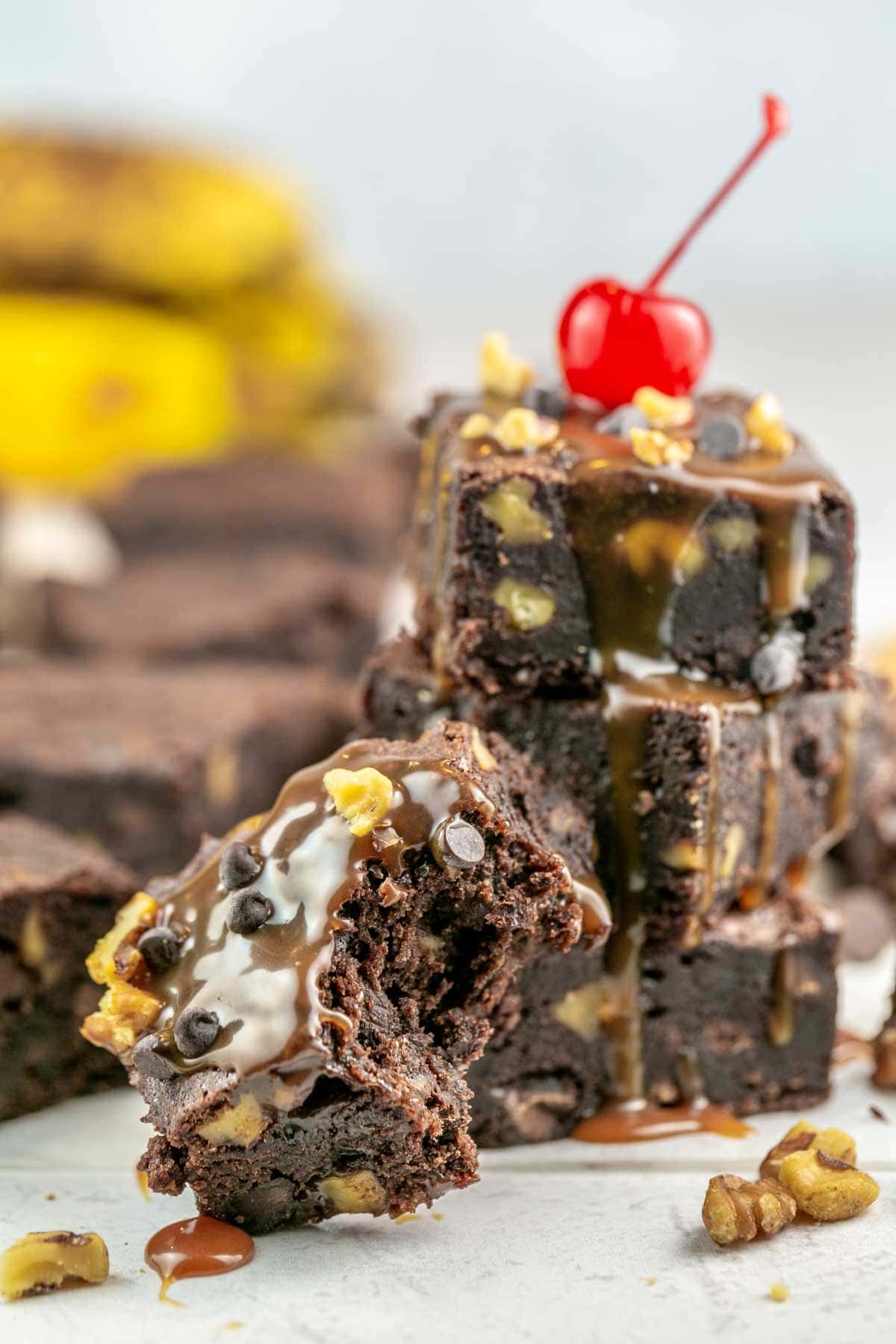 More Chocolate and Banana Recipes:
2020 Brownie of the Month Series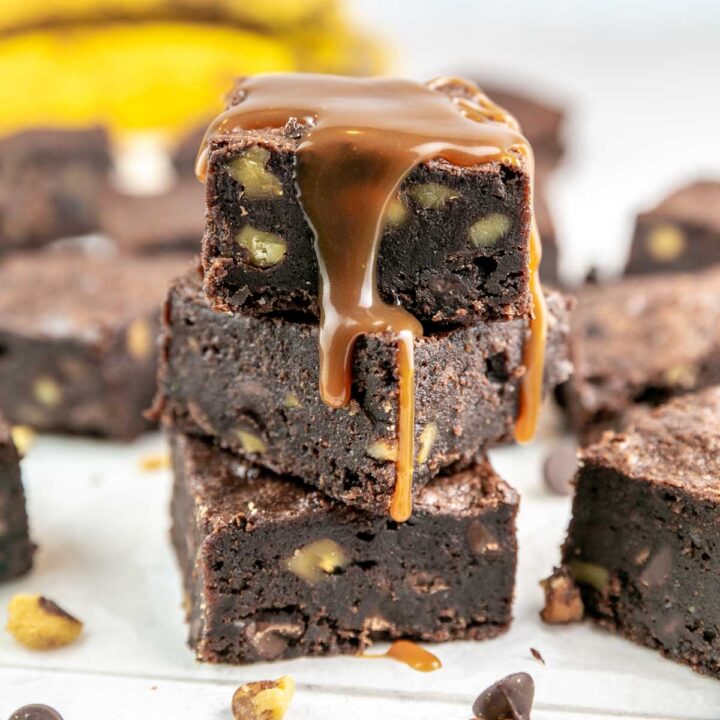 Fudgy Banana Brownies
These fudgy banana brownies are the perfect cross between homemade brownies and banana bread!
Ingredients
12 tablespoons (170 grams) unsalted butter
2 cups (396 grams) granulated sugar
2 large eggs
3/4 cup (63 grams) Dutch-processed cocoa powder
1/2 teaspoon salt
2 teaspoons vanilla extract
1/2 teaspoon banana extract (optional)
1 1/4 cup (150 grams) all-purpose flour
2 medium (250 grams) ripe bananas, mashed
1 cup (170 grams) chocolate chips
1/2 cup (57 grams) chopped walnuts
Optional: caramel sauce, additional walnuts, cherries for serving
Instructions
Preheat the oven to 350 F. Line a 9x9-inch metal pan with aluminum foil or parchment paper and coat with non-stick spray.
Combine the butter and sugar in a large microwaveable bowl. Microwave for 30 seconds, then whisk. Repeat this process until all the butter is melted and the mixture looks shiny (granulated particles of sugar will remain).
Whisk in the eggs, one at a time, followed by the bananas, cocoa powder, salt, and vanilla extract. Stir by hand with a wooden spoon until well combined and shiny. Add in the flour, folding in gently until just combined and no dry streaks of flour remain. Stir in chocolate chips and chopped walnuts.
Spread the brownie batter into the prepared pan, using a knife to spread the batter into the corners. Bake for 40-45 minutes, until a toothpick inserted into the center comes out almost clean.
Allow to cool completely before slicing. If desired, top individual brownies with caramel sauce, additional chocolate chips and walnuts, and a cherry to make banana split brownies.
Notes
Either natural unsweetened or Dutch-processed cocoa powder can be used, but Dutch-processed will result in a richer chocolate flavor.
For thinner brownies, bake in a 13x9-inch pan for 30 to 35 minutes.
To make banana pie brownies, drizzle with caramel sauce, miniature chocolate chips, chopped walnuts, and a maraschino cherry.

Banana brownies can be stored at room temperature or in the refrigerator for up to 5 days (refrigerator recommended for best texture) or frozen for up to 3 months.
Recommended Products
As an Amazon Associate and member of other affiliate programs, I earn from qualifying purchases.
Nutrition Information:
Yield:

16
Serving Size:

1 brownie
Amount Per Serving:
Calories:

323
Total Fat:

15.8g
Carbohydrates:

45.5g
Protein:

3.4g