October 16, 2017
Maple Glazed Banana Bread
Give banana bread a fall twist with a delicious maple glaze — this easy maple glazed banana bread is perfect for breakfast or brunch!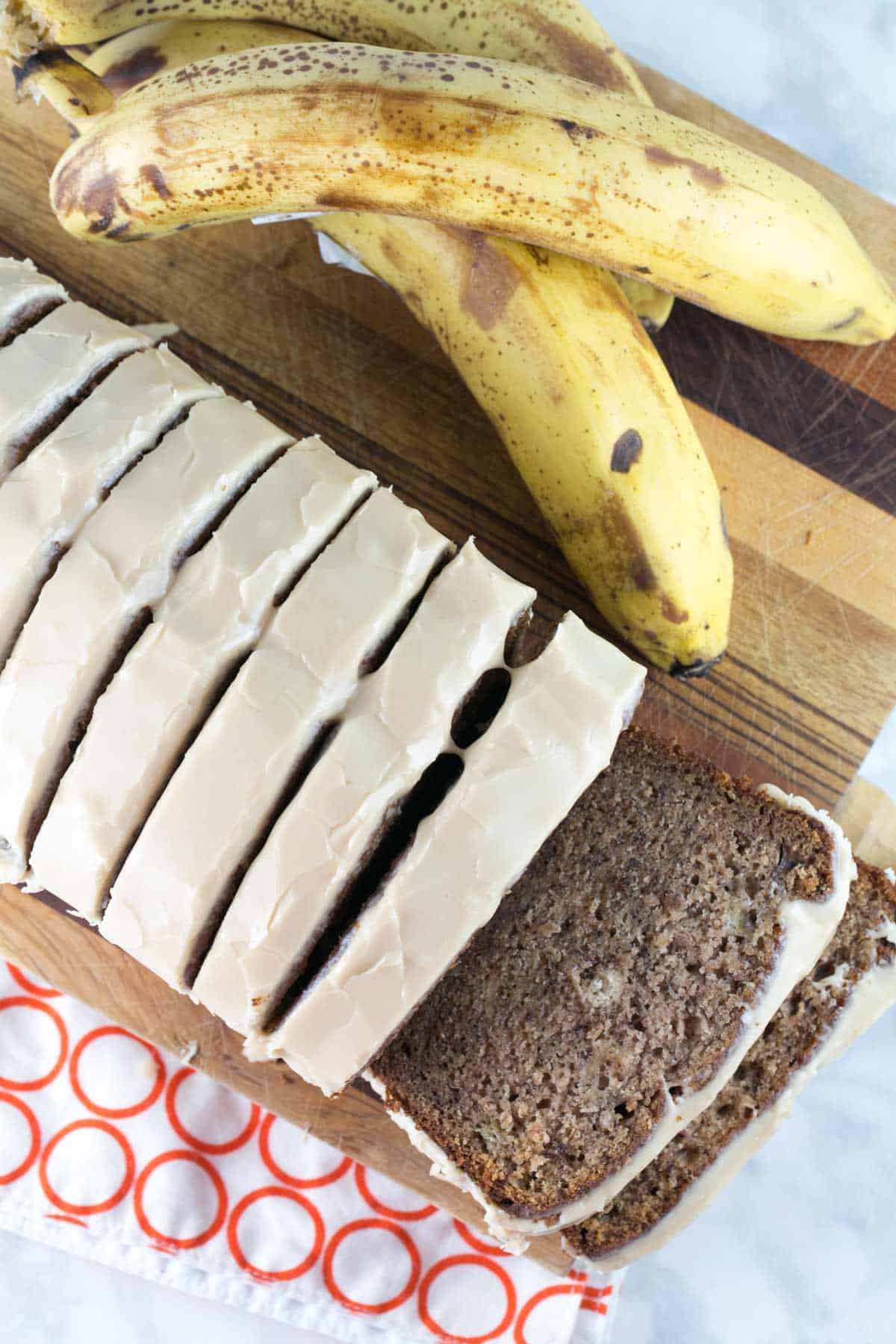 Do you love banana bread?  Of course you do, because… banana bread.  There's a reason why it's the most popular quick bread out there.  I've previously shared a recipe for a favorite chocolate chip hazelnut banana bread, and now I'm here to share another variety.
Banana bread is delicious year round, but let's give it a little fall twist: maple glazed banana bread.  This is another one of the (many) baked treats I brought along for our annual beach week.  I'm assuming everyone loved it, because it disappeared before I even managed to snag a slice for myself!
(Don't worry, I've made it before, so I know it's an A+ recipe.  I wouldn't share it on here if it wasn't tried and true and tested several times!)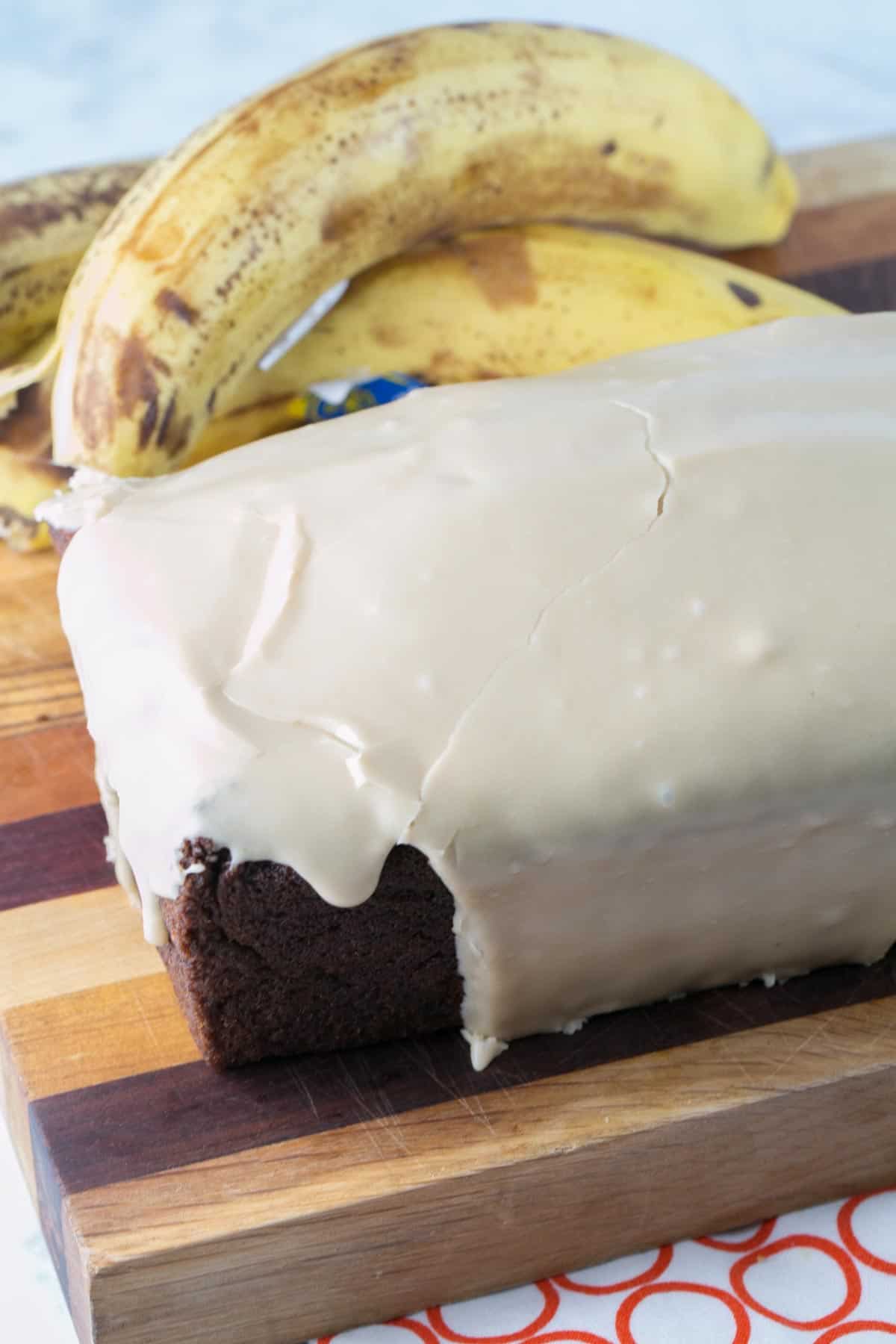 I actually made quite a few banana desserts, because hilariously, a neighbor wound up with twenty six extra bunches of bananas.  She ordered two bunches from Peapod… and they delivered twenty eight.
As George Bluth would tell us, "There's always money in the banana stand!"  Except instead of opening a banana stand, she chose to share the wealth with neighbors.
So I made two kinds of banana bread and banana bars.  Thanks, Peapod!
I threw out a few banana bread options to friends, and maple glazed took the lead.  It's no wonder why — what a perfect way to bring a favorite fall flavor (hello, maple walnut bundt cake!) into a crowd-pleasing staple.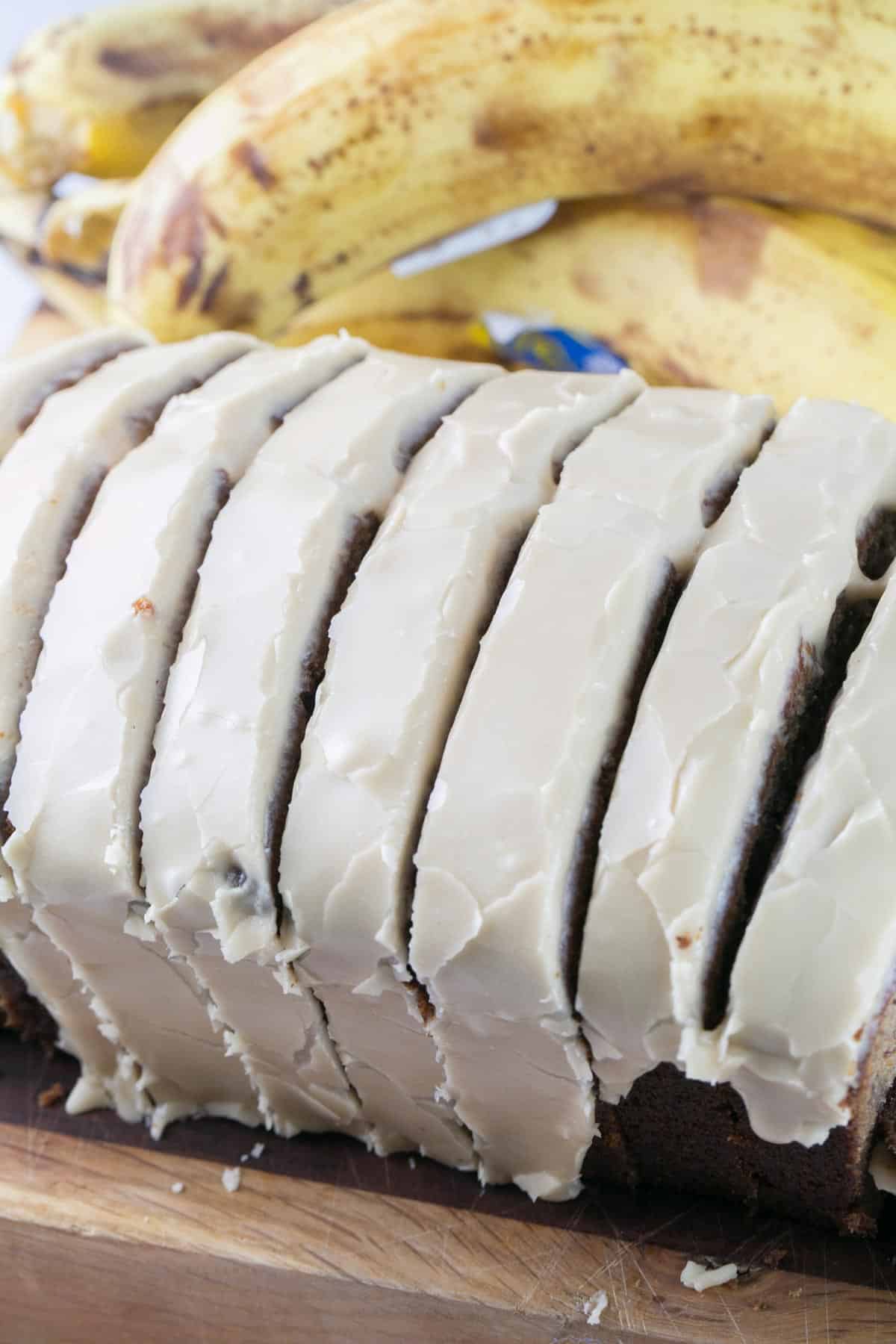 Do I need to use ripe bananas for banana bread?
Let's talk for a quick second about baking with bananas.  Banana bread recipes always call for ripe bananas.  But why?  Does it really matter?  It's time for a little… kitchen chemistry!
The ripeness of a banana changes the pH of your batter, so it's important to use under-ripe or over-ripe bananas, as the recipe suggests!  A slightly-green to normal banana has a pH around 4.6.  The pH of an overripe banana, however, has a pH of 6.5 or higher.  A really ripe banana doesn't provide enough acid to activate baking soda, so make sure to add baking powder (or another acidic ingredient) if you're using extra ripe bananas in your baking!
In addition to this pH change, the texture (obviously) and flavor of a banana changes from green to yellow to spotted.  As a banana ripens, starch converts to sugar, making the banana softer and sweeter.
The more brown your banana, the easier it is to blend, the sweeter it is, and the more the final product will have a banana flavor.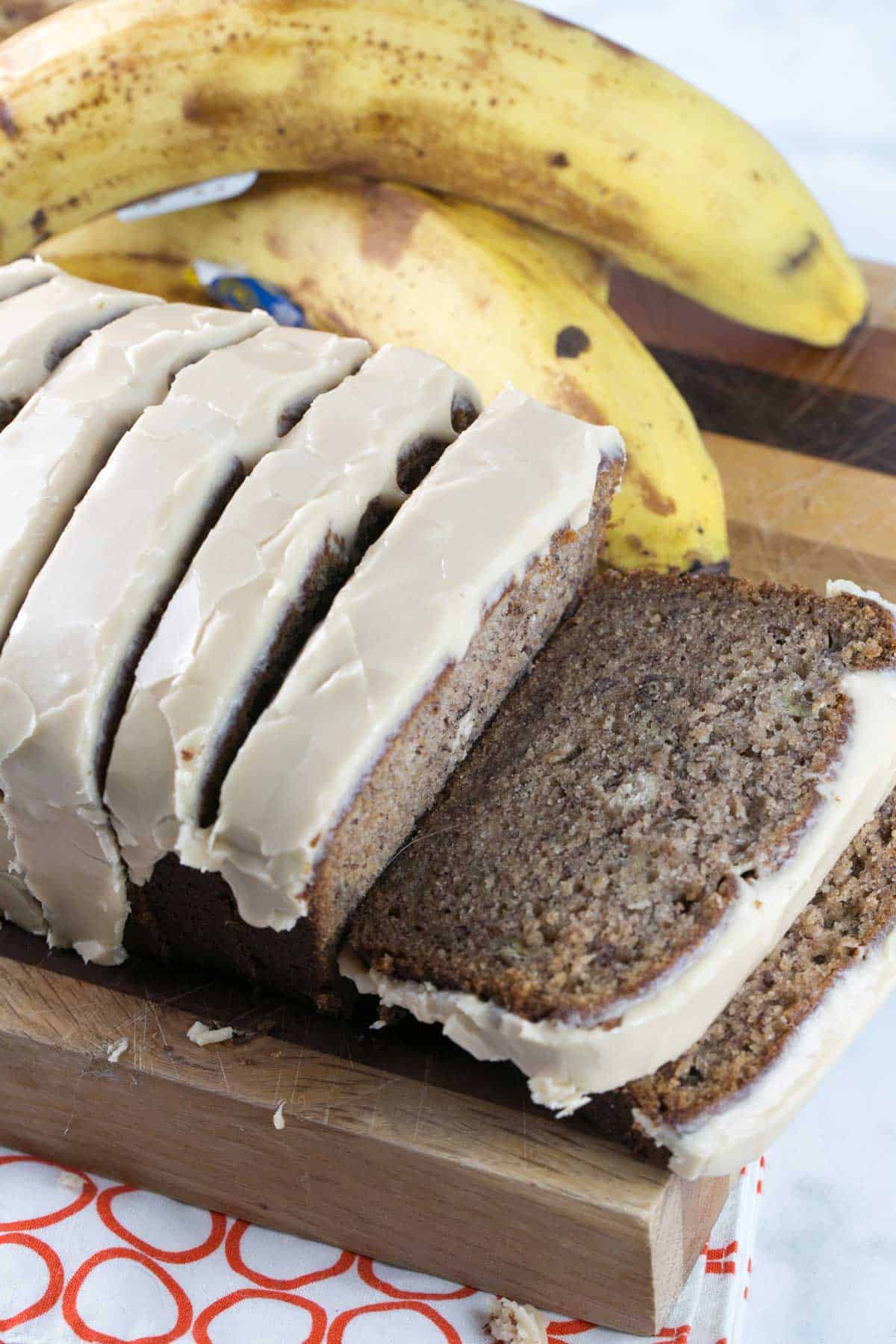 How to make maple glazed banana bread
The banana bread itself is pretty simple, but extra moist thanks to four whole bananas.  And cinnamon — lots of cinnamon.  It's a really simple dump and mix style recipe.
But what really makes this maple glazed banana bread shine is right there in the title: maple glaze.  Made with real maple syrup — none of this maple extract flavoring stuff.
Again, simple combine the ingredients, whisk, and pour over the cooled bread.
The glaze cracks pretty easily, so this might not win any "most beautiful bread" awards, but that's okay, because we're all about the TASTE, right?
And between the cinnamon and maple, this tastes like all the best parts of fall.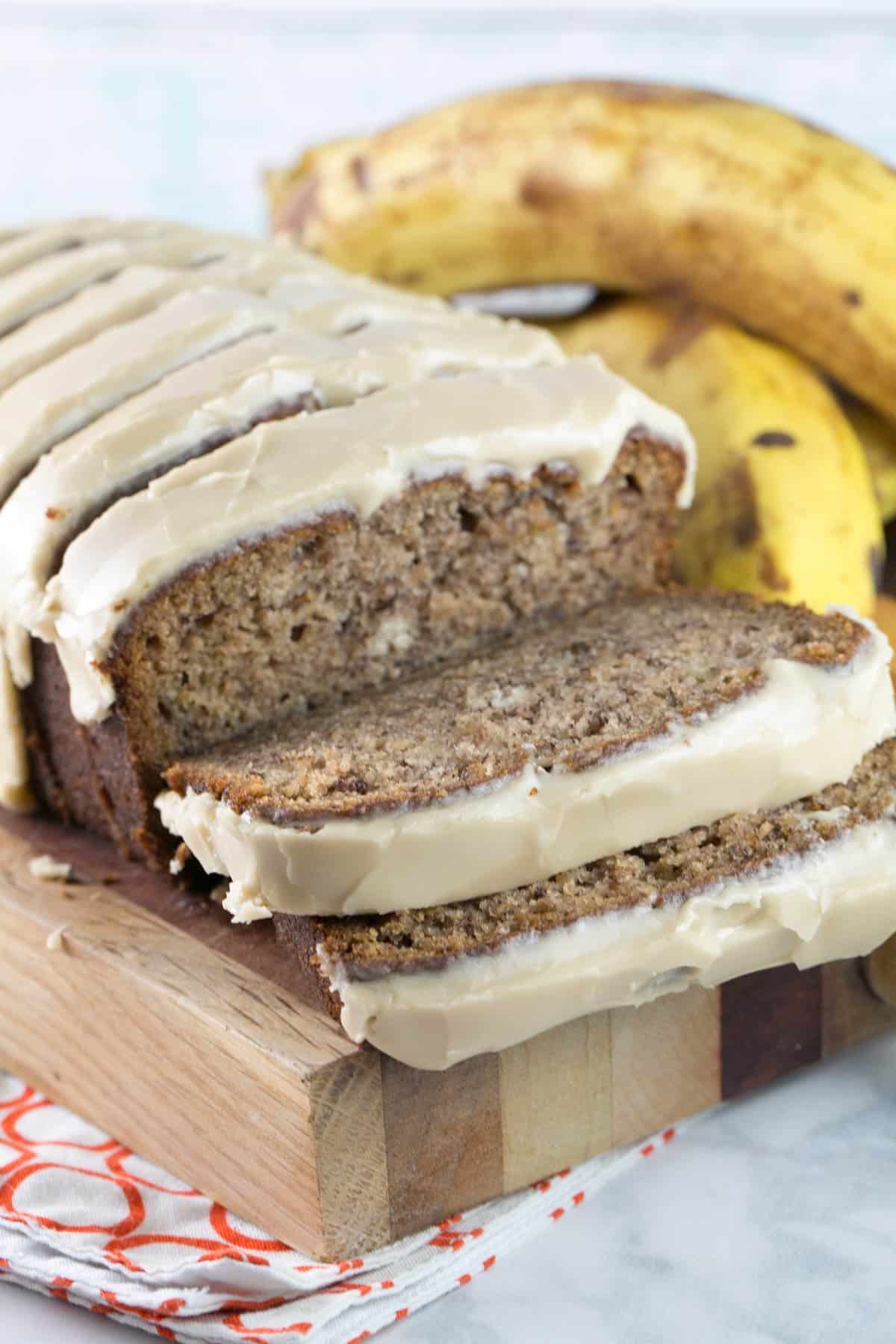 More Banana Bread Recipes: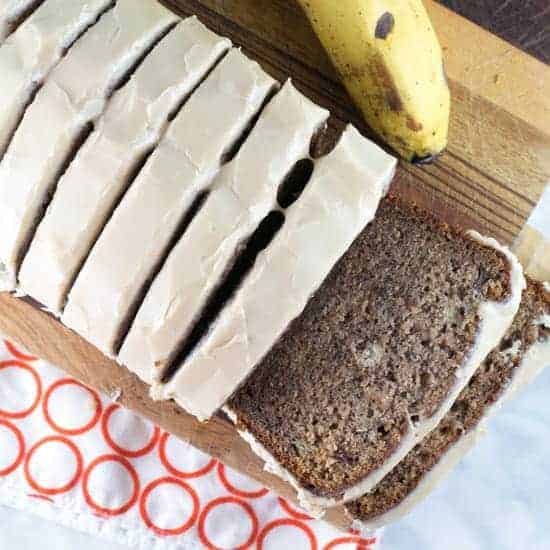 Maple Glazed Banana Bread
Yield:
1 loaf (12 slices)
Total Time:
1 hour
15 minutes
Give banana bread a fall twist with a delicious maple glaze — this easy maple glazed banana bread is perfect for breakfast or brunch!
Ingredients
FOR THE BANANA BREAD:
1/2 cup butter, room temperature
1 cup sugar
2 eggs, room temperature
4 ripe bananas, mashed
1/2 tablespoon vanilla extract
1 1/2 cups all purpose flour
1 teaspoon baking soda
1/2 teaspoon salt
1 tablespoon cinnamon
FOR THE MAPLE GLAZE:
1 1/2 cups confectioners sugar
1/4 cup maple syrup
1 tablespoon heavy cream
1 teaspoon vanilla extract
Instructions
Preheat the oven 350 °F. Grease and flour a 9×5-inch loaf pan.
Using an electric mixer, beat together the butter and sugar. Add the eggs, bananas, and vanilla, continuing to beat until well combined and no large chunks of banana remains. Add in the dry ingredients, mixing until no streaks of flour remain.
Pour the batter into the prepared loaf pan. Bake for 60 minutes, or until a tester inserted into the center comes out clean. Cool in the pan for 15 minutes, then invert onto a wire cooling rack and cool until room temperature.
To make the maple glaze, combine all ingredients in a small bowl. Whisk until glaze is smooth and pourable. Pour the glaze over the cooled cake. Allow the glaze to set for 30 minutes, then slice and serve.
Notes
Banana bread will keep at room temperature for 3 days, refrigerated for a week, or frozen for up to 3 months.
A Bunsen Burner Bakery Original Protocol
Recommended Products
As an Amazon Associate and member of other affiliate programs, I earn from qualifying purchases.
Nutrition Information:
Yield:

12
Serving Size:

1 slice
Amount Per Serving:
Calories:

287
Total Fat:

10g
Carbohydrates:

46.75g
Sugar:

29g
Protein:

3.66g