November 11, 2022
Turtle Cheesecake
This Turtle Cheesecake recipe features a crispy Oreo crust with loads of caramel, chocolate, and pecans to create a cheesecake that is sweet, nutty, and perfect for any occasion!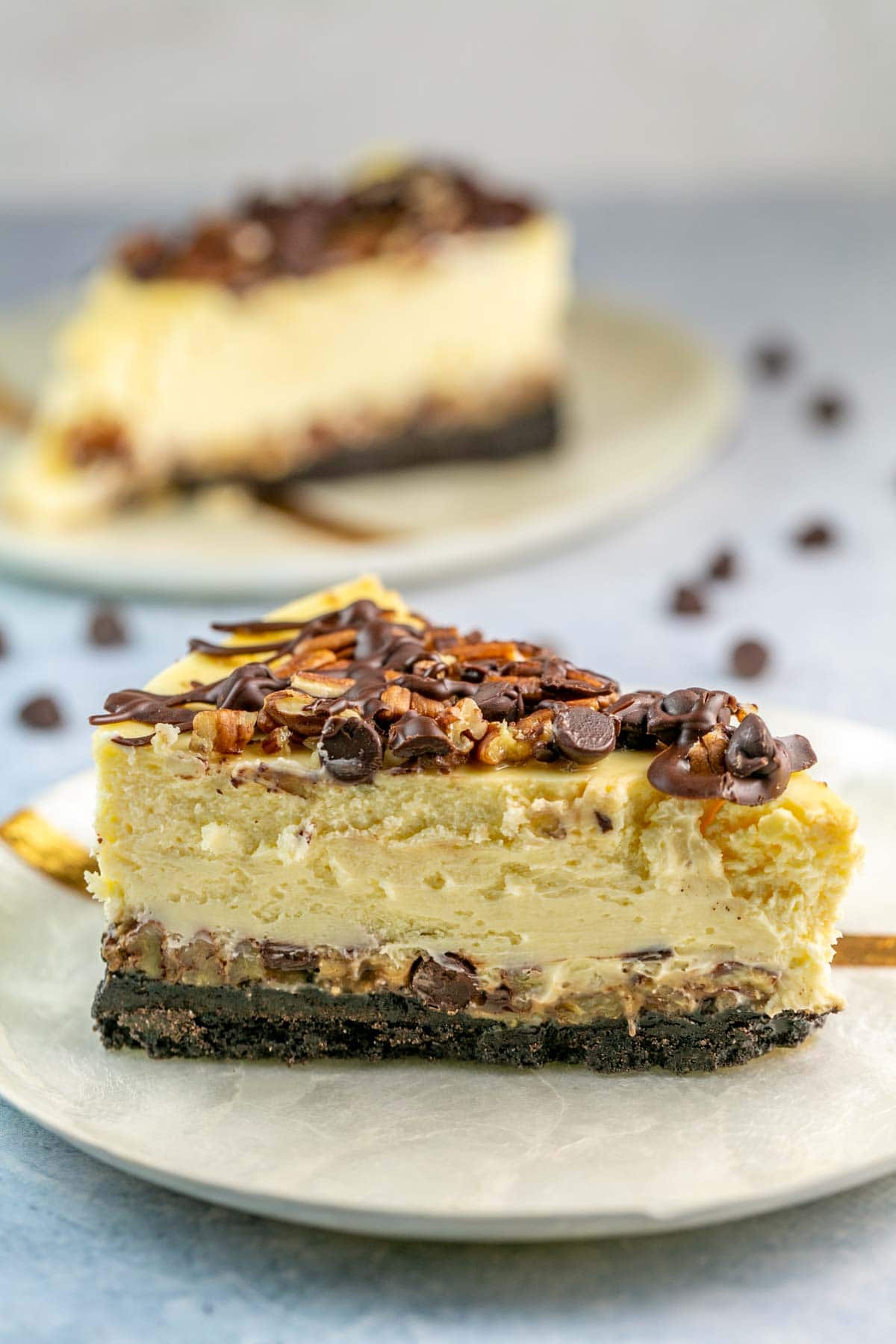 Where are my fellow nut lovers? I know you're out there!
If you already love nuts, you're probably familiar with the classic turtle candies (which are not, as my 4-year-old thought, actually made from turtles!) Turtles include pecans, caramel, and chocolate, and they are delicious.
I always associate them with summer trips to the shore and old-fashioned candy shops, but I know most people think of them as a fall holiday treat, perfect for Thanksgiving or Christmas. So with that in mind, and knowing how popular pecan pie is this time of year, a pecan caramel cheesecake seemed like the perfect option for November's Cheesecake of the Month!
Don't get me wrong – I love pecan pie. (Especially this chocolate bourbon pecan pie.) Buuuut.. sometimes, a new twist is just what we need, and shaking up your Thanksgiving pie with this turtle cheesecake might be just what you need.
And the best part? You can make this cheesecake in advance – whether it's a day or two early stored in the refrigerator or months early and frozen until you're ready to serve it. Let's be honest: is there really a reason we shouldn't all have a turtle cheesecake waiting in our freezer just in case we need it? (No, no there is not.)
Crispy Oreo Crust
Because turtle candies are always coated in chocolate, we'll start this off with an Oreo crust. Not a huge chocolate fan? No worries! Swap them out for a regular graham cracker crust or you could even use shortbread cookies or gingersnaps.
Luckily, making the crust is super easy. You'll want to smash the cookies into crumbs either by hand or using a food processor to blitz them. Then add some melted butter and mix. Don't forget to bake the crust on its own to make sure it's nice and crispy – the perfect texture contrast to the smooth cheesecake!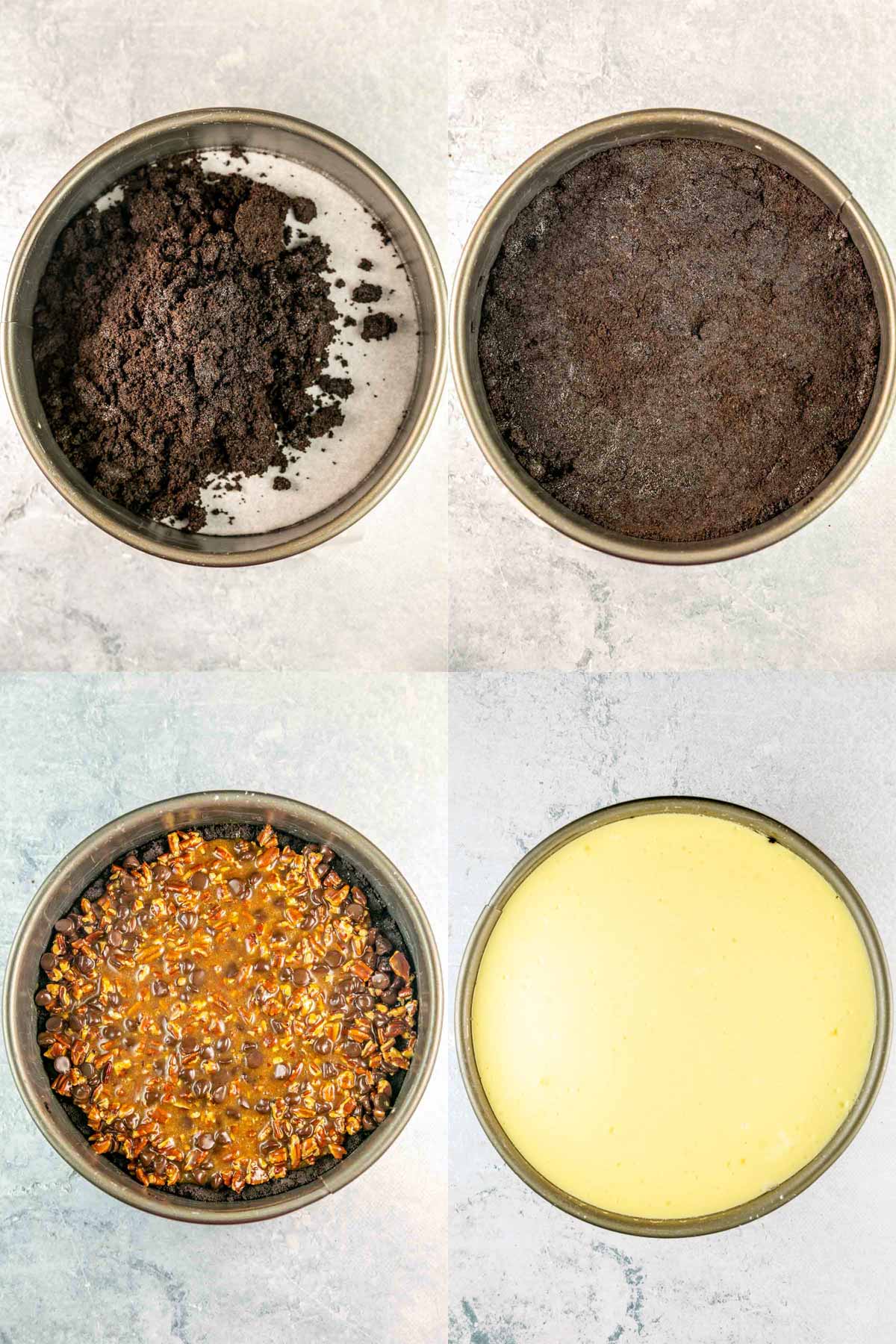 Caramel and Pecan Layer
This caramel pecan layer is truly the star of the show in this caramel pecan cheesecake. Because I love making things in my kitchen, I used my Easy Salted Caramel Sauce recipe. If you have never made caramel sauce at home, don't panic! It is so easy to make your own caramel sauce and I have ALL the step-by-step instructions and pictures to make sure it turns out perfectly.
Plus, you will have some extra caramel on hand to give a go at one of my other caramel recipes like Caramel Pecan Turtle Brownies or Caramel Apple Cake! That being said, if you don't want to take the time to make homemade caramel, you can buy a caramel sauce at the store for this step.
Combined with chopped pecans and chocolate chips, this later is turtle heaven. It is perfectly crunchy, nutty, and silky and combines well with the cheesecake layer that we will top it with. (Real talk: I will confess to eating so much of the chocolate + caramel + pecan layer with a spoon that I had to make more for the cheesecake.)
Oh, and the best part? This caramel pecan chocolate layer is going to be used not once, but TWICE in this cheesecake! We'll use it on top of the crust and under the cheesecake, and then repeat the combination on top of the baked cheesecake, too!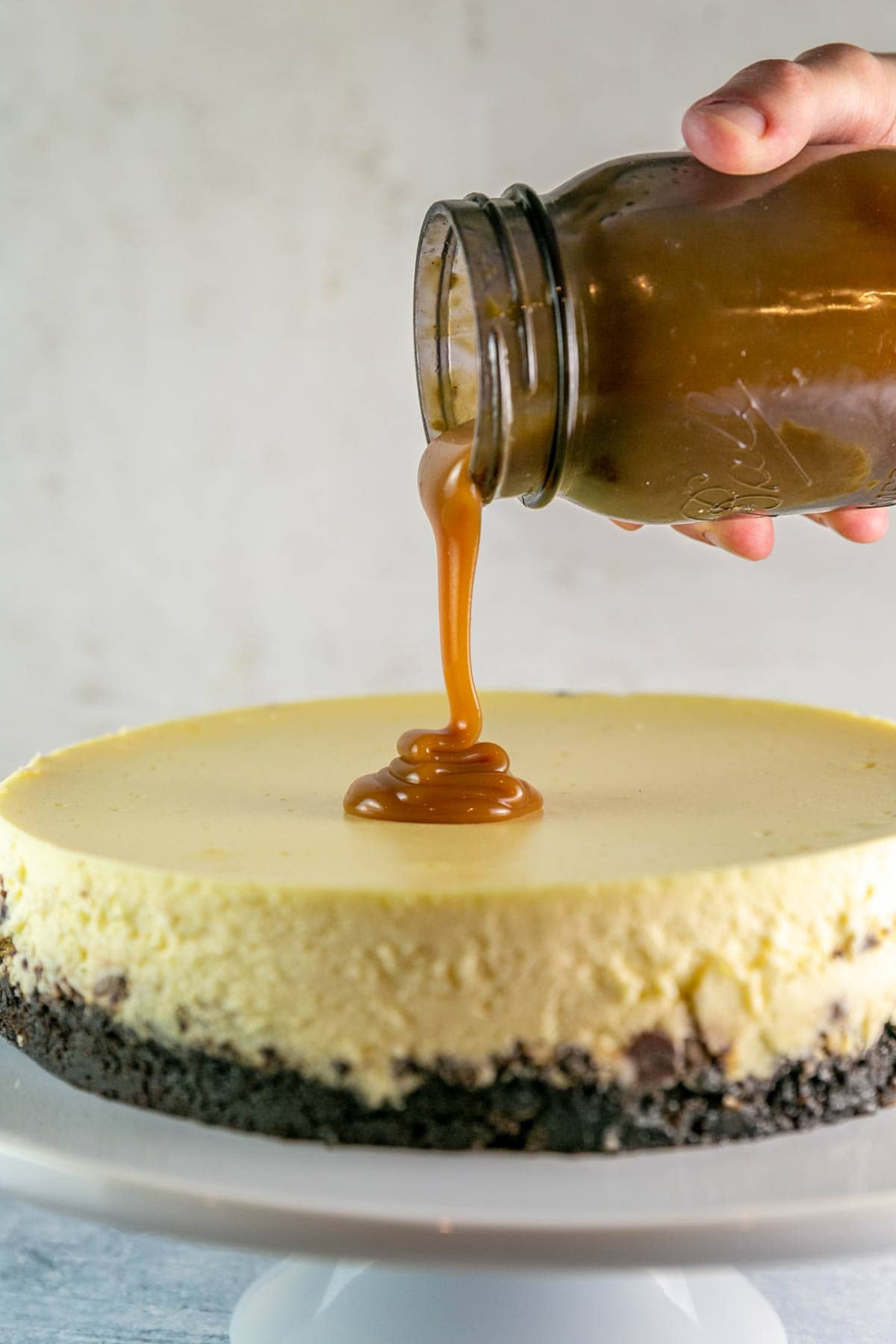 Creamiest Cheesecake Filling
To top it all off, we have the decadent, dreamy cheesecake filling layer. This is a classic cheesecake layer and can be topped with more caramel and chopped peanuts or pecans and more chocolate chips! For an even fancier turtle cheesecake, top it with a chocolate drizzle!
When making your cheesecake filling, make sure you use room-temperature ingredients. In general, room-temperature ingredients are best for baking as the ingredients mix together more easily. But in the case of cheesecake and most custards, room-temperature ingredients are crucial! Why is it so important? It's time for my favorite subject… kitchen chemistry.
Kitchen Chemistry

Room temperature ingredients ensure proper emulsion, or mixing together. If the ingredients are not fully emulsified, the eggs may separate out and become lumpy. Whenever you are mixing raw eggs into a batter, room temperature eggs will emulsify more easily and ensure proper distribution of the eggs prior to baking.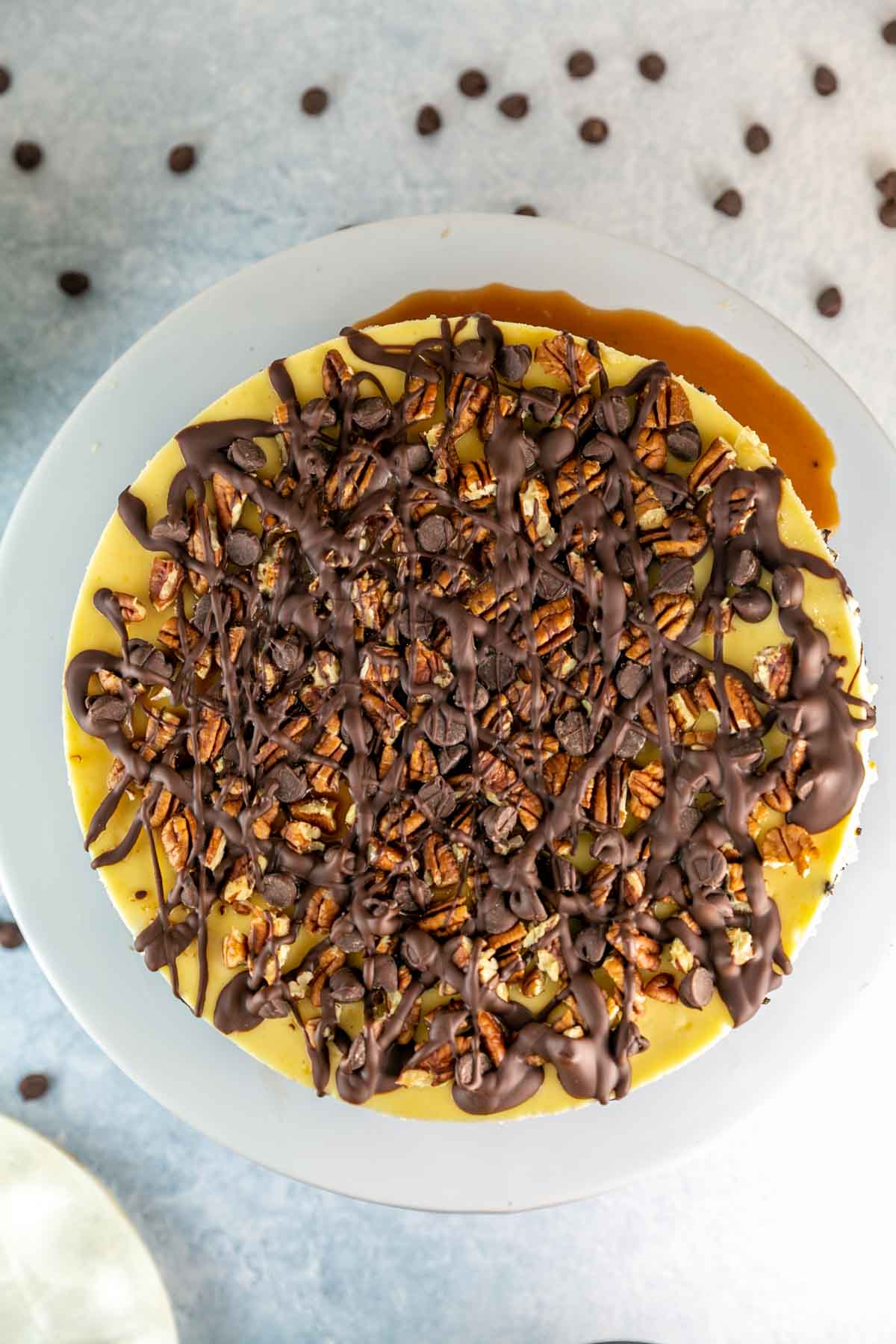 Tips & Tricks for the Best Turtle Cheesecake
If you forgot to bring your ingredients to room temperature prior to baking and want to get them to room temperature quickly, cut the cream cheese into little 1-inch cubes and set the eggs in a bowl of warm water. Wait 10 minutes and your ingredients should be ready to go!
If the top of the cheesecake accidentally cracks, just cover it up with more caramel and pecans and no one will know.
If the caramel sauce is too thick to easily pour on top of the cheesecake, heat it in the microwave for 30 seconds and stir.
Cheesecake is particularly sensitive to changes in temperature, so don't open the oven and have a peek until the cheesecake is done cooking!
To make this a gluten-free dessert, use gluten-free Oreos and cornstarch instead of flour in the caramel pecan layer!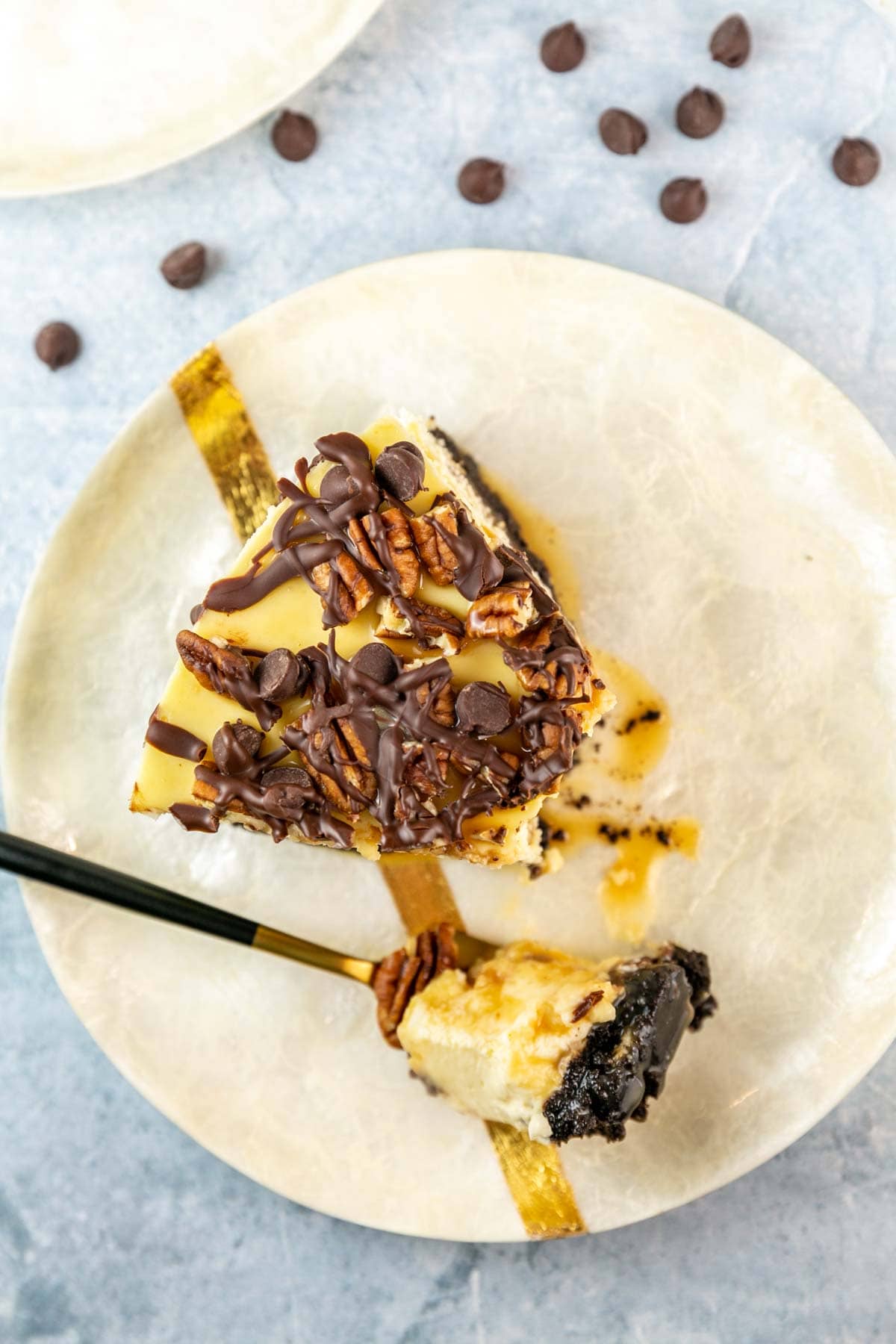 Frequently Asked Questions about Turtle Cheesecake
Why do they call it "turtle" cheesecake?
A turtle refers to a chocolate candy that is made up of caramel, pecans, and chocolate. These little turtle candies looked like turtles, so that is where the combination of caramel, pecans, and chocolate got the nickname "turtle".
How do I prevent cracks from forming in my cheesecake?
Avoid over-mixing your batter as that will add pockets of air into the mixture that expand and contract while baking. Additionally, cook the turtle cheesecake at a temperature of 325° F – low and slow is the way to go. When the cheesecake is almost done, turn the oven off and crack it open and leave the cheesecake in still-hot oven for 30 minutes, followed by letting the cheesecake cool on the counter before refrigerating. This allows the cheesecake to slowly adjust to temperature changes, thus reducing the risk of cracks.
More Caramel Recipes to Try:
2022 Cheesecake of the Month Series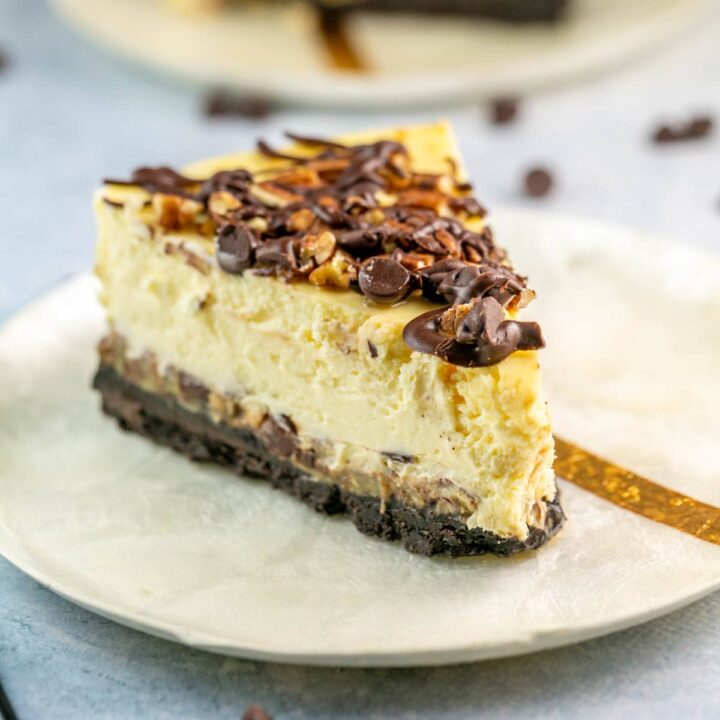 Turtle Cheesecake
Cook Time:
1 hour
15 minutes
Total Time:
7 hours
45 minutes
This Turtle Cheesecake recipe features a crispy Oreo crust with loads of caramel, chocolate, and pecans to create a cheesecake that is perfectly sweet, nutty, and perfect for any occasion!
Ingredients
For the Crust:
30 Oreo cookies (340 grams)
1/4 cup (56.5 grams) unsalted butter, melted
For the Caramel Pecan Layer:
1/2 cup (60 grams) chopped pecans
1/2 cup (88 grams) miniature chocolate chips
1 teaspoon flour or cornstarch
For the Cheesecake:
32 ounces (908 grams) cream cheese, room temperature
1 cup (198 grams) granulated sugar
2/3 cup (151 grams) sour cream, room temperature
2 teaspoons vanilla extract
1/4 teaspoon salt
4 large eggs, room temperature
additional chopped peanuts, salted caramel, and chocolate chips for decorating
Instructions
Make the crust. Preheat the oven to 350 °F. Line a 9-inch round springform pan with parchment paper for easier removal (if desired). Add Oreos to a food processor and chop or crush into fine crumbs by hand. Pour in melted butter and mix using the food processor. Press the crumbs along the bottom and extend up the sides of the springform pan, compacting the crumbs as much as possible. Bake for 15 minutes, then remove from oven and set aside to cool. Reduce oven temperature to 325 °F.
Make the caramel pecan layer. In a medium-sized glass bowl, stir together the salted caramel sauce, chopped pecans, chocolate chips, and flour or cornstarch. Spread this caramel pecan mixture along the bottom of the Oreo crust.
Make the cheesecake. Using an electric mixer with the paddle attachment, beat together the cream cheese and sugar until creamy and well combined, 2 to 3 minutes. Mix in the sour cream, vanilla extract, and salt, stirring until well combined. Add one egg at a time, mixing gently after each addition. Do not overmix - this makes the cheesecake more likely to crack. Using a rubber spatula, scrape down the sides and along the bottom of the bowl.
Prepare the springform pan. Wrap the springform pan in 3 layers of aluminum foil, or create a pan-in-pan water bath by placing the 9-inch springform pan inside a 10-inch cake pan (both pans together will be placed inside the water bath). Pour the cheesecake batter into the oreo cookie crust, over the caramel pecan layer.
Bake the cheesecake. Place the springform pan inside a larger pan and add hot water until the water level comes approximately halfway up the sides of the springform pan (or the outer cake pan). Bake at 325 °F for 75 to 85 minutes, or until the edges have set but a 3 to 4-inch diameter circle in the center of the cheesecake still jiggles. Turn off the oven and open the door slightly; cool in the warm oven for 30 minutes. After 30 minutes, remove the cheesecake from the oven and let it sit at room temperature for 1 hour before placing it in the refrigerator to chill for at least 4 hours, preferably overnight.
Decorate the cheesecake. Once the cheesecake is chilled, pour additional caramel sauce over the top of the cheesecake. Scatter additional chopped pecans and chocolate chips over top, and drizzle with melted chocolate, if desired.
Notes
Make sure to use all room-temperature ingredients for the cheesecake.
If the caramel sauce is too thick to stir or pour easily, heat it in the microwave for 20-30 seconds and stir.
To make this turtle cheesecake gluten-free, use gluten-free Oreos and substitute cornstarch for the flour in the caramel pecan mixture.
Turtle cheesecake can be stored in the refrigerator for up to 5 days or frozen for up to 3 months.
Recommended Products
As an Amazon Associate and member of other affiliate programs, I earn from qualifying purchases.