February 19, 2016
Banana Bread French Toast
Wait! Don't eat all your banana bread quite yet — save some for this indulgent and decadent Banana Bread French Toast, worthy of a special occasion… or any day.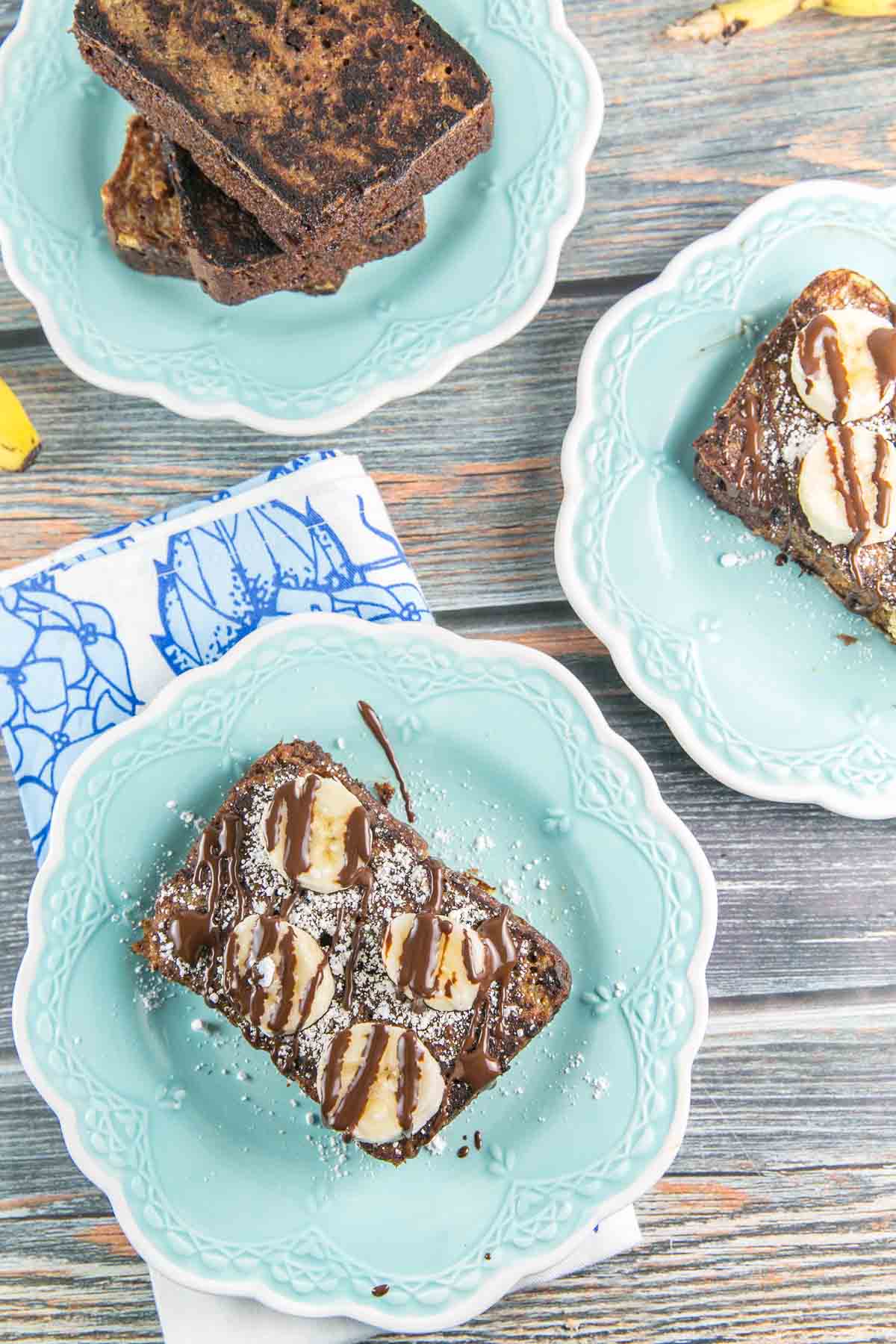 Earlier this week, I shared a recipe for my favorite chocolate chip banana bread. Full of mashed bananas, chocolate chips, and a few hazelnuts for crunch, it's pretty darn great on its own, if I may say so myself.
So how do we make it even better? We dip it in eggs and milk, cook it to golden brown, and cover it with more sliced bananas, powdered sugar, and a drizzle of chocolate. Banana bread french toast. That's how.
We had friends come and stay with us for New Year's Eve again this year, and this is what I served for brunch the next day before our annual Mummers Parade experience, along with mimosas (because… New Years).
Seven weeks later, I'm still dreaming about this French toast. And I don't even particularly like French toast. In other words, it's awesome, and you should make it right now. Or at least this weekend.
How to Make Perfect French Toast
Before I get into the recipe itself, let's talk French toast for a second. I think one of the reasons I don't really enjoy French toast is because it's often way too dry or way too soggy — it's so hard to find that perfect middle ground.
French toast should be golden brown outside and soft and creamy inside – not dry bread, not dripping with egg. Slices roughly one inch thick are the best way to ensure this — too thin, and the bread gets too soggy; too thick, and the custard never reaches the middle of the bread and it's too dry.
While you can use fresh bread, I prefer to let mine sit out for a day or two, so go ahead, enjoy a few slices of banana bread plain the day after you make it, and wait for the bread to get just slightly stale before turning it into french toast.
French toast is so delicious because the outside gets nice and toasty while the inside remains soft and creamy. But browning the outside isn't just about color – it also generates a lot of flavor, thanks to the Maillard reaction. What is this, and why is it so important for our French toast? It's time for my favorite subject… kitchen chemistry!
Kitchen Chemistry

The Maillard reaction is a complex chemical process that occurs when amino acids from proteins and reducing sugars are exposed to heat. When the banana bread slices are placed on the hot skillet, the moisture on the surface evaporates and the bread begins to dry out, concentrating flavors. As the bread continues to heat up, the nucleophilic amino group of the amino acids interacts with the reactive carbonyl group of the sugars, resulting in the development of hundreds of different flavor compounds, including those responsible for the toasty, nutty, and caramel-like notes we associate with French toast.
Ready to make your French toast? Here's how we're going to do it:
Prepare the Banana Bread Slices: Cut your banana bread into thick slices. If it's fresh, let it sit out for a day or two to firm up, or toast it lightly.
Whisk the Custard: In a bowl, whisk together the eggs, milk, and vanilla extract, until well combined.
Dip and Soak: Heat a skillet or griddle over medium heat and add a touch of butter. Dip each banana bread slice into the custard mixture, ensuring it soaks up the egg mixture. Allow any excess egg to drip back into the bowl.
Cook to Perfection: Place the soaked slices on the heated skillet and cook until golden brown on each side, about 2-3 minutes per side.
Serve and Enjoy: Transfer your Banana Bread French Toast to a plate and top as desired. You're in for a treat!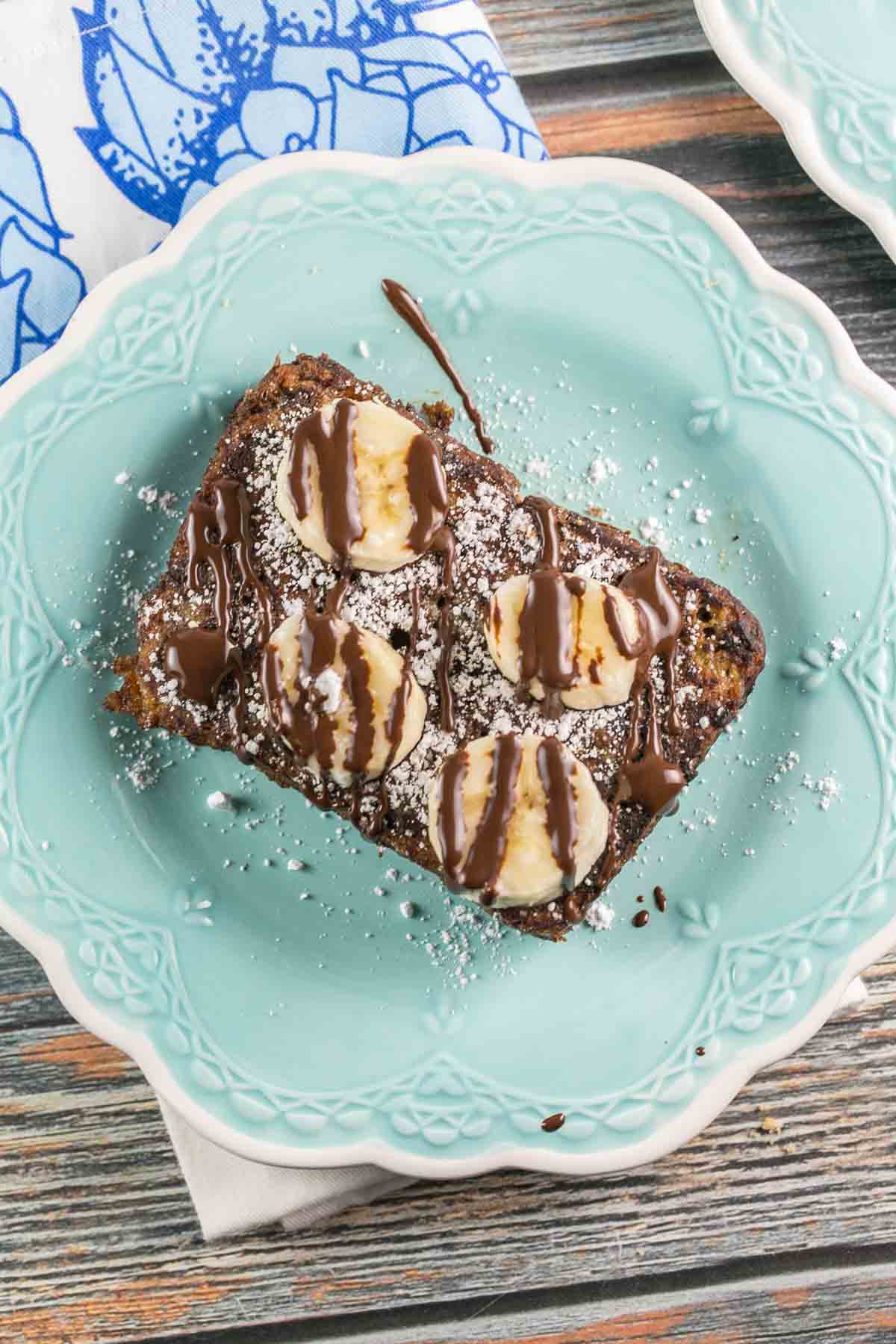 Banana Bread French Toast Toppings
Really, you can do anything with banana bread French toast. Cut a slice extra thick and stuff some cream cheese (or peanut butter!) in the middle for stuffed French toast. Opt for a simple dusting of powdered sugar and fresh berries (or more banana slices). Cover with chocolate chips or some crushed nuts.
My personal favorite toppings, however? Some powdered sugar, more sliced bananas, and a beautiful drizzle of melted chocolate. My husband likes to go really overboard and top his with some maple syrup, too. But hey, breakfast is the most important meal of the day, right? You don't want to skimp.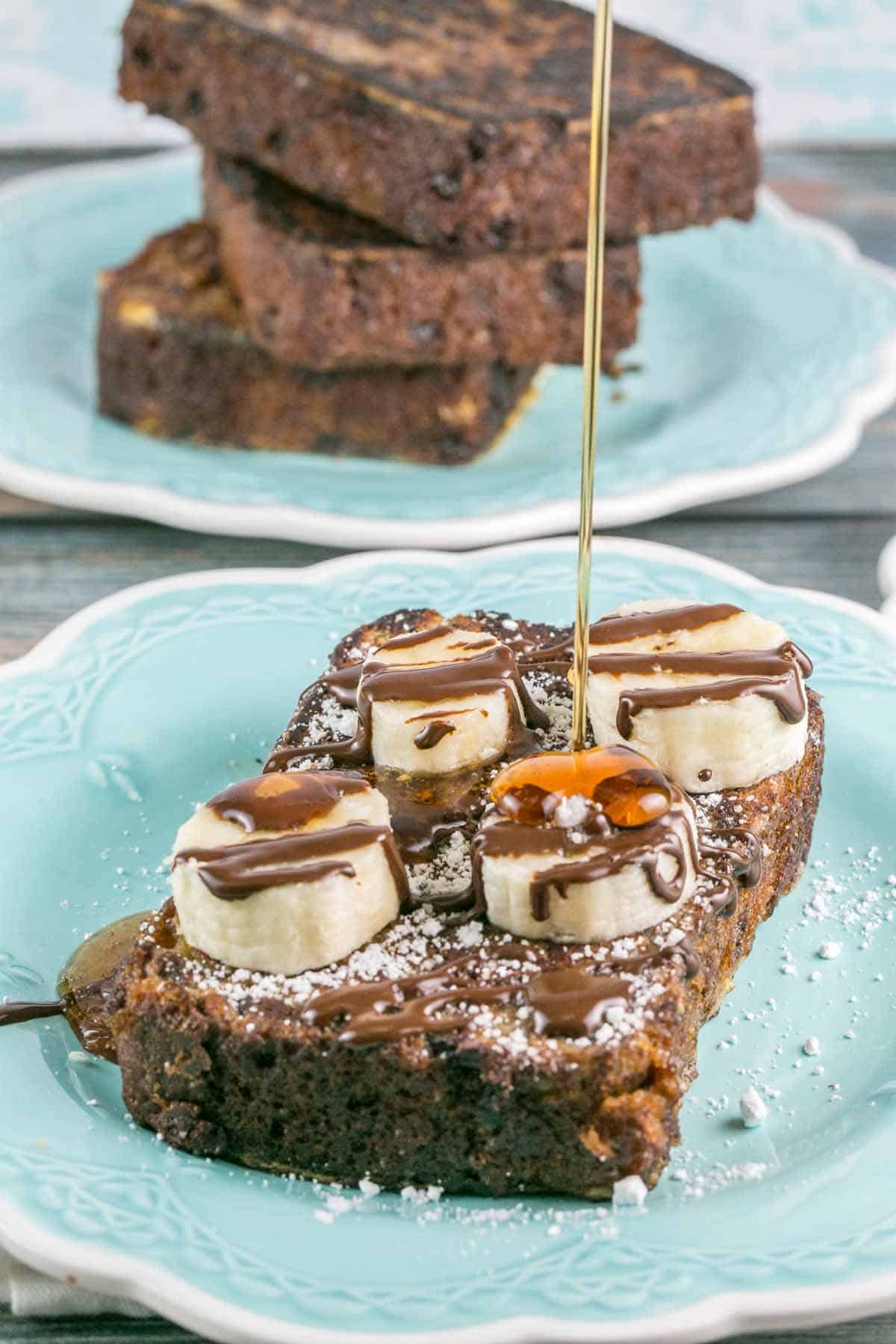 Recommended Tools to Make French Toast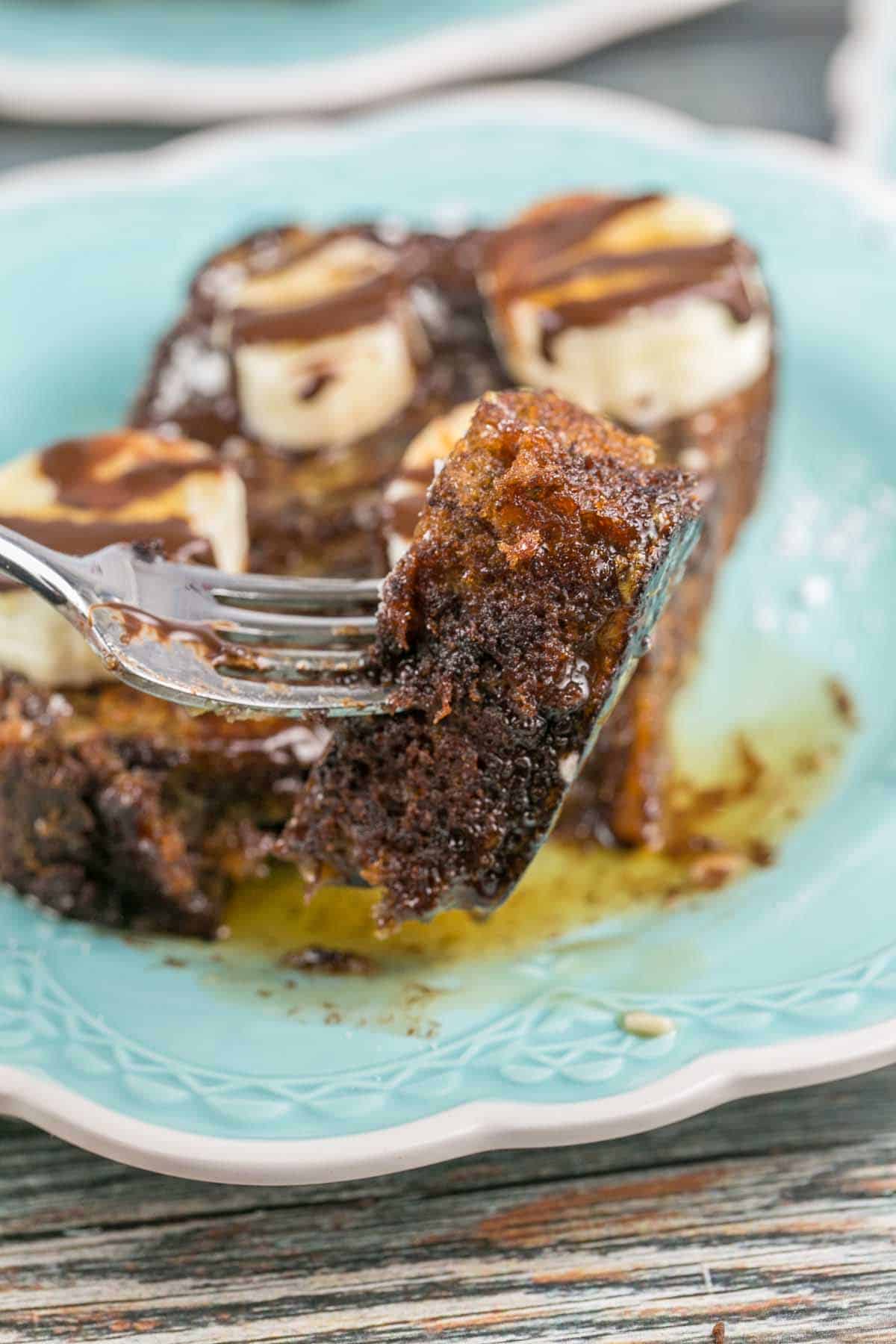 Tips and Tricks for the Best Banana Bread French Toast
Choose the Right Banana Bread: Opt for banana bread that is slightly stale – either let it sit out for a day or two or toast the bread so it can absorb the custard without becoming mushy.
Uniform Slices: Slice the banana bread into even slices so they cook evenly.
Soak, Don't Drown: Dip the banana bread slices in the custard mixture and leave them long enough to absorb the custard. Then hold them above the bowl and let any excess custard drain off before adding them to the hot skillet – too much custard will make the bread soggy.
Low and Slow: Cook the banana bread on medium or medium-low heat to avoid burning. A slow, even heat is key to achieving a crisp exterior and creamy interior.
Batch Cooking: If you're making multiple servings, cook the pieces of French toast in batches. Overcrowding the pan can lead to uneven cooking.
Keep Warm in the Oven: When serving a large group, keep the cooked slices warm in an oven set to 150°F.
More Entertaining-Worthy Brunch Recipes:
Banana Bread French Toast
An indulgent and decadent breakfast, worthy of a special occasion… or any day.
Ingredients
3 large eggs
3/4 cup half-and-half or whole milk
2 teaspoons vanilla extract
butter, for coating the pan
1 banana, sliced
1/4 cup chocolate chips
1 tablespoon coconut oil or vegetable oil
powdered sugar, for dusting
Instructions
In a medium bowl, whisk together eggs, half-and-half, and vanilla until combined and no egg separation remains.
Heat a griddle over medium heat and lightly coat with melted butter.
Dip each slice of bread into the egg mixture for 30 seconds per side, allow excess egg custard to drip off the slice of bread, and then place on the buttered griddle. Cook until golden brown and slightly crispy, 2-3 minutes per side.
Combine the chocolate chips and coconut oil in a small, microwave-safe bowl, and microwave for two 30-second increments, stirring in between.
Serve banana bread french toast topped with sliced bananas, a drizzle of chocolate sauce, and a sprinkle of powdered sugar.
Notes
Use banana bread that is slightly stale - either let it sit out, uncovered, for a day or two or toast the bread slightly before using.
Don't overcrowd the griddle - cook in two batches if the slices of bread don't evenly fit on your skillet.
Keep the freshly cooked slices of French toast warm in a 150°F oven before serving.
Recommended Products
As an Amazon Associate and member of other affiliate programs, I earn from qualifying purchases.