February 4, 2019
The Best Chocolate Babka
Rich, buttery yeast bread with swirls of a chocolate-cinnamon filling and covered with a streusel topping, this chocolate babka is even better than one from a classic Jewish deli. This recipe makes two large loaves: one to share or one to freeze for later! Plus, everything you need to know about babka, from the history to shaping the swirly bread to storage tips.
Let's pretend that it's not actually the beginning of February, and it's still actually January. And thus, I am introducing the first month (you know, January) of 2019's "Year of the …" series.
2016: Quick Breads
2017: Bundt Cakes
2018: Pies
2019: YEAST BREADS!
Don't let my tardiness take away from my excitement over this; yeast breads have, by far, been my most requested recipe category for years.
With this amazing push for eating local and in season, I think more and more people are also excited at the idea of making things at home – not necessarily because they have to, but because (a) it's exciting and empowering to make your own food, and (b) you actually know what goes into things.
So this year, we're going to tackle all sorts of yeast-based bread products together. Not just a loaf of bread (although we'll cover different breads too), but also things like the best pizza dough (preferably one you can make ahead of time, so you can make weeknight pizza!) and bagels and cinnamon rolls.
But we're kicking off this series with arguably the very very best bread of them all: chocolate babka.
All About Babkas
First, let's dive on it. Never heard of a babka? Confused because there are multiple types? Your babka education starts here!
What is Babka?
Babka is a sweet yeast bread or cake. (See? Yeast. Yeast Bread of the Month!) Babka actually means little grandmother in Ukrainian and Yiddish.
There are actually two different kinds of babka out there. The Polish-originating babka is a yeast cake, usually filled with dry fruit, baked in a tall, swirled bundt pan. This is not the kind of babka we are discussing today. I'm sure it's good, but… nope.
Is Babka Jewish?
I asked some friends what their general questions were about baking babkas and more than one asked if it was actually Jewish in origin. The chocolate babka bread we are discussing today is, indeed, Eastern European Jewish in origin. For many years, you could really only find babkas in true Jewish bakeries, although it's becoming increasingly popular and popping up more and more places.
This kind of babka is made from a twisted yeast dough and baked in a loaf pan. Fillings are generally sweet, like cinnamon or chocolate, and the loaf is then topped with a sugary streusel topping.
What does Babka Taste Like?
As someone who is Jewish, and has been to great Jewish delis many times, it's hard to imagine not knowing what babka tastes like. But my little poll taught me that while many people are familiar with babka (thanks, in part, to Seinfeld's "lesser babka" episode), a lot of people actually haven't had one.
A babka bread is slightly sweet and rich, made from lots of butter, milk, and eggs. But the best part of a babka? The swirled filling. Whether it's chocolate (like here), nuts, or cinnamon, a layer of sweet spread is swirled in between many layers.
Babka has the perfect contrast between the slightly dry bread and the rich, thick filling. You're looking for a filling that is spreadable and thick enough to stay in a layer (kind of like peanut butter). It's the perfect anytime snack — sweet enough for dessert, but still somehow appropriate for breakfast.
How to Make Chocolate Babka
I'll be honest: making babka takes time. It's not hard or complicated (despite the number of steps!) but this is not a "have a finished product in an hour and a half" kind of dessert.
Here's the step-by-step game plan:
1) make the dough –> you can do this by hand or in a stand mixer to make it a little easier
2) let the dough rise at room temperature for 1 hour
3) let the dough rise in the refrigerator for another hour-ish
4) roll out the dough
5) cover dough with chocolate filling
6) twist the dough and place in a loaf pan
7) let the dough rise again
8) top dough with streusel topping
9) bake
10) top freshly baked, still hot babka with simple syrup
11) cool babka
12) DEVOUR THE BEST CHOCOLATE BABKA
What makes this the "best" chocolate babka?
Yeah, I'm being one of those annoying people and calling this recipe THE BEST. Because it's really, really, really good — the best babka I've had, at least.
The dough is rich and hearty, but not too dry. It rolls like a dream and is wonderfully soft and not at all sticky (thanks to a rise in the refrigerator, instead of room temperature). It's thick enough to hold up to a thick filling, but not overly dense. And it's juuuuuust the perfect amount of sweetness.
The filling is so good. It's practically a chocolate fudge — imagine a big mug of super thick hot chocolate, but solid. And then a layer of miniature chocolate chips for a little extra texture and crunch.
As if that's not enough, there's an entire brown sugar streusel on top, with more chocolate chips.
Oh, and then a sugar glaze.
So in the same bite, you get soft bread, decadent chocolate, crunchy streusel, and sugary glaze. Now we're talking.
How do you shape babka?
Of course, the biggest question of making a babka is: how do you get all those swirly layers? (See photos below for a visual explanation. ↓↓↓)
Start by rolling your dough out into a big rectangle. Spread on the chocolate filling and sprinkle with chocolate chips (because if the question is whether or not you should add chocolate chips on top of your layer of chocolate spread, the answer if always yes).
Next, take the long side and start to roll the babka into one long line. Once the dough is fully rolled, grab a knife and cut it in half, the whole way through, vertically. You'll have two really long pieces of dough with chocolate running through them.
Twist these two pieces of dough around each other from start to finish. Then take this long twist, fold it in half, and give it another twist.
Place this twisted dough into the prepared loaf pan. It doesn't matter which way you put it in — swirly side up or down — because we're going to cover it with a streusel topping anyway.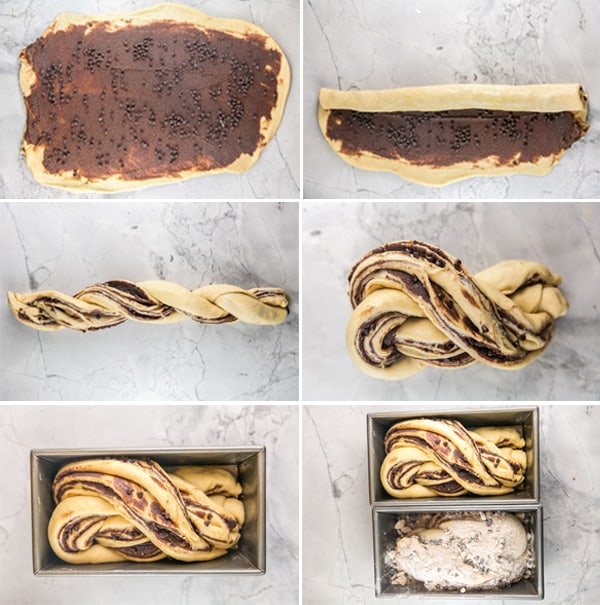 How do you know when babka is done baking?
Easy: use a thermometer. Science! Data! You want to know when it's really done? Stick a thermometer right in the center.
You want to make sure the center of your babka is not under baked; otherwise, the weight of the filling will collapse the center of the bread. Bake until an instant-read thermometer measures 190 °F.
How to Store Chocolate Babka
Look, let's be honest here. If you have leftover babka you need to figure out how to store, I'm not entirely sure we can be friends. Because the best thing to do with your babka is eat it immediately. There is zero self restraint when it comes to a chocolate babka.
But I get it. This recipe makes two babka loaves. The process takes long enough that you may as well make two at the same time – one for you, and one for a gift for friends or neighbors. Or even better, one for you… and another one for you, too!
Does Chocolate Babka Need to be Refrigerated?
Nope! The sugar content in the chocolate spread of this babka is high enough to delay bacterial growth, so your babka can stay in an airtight container for 4-5 days.
It's most delicious on the first day, but 5 days later I was still happily enjoying a slice after dinner.
Can Chocolate Babka be Frozen?
Yes! In the two for me, none for you baking scenario, why not enjoy one chocolate babka now and another chocolate babka next month?
To freeze your babka, bake and cool completely. Then wrap in a layer of aluminum foil and place inside a zippered freezer bag. Store in the freezer for up to 3 months.
Thaw overnight and enjoy the next day at room temperature, or pop back into the oven for 5-10 minutes for a toasty warm slice.
Babka is a most-of-the-day baking project, but one that is so, so worth it. Homemade babka is beautiful, delicious, and an extra special treat.
In fact, how about we skip the whole "yeast bread of the month" thing this year, and just do a babka of the month. Twelve different flavors of babka. I think I might be on to something with this…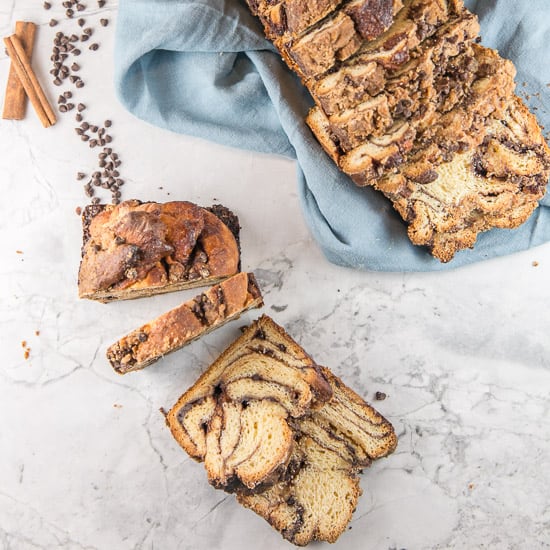 The Best Chocolate Babka
Prep Time:
3 hours
30 minutes
Total Time:
4 hours
15 minutes
Rich, buttery yeast bread with swirls of a chocolate-cinnamon filling and covered with a streusel topping, this chocolate babka is even better than one from a classic Jewish deli.
Ingredients
For the Dough:
1 cup whole milk, heated to 110 degrees F
3 teaspoons instant yeast
1/2 cup + 1 tablespoon sugar
2 eggs
2 teaspoons vanilla extract
4 1/2 cups all purpose flour
1 teaspoon salt
1/2 teaspoon cinnamon
12 tablespoons unsalted butter, softened and cut into 12 pieces
For the Chocolate Filling:
1/2 cup sugar
1 1/2 teaspoons cinnamon
1 1/2 teaspoon vanilla extract
1/2 cup natural unsweetened cocoa powder
6 tablespoons butter, melted
1 1/2 cups miniature chocolate chips
For the streusel topping:
1/4 cup brown sugar, packed
1/4 cup flour
1/2 teaspoon cinnamon
4 tablespoons butter, cut into 8 pieces
1/3 cup miniature chocolate chips
For the syrup:
2/3 cup sugar
2/3 cup water
Instructions
Prepare the dough. Combine together the milk, yeast, and 1 tablespoon of the sugar in the bowl of an electric stand mixer fitted with a dough hook (or in a large glass mixing bowl). Whisk together and set aside for 5 minutes, or until frothy.
On low speed, beat in the remaining sugar, eggs, and vanilla extract. Add in the flour, salt, and cinnamon and mix just until the dough comes together, another 2-3 minutes. Increase the speed to medium-low and add the butter one piece at a time, beating after each addition until all pieces have been added. Continue mixing with the dough hook until the dough is smooth and pulls away from the sides of the bowl, about 10 minutes. (Alternatively, whisk together ingredients by hand until combined; knead by hand for 10 minutes until dough is soft and smooth.)
Transfer the dough to a large lightly greased bowl and cover with plastic wrap or a clean kitchen towel. Set aside to rise at room temperature for 1 hour. After 1 hour, transfer the bowl to the refrigerator, still covered, and set aside for 1 hour, until dough has doubled in size and is firm to the touch.
Prepare the filling. While the babka is rising in the refrigerator, make the chocolate filling. In a small bowl, combine the sugar, cinnamon, vanilla extract, and cocoa powder. Pour in the melted butter and stir to combine. This mixture will look a little granulated from the sugar. Set side.
Shape the babka. Grease two 9x5-inch loaf pans. Remove the dough from the refrigerator and gently punch it down. Cut the dough in half; remove half from the bowl and recover the other half and set aside.
Roll the dough into a roughly 9-inch by 18-inch rectangle. Spread half the filling over the dough, leaving a slight border along the edges. Sprinkle half the chocolate chips over the top of the dough. Working from the long side of the dough, roll the dough into a long cylinder (see photos in post for more detail). Using a sharp knife, cut the dough in half long-ways down the length of the cylinder to expose the chocolate filling, creating two logs of dough. Twist these two logs together (pictured above in post). Fold in half one more time, twisting again, and place dough in the prepared loaf pan. Repeat with the remaining dough. Cover both loaf pans with plastic wrap or a dish towel and set aside to rise again at room temperature, for another hour.
Make the streusel topping. In a small bowl, mix together the brown sugar, flour, and cinnamon. Cut in the cold butter using a pastry cutter or two knives until the butter is pea-sized and the mixture has a sandy texture. Stir in the chocolate chips. After the dough finishes rising, sprinkle the streusel topping over both loaves.
Make the syrup glaze. Combine the sugar and water in a small saucepan over medium heat. Simmer for 5 minutes, stirring occasionally, until the sugar dissolves. Set aside to cool.
Preheat the oven to 350 °F.
Bake the babka. Bake the loaves at 350 °F for 40 to 50 minutes, until the top of the loaf is golden brown and the inside registers 190 °F using an instant read thermometer. As soon as the babkas are done baking and come out of the oven, use a long skewer or knife to poke holes all over the bread, pushing all the way down to the bottom. Brush the simple syrup on top, equally dividing between the two loaves. Allow the breads to cool in the pans for 10 minutes, then transfer to a wire rack to cool completely before serving.
Notes
Babka can be stored in an air-tight container for up to 5 days, or frozen for up to 3 months. To freeze, wrap fully cooled loaf in aluminum foil and place inside a plastic freezer bag.
A Bunsen Burner Bakery Original Protocol
Recommended Products
As an Amazon Associate and member of other affiliate programs, I earn from qualifying purchases.
Nutrition Information:
Yield:

24 servings
Serving Size:

1 slice
Amount Per Serving:
Calories:

331
Total Fat:

16g
Carbohydrates:

45g
Protein:

5g