February 9, 2021
Homemade Raspberry Curd
Homemade Raspberry Curd requires only 6 ingredients and 20 minutes to make. This recipe yields perfectly creamy, lump-free curd full of raspberry flavor, perfect for topping baked goods, filling cakes, or spreading onto toast.
Today we're talking all about curd… fruit curd. While lemon curd may be the most popular (recipe for homemade lemon curd) by far, other fruits make delicious curds, too!
(Like this blueberry cardamon curd, or cranberry curd, or blood orange curd.)
There are dozens of different ways to make curd, and each fruit requires just a few tweaks to maximize flavor and texture. We're tackling raspberries today – one of my favorite fruits!
Should you use a double boiler to make curd? Whole eggs or egg yolks? How much do you heat curd? Should you strain it? Come along for the answer to all these questions, and more!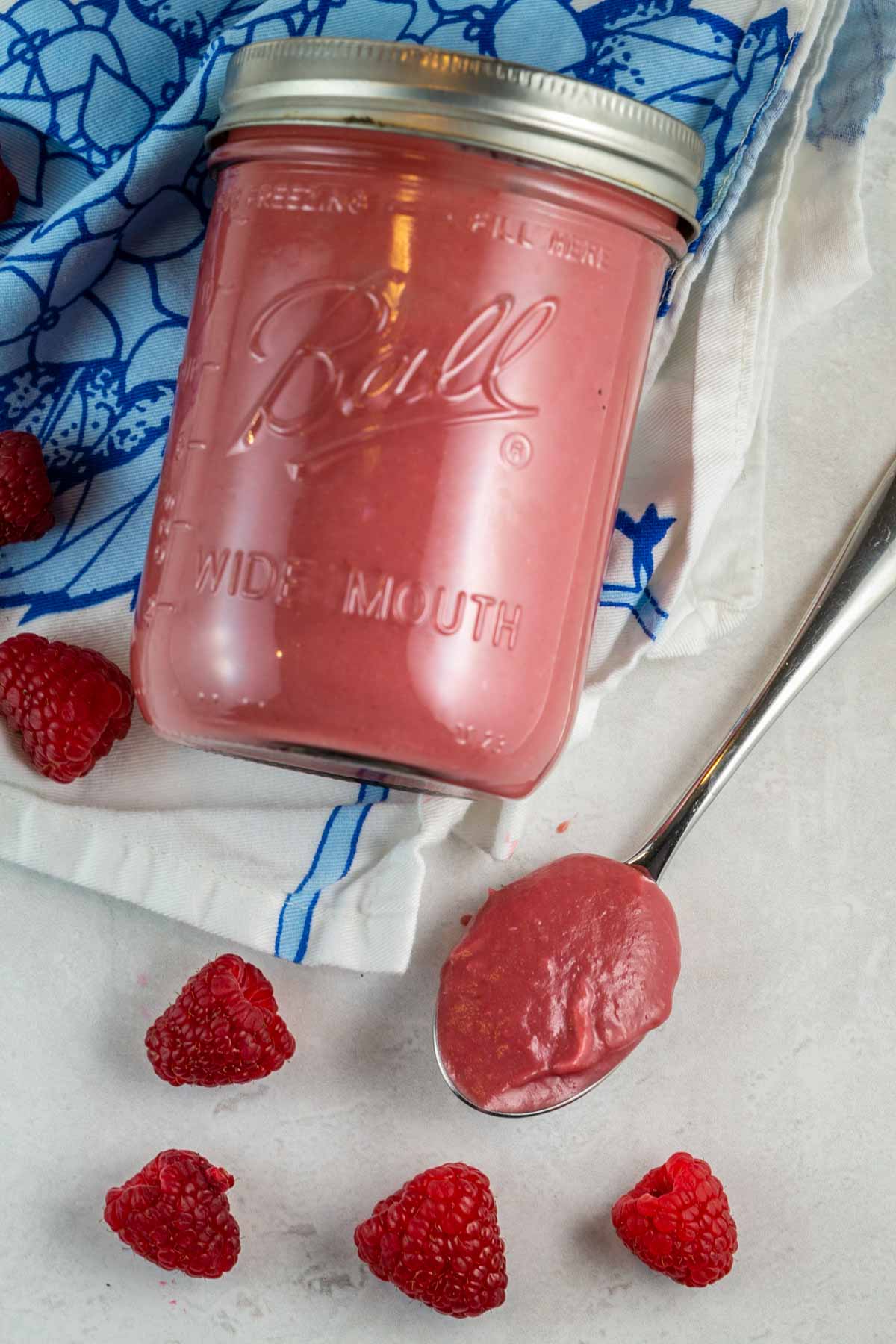 Making Raspberry Curd
Many recipes call for making curd in a double boiler, but I prefer to cook mine right on the stovetop. Fewer pots, fewer dishes, and as long as you cook low and slow, your curd will stay perfectly creamy.
To start, we'll need raspberries: either fresh or frozen will work. I generally cook my raspberries with sugar until just boiling, then strain out the seeds. Another option is to put the raspberries in a blender, process until liquid, strain the seeds, and then bring the juice to a boil with the sugar.
Many curd recipes call for only egg yolks, but I prefer using a combination of three whole eggs and two additional yolks. Using whole eggs results in a lighter texture, almost like a custard – easier to spread, but still firm.
The trick to ensuring thick, smooth curd is to cook it to the proper temperature. Don't cook it long enough, and the curd will be runny. Overcook the curd and the egg whites start to separate out, resulting in lumps.
Why does this happen? It's time for my favorite subject… kitchen chemistry!
Kitchen Chemistry

Fruit curds should be cooked to 170-175 °F.  In the presence of sugar, eggs begin to thicken at 160 °F, a process known as coagulation, and will scramble at 180 °F.  Under 165° F, the egg protein strains will not unfold, which is necessary for coagulation.  Over 180 °F, the egg whites will cool out and leave lumps.  Cooked to the perfect temperature, however, the protein strands unfold, latch onto nearby sugar molecules, and form a smooth semi-solid state.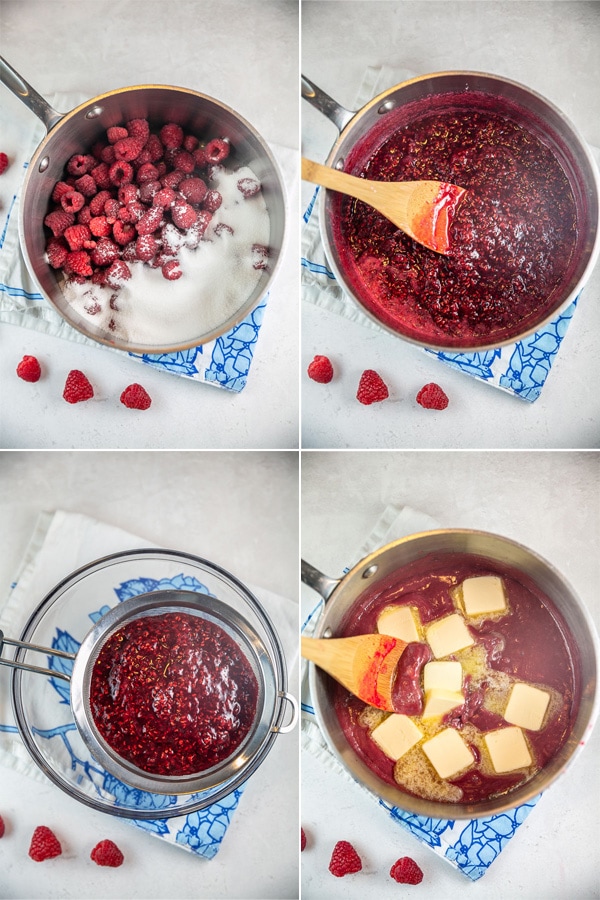 How to Use Fruit Curd
Is there anything you can't do with raspberry curd?
It's delicious on waffles, pancakes, muffins, scones, or toast. Spread onto a cracker, stirred into yogurt, or spoon onto a pile of fresh berries.
Fold in some whipped cream for an almost mousse-like texture. Layer it in or on top of cheesecakes. Fill a pie crust or use it as a filling for layer cakes.
And of course, the best use for this specific curd is in the filling of my Chocolate Raspberry Cake!
See below for a list of recipes that use other flavors of homemade curd, but would be equally delicious with this raspberry curd!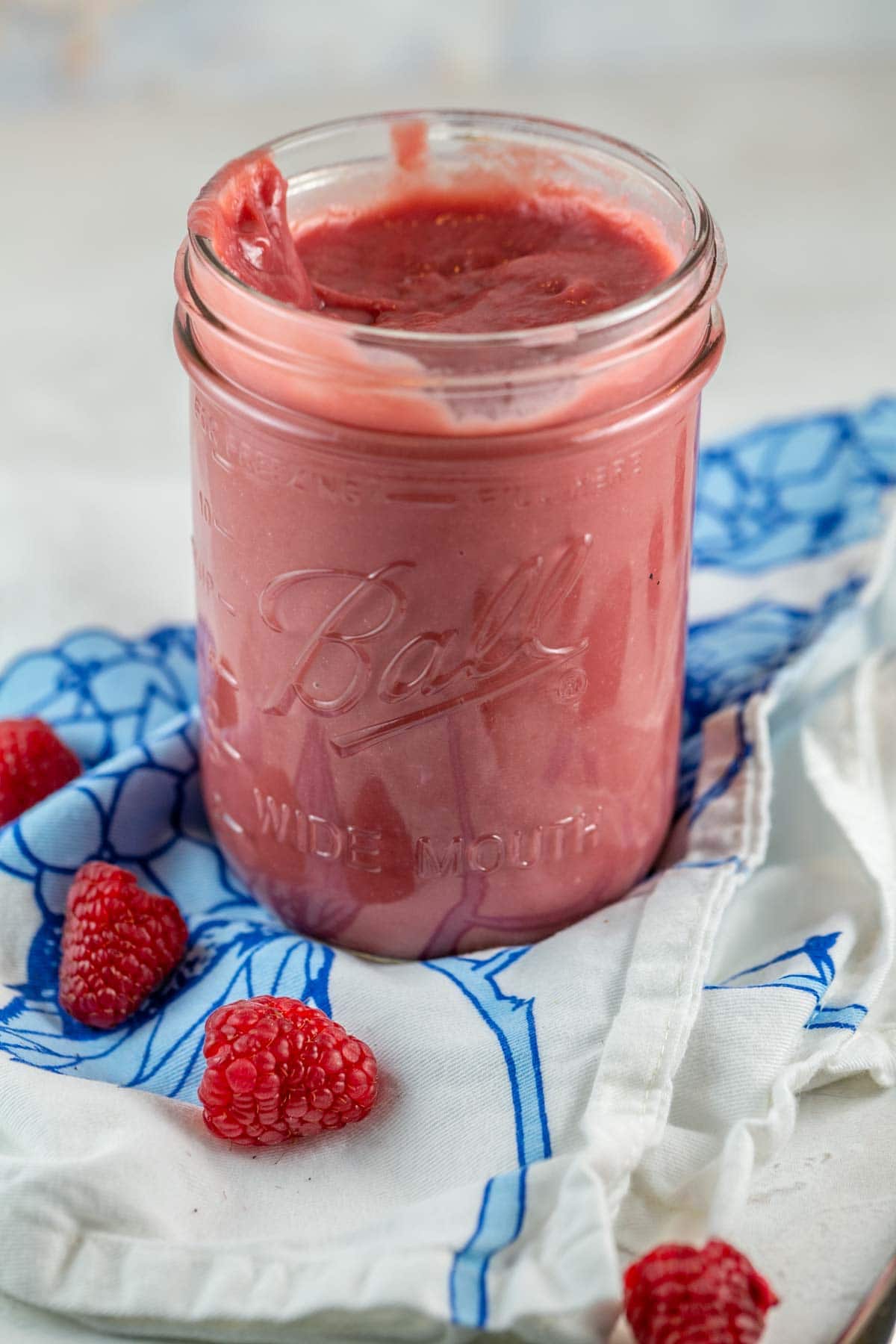 Frequently Asked Questions about Raspberry Curd
How do I get my raspberry curd to thicken?
The curd will thicken as it cools and the butter starts to solidify. If it is still too runny after chilling, heat the curd on the stovetop and cook for longer, until it reaches 175 °F.
How do I fix lumpy fruit curd?
For a perfectly smooth curd, strain the mixture after adding the butter, before refrigerating the curd. Cooking the curd to too high of a temperature can result in little lumps of cooked egg whites.
Does raspberry curd have to be refrigerated?
Yes, homemade fruit curds should be stored in the refrigerator for up to 1 month.
Can raspberry curd be frozen?
Fruit curds can be frozen in an air-tight container for up to 3 months. Thaw overnight in the refrigerator and use within 3-4 weeks.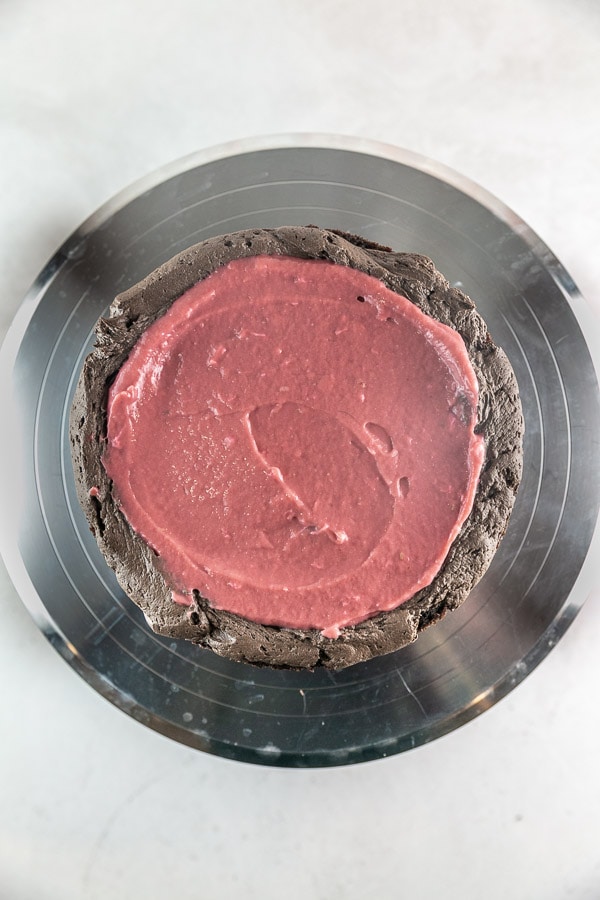 Recommended Tools to Make Raspberry Curd
Recipes Using Homemade Fruit Curd: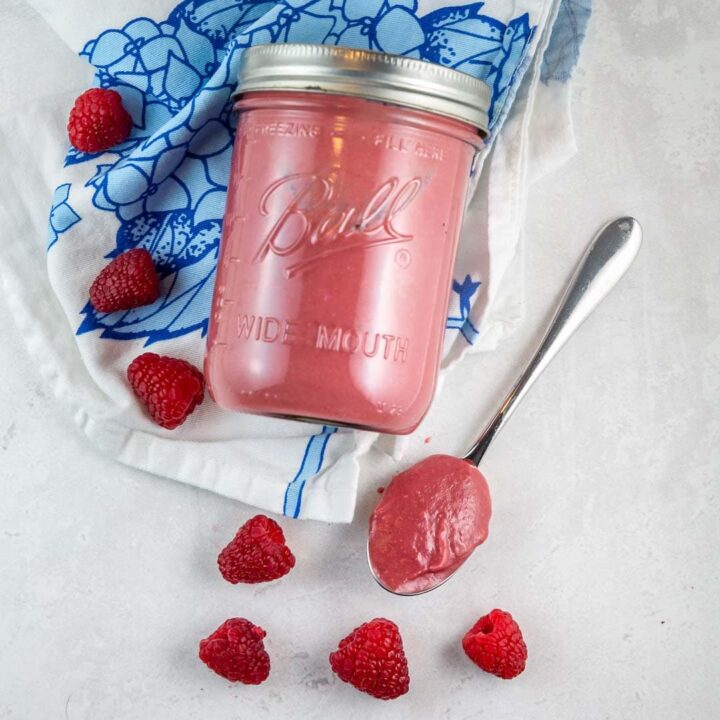 Homemade Raspberry Curd
Total Time:
1 hour
20 minutes
Homemade raspberry curd is so easy - it requires only 6 ingredients and 20 minutes to make!
Ingredients
24 ounces (680 grams) raspberries, fresh or frozen
1 cup (198 grams) granulated sugar
2 tablespoons lemon juice
2 teaspoons lemon zest
3 large eggs
2 large egg yolks
8 tablespoons butter, cut into 8 pieces
Instructions
Add raspberries, sugar, lemon juice, and lemon zest to a medium heavy-bottomed sauce pot. Cook over medium heat until the mixture comes to a boil, approximately 10 minutes, stirring frequently. Use the back of a wooden spoon to smash the raspberries as they cook. Once the mixture comes to a boil, remove from the heat.
Strain the raspberry mixture through a fine mesh sieve, using a rubber spatula to scrape down the inside of the sieve so all the raspberry juice passes through.
Return the raspberry sugar mixture to the saucepan and heat over medium heat. Add the eggs and egg yolk while the mixture heats, whisking constantly until the mixture thickens enough to leave trail marks from the whisk or coat the back of a spoon (temperature of the curd should be 170-175 °F.
Remove the saucepan from the heat and add the butter, stirring until butter is melted and mixture is smooth. Strain again if there are any clumps, and add to a heat proof jar. Refrigerate for at least 1 hour, or until chilled and set.
Notes
Either fresh or frozen raspberries can be used. It is not necessary to thaw frozen raspberries before using.
Raspberries can be pureed in a blender and strained to remove seeds before cooking with sugar; proceed directly to whisking in eggs after the mixture comes to a boil and cools.
To ensure curd is sufficiently cooked, use an instant read thermometer and cook until it reaches 170-175 °F.

Homemade raspberry curd can be stored in the refrigerator for up to 1 month, or frozen for up to 3 months. Thaw overnight in the refrigerator before using.
A Bunsen Burner Bakery Original Protocol
Recommended Products
As an Amazon Associate and member of other affiliate programs, I earn from qualifying purchases.