February 12, 2021
Chocolate Raspberry Cake
With three thick layers of moist chocolate cake, melted chocolate buttercream, and a raspberry curd filling, this Chocolate Raspberry Cake is the perfect way to celebrate any occasion.
Earlier this week, I shared a recipe for homemade raspberry curd. Today, we're using this curd to make February's Layer Cake of the Month: a chocolate raspberry cake filled with raspberry curd!
While the rich chocolate cake and pink raspberry curd are perfect for Valentine's Day this weekend, this is really a perfect year-round cake.
It's my favorite super moist best chocolate layer cake, but we're adding in layers of raspberry curd and using a frosting with melted chocolate poured in for an extra chocolatey boost!
The cake comes together surprisingly quickly (plenty of time to make it before Valentine's Day!) and leftovers freeze well in case you can't finish a whole cake at once. (Or pass some on to your neighbors, which is what we always do!)
Ready to learn the best tips and tricks for filled cakes? Let's go!
Moist and Fluffy Chocolate Cake
This chocolate cake recipe is my favorite — it produces a consistently fluffy, moist cake packed with chocolate flavor. There are a couple of ingredients we use that really maximize both the flavor and texture.
First: buttermilk. If you can use real buttermilk, I highly recommend it. If not, adding a little lemon juice or vinegar to whole milk is a good substitute.
Second: vegetable oil. While butter has a better flavor profile, the chocolate in this cake overrides the taste difference between butter vs. oil, and using vegetable oil helps counteract the extremely drying texture of the cocoa powder.
Third: hot coffee. Wait, hot coffee? What's hot coffee doing in our chocolate cake?! It's time for my favorite subject… kitchen chemistry.
Kitchen Chemistry

Adding coffee to chocolate cake enhances the flavor profile of chocolate. Because both share similar flavor characteristics, coffee amplifies the taste of dark chocolate. Furthermore, new research shows that coffee makes our taste buds perceive things as sweeter — adding coffee to a cake can make it taste a little sweeter without adding more sugar! Using hot coffee, instead of cold, helps ensure the cocoa powder is fully dissolved.
Melted Chocolate Buttercream
Regular chocolate American style buttercream works just fine for this cake (use this recipe). But for an extra chocolately flavor, and some extra help making sure our raspberry filling stays in place, I like to use a buttercream made with melted chocolate.
As the frosting cools and chills in the refrigerator, it becomes more solid than classic buttercream. This helps ensure the raspberry curd doesn't leak out between the layers.
However, because it's a little stiffer, it's also a little harder to get a smooth finish on the cake. Run a metal offset spatula under hot water and use the heated spatula to smooth the frosting around the cake.
Take the chocolate raspberry cake out of the refrigerator an hour before serving and slice with a knife dipped under hot water.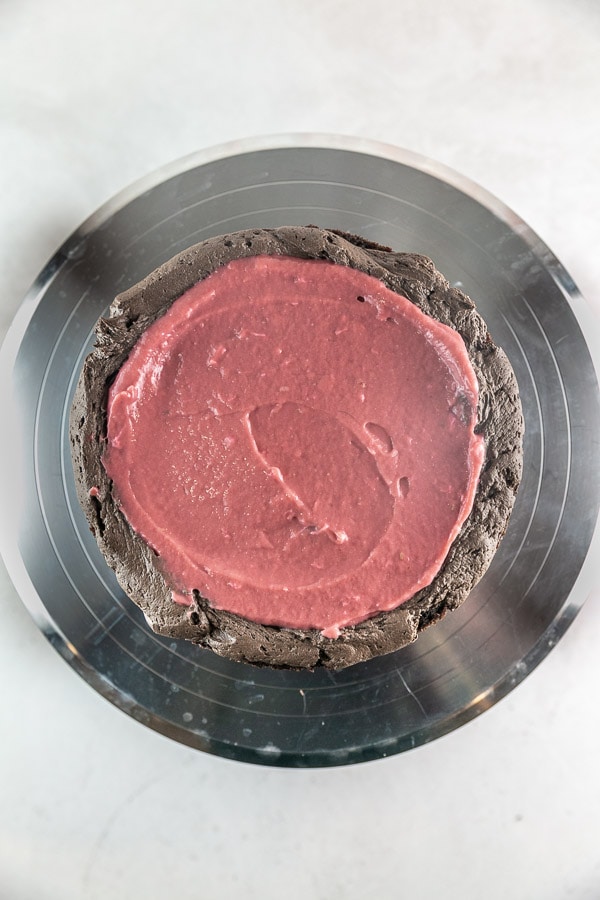 How to Fill a Cake
Filling a cake with a softer substance, like curd or jam, is actually quite easy.
I like to start with a full layer of frosting underneath; this helps ensure the curd doesn't seep into the chocolate cake.
Next, pipe a thick border of frosting along the outside edge of the cake. This will act like a barrier to contain the curd so it doesn't leak out the side. (See image above.)
After this step, refrigerate the whole cake for 10-15 minutes to firm up the frosting. Then place the next layer of cake on top and repeat.
Once the layers are assembled, frost the outside of the cake and the top and refrigerate to set the frosting, followed by spreading chocolate ganache on top.
Frequently Asked Questions about Chocolate Raspberry Cake
Can I use regular milk instead of buttermilk?
The cake relies on the acidity of buttermilk. If you don't have buttermilk, combine 1 cup of whole or 2% milk with 1 teaspoon of lemon juice and vinegar and allow this mixture to sit for 5 minutes before mixing it into the cake.
Can I use jam instead of raspberry curd?
Yes, if you don't want to make homemade curd, you can use store-bought curd or raspberry jam. The jam is thicker and doesn't spread quite as easily but gently heating it will help.
How do I keep the layers of my cake flat?
I will always, always recommend using Bake Even strips around your cake pans – it keeps the cakes perfectly flat so you don't have to level them!
Can I bake this cake in 9-inch cake pans?
This cake makes three thick 8-inch layers, or it can make three thin 9-inch layers. Nine-inch layers will bake quicker; start checking for doneness around 30 minutes. For three thick 9-inch layers, multiply each ingredient by 1.5.
Does this cake need to be refrigerated?
Because of the homemade raspberry curd, the cake requires refrigeration. Take the cake out of the refrigerator an hour before slicing and serving.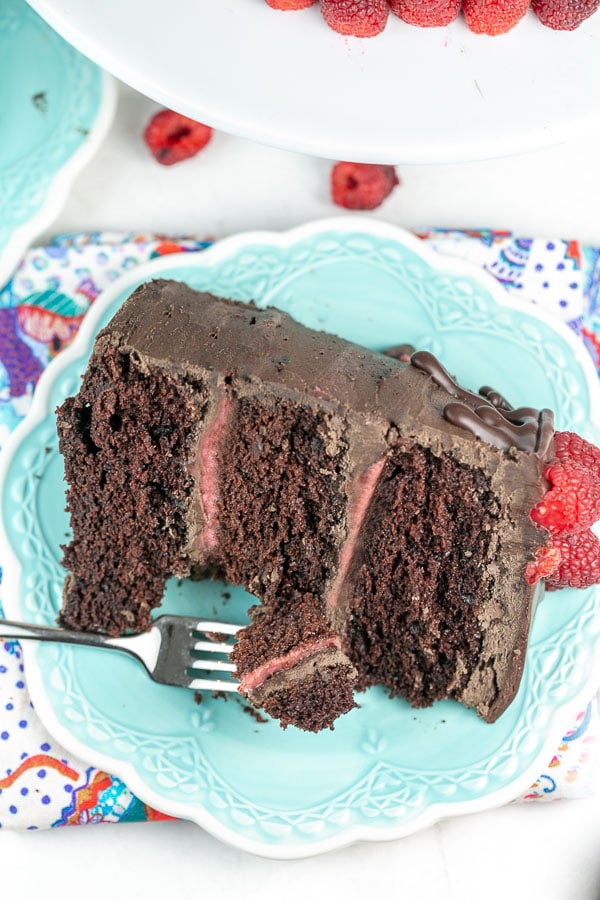 More Berry Desserts: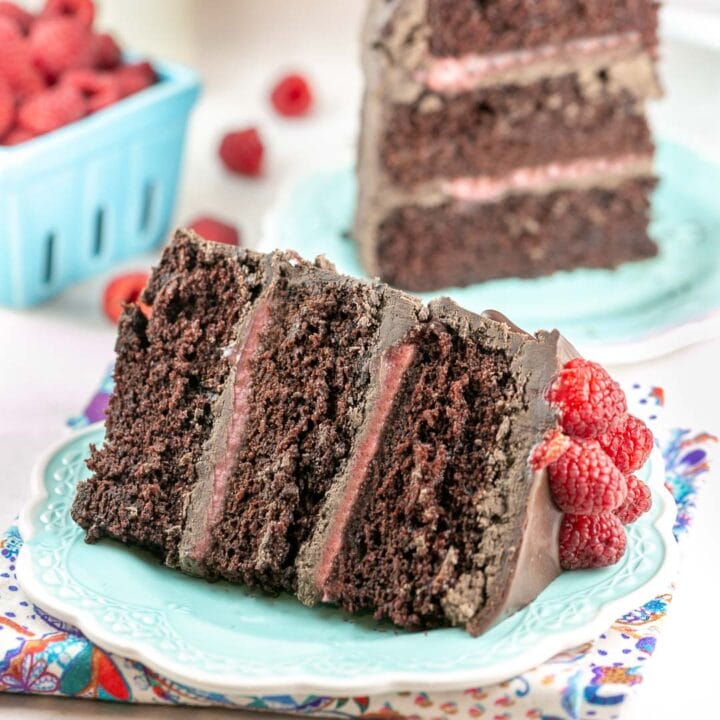 Chocolate Raspberry Cake
Total Time:
2 hours
30 minutes
With three thick layers of moist chocolate cake, melted chocolate buttercream, and a raspberry curd filling, this Chocolate Raspberry Cake is the perfect way to celebrate any occasion.
Ingredients
For the Cake:
2 3/4 cups all-purpose flour
3 cups granulated sugar
1 cup natural unsweetened cocoa powder
1 tablespoon baking soda
1 1/2 teaspoon baking powder
1 1/2 teaspoon salt
3 eggs, room temperature
1 1/2 cups buttermilk
1 1/2 cups hot coffee
3/4 cup vegetable oil
1 1/2 tablespoons vanilla extract
For the Chocolate Frosting
1 1/2 cups unsalted butter, room temperature
12 ounces semisweet chocolate, chopped
1/2 cup dark or black cocoa powder
5 cups confectioners sugar
1/2 teaspoon salt
1/4 cup heavy cream
For the Chocolate Ganache
7 ounces dark chocolate, chopped
2/3 cup heavy cream
additional raspberries, for decorating
Instructions
Preheat the oven to 350 °F. Grease and flour (or spray with nonstick baking spray) three 8-inch round cake pans. Line the pans with parchment paper, then spray or grease and flour again.
Make the cake batter. Using a mixer, combine together the flour, sugar, cocoa powder, baking soda, baking powder, and salt in a large bowl. In a separate smaller bowl, whisk together the eggs, buttermilk, coffee, oil, and vanilla extract. Add the wet ingredients to the dry ingredients and mix on low speed until combined, about 2 minutes. The batter will be thin.
Bake the cake batter. Divide the batter evenly among the three pans. Bake for 30 minutes, or until a toothpick inserted into the center of the cake comes out with a moist crumb. Cool the cakes in the pan for 20 minutes, then turn out onto cooling racks to cool completely before frosting.
Make the frosting. To make the frosting, cream the butter until smooth using an electric mixer on low speed. Pour in the melted chocolate and mix until butter and chocolate are combined. Add the cocoa powder and 2 cups of the powdered sugar, along with the salt. Slowly pour in half of the heavy cream, followed by the rest of the powdered sugar and the remaining heavy cream. Turn the mixer to medium-high and beat for 2 additional minutes. If the frosting is too dry, add an additional tablespoon or two of heavy cream; if the frosting is too runny, add an additional tablespoon or two of confectioners sugar
Assemble the cake. Level the cakes if necessary. Cover the bottom layer of cake with 3/4 cup of the frosting. Pipe a border of frosting along the edge an refrigerate for 10-15 minutes. Spread half the raspberry curd inside the piped frosting border. Top with a second cake layer and repeat. Place the final layer on top of the cake, face down, and frost the sides and top of the cake. Refrigerate to set the frosting.
Prepare the chocolate ganache. Microwave the heavy cream on 50% power for 30 second increments or heat on the stovetop in a small saucepan until it just comes to a boil. Place the chopped chocolate in a glass mixing bowl and pour the cream over the chocolate. Allow this mixture to sit for 2 minutes to melt the chocolate, and then whisk from the center outside until the ganache is smooth. Set aside to cool, whisking occasionally, until the ganache has thickened but is still pourable, 10 to 15 minutes. Transfer the ganache into a piping bag, snip off the corner, and drip the ganache along the edge of the cake, encouraging the ganache to run down the sides. Pour the remaining ganche into the center of the cake. Decorate with additional raspberries. Refrigerate for at least 30 minutes to set the ganache.