July 26, 2016
Blueberry Muffins
It's blueberry season!  Celebrate with a batch of these bakery-style, sugar-coated blueberry muffins.  Making them off season?  Frozen blueberries make extra-vibrant muffins!
Ah, blueberry season.  One of my favorite times of year!  In addition to weekly CSA blueberries, even grocery store blueberries are perfectly ripe.  Having excess blueberries is never a problem for me (or my little guy – we love to eat them raw!).  But if you have a few too many and are looking for something to do with them, allow me to suggest these bakery-style blueberry muffins.  I've previously posted my personal favorite blueberry muffin recipe.  Those are more like a dense, not-so-sweet blueberry pound cake in the form of muffins.  These are more traditional – lighter, sweeter, and a crunchy, sugary topping.
The first time I made these muffins (pictured below), I used frozen blueberries, and as the berries thawed while mixing they turned the batter into such a lovely shade of purple.  When I remade them using fresh, I tried to mimic it by muddling half the blueberries beforehand.  The batter was a little blueish, but not nearly as vibrant as before.  The muffins are delicious either way, but the frozen berries definitely result in a more striking visual.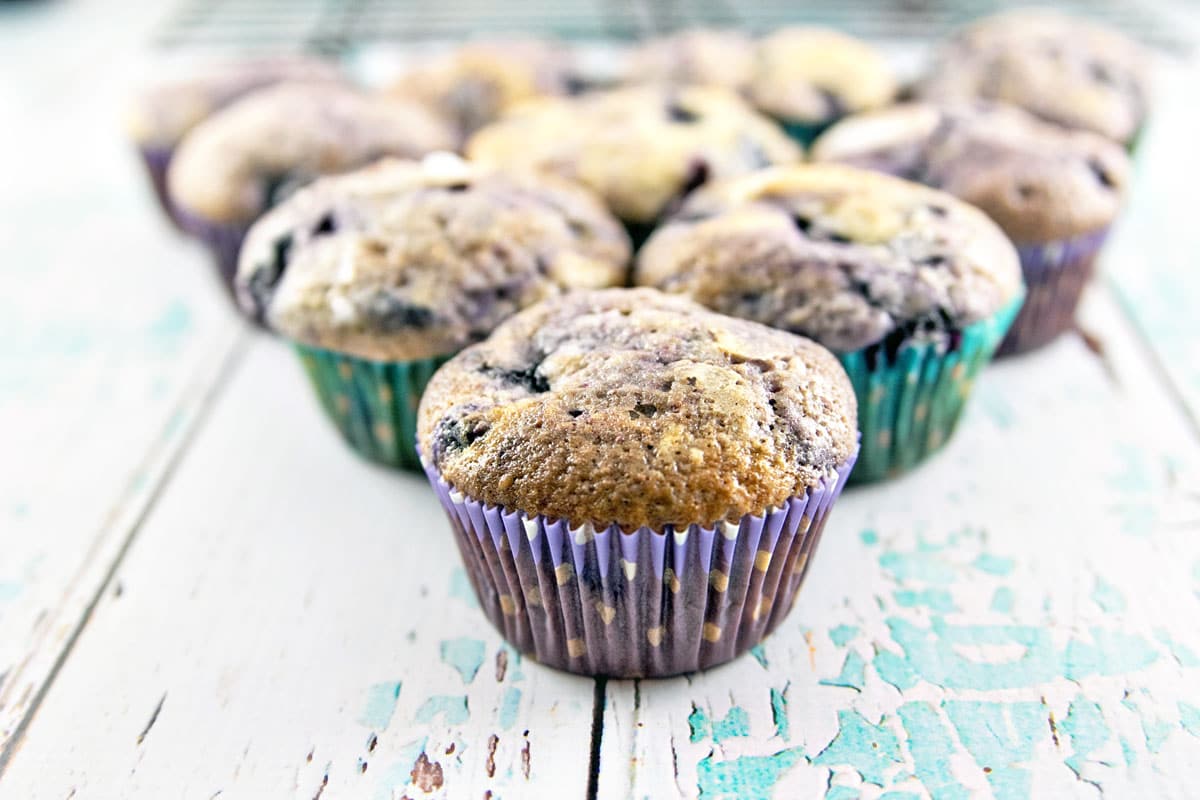 Like I mentioned above, these blueberry muffins are pretty traditional.  Exactly what you want to serve for brunch, to leave out in the morning for overnight guests, or to bring to work and share with your coworkers.  But because they're traditional, don't even bother pretending that they are healthy.  White flour, lots of sugar – it's practically dessert hiding in breakfast form.  I've been working on a much healthier blueberry muffin recipe, perfect for tiny tots (or adults, too!).  No added sugar (just some ripe bananas), whole wheat flour, almond flour, chia seeds – all good stuff.  Stay tuned; I'll be sharing that recipe soon!
(In case you haven't noticed, I have a bit of a blueberry problem.  I think I need to have a blueberry themed brunch, where I will serve blueberry blintzes, blueberry pie, a simple blueberry peach coffee cake, and my favorite vanilla blueberry layer cake with blueberry cardamom curd.  And of course, we'll wash it all down with some blueberry basil bourbon lemonade.  Too many blueberries?  No such thing!)

Blueberry Muffins
Ingredients:
1/2 cup vegetable oil
1 1/4 cups sugar
2 eggs, room temperature
1/2 cup buttermilk
2 teaspoons vanilla extract
2 1/4 cups all-purpose flour
3/4 teaspoon salt
4 teaspoons baking powder
2 cups blueberries, fresh or frozen (do not thaw if frozen)
coarse/sparking sugar, for topping
Directions:
Preheat oven to 425F.  Spray a 12-well muffin tin with nonstick cooking spray.
In a large bowl, whisk together the vegetable oil, sugar, eggs, buttermilk, and vanilla.  Slowly add in the flour, baking powder, and salt.  Mix until just combined and no dry streaks of flour remain.  Fold in the blueberries.
Divide the batter amongst the 12 muffin wells, filling nearly to the top.  Sprinkle the coarse sugar on top of the batter.
Bake at 425 °F for 5 minutes, then reduce the oven temperature to 375 °F (do not open the oven in between) and bake for another 13-15 minutes.  Cool muffins in the tin for 10 minutes, then remove muffins and cool on a wire rack for an additional 30 minutes.
Muffins are best consumed on the day they are baked, but will last at room temperature for up to 4 days, or in a freezer bag in the freezer for up to 3 months.
A Bunsen Burner Bakery Original Protocol