December 17, 2021
Baked Peppermint Mocha Donuts
Chocolatey, cakey baked peppermint mocha donuts, dunked in a peppermint mocha glaze and covered with festive sprinkles. Breakfast? Dessert? Perfect for holiday entertaining, any time of day!
Let's talk about donuts. There are so many topics to debate: glazed or unglazed? Warm or room temperature? Donut or doughnut? And of course, the most controversial: yeast donut or cake donut?
One thing we can all agree on though? Donuts, in whatever form you prefer, are delicious! They're also delicious any time of day.
Somehow, donuts have become an acceptable dessert-for-breakfast option. Mid-afternoon snack? Yes please! And yet despite their reputation as a breakfast food, they're a perfect after dinner treat, too.
If you're doing some holiday entertaining with family this year, these peppermint mocha donuts are perfect to have on hand to offer guests in the morning or afternoon or even for dessert.
And the best part about these baked cake donuts? No frying necessary, so your house won't smell like oil for the next few hours!
While these can be made with tons of flavor combinations, I love peppermint mocha for the winter — it's fun, it's festive, and it's perfect to dunk in your morning cup of coffee.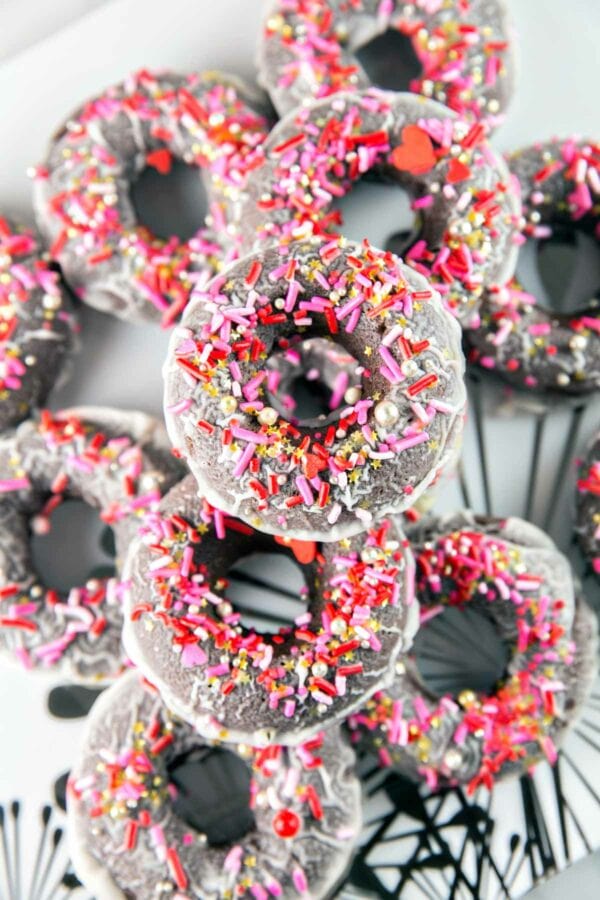 What are Baked Donuts?
Donuts (or doughnuts) come in multiple ways. There are yeast donuts and cake donuts, and you can either bake or fry either variety. These are baked cake donuts, which are certainly the easiest to make at home (and my personal favorite!)
Yeast donuts (found at most commercial chains, like Krispy Kreme and Dunkin' Donuts) are light and airy. Cake donuts, on the other hand, are denser and chewier.
What's makes them different? It's time for my favorite subject… kitchen chemistry!
Kitchen Chemistry

Yeast uses biological leavening to produce carbon dioxide, while baking powder is a chemical leavener Yeast donuts are light and airy because the yeast in the batter give lots of lift, creating big air pockets as the volume of the dough increases as the yeast slowly releases carbon dioxide over time. Cake donuts, on the other hand, use chemical leavener (baking soda or baking powder) to create carbon dioxide. While this process is much faster (no need to proof the dough), less carbon dioxide is released, resulting in a denser texture.
Within the realm of cake donuts, there are even more options! The two most common are either piped donuts into a donut pan (what we're doing here) or rolled out donuts (which are rolled into a flat layer and cut out with circular dough cutters).
When it comes to cooking cake donuts, you can either bake or fry. Fried donuts are crispier, while cake donuts are a little chewier. Both are delicious.
How to Make Baked Peppermint Mocha Donuts
One of the reasons I prefer to make cake donuts are because of all the flavor possibilities. Yeast donut dough is almost all the same; as a result, most of the flavor comes from the glaze.
But with cake donuts, the world is your oyster in terms of how to flavor the dough, much like a cake.
I used my standard chocolate cake donut batter for this, but to play up the holiday-favorite peppermint mocha flavor, we're adding some espresso powder and peppermint extract.
Much like a cake, this is a simple whisk-by-hand dough (no mixer necessary!). We'll transfer the dough into a piping bag or plastic bag with the end snipped off — heads up, this dough is thick. Pipe the dough into a donut pan, bake for 10 minutes, and then cool.
Peppermint Glaze
Once fully cooled, we'll give the donuts a little bath in a peppermint glaze for an extra boost of flavor.
The glaze is super simple: just whisk together confectioners' sugar, half and half (or milk), and a little peppermint extract. If the glaze is too thick, add more half and half; if it's too thin, add more sugar.
Dunk one side of the donuts in the glaze (dunking is less messy than pouring the glaze over top).
And of course, top them with lots of festive sprinkles, because… sprinkles. The world needs more sprinkles.
Tips and Tricks for the Best Peppermint Mocha Baked Donuts:
Cut a large corner off the end of your bag! This batter is thick; you're looking to cut an opening roughly the same width as the trough in the donut mold.
Only fill the donut pan 3/4 of the way full. If you fill all the way to the top, the donuts will puff up over the hole in the middle.
Once you pipe the dough into the donut pan, tap the pan on the counter a few times. This will bring any air bubbles to the top.
No donut pan? Make peppermint mocha donut muffins instead! Use a muffin pan and bake for 10 minutes at 350 °F.
The donuts are best enjoyed just after cooling, but can be stored in an airtight container for up to 4 days. For best results, wait to glaze until right before serving.
More Delicious Winter Desserts: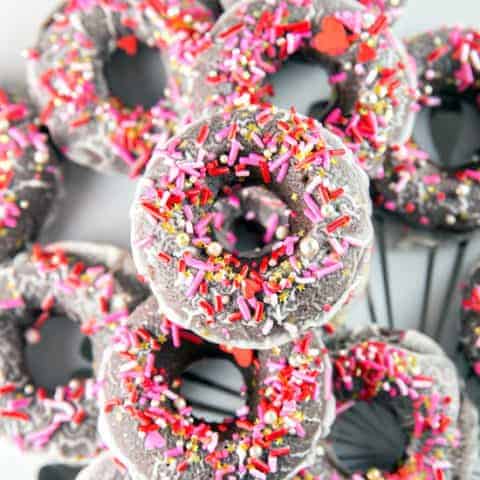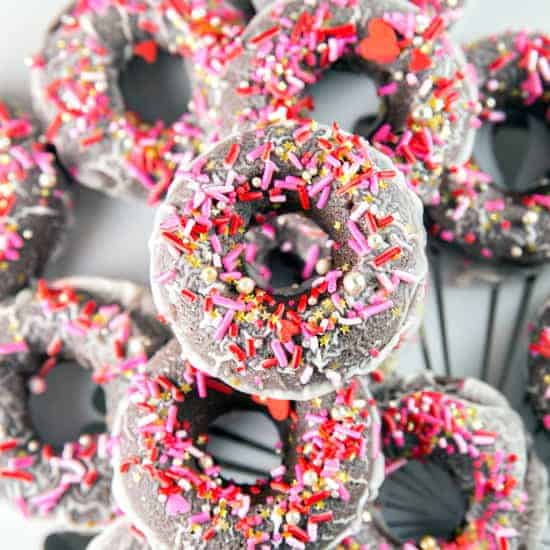 Baked Peppermint Mocha Donuts
Chocolatey, cakey baked peppermint mocha donuts, dunked in a peppermint glaze and covered with festive sprinkles.
Ingredients
For the donuts:
3/4 cup half and half
1/2 cup brown sugar, packed
2 large eggs, room temperature
2 tablespoons melted butter
2 teaspoons vanilla extract
3/4 teaspoon peppermint extract
2 cups all-purpose flour
1/2 cup unsweetened cocoa powder
2 teaspoons espresso powder
1 teaspoon baking powder
1/2 teaspoon salt
For the glaze:
2 cups powdered sugar
5 tablespoons half and half
1/4 teaspoon peppermint extract
sprinkles or crushed peppermints, for topping
Instructions
Preheat oven to 350 °F. Spray 12 wells of a donut pan with nonstick spray.
Make the donut batter. In a large bowl, whisk together the half and half, sugar, eggs, melted butter, and vanilla and peppermint extracts, until well combined. Slowly whisk in the flour, cocoa powder, espresso powder, baking powder, and salt, until smooth and no lumps remain. The batter will be quite thick.
Transfer the batter into a piping bag or a gallon sized freezer bag. Snip off the end (leaving a slit about 1 inch wide) and pipe the batter into the wells of the donut pan, filling until approximately 3/4 of the way full. If the batter is too thick to pipe, increase the width of the hole; it can be as wide as the ring of the donut pan. Tap the pan on the counter a few times to release any air bubbles.
Bake the donuts. Bake for 10 minutes, or until a tester inserted into the center of the donut comes out clean. Remove from the oven and cool in the pan for 10 minutes; then remove to a wire rack to cool completely.
Glaze the donuts. Once cool, make the glaze. Whisk together the powdered sugar and half and half to form a thick glaze. If the glaze is too thick, add an additional tablespoon of half and half. Dunk the tops of the donuts in the glaze, then return to the wire rack until glaze hardens. Repeat the dunking a second time and top with sprinkles or crushed peppermint before the second coat of glaze dries.
Notes
To make these donuts without a donut pan, turn them into muffins! Pour into greased muffin tins and bake at 350 °F for 10 minutes. or until a tester inserted into the center of the muffin comes out clean.
Donuts are best served immediately after glazing, but can be stored in an air tight container at room temperature for up to 4 days.
A Bunsen Burner Bakery Original Protocol
Recommended Products
As an Amazon Associate and member of other affiliate programs, I earn from qualifying purchases.
Nutrition Information:
Yield:

12
Serving Size:

1 donut
Amount Per Serving:
Calories:

256
Total Fat:

7g
Carbohydrates:

44g
Protein:

4g
This Baked Peppermint Mocha Donut recipe was originally published in November 2017 and updated with a new post in December 2021.