November 15, 2017
Baked Peppermint Mocha Donuts
Chocolatey, cakey baked peppermint mocha donuts, dunked in a peppermint mocha glaze and covered with festive sprinkles. Breakfast? Dessert? Perfect for holiday entertaining, any time of day!
This post is sponsored by International Delight.
Now that Halloween is over, we seem to be full steam ahead into the winter holidays. And you know what that means — holiday entertaining. (My favorite!)
I don't know about you, but we seem to have a constant rotation of people in our guest room throughout the winter.
I love having family and friends come to visit. And (obviously) I love to bake, too. So I always try to make something a little special for guests to have in the morning.
What could brighten someone's day more than coming downstairs to a hot cup of coffee and freshly baked donuts? It's the perfect treat for holiday hosting!
Last year, I partnered with International Delight® to bring you a Peppermint Mocha Bundt Cake, starring International Delight® Peppermint Mocha Coffee Creamer.
This year, I'm doing it again — with baked peppermint mocha donuts. Perfect for dunking right into your morning cup of coffee!
What are Baked Donuts?
Donuts (or doughnuts) come in multiple ways. There are yeast donuts and cake donuts, and you can either bake or fry either variety. These are baked cake donuts, which are certainly the easiest to make at home (and my personal favorite!)
Yeast donuts (found at most commercial chains, like Krispy Kreme and Dunkin' Donuts) are light and airy, because the yeast in the batter gives a lot of lift, creating big air pockets. Cake donuts, on the other hand, use chemical leavener (baking powder or baking soda) to provide just a little lift, and are denser and chewier as a result.
Within the realm of cake donuts, there are even more options! The two most common are either piped donuts into a donut pan (what we're doing here) or rolled out donuts (which are rolled into a flat layer and cut out with circular dough cutters).
When it comes to cooking cake donuts, you can either bake or fry. Fried donuts are crispier, while cake donuts are a little chewier. Both are delicious.
How to Make Baked Peppermint Mocha Donuts
One of the reasons I prefer to make baked donuts are because of all the flavor possibilities. Yeast donut dough is almost all the same; as a result, most of the flavor comes from the glaze. But with cake donuts, the world is your oyster in terms of how to flavor the dough, much like a cake.
I used my standard chocolate donut batter for this, but used International Delight coffee creamer for a flavor upgrade. Swapping out the milk in a recipe for your favorite flavor of International Delight® Coffee Creamer is a great (and super easy!) way to bring a little extra flavor into your favorite dessert recipes.
Much like a cake, this is a simple whisk-by-hand dough, which is then transferred into a piping bag (or plastic bag with the end snipped over) and piped into a donut pan. Pop in the oven and bake for 10 minutes, then cool.
Once fully cooled, we'll give the donuts a little bath in a peppermint mocha glaze for an extra boost of flavor. And of course, top them with lots of festive sprinkles, because… sprinkles. The world needs more sprinkles.
Breakfast? Dessert? Midnight snack? Yes please!
More Delicious Winter Desserts: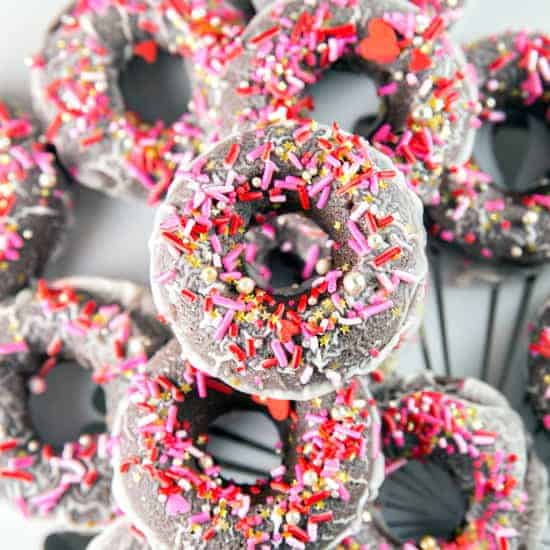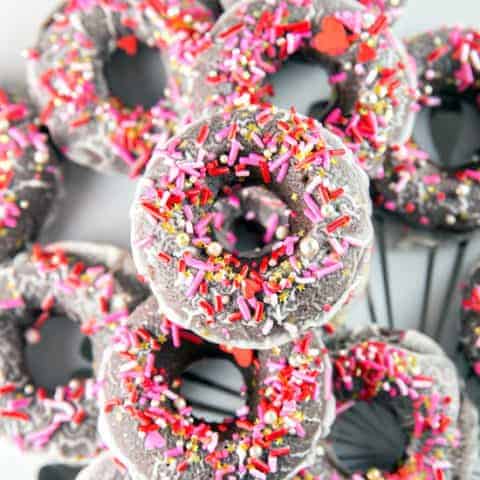 Baked Peppermint Mocha Donuts
Chocolatey, cakey baked peppermint mocha donuts, dunked in a peppermint mocha glaze and covered with festive sprinkles.
Ingredients
For the donuts:
3/4 cup International Delight® Peppermint Mocha Coffee Creamer
1/2 cup brown sugar
2 large eggs, room temperature
2 tablespoons melted butter
2 teaspoons vanilla
2 cups all-purpose flour
1/2 cup unsweetened cocoa powder
1 teaspoon baking powder
1/2 teaspoon salt
For the glaze:
2 cups powdered sugar
5 tablespoons International Delight® Peppermint Mocha Coffee Creamer
sprinkles or crushed peppermints, for topping
Instructions
Preheat oven to 350 °F. Spray 12 wells of a donut pan with nonstick spray.
In a large bowl, whisk together the coffee creamer, sugar, eggs, melted butter, and vanilla, until well combined. Slowly whisk in the flour, cocoa powder, baking soda, and salt, until smooth and no lumps remain. The batter will be quite thick.
Transfer the batter into a piping bag or a gallon sized freezer bag. Snip off the end (leaving a slit about 1 inch wide) and pipe the batter into the wells of the donut pan, filling until approximately 3/4 of the way full. If the batter is too thick to pipe, increase the width of the hole; it can be as wide as the ring of the donut pan.
Bake for 10 minutes, or until a tester inserted into the center of the donut comes out clean. Remove from the oven and cool in the pan for 10 minutes; then remove to a wire rack to cool completely.
Once cool, make the glaze. Whisk together the powdered sugar and coffee creamer to form a thick glaze. If the glaze is too thick, add an additional tablespoon of coffee creamer. Dunk the tops of the donuts in the glaze, then return to the wire rack until glaze hardens. Repeat the dunking a second time and top with sprinkles or crushed peppermint before the second coat of glaze dries.
Notes
A Bunsen Burner Bakery Original Protocol
Recommended Products
As an Amazon Associate and member of other affiliate programs, I earn from qualifying purchases.
Nutrition Information:
Yield:

12
Serving Size:

1 donut
Amount Per Serving:
Calories:

256
Total Fat:

7g
Carbohydrates:

44g
Protein:

4g