March 1, 2018
No Bake Mint Chocolate Chip Pie
Cool off with a refreshingly minty slice of No Bake Mint Chocolate Chip Pie with homemade minty custard, a chocolate ganache base, and a crispy chocolate cookie crust!  The hardest part about making this?  Waiting for everything to chill before cutting into a slice!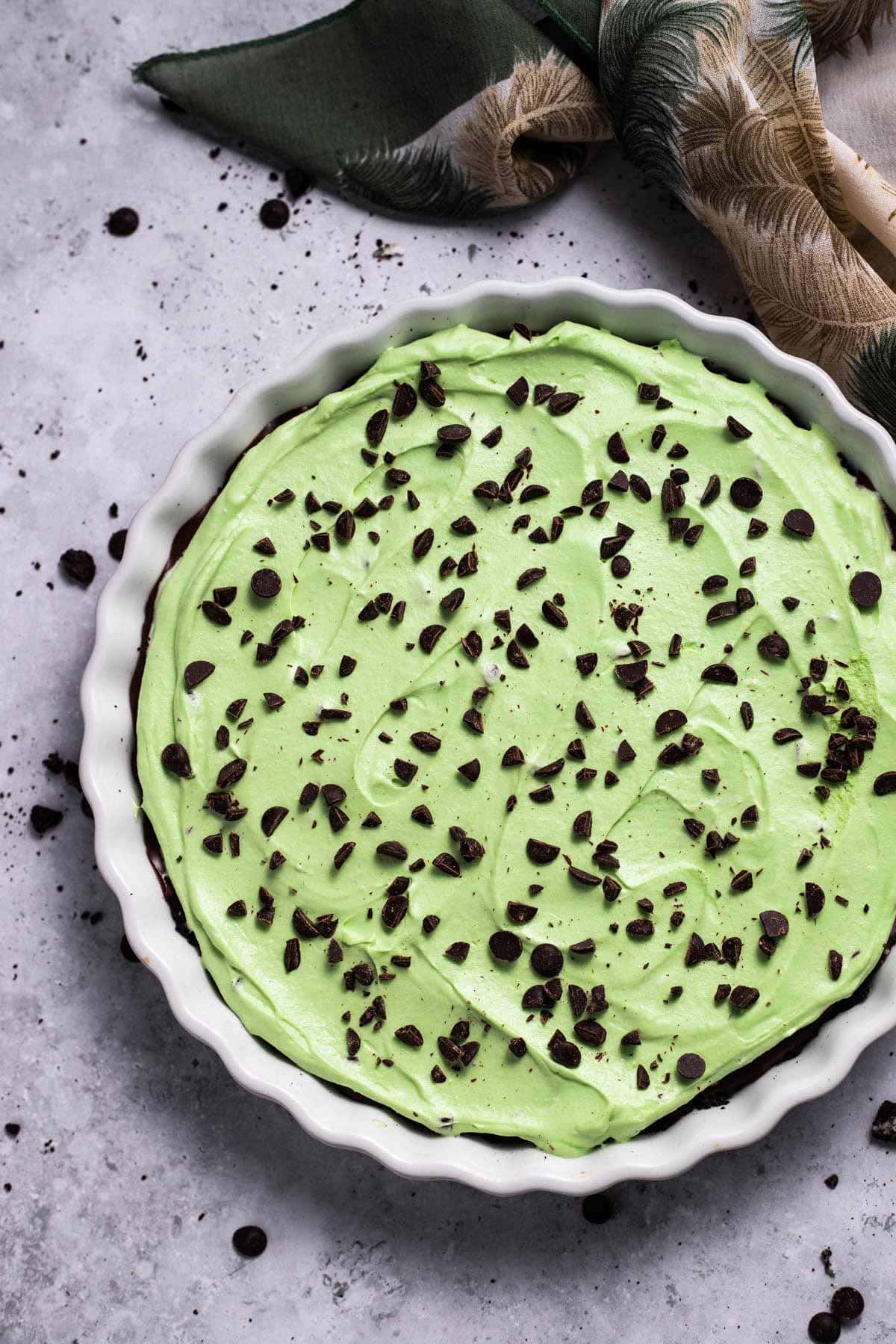 Friends, we are on a roll with the Pie of the Month series. Second week of January? Oatmeal Molasses Pie recipe shared. February 1st? No Bake Nutella Pie recipe shared. March 1st? No Bake Mint Chocolate Chip Pie recipe shared.
I'm not sure I've ever been so on top of anything in my life. A whole month to procrastinate, and I'm sharing pie recipes at the very beginning of the month? Who am I?
(Answer: someone who is less confident in my pie-cutting skills than my bundt cake-cutting skills, and fears I may have to remake a pie several times to get an acceptable photo.)
I love mint chocolate chip — this mintiest mint chocolate chip ice cream is my favorite dessert here on Bunsen Burner Bakery.
What I do not love, however? Many no bake pies, including most recipes I came across for mint chocolate chip pies, use cream cheese as the base.
So instead of a cream cheese pie, we're going with a rich, thick, silky-smooth entirely homemade custard.
Think of a traditional diner-style pie. like banana cream pie or coconut cream pie… except mint chocolate chip cream. A smooth homemade minty custard, not entirely unlike the custard base for my favorite ice cream. We'll fold in some whipped cream to lighten things up a little.
Oh, and we'll pour it all over a thick, fudgy layer of chocolate ganache, contained in a homemade Oreo crust. Because, obviously.
Ingredients and Substitutions
Oreo Cookie Crust: I have allll the tips you need to make a perfect Oreo Cookie Crust on my linked post! For an even mintier pie, try swapping the original Oreos for the mint chocolate Oreos (and use gluten-free Oreos for a gluten-free version of this pie).
Sugar: Granulated sugar will be used in both the crust and the mint custard.
Flour: Flour serves as the thickener for our custard. For a gluten-free alternative, use cornstarch instead of the flour. Reduce the amount by half (use 1/4 cup of cornstarch) and whisk well after slowly adding the milk to avoid clumps.
Milk: I recommend using whole milk, rather than reduce fat milk, for the best custard texture.
Egg Yolks: Separate the eggs (try these recipes for the egg whites!) and use just the yolks for the custard.
Butter: Use unsalted butter, preferably cut into 1-tablespoon size pieces before stirring into the custard.
Vanilla Extract: Vanilla extract adds a very light vanilla undertone, which complements the mint.
Mint Extract: For classic mint chocolate chip flavor, use mint extract, which is a combination of mint varieties including peppermint and spearmint. For mint flavor like a candy cane, use peppermint extract.
Food Coloring: While technically optional, I always think mint-flavored desserts should be green!
Heavy Cream: Heavy cream (which has a higher fat content than whipping cream!) is used for both the ganache and folding whipped cream into the custard.
Chocolate Chips: While you can use full-size chocolate chips, I always prefer miniature chocolate chips in the custard.
Crunchy Oreo Crust
We'll start with a chocolate Oreo crust for the base of our mint chocolate chip pie. All the tips and tricks you need to make the BEST Oreo crust can be found in this Oreo Cookie Crust recipe post!
You can keep this a truly no-bake pie by using the Oreo crust as is. But I always like to pop it in the oven and bake the crust for 10 minutes first – this helps it get extra crunchy, which adds an additional layer of texture to the pie.
We're actually going to line the crust with ganache as well, for an extra chocolatey punch. Once the ganache is smooth and slightly cooled, pour it in the crust, smooth the top with a spatula and set it in the refrigerator to fully set before adding the mint custard.
Tempering Eggs
The star of this mint chocolate chip pie is, of course, the mint chocolate chip custard filling!
If you've never made a homemade custard or pudding before, it's time to give it a try! Trust me when I say that it's easier than you think, and the results are far superior to any sort of pudding mix you may have tried in the past. We only need simple ingredients and a little bit of time – I promise, this won't be the last time you'll want to make an easy homemade custard!
There are two key parts to making a custard: a thickening reagent and tempering in the eggs. For this custard recipe, we'll use flour as our thickening agent (see below for a gluten-free alternative). When it comes to tempering, it's a truly simple process, but let's go through a step-by-step in case you haven't done it before.
What is tempering and why do we need to do this? It's time for my favorite subject… kitchen chemistry!
Kitchen Chemistry

When it comes to making custards, tempering eggs is an essential technique that ensures a silky-smooth texture without scrambling the egg yolks. Tempering involves gradually raising the temperature of the eggs, which prevents them from curdling when adding the eggs to a hot liquid.
To temper eggs, follow these simple steps:
Add the egg yolks to a small bowl.
Heat the liquid portion of the custard (in this case, the sugar, flour, salt, and milk) in a saucepan until it reaches a boil. Turn the heat down slightly.
Slowly pour a small amount of the hot custard mixture into the egg yolks while whisking continuously. This step raises the temperature of the eggs gradually without heating to the point that the proteins begin to scramble.
Gradually add the tempered egg mixture back into the remaining hot liquid in the saucepan, whisking constantly to incorporate everything smoothly.
Once the eggs have been tempered, we'll add the butter, vanilla and mint extracts, and of course that drop of green food coloring!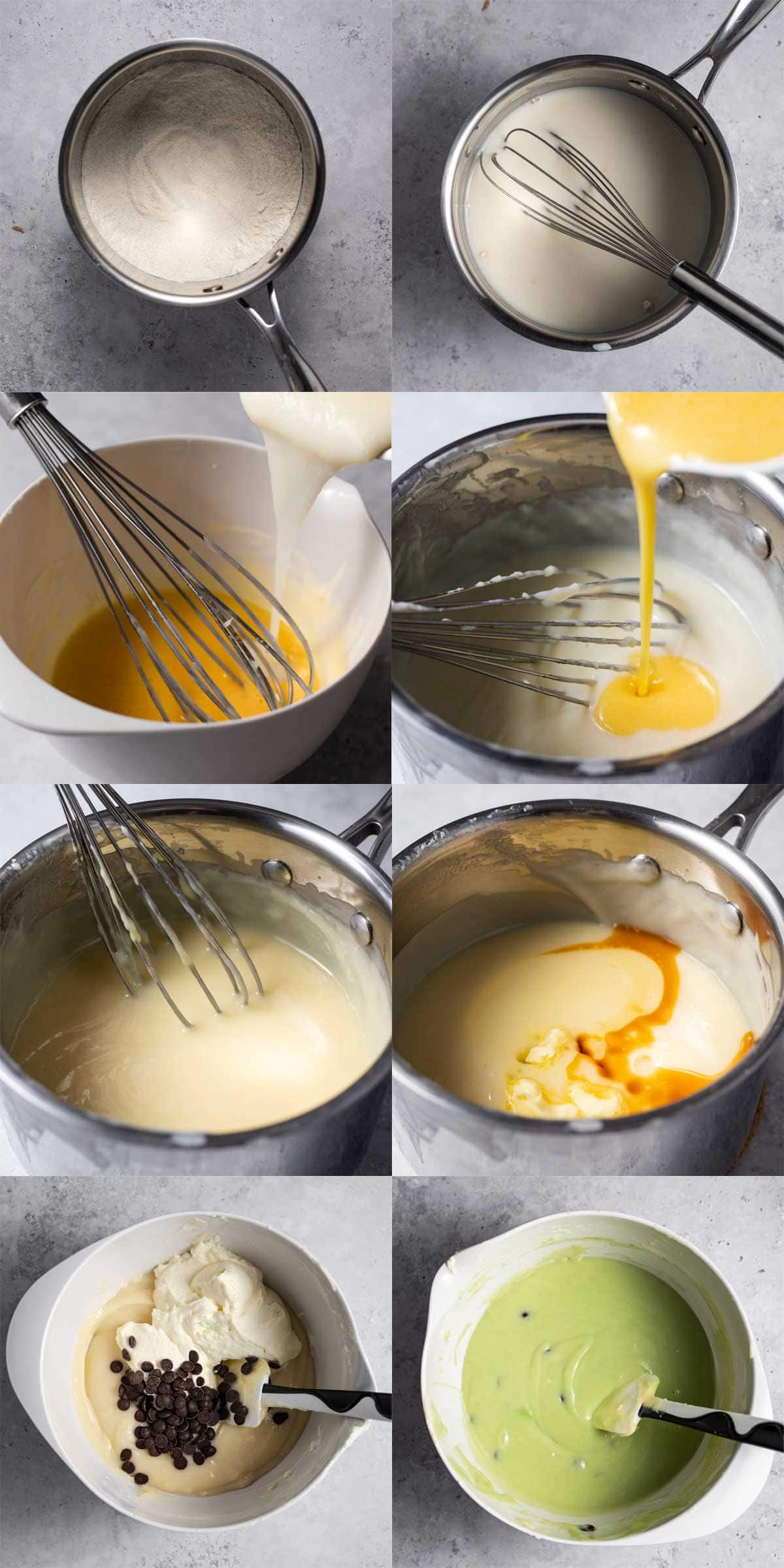 Easy Gluten-Free Alternatives
We can easily keep this mint chocolate chip pie gluten-free with two simple swaps.
First, use gluten-free Oreos for the Oreo cookie crust.
Second, use cornstarch instead of flour for the custard. Cornstarch has more thickening power than flour, so use half the amount (replace 1/2 cup of flour with 1/4 cup of cornstarch) and only bring the mixture to a boil for one minute before turning down the heat.
Recommended Tools for Mint Chocolate Chip Pie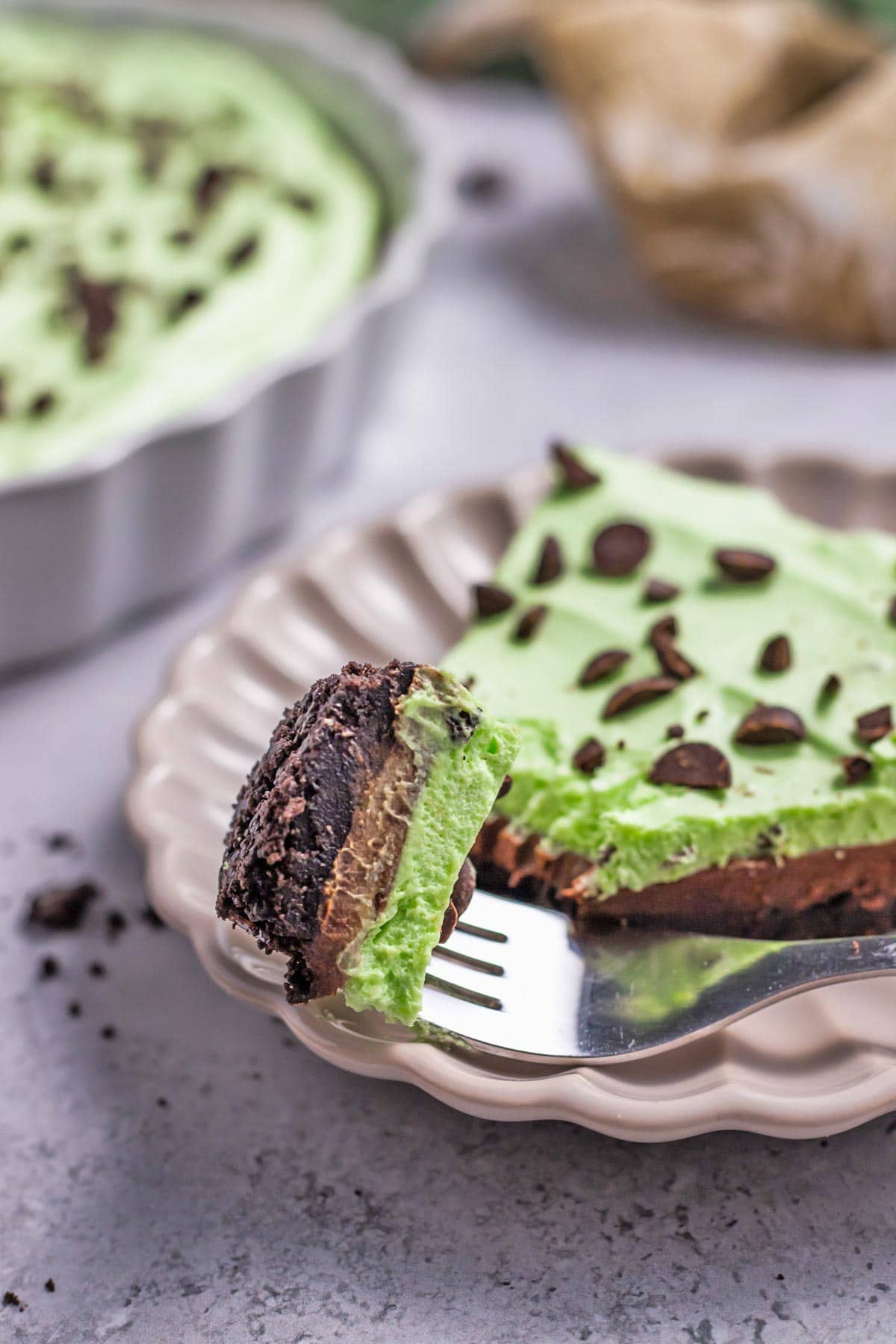 Tips and Tricks for the Best No Bake Mint Chocolate Chip Pie
Crush the Oreo cookies finely into uniform tiny crumbs. This makes it easier to press them into the pie dish and create a sturdy crust that doesn't crumble when you cut the slices of pie.
For a thicker pie, use a 9″ pie plate. A 10 or 11-inch pie or tart plate will result in thinner layers of ganache and custard.
If you want an ultra-smooth custard, strain the mixture through a fine-mesh sieve before chilling. This step removes any lumps or bits of cooked egg that form if the custard is heated too quickly or the eggs are not properly tempered.
After cooking the custard mixture, be sure to cool it to room temperature before folding in the whipped cream and miniature chocolate chips. This prevents the whipped cream and chocolate from melting into the custard.
To achieve the best texture and allow the custard to set, it's crucial to refrigerate the pie before serving, at least 2 hours, or preferably overnight.
For a different variety, try stirring in chopped Andes mints, chopped mint Oreo cookies, or even crushed candy canes instead of the miniature chocolate chips, or top with whipped cream or drizzles of chocolate.
More Mint Chocolate Recipes:
2018 Pie of the Month Series
No Bake Mint Chocolate Chip Pie
Total Time:
4 hours
20 minutes
No Bake Mint Chocolate Chip Pie is full of homemade minty custard poured on top of a thick layer of chocolate ganache and an Oreo cookie crust.
Ingredients
3/4 cup (149 grams) + 2 tablespoons granulated sugar, divided
1/2 cup (60 grams) all purpose flour
1/4 teaspoon salt
2 cups (454 grams) whole milk
3 large egg yolks
2 tablespoons (28.5 grams) butter
1 teaspoon vanilla extract
1 1/2 teaspoons mint extract
a few drops of green food coloring
2 cups (454 grams) heavy cream, divided
2 cups (354 grams) miniature chocolate chips or chopped chocolate, divided, plus additional for topping
Instructions
Prepare Oreo cookie crust according to the recipe in 9" pie plate. Set aside.
In a medium saucepan, combine 3/4 cup sugar, flour, and salt. Gradually pour in the milk, whisking continuously. Place the saucepan over medium heat and cook, stirring occasionally, until the mixture thickens and just begins to boil. Cook for an additional 2 minutes, stirring, before lowering the head to medium-low.
Place the egg yolks in a small bowl and whisk. Add ~1/4 cup of the custard mixture and whisk well to temper the eggs. Pour the egg mixture back into the saucepan and cook an additional 2 minutes, stirring consistently. Remove from the heat and add in the butter, vanilla extract, mint extract, and food coloring, if desired. Set the mixture aside to cool to room temperature.
While the custard cools, prepare the ganache layer. Heat together 1 cup of chocolate chips and 1/2 cup of the heavy cream in a small saucepan over medium heat until smooth and melted. Let the ganache cool for 10 minutes, then pour into the Oreo cookie crust. Chill the ganache and crust in the refrigerator for 1 hour.
Once the custard has cooled to room temperature and the crust is fully chilled, whip together the remaining 1 1/2 cups heavy cream and 2 tablespoons sugar using an electric mixer or immersion blender until soft peaks form. Gently fold the whipped cream and the remaining 1 cup of miniature chocolate chips into the custard layer. Pour the custard over the cooled ganache and top with additional miniature chocolate chips. Refrigerate at least 2 hours, but preferably overnight, before serving.
Notes
To make a gluten-free version of this pie, replaced the Oreos with gluten-free Oreos and use 1/4 cup of cornstarch instead of the flour to thicken the custard.
If the custard mixture is overcooked or the eggs are not properly tempered, little flecks of cooked eggs will form clumps in the custard. Strain the mixture through a fine-mesh sieve to remove these lumps before setting it aside to cool to room temperature.
This pie can be stored in the refrigerator for up to 4 days or frozen for up to 3 months. If freezing, wrap tightly with a layer of plastic wrap followed by aluminum foil. Thaw in the refrigerator or serve still partially frozen for an ice cream-like texture.
Recommended Products
As an Amazon Associate and member of other affiliate programs, I earn from qualifying purchases.