March 1, 2018
No Bake Mint Chocolate Chip Pie
This No Bake Mint Chocolate Chip Pie is full of a homemade minty custard, poured on top of a thick layer of chocolate ganache and an oreo cookie crust.  The hardest part about making this?  Waiting for everything to chill before cutting into a slice!
Friends, we are on a roll with the Pie of the Month series.
Second week of January? Oatmeal Molasses Pie recipe shared.  February 1st?  No Bake Nutella Pie recipe shared.  March 1st?  No Bake Mint Chocolate Chip Pie recipe shared.
I'm not sure I've ever been so on top of anything in my life.  A whole month to procrastinate, and I'm sharing pie recipes at the very beginning of the month? Who am I?
(Answer: someone who is less confident in my pie cutting skills than my bundt cake cutting skills, and fears I may have to remake a pie several times to get an acceptable photo.)
Also, while we're talking about pie in general… am I the only one getting impatient for summer fruit pies?  No bake pies are nice and easy and come in dozens of different flavors, but I'm ready for classic fruit pies.
Blueberry. Peach. Rhubarb. Cherry. Come on, summer produce!
Enough summer pie day dreaming… let's talk about this No Bake Mint Chocolate Chip Pie.  This was actually the perfect double-dipping pie.
The mint and green is the perfect family-friendly (i.e., booze free) dessert for St. Patrick's Day, making it a great Pie of the Month for March.  But I actually made this back in February, for our Super Bowl party.  (You know, living in Philly, married to an Eagles fan and all.  Green desserts FTW!)
Plus, I love mint chocolate chip — this mintiest mint chocolate chip ice cream is my favorite dessert here on Bunsen Burner Bakery.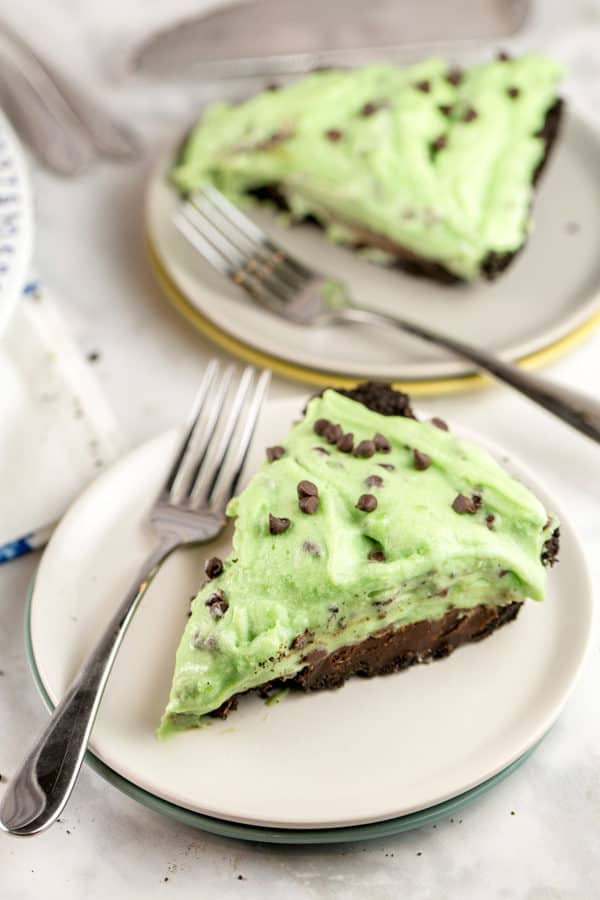 What I do not love, however?  Many no bake pies, including most recipes I came across for mint chocolate chip pies, use cream cheese as the base.
Nope.  Nada.  No thank you.  I am not a cream cheese dessert person. Cream cheese belongs on my bagels, not in my pies.
So instead of a cream cheese pie, we're going with a rich, thick, entirely homemade custard.
Think: traditional diner style pie.  Like a banana cream pie or coconut cream pie… except mint chocolate chip cream.  A smooth homemade minty custard, not entirely unlike the custard base for my favorite ice cream.  We'll fold in some whipped cream to lighten things up a little.
Oh, and we'll pour it all over a thick, fudgy layer of chocolate ganache, contained in a homemade oreo crust.  Because, obviously.
Mint Chocolate Chip Pie.  Perfect for St. Patrick's Day, Eagles games (or you know, Jets or Celtics or Packers…), or anytime you need a little extra mint chocolate chip in your life.
Which is at least once a month, if you ask me.
No Bake Mint Chocolate Chip Pie
No Bake Mint Chocolate Chip Pie is full of a homemade minty custard, poured on top of a thick layer of chocolate ganache and an oreo cookie crust.
Ingredients:
3/4 cup + 2 tablespoons sugar, divided
1/2 cup all purpose flour
1/4 teaspoon salt
2 cups milk
3 egg yolks
2 tablespoons butter
1/2 teaspoon vanilla extract
1 1/2 teaspoons peppermint extract
5-6 drops green food coloring
2 cups heavy cream, divided
2 cups miniature chocolate chips, divided, plus additional for topping
Directions:
Prepare Oreo cookie crust according to recipe.  Set aside.
In a medium saucepan, combine 3/4 cup sugar, flour, and salt. Gradually pour in the milk, whisking continuously.  Place the saucepan over medium heat and cook, stirring occasionally, until the mixture thickens and just begins to boil.  Cook an additional 2 minutes, stirring.
Place the egg yolks in a small bowl.  Add ~1/4 cup of the custard mixture and mix to temper the eggs.  Pour the egg mixture back into the saucepan and cook an additional 2 minutes, stirring consistently.  Remove from heat and add in the butter, vanilla extract, and peppermint extract.  Set the mixture aside to cool to room temperature.
While custard cools, prepare the ganache layer.  Heat together 1 cup of chocolate chips and 1/2 cup of the heavy cream in a small saucepan over medium heat until smooth and melted.  Let the ganache cool for 10 minutes, then pour into the oreo cookie crust.  Chill the ganache and crust in the refrigerator for 1 hour.
Once custard has cooled to room temperature, whip together the remaining 1 1/2 cups heavy cream and 2 tablespoons sugar using an electric mixer or immersion blender until soft peaks form.  Gently fold the whipped cream and remaining 1 cup of miniature chocolate chips into the custard layer.  Pour the custard over the cooled ganache and top with additional miniature chocolate chips.  Refrigerate at least 1 to 2 additional hours before cutting.
Pie can be stored in the refrigerator for up to 4 days.
A Bunsen Burner Bakery Original Protocol