February 10, 2017
Soft and Chewy M&M Pudding Cookies
With a rich vanilla flavor and the crunch of M&Ms, these soft and chewy M&M pudding cookies are hard to beat! Use regular M&Ms year round or special colors for your favorite holiday!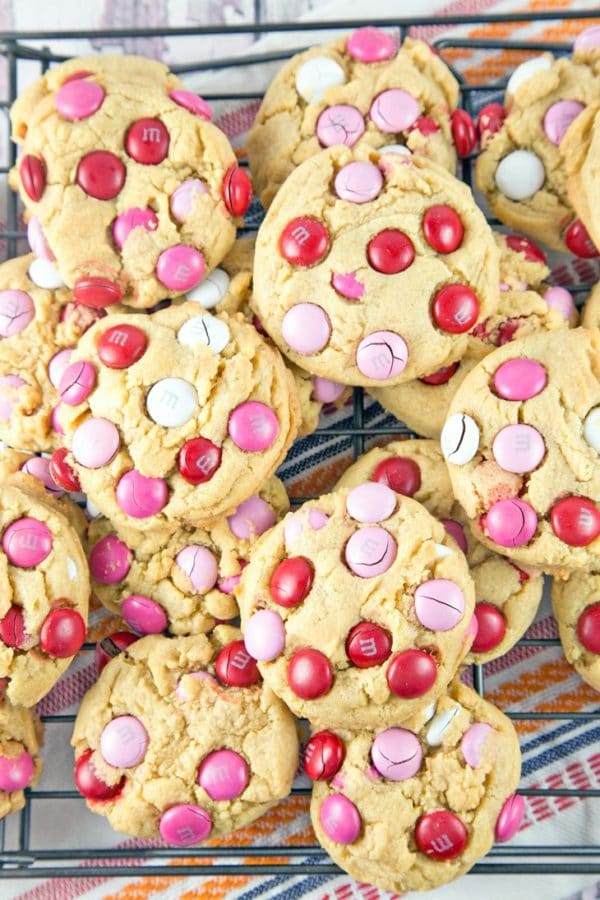 Valentine's Day seems to be split into two divides: children passing out tiny valentines to classmates, and adults celebrating romantically. Personally, I think the best way to celebrate is to bridge the two methods: celebrate with your adult friends!
My husband and I never do anything to celebrate. We might give each other cards – usually signed from our dog to the other person – but that's about it. No flowers, no chocolates, no fancy dinners.
Instead, I like to celebrate with friends. In years past (re: before children), I would hand make Valentine's cards to send to my girlfriends. I'd mail them out with boxes of Valentine's Day-themed cookies — like these M&M pudding cookies.
Make no mistake, these cookies are perfect for year round. Swap out the pink and red M&Ms for rainbow colors, and they're perfect for every given Tuesday in the year. Change it to red, white, and blue: 4th of July. Black and orange: Halloween. Blue and white: Hanukkah. Red and green: Christmas.
But my personal favorite? Valentine's cookies. I don't know what it is about the pops of pink, but I love Valentine's themed M&M cookies! And most importantly, since I like to send these to friends – they stand up great to shipping!
These M&M pudding cookies are, as the title implies, soft and chewy. This is thanks to the not-so-secret ingredient: pudding mix! Yes, it might be a little weird to put a box of pudding mix in cooke dough, but not only does it keep the cookies nice and soft, it adds the perfect vanilla flavor.
My husband, who provides more constructive criticism than anyone else for my baking, has made it very clear that he loves the base of these cookies. (He likes it so much, in fact, that this batch of cookies stayed at home with him, rather than going to my coworkers.)
We don't want these to be too soft, though – they have to be dense enough to stand up to the full-size M&Ms. I've tried replacing the chocolate chips in my favorite chocolate chip cookie recipe with M&Ms, but the cookies weren't quite heavy enough to stand up to such a large, crunchy candy. These cookies contain the same basic ingredients, but the ratio of flour and egg to the sugar and butter is reduced, resulting in a slightly denser cookie with less volume.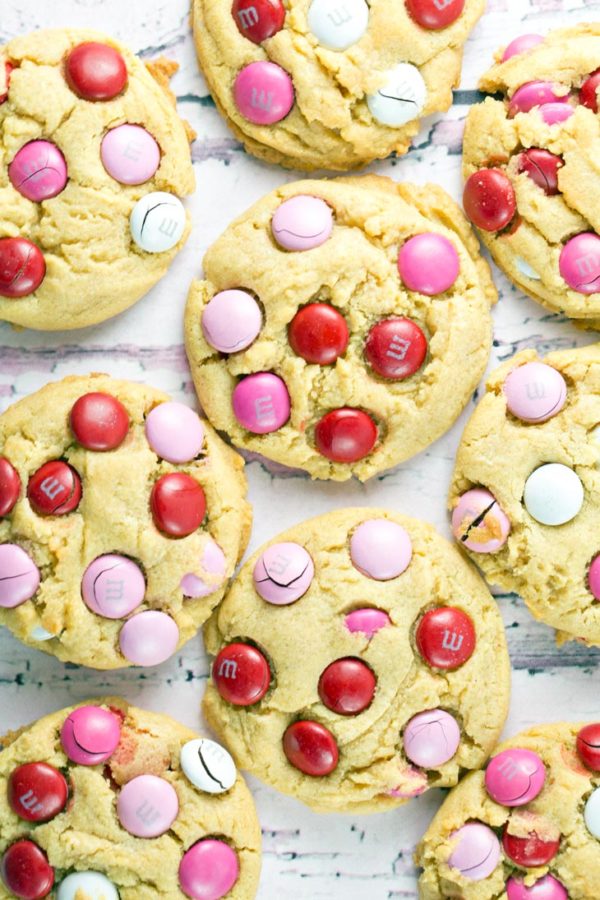 What's the secret to getting the M&Ms front and center? Push them directly into the balls of dough, rather than mixing them all in. It's worth taking the extra few seconds to do this because it looks so much nicer!
Another huge benefit to this recipe? No chilling the dough. Less time from when you start mixing the dough to when you start eating them – which is probably the single most important factor in a recipe, if you ask me!
Yield:
1.5 - 2 dozen cookies
Soft and Chewy M&M Pudding Cookies
With a rich vanilla flavor and the  crunch of M&Ms, these soft and chewy cookies M&M pudding cookies are hard to beat!  Use regular M&Ms year round or special colors for your favorite holiday.
Ingredients:
3/4 cup butter, room temperature
1 cup brown sugar, packed
1 egg
1 tablespoon vanilla
1 (3.4 ounce) package instant vanilla pudding mix
3/4 teaspoon baking soda
1 teaspoon kosher salt
2 cups flour
2 cups M&Ms, divided
Directions:
Preheat oven to 350 °F.  Line an insulated cookie sheet with parchment paper or a baking mat.
Combine butter and brown sugar in the bowl of a stand mixer, mixing until well combined.  Add in the egg and vanilla and continue mixing until smooth.  Add in the pudding mix, baking soda, and salt.
Add in the flour, a half cup at a time, beating until just combined.  Stir in 1 cup of the M&Ms.
Use a 1.5 tablespoon cookie scoop to scoop the dough onto the baking sheet, leaving the rounded scoops of dough 2 inches apart.  Press a few M&Ms into the surface of each cookie.
Bake for 9-10 minutes, until edges are golden but center of cookie is still soft.
Allow to cool on the baking sheet for 5 minutes before transferring to a wire rack to cool completely.
Store in an airtight container for up to 5 days or freeze wrapped in plastic wrap and stored in an airtight container for up to 3 months.
A Bunsen Burner Bakery Original Protocol