February 10, 2017
Soft and Chewy M&M Pudding Cookies
With a rich vanilla flavor and the crunch of M&Ms, these Soft and Chewy M&M Pudding Cookies are hard to beat!  Use regular M&Ms year-round or special colors for your favorite holiday!
Make no mistake, these M&M pudding cookies are perfect year-round.  Swap out the pink and red M&Ms for rainbow colors, and they're perfect for every given Tuesday in the year.  Change it to red, white, and blue: 4th of July.  Black and orange: Halloween.  Blue and white: Hanukkah.  Red and green: Christmas. Use school colors, the colors of your favorite NFL team – the possibilities are truly endless.
But my personal favorite?  Valentine's cookies.  I don't know what it is about the pops of pink, but I love Valentine-themed M&M cookies!  And most importantly, since I like to send these to friends – they stand up great to shipping!
And my friends are always thrilled to receive this. No joke, one of my friends texted me after receiving the package to say "Thanks a lot. You've destroyed my marriage. I'm divorcing my husband and marrying your cookies instead."
My husband, who provides more constructive criticism than anyone else for my baking, has made it very clear that he loves the base of these cookies. (He likes it so much, in fact, that this batch of cookies stayed at home with him, rather than going to my coworkers.)
High praise indeed for a cookie!
So what's the secret? It's so, so easy: a box of instant pudding mix!
Ingredients and Substitutions
Butter: I always bake with unsalted butter. If you're using salted, reduce the amount of butter in the recipe accordingly.
Brown Sugar: Using brown sugar instead of granulated helps keep these cookies super soft and adds even more flavor!
Egg
Vanilla Extract
Instant Vanilla Pudding Mix: While I usually usee vanilla pudding mix, choosing other flavors lets you customize the cookies! Choose a flavor that pairs well with the M&Ms – like chocolate or cookies and cream. (I don't recommend lemon pudding mix!)
Baking Soda: Not a mistake – these cookies using baking soda, not baking powder!
Salt: This works with Morton's kosher salt, sea salt, or table salt – but if you're using Diamond Kosher salt, reduce the salt as necessary.
Flour: To keep the cookies gluten-free, use a 1:1 all-purpose gluten-free baking mix containing xanthan gum, designed for direct substitution.
M&Ms: Full-size M&Ms are my standard go-to, but mini M&Ms (or a mixture of full-size and mini!) are also fun.
Adding Pudding = Extra Soft Cookies
These M&M pudding cookies are, as the title implies, soft and chewy. This is thanks to the not-so-secret ingredient: pudding mix! Yes, it might be a little weird to put a box of pudding mix in the cookie dough, but not only does it keep the cookies nice and soft, it adds the perfect vanilla flavor.
So how does adding a box of instant pudding make cookies extra soft?  The secret is in the thickening agents!  Instant pudding contains modified cornstarch, disodium phosphate, and tetrasodium phosphate. 
Kitchen Chemistry

Adding a box of pudding mix to cookie dough both lowers the gluten content of the cookies (my adding additional dry ingredients to the flour) which helps prevent spreading, and adds a thickening agent to help absorb and hang onto the liquid in the dough.
This means the cookies stay thick and spread less — the center stays tall and soft, rather than spreading and getting crispy along the edges.
We don't want these to be too soft, though – they have to be dense enough to stand up to the full-size M&Ms. I've tried replacing the chocolate chips in my favorite chocolate chip cookie recipe with M&Ms, but the cookies weren't quite heavy enough to stand up to such a large, crunchy candy.
These cookies contain the same basic ingredients, but the ratio of flour and egg to sugar and butter is reduced, resulting in a slightly denser cookie with less volume.
Perfect Cookies to Freeze
Making cookies ahead of time and freezing them is the perfect way to ensure you can always pull out a cookie on a whim!
To freeze these cookies, bake and fully cool the cookies. Add to a freezer-safe storage bag and store in the freeze for up to 3 months. To enjoy, thaw at room temperature.
You can also freeze the cookie dough if you want a freshly baked cookie, without having to mix up the dough!   I like to add all the ingredients, scoop the dough into balls, and freeze the balls of dough on a cookie sheet. Once frozen solid, remove from the sheet and store in a freezer bag for up to 3 months.
When you're ready to bake your cookies, place the frozen dough on your prepared cookie sheet.  Bake straight from frozen, adding 2 to 3 minutes to the baking time.  Freshly baked cookies, whenever you want them!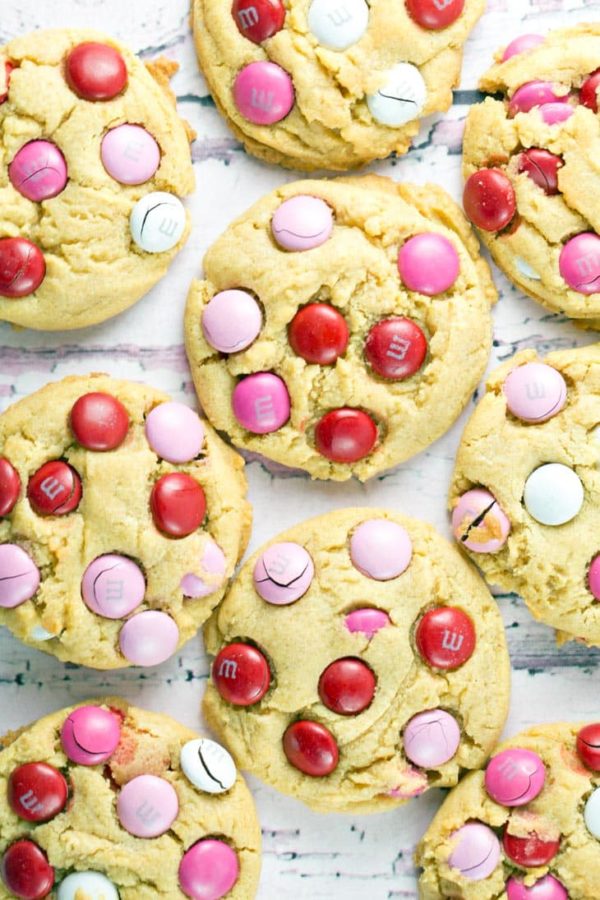 Tips and Tricks for the Best M&M Pudding Cookies
Start with room temperature butter and be sure to cream it together well with the brown sugar.  This ensures there are lots of little air pockets in the butter which helps prevent the cookies from spreading.
Use instant pudding, not cook-and-serve.  The thickeners are different between the two, and using the cook-and-serve results in a gummier texture, which is not what we want in cookies!
Don't over-mix once you add flour! Over-mixing makes the dough stringy and dries out the cookies.  Then our thick and chewy pudding cookies become dry and stiff pudding cookies — no thanks!
Ever wonder why bakery cookies are perfectly dotted with chocolate chips or M&Ms and your cookies at home aren't?  Just adding them to the dough isn't enough!  Press additional M&Ms on top of the dough before baking (or push them into the cookies immediately after taking them out of the oven).  
Another huge benefit to this recipe? No chilling the dough. Less time from when you start mixing the dough to when you start eating them – which is probably the single most important factor in a recipe, if you ask me!
More Cookie Recipes: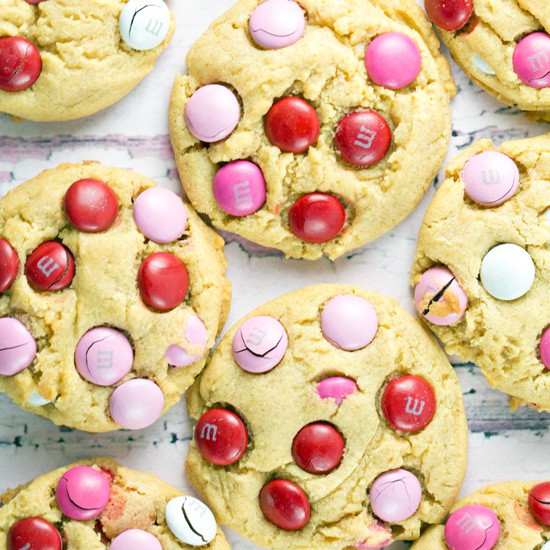 Soft and Chewy M&M Pudding Cookies
With a rich vanilla flavor and the crunch of M&Ms, these soft and chewy M&M pudding cookies are hard to beat!
Ingredients
3/4 cup (170 grams) unsalted butter, cool room temperature
1 cup (213 grams) brown sugar, packed
1 large egg, room temperature
1 tablespoon vanilla extract
1 (3.4 ounce) package instant vanilla pudding mix
3/4 teaspoon baking soda
1 teaspoon kosher salt
2 cups (240 grams) all-purpose flour
2 cups M&Ms, divided
Instructions
Preheat the oven to 350 °F. Line a cookie sheet with parchment paper or a baking mat.
Using an electric mixer, beat together the butter and brown sugar until well combined and fluffy. Add in the egg and vanilla and continue mixing until smooth. Add in the pudding mix, baking soda, and salt.
Mix in the flour, a half cup at a time, beating until just combined. Stir in 1 cup of the M&Ms.
Use a 2-tablespoon cookie scoop to scoop the dough onto the baking sheet, leaving the rounded scoops of dough 2 inches apart. Press a few M&Ms into the surface of each cookie.
Bake for 9-11 minutes, until the edges are golden but the center of the cookie is still soft.
If desired, push additional M&Ms into the tops of the cookies immediately upon removing them from the oven. Allow to cool on the baking sheet for 5 minutes before transferring to a wire rack to cool completely.
Notes
Make sure to use instant pudding, not cook-and-serve pudding for the cookies. The thickeners are different between the two varieties.
The shells of the M&Ms sometimes crack in the oven - if you want to avoid this, bake the cookies first and then press additional M&Ms onto the surface of the cookies immediately after removing them from the oven.
These cookies can be stored in an airtight container for up to a week, or frozen in a freezer-safe zip-top storage bag for up to 3 months. The dough can also be frozen, scooped and rolled into balls, and baked directly from frozen (add an additional 2 or 3 minutes to the baking time).
Recommended Products
As an Amazon Associate and member of other affiliate programs, I earn from qualifying purchases.