December 5, 2016
No Bake Tim Tam Cheesecake
Tim Tam No Bake Cheesecake is the perfect quick and easy holiday entertaining dessert. Crunchy, chocolatey Tim Tams paired with a light, smooth no bake cheesecake filling, and a pure chocolate crust. Tim Tam-tastic.
It's hard to believe that December is already here. Thanksgiving has come and gone, and here we are right dab in the middle of the ultimate entertaining season. Our schedules are filled with work parties, family celebrations, and our own annual "Chrismukkah" party coming up this weekend.
I'm not sure why, but holiday entertaining and cheesecake always go hand-in-hand in my mind. Except… let's be honest. Cheesecakes are kind of high maintenance, right?
You have to have a perfectly sealing springform pan. There's the whole water bath component. And then there's the devastation of opening the oven door to find a big crack in your cheesecake. Take out all the stress and frustration with this incredibly easy, talk-of-the-party Tim Tam No Bake Cheesecake.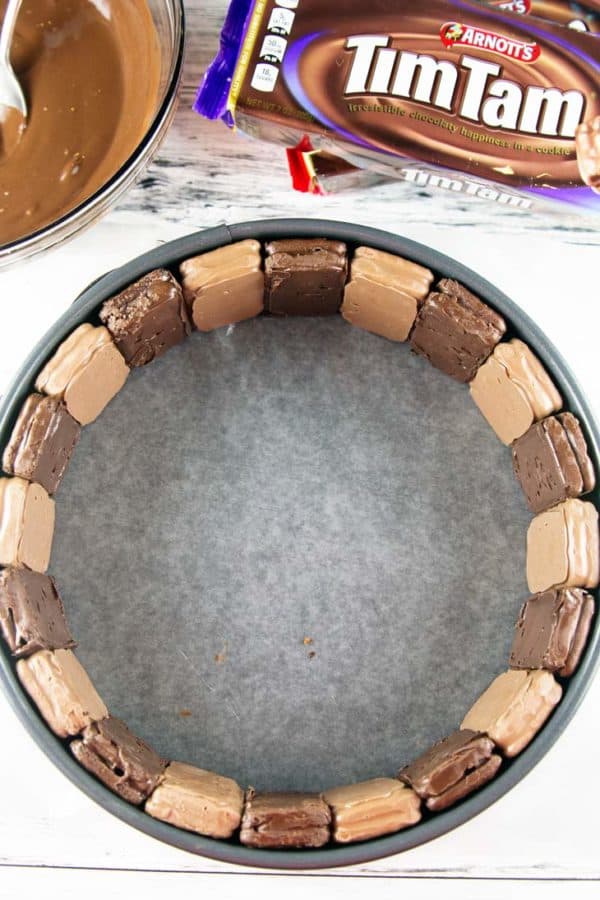 What are Tim Tams?
Can we talk about Tim Tams for a second? I firmly believe that there are two categories of people: those who love Tim Tams, and those who haven't heard of them.
I work in a fairly large lab, and the day a box of Tim Tams showed up for this post, my coworkers went borderline nuts. Tim Tam fanatics!
If you fall into the "never heard of a Tim Tam" category, let me fill you in. Tim Tams are "Australia's most beloved biscuits" – the perfect combination of chocolatey, crunchy biscuit and smooth, creamy layers. Like I said, if you've had a Tim Tam, you're bound to love it.
Where to Find Tim Tams
Tim Tams have (finally!!!) made their way across the ocean to the United States, so we can enjoy them, too!
You can find them at Target, Walmart, World Market, or order from Amazon.
(My advice? Stock up and get several boxes at once – some for baking, and some for eating plain!)
And if you can't find any Tim Tams and are up for a fun baking challenge – you can even make your own!
Pure Chocolate Cheesecake Crust
Well friends, I have a recipe for you that incorporates Tim Tams, but is so easy, it is the perfect stress-free holiday entertaining dessert. Enter the Tim Tam No Bake Cheesecake.
When I say no bake, I mean no bake – not no bake except for the crust. Truly, no bake. No leaking springform pan, no water bath, no cracks. No stress – just delicious light, fluffy cheesecake.
In lieu of a crust, you're going to line your pan with a layer of melted chocolate. That's right… pure melted chocolate.
What about the sides? How will we contain our delicious no bake cheesecake filling? Tim Tam, friends, Tim Tams. Line them up, side by side, the whole way around the pan. I chose to alternate flavors to get a light-dark contrast pattern.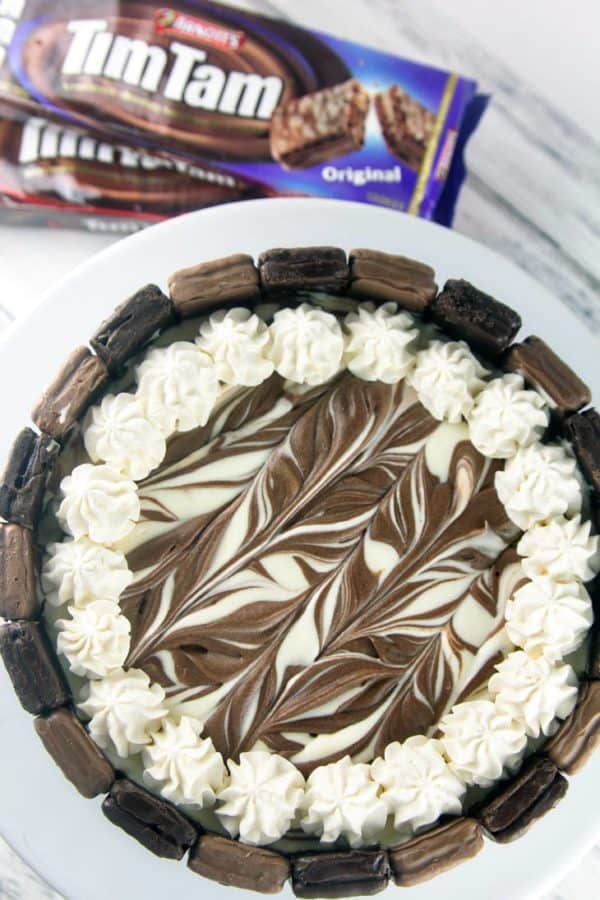 Easy No Bake Cheesecake Recipe
For the cheesecake filling, mix together sugar, cream cheese, sour cream, and heavy cream. Start with room temperature ingredients to ensure they mix evenly!
I oped to add a chocolate swirl on top because it's pretty (and hi, more chocolate), but you could totally skip this step and stick with an all-vanilla no bake cheesecake.
Put your cheesecake in the refrigerator to firm up (this is important!!) and you're all set for your holiday soiree with an irresistible light, creamy, delicious Tim Tam cheesecake.
Despite the smooth and creamy no bake cheesecake filling, this slices easily into individual slices, and the best part? You can use the Tim Tams to scoop up the cheesecake like an edible spoon!
Tips and Tricks for the Best No Bake Tim Tam Cheesecake
Start with room temperature ingredients! If the cream cheese is not soft, it will not fully incorporate with the other ingredients.
Spread the melted chocolate all the way to the edges of the springform pan. Because this serves as the bottom of the cheesecake, you want to make sure it full covers the base.
Refrigerate for at least 4 hours, preferably overnight, before cutting the cheesecake. Letting the cheesecake sit longer will keep the texture of the no bake cheesecake firmer.
Cheesecake can be made ahead – once assembled, the Tim Tam cheesecake can be stored in the refrigerator for up to a week.
Looking for another Tim Tam dessert? Check out my Tim Tam Brownies! Also super easy, but these do require turning on the oven.
More Cheesecake Recipes: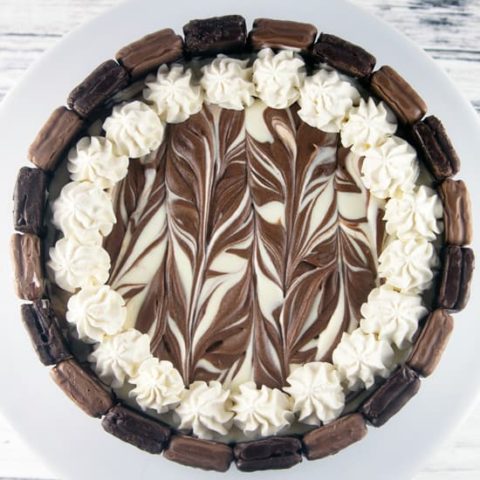 No Bake Tim Tam Cheesecake
Total Time:
4 hours
30 minutes
Crunchy Tim Tams paired with a light, smooth no bake cheesecake filling, and a pure chocolate crust.
Ingredients
20 Tim Tams (2 packages)
1 1/4 cups semi-sweet chocolate chips
3 8-ounce packages cream cheese, room temperature
1 tablespoon vanilla extract
1 1/2 cups confectioners sugar
1/2 cup sour cream
1/4 cup heavy cream
Instructions
Line a 9″ springform pan with wax paper, allowing wax paper to hang over the edges of the pan. Line the Tim Tams vertically along the inside edge of the springform pan, packing together tightly to create an outside "wall".
Melt the chocolate in a microwaveable bowl for 60 seconds at 50% power. Stir, then repeat until chocolate is fully melted. Reserve 1/3 cup of the melted chocolate, then spread the rest in the bottom of the springform pan, smoothing with a spatula. Transfer the springform pan to the refrigerator for 20 minutes, or until the melted chocolate solidifies.
While the chocolate is cooling, combine the cream cheese, vanilla extract, and powdered sugar in a large bowl. Beat together by hand or with a mixer until smooth and well combined. Add in the sour cream and heavy cream and continue to mix until the filling is thick and creamy.
Reserve 2/3 cup of cheesecake filling and pour the rest into the springform pan, spreading on top of the chocolate layer. Combine the remaining filling with the rest of the melted chocolate. Drop the chocolate cheesecake filling onto the vanilla layer by the tablespoon. Run a knife through the top of the cheesecake to swirl.
Transfer the springform pan to the refrigerator and chill for several hours or overnight, until the cheesecake is fully set.
Unmold the springform pan and top with freshly whipped cream (if desired).
Notes
Use all room temperature ingredients to make the cheescake.
Refrigerate for at least 4 hours, preferable overnight.
The cheesecake an be made up to a week ahead of time.

Store leftover cheesecake in the refrigerator for up to a week.
A Bunsen Burner Bakery Original Protocol
Recommended Products
As an Amazon Associate and member of other affiliate programs, I earn from qualifying purchases.