December 5, 2016
Tim Tam No Bake Cheesecake
Tim Tam No Bake Cheesecake is the perfect quick and easy holiday entertaining dessert. Crunchy, chocolatey Tim Tams paired with a light, smooth no bake cheesecake filling, and a pure chocolate crust. Tim Tam-tastic.
While this is a sponsored post, all opinions are mine. Thank you for supporting the brands that support me and allow me to continue to grow my blog. This shop has been compensated by Collective Bias, Inc. and its advertiser. All opinions are mine alone. #SpreadCheer #CollectiveBias
It's hard to believe that December is already here. Thanksgiving has come and gone, and here we are right dab in the middle of the ultimate entertaining season. Our schedules are filled with work parties, family celebrations, and our own annual "Chrismukkah" party coming up this weekend.
I'm not sure why, but holiday entertaining and cheesecake always go hand-in-hand in my mind. Except… let's be honest. Cheesecakes are kind of high maintenance, right?
You have to have a perfectly sealing springform pan. There's the whole water bath component. And then there's the devastation of opening the oven door to find a big crack in your cheesecake. Take out all the stress and frustration with this incredibly easy, talk-of-the-party Tim Tam No Bake Cheesecake.
Can we talk about Tim Tams for a second? I firmly believe that there are two categories of people: those who love Tim Tams, and those who haven't heard of them.
I work in a fairly large lab, and the day a box of Tim Tams showed up for this post, my coworkers went borderline nuts. Tim Tam fanatics!
If you fall into the "never heard of a Tim Tam" category, let me fill you in. Tim Tams are "Australia's most beloved biscuits" – the perfect combination of chocolatey, crunchy biscuit and smooth, creamy layers. Like I said, if you've had a Tim Tam, you're bound to love it.
While Australia kept Tim Tams all to themselves for far too long, you can now find them stateside thanks to Target! Target currently carries four flavors (Original Chocolate Crème, Caramel, Dark Chocolate, and Dark Mint), and allow me to assure you that they are all delicious. Swing by Target, pick up a few decorations and several (many – they'll go fast!) packs of Tim Tams, and you're all set for some holiday entertaining.
Well friends, I have a recipe for you that incorporates Tim Tams, but is so easy, it is the perfect stress-free holiday entertaining dessert. Enter the Tim Tam No Bake Cheesecake.
When I say no bake, I mean no bake – not no bake except for the crust. Truly, no bake. No leaking springform pan, no water bath, no cracks. No stress – just delicious light, fluffy cheesecake.
This means your oven is free for all your other holiday entertaining dishes, be it finger food appetizers for a big party or the main course for a holiday dinner party.
In lieu of a crust, you're going to line your pan with a layer of melted chocolate. That's right… pure melted chocolate.
(Sidenote: I wasn't sure if a melted chocolate crust would work, so I looked for similar recipes. I found none. WHY ISN'T USING CHOCOLATE INSTEAD OF A CRUST A THING? Let's make it a thing, okay? Pure chocolate crusts from here on out, guys!)
What about the sides? How will we contain our delicious no bake cheesecake filling? Tim Tam, friends, Tim Tams. Line them up, side by side, the whole way around the pan. I chose to alternate flavors to get a light-dark contrast pattern.
After that, it's just a simple matter of putting some sugar, cream cheese, sour cream, and heavy cream in a bowl and mixing it all together. I opted to put a chocolate swirl on top because it's pretty, but you could totally skip this step and stick with an all-vanilla no bake cheesecake.
Pop it in the refrigerator to firm up, and you're on your way to your holiday soiree with an irresistible light, creamy, delicious, dessert. Despite the smooth and creamy no bake cheesecake filling, this slices easily into actual slices and the best part: you can use the Tim Tams to scoop up the cheesecake like an edible spoon.
Looking for another Tim Tam dessert? Check out my Tim Tam Brownies! Also super easy, but these do require turning on the oven.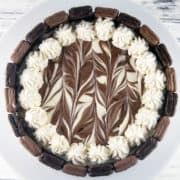 Tim Tam No Bake Cheesecake
The perfect quick and easy holiday entertaining dessert.  Crunchy Tim Tams paired with a light, smooth no bake cheesecake filling, and a pure chocolate crust.
Ingredients:
20 Tim Tams (2 packages)
2 cups semi-sweet chocolate chips
3 8-ounce packages cream cheese, room temperature
1 tablespoon vanilla extract
1.5 cups confectioners sugar
1/2 cup sour cream
1/4 cup heavy cream
Directions:
Line a 9″ springform pan with a wax paper, allowing wax paper to hang over the edges of the pan.  Line the Tim Tams vertically along the inside edge of the springform pan, packing together tightly to create an outside "wall".
Melt the chocolate in a microwaveable bowl for 60 seconds at 50% power.  Stir, then repeat until chocolate is fully melted.  Reserve 1/3 cup of the melted chocolate, then spread the rest in the bottom of the springform pan, smoothing with a spatula.  Transfer the springform pan to the refrigerator for 20 minutes, or until the melted chocolate solidifies.
While the chocolate is cooling, combine the cream cheese, vanilla extract, and powdered sugar in a large bowl. Beat together by hand or with a mixer until smooth and well combined.  Add in the sour cream and heavy cream and continue to mix until the filling is thick and creamy.
Reserve 2/3 cup of cheesecake filling and pour the rest into the springform pan, spreading on top of the chocolate layer.  Combine the remaining filling with the rest of the melted chocolate.  Drop the chocolate cheesecake filling onto the vanilla layer by the tablespoon.  Run a knife through the top of the cheesecake to swirl.
Transfer the springform pan to the refrigerator and chill for several hours or overnight, until the cheesecake is fully set.
Unmold the springform pan and top with freshly whipped cream (if desired).
A Bunsen Burner Bakery Original Protocol