December 1, 2017
Black and White Cookies Recipe
Soft and pillow-like with a thick layer of chocolate and vanilla frosting, these giant Black and White Cookies are just like your favorite NYC bakery, without having to leave your house. Halfway between a cookie and cake, it's the perfect mix of chocolate and vanilla!
Just as a quick reminder, this week I am sharing three cookie recipes for The Sweetest Season Cookie Exchange.
If you missed my post on Monday (Chewy Chocolate Mint Cookies), I'm participating in a cookie exchange with a group of other food bloggers.
We're helping to raise funds for Cookies for Kids' Cancer, a nonprofit organization dedicated to raising funds for research to develop new, improved, and less toxic treatments for pediatric cancer.
CLICK HERE to learn a little more about the organization, my own research background in pediatric cancer, and why you should consider donating to this great charity!
I am ridiculously, super duper excited to share this black and white cookie recipe with you today.
Black and white cookies are probably my all time favorite cookie, which is funny because they're not really a cookie. They're kind of more like a little cake. But not as cakey as a cake. Does that even make sense?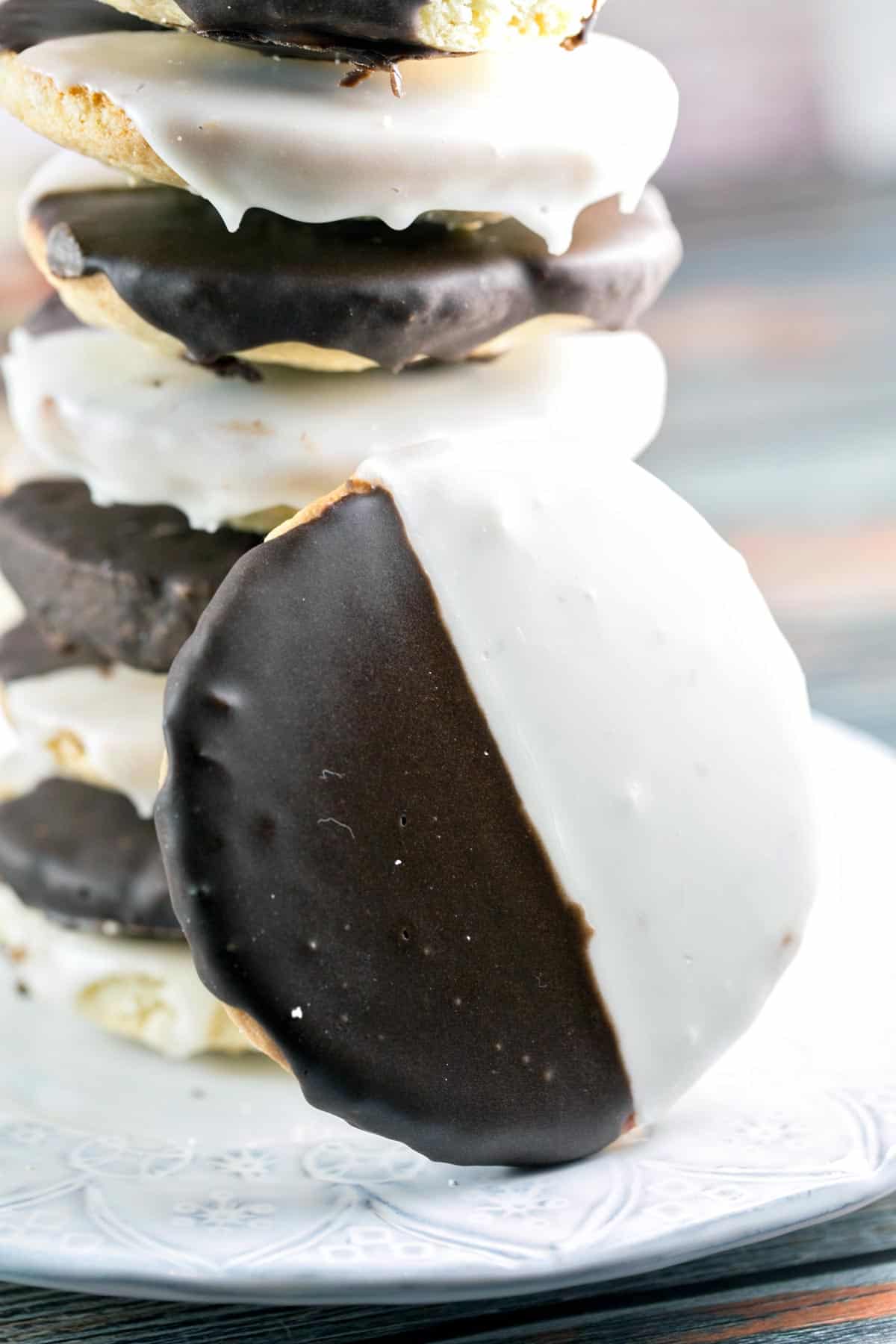 What are Black and White Cookies?
If you grew up in the northeast, you probably know exactly what I'm talking about. Every good NYC bakery and Jewish deli has giant, bigger than your hand, black and white cookies for sale.
But after polling my coworkers, it's clear that black and white cookies are not ubiquitously known. (One of my labmates assumed I was talking about oreos when I asked if he knew about black and white cookies.)
So what ARE black and white cookies? They have a thick, cake-like vanilla flavored texture. But the real gem is the frosting: half is covered with a vanilla glaze and half is covered with a chocolate glaze.
Why decide between vanilla or chocolate when you can have both, on a perfectly neutral cakey cookie?
How to Make Black and White Cookies
I've held off on making black and white cookies for years. I knew they would be pretty labor intensive (which they were). But when America's Test Kitchen came out with a new cookbook this fall, The Perfect Cookie (affiliate link), I knew I had to try their recipe.
ATK can do no wrong in my eyes! And since I (sadly) do not live down the street from a good NYC bakery, making them myself was the only way to get the real deal.
And the real deal, these are indeed. Soft and pillow-like, with a thick layer of vanilla and chocolate frosting. The recipe is a total winner, but I'm adding a few of my own favorite tips into the mix.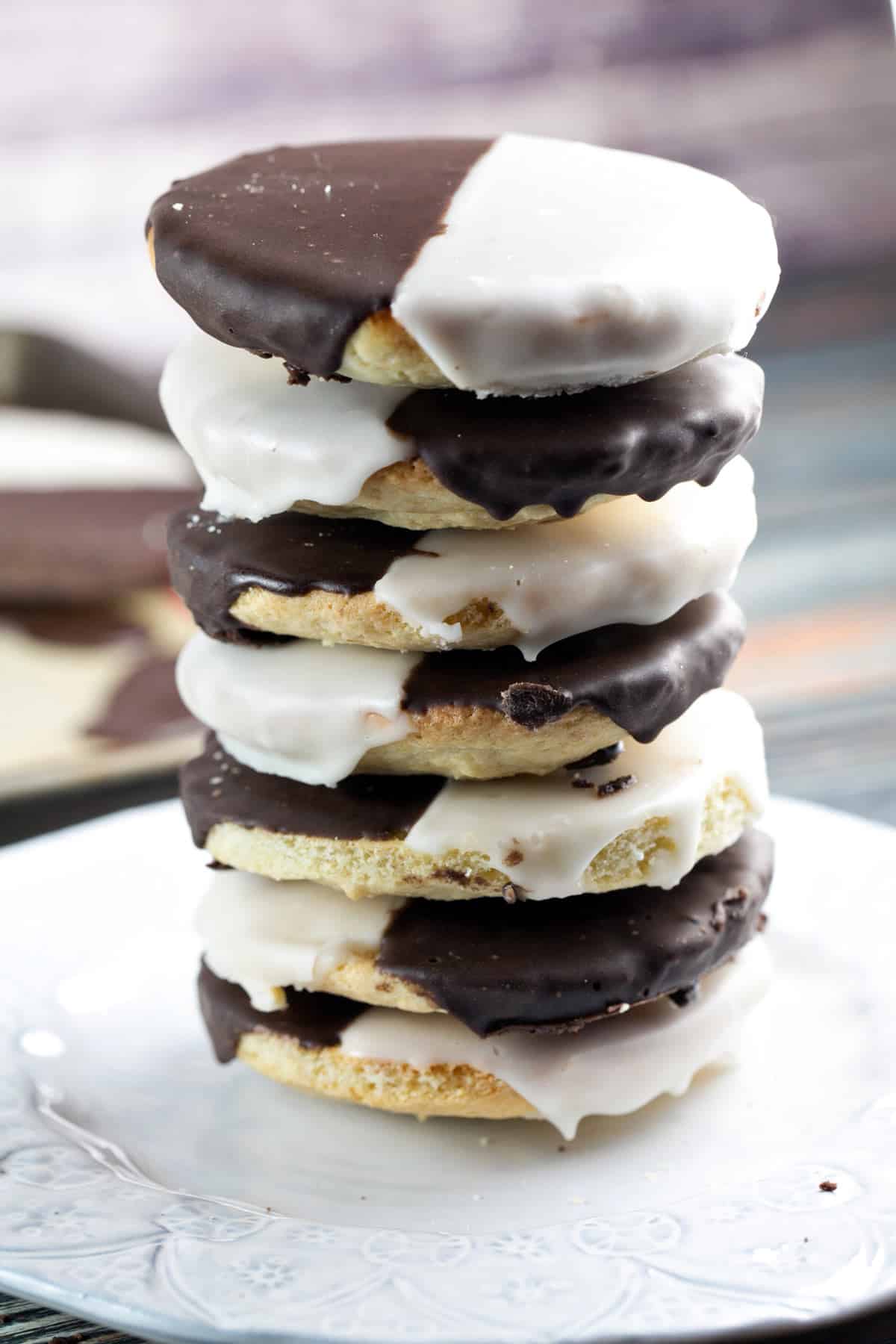 How to Keep Black and White Cookies Round
First off, the dough is really thick, and pretty sticky. It's hard to get a nice, round scoop of dough on the cookie sheet. Fear not: if your cookies turn out not-round shaped, grab a round cookie cutter.
The frosting drips down the side, so it covers the cut open area. About half of mine turned out nice and round, and half did not. My set of biscuit cutters took care of those slightly lumpy ones!
How to Keep An Even Frosting Line on Black and White Cookies
Secondly, how can you get an even frosting line on a black and white cookie? Use a little wax paper.
Place it halfway across the cookie, then frost right on top. Let the frosting solidify in the fridge for a bit, then slowly and gently peel up the wax paper. Nice, straight line!
How to Get A Flat Surface for Black and White Cookies
Thirdly, flip the cookie over and frost the bottom. These cookies have a lot of "lift" to them – they get dome shaped.
You can frost the tops (I did this for one cookie that stuck to the mat) easily, but to get a flat, smooth look, flip them over.
Like I said, these are more labor intensive than many other cookies. Frosting them gets pretty messy — you will be licking a lot of frosting off your fingers. (Not that that's a bad thing!) Your counters might get messy.
If you try to film a clip of icing the cookies for Instagram, you will drip chocolate frosting onto the
vanilla half of the cookie. (Tragic – you might have to eat that one while you finish making the rest.)
And you will be so, so glad you carved out a few hours to make your very own black and white cookies.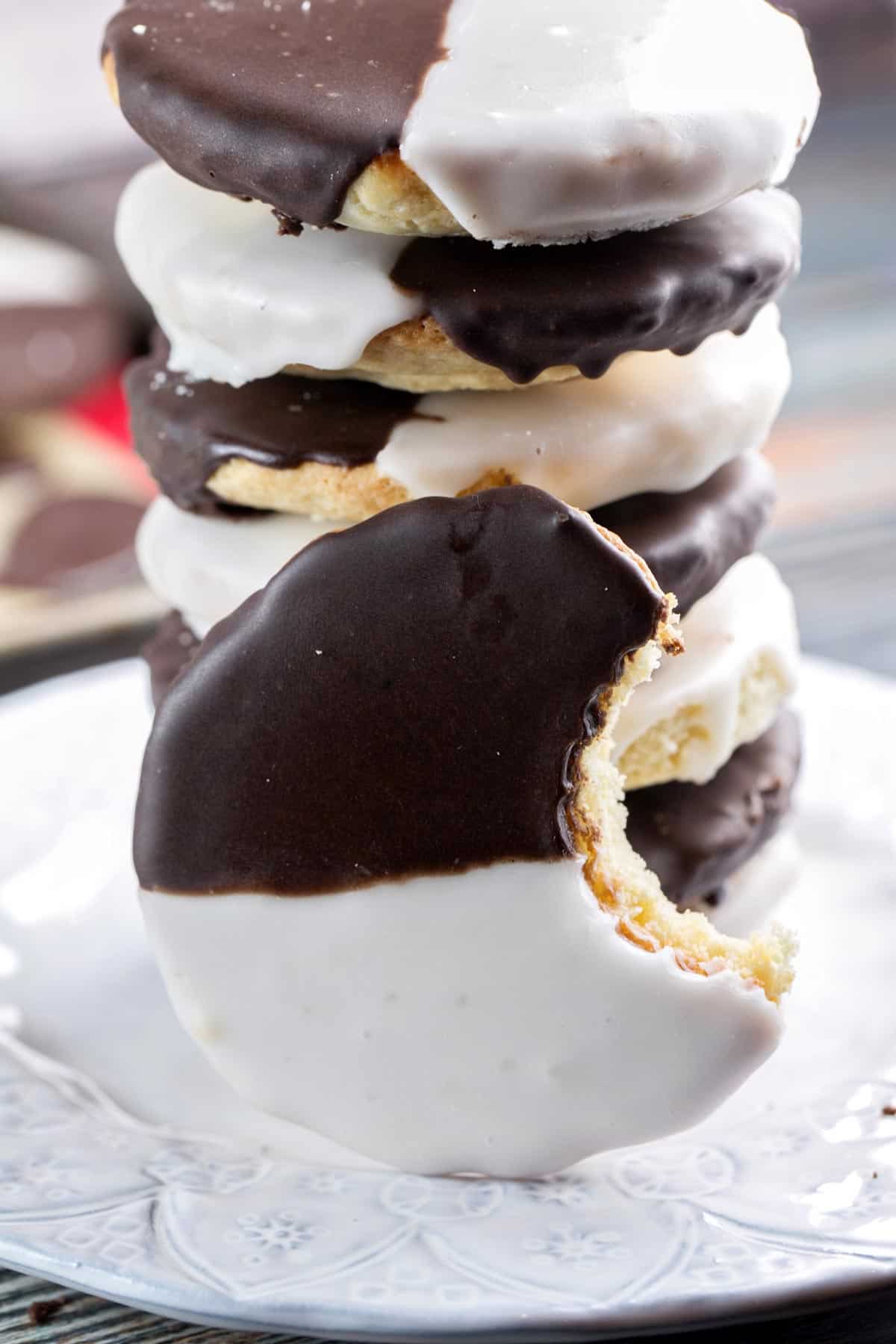 I'm pretty sure the only flaw to these cookies is that they're so big, you can't get both vanilla and chocolate in every bite. And Jerry Seinfeld knows that's the whole goal of the black and white cookie:
The thing about eating the Black and White cookie, Elaine, is you want to get some black and white in each bite. Nothing mixes better than vanilla and chocolate. And yet somehow racial harmony eludes us. If people would only look to the cookie, all our problems would be solved.
One last note on these cookies: they're big. Very big (like a traditional black and white cookie). If you don't want them so big, feel free to make them smaller, or cut each cookie in half.
Or do what I do and ignore the nutrition information and eat the whole cookie because trust me, it's worth it.
More Cookie Recipes: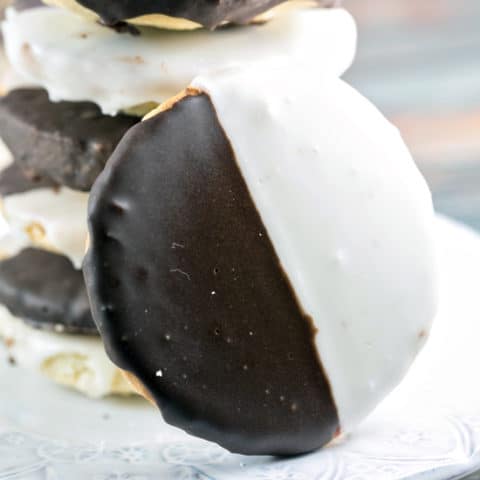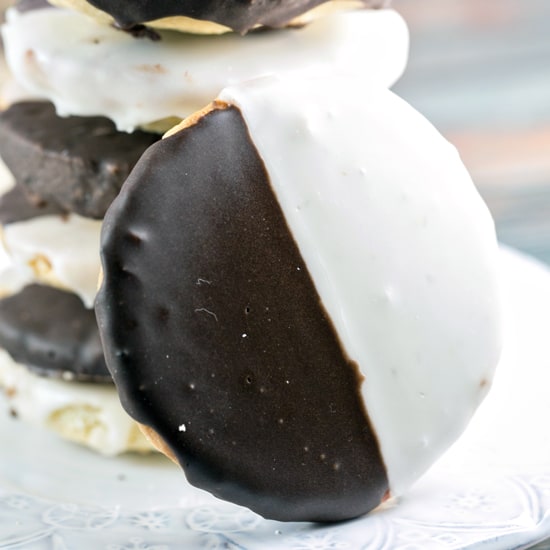 Black and White Cookies
Total Time:
1 hour
18 minutes
Soft and pillow-like with a thick layer of chocolate and vanilla frosting, these Black and White Cookies are just like your favorite NYC bakery.
Ingredients
FOR THE COOKIES:
1 3/4 cups all purpose flour
1/2 teaspoon baking powder
1/2 teaspoon baking soda
1/8 teaspoon salt
10 tablespoons butter, room temperature
1 cup granulated sugar
1 egg, room temperature
1 tablespoon vanilla extract
1/3 cup sour cream, room temperature
FOR THE FROSTING:
5 cups confectioners' sugar
7 tablespoons whole milk, divided
2 tablespoons light corn syrup
1 teaspoon vanilla extract
1/2 teaspoon salt
3 tablespoons cocoa powder
Instructions
Preheat oven to 350 °F. Line two baking sheets with parchment paper or silpat baking mats.
Whisk together the flour, baking powder, baking soda, and salt in a small bowl. Set aside.
Using an electric mixer, beat together the butter and sugar on medium-high speed, until light and fluffy, about 2 minutes. Add in the egg and vanilla, continuing to beat until combined, an additional minute. Reduce speed to low and add in half of the dry ingredients, followed by the sour cream, and ending with the rest of the dry ingredients. Continue to beat on low until no streaks of flour remain.
Grease a 1/4-cup measuring cup. Scoop batter and drop onto prepared baking sheet, keeping cookies 3-4 inches apart. Bake for 16 to 18 minutes, or until the edges of the cookies are lightly browned. Cool cookies on the baking sheets for 5 minutes, then transfer to wire racks to cool completely before frosting.
To make the frosting, whisk together the confectioners sugar, 6 tablespoons of the milk, corn syrup vanilla extract, and salt. Divide the frosting in half, moving half to another bowl. Whisk in the cocoa powder and remaining 1 tablespoon of milk to one bowl.
Place cut sheets of was paper covering half the cookies. Using an offset spatula or knife, spread vanilla frosting onto the bottom of half of the cookie, overlapping on top of the wax paper. Chill the frosting cookies in the refrigerator for 30 minutes, or until frosting is set. Slowly pull up the wax paper. Frost the remaining half of the cookie with the chocolate frosting, then allow the frosting to fully set, about 1 hour.
Notes
Store cookies in an airtight container at room temperature for up to 3 days, or in the refrigerator for up to a week. To stack cookies, place a piece of wax paper between each cookie to prevent frosting from sticking to the bottom of the cookie above it.
Recipe adapted from The Perfect Cookie.
Recommended Products
As an Amazon Associate and member of other affiliate programs, I earn from qualifying purchases.
Nutrition Information:
Yield:

12
Serving Size:

1 giant cookie
Amount Per Serving:
Calories:

418
Total Fat:

11.8g
Carbohydrates:

76.6g
Protein:

3.1g