March 10, 2016
Chocolate Buttermilk Pie
A sweet, custardy chocolate buttermilk pie with an incredibly rich chocolate flavor, paired with a crunchy Oreo crust. A pie worthy of a special event, but easy enough for a Tuesday night.
I was planning on sharing my St. Patrick's Day-themed post today when I realized that the best fake holiday in existence has snuck right up on me — Pi Day!
I debated sharing this on Monday, the 14th, in honor of the actual Pi Day itself, but then I realize that you might want to actually make the pi(e) for Pi Day as well, in which case you'd need the recipe ahead of time.
Back when I lived in DC, I had a sassy southern friend, Rachel, who hails from Alabama. I remember distinctly the first time Rachel told me about chess pie — a pie made with cornmeal. While I was trying to wrap my head around how this would possibly taste, she said "It's like a buttermilk pie, but with cornmeal."
Buttermilk pie? I had no idea what such a thing was.
For unexplainable reasons, while planning Thanksgiving desserts this year, this conversation with Rachel popped into my head and I decided to make a buttermilk pie. I knew my mother would make a classic pumpkin pie and for whatever reason, I felt like what I thought a buttermilk pie would taste like would pair nicely.
Alas, it tasted nothing like what I thought a chocolate buttermilk pie should taste like (but it sure was deeee-licious!). So for those of you who also have no idea what a buttermilk pie is or tastes like, let's get into some details (although I do love the "make something and hope it's good!" element of surprise).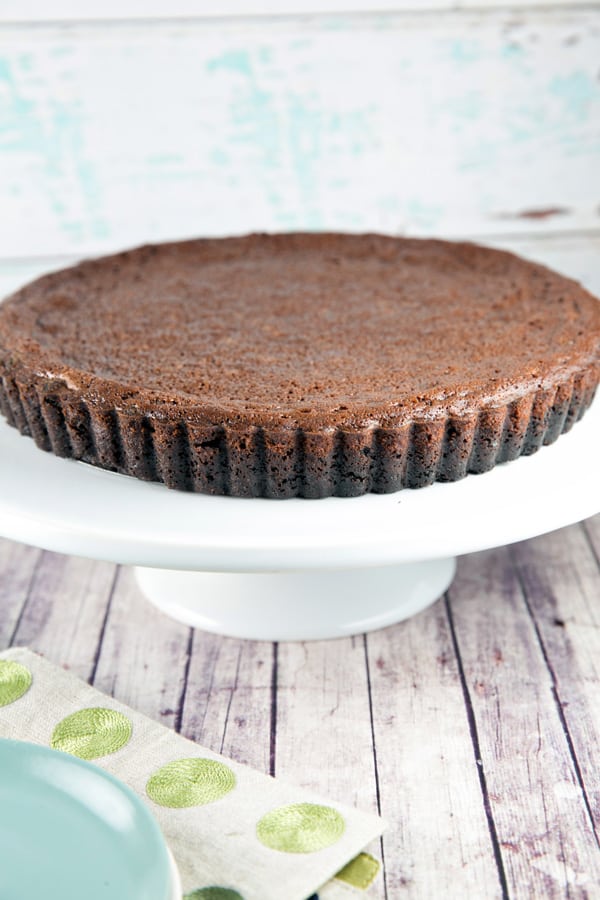 What is Buttermilk Pie?
Buttermilk pie originated in the United Kingdom, but is now considered a southern staple. A classic buttermilk pie consists of sugar, butter, eggs, buttermilk, and flour, and is baked in a traditional pie crust. The filling sets as the pie cooks and results in a custard-like texture, which can be eaten at room temperature or chilled.
Old-Fashioned Buttermilk Pie has a super smooth, custard-like filling that is really sweet. The filling only takes about 5 minutes to make and consists of eggs, buttermilk, sugar, melted butter, flour for thickening, and lemon juice, vanilla extract, and nutmeg for flavor. Thanks to the buttermilk, the pie takes on a custard consistency — thick enough to eat with a fork, but still soft.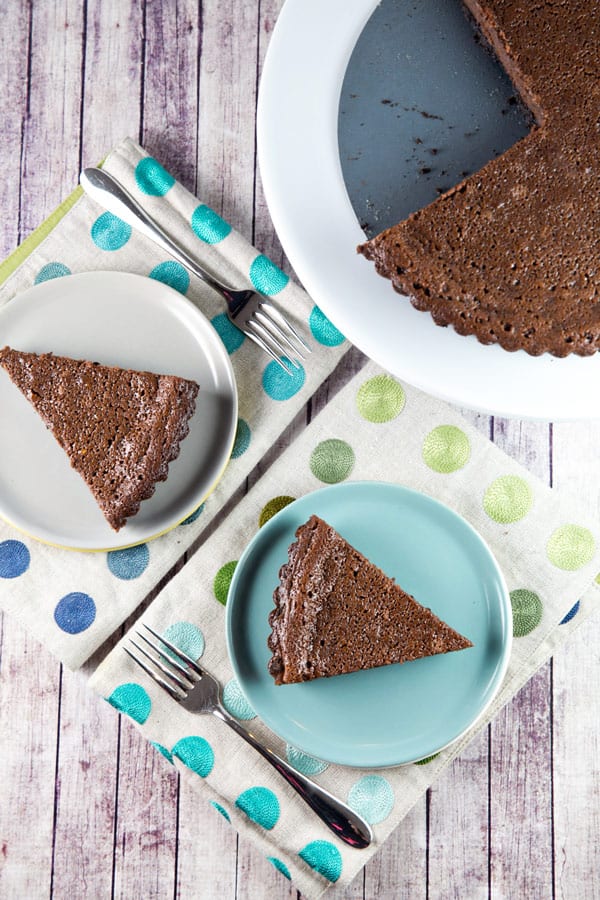 What is buttermilk?
Since the key component of this chocolate buttermilk pie is… buttermilk… let's talk about it for a minute. Traditionally, buttermilk is the liquid that remained after cream was churned into butter. Today, however, we culture our buttermilk, pretty similar to making yogurt. Low fat milk is combined with bacteria cultures and heated. This bacteria converts lactose (the sugar in the milk) into lactic acid. Lactic acid is what makes buttermilk, well… buttermilk. Ready to learn why? It's time for some kitchen chemistry!
Kitchen Chemistry

All proteins have an isoelectric point, or the pH at which that particular molecule carries no electrical charge. The net charge on a protein molecule is affected by the pH of its surrounding environment. Proteins are generally happiest (most soluble) when they are at least 1.5 pH units away from their isoelectric point, and as they approach their isoelectric point, often begin to precipitate out of solution.

Casein, the primary milk protein, has an isoelectric point of 4.6. Before the buttermilk is cultured, the pH of milk is higher than this, and casein stays in solution. However, after lactose converts into lactic acid, the overall pH of the milk decreases, approaching this pH level of 4.6. This causes the milk proteins to precipitate out of solution. This process is known as clabbering — and it's what makes buttermilk so thick and tart.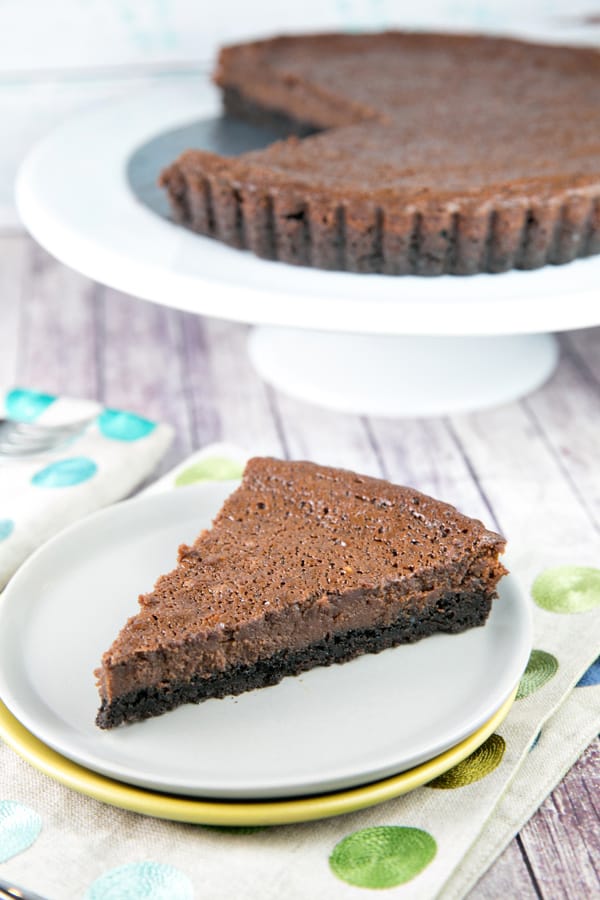 What does Chocolate Buttermilk Pie taste like?
For this version, I went with a chocolate buttermilk pie, adding some cocoa powder to the aforementioned list of buttermilk pie ingredients. I expected the pie to be fairly tart, because of all the buttermilk. Rather than a buttermilk-y tang, however, it was sweet, custardy, and had such an intense, deep chocolate flavor.
The top of the pie is slightly reminiscent of brownies and their crackly crust— slightly crunchy and caramelized — but the inside is smooth and creamy. Buttermilk pie traditionally uses a pie crust, but I opted for an oreo crust instead, intensifying the chocolate flavor and really catering to those chocoholics (i.e., my mother and husband).
My family loved it… so much, in fact, that they requested that I bring it again for our next family visit.
(Also, if you're not making this and then transporting it via car for several hours, it would be amazing with a scoop of ice cream on top.)
Chocolate buttermilk pie not your thing? Try these pies on for size for your Pi Day festivities!
Most Popular Pie Recipes: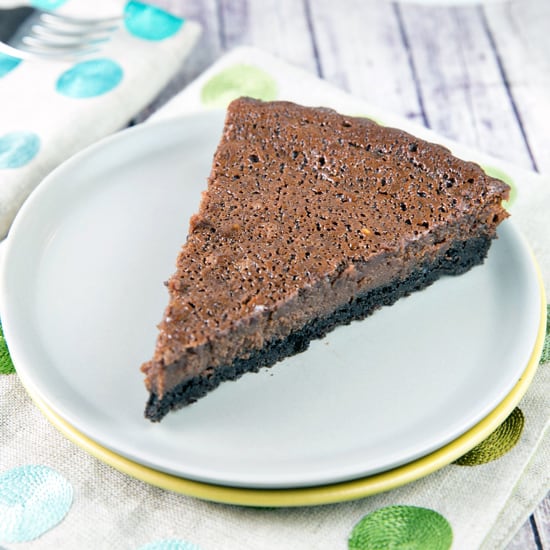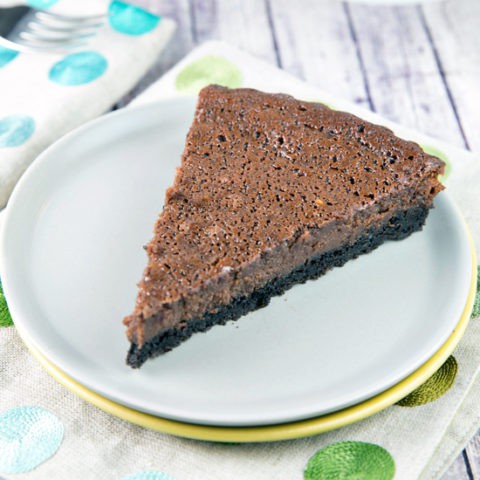 Chocolate Buttermilk Pie
A sweet, custardy pie with an incredibly rich chocolate flavor, paired with a crunchy Oreo crust.
Ingredients
25 oreo cookies
17 tablespoons butter, divided
1/3 cup cocoa powder
1 1/2 cups sugar
1 cup buttermilk
2 tablespoons all-purpose flour
4 large eggs
1 tablespoon vanilla extract
1/4 teaspoon salt
Instructions
Preheat oven to 350°F.
To make the crust, begin by finely crushing the Oreo cookies (preferred method: food processor). Melt 5 tablespoons of the butter. Stir together the cookie crumbs and the melted butter with a fork. Press this mixture into the bottom and up the sides of a 9" pie plate. Bake for 8 minutes, then remove the crust from the oven and allow to cool slightly.
Melt the remaining 12 tablespoons of butter in a medium saucepan over low heat. Add the cocoa powder and sugar, stirring constantly until well blended. Set aside.
In a large bowl, whisk the eggs by hand until light and frothy. Add the flour and buttermilk and continue to whisk until well combined. Slowly add the chocolate mixture, continuing to stir the entire time. Whisk this mixture very well – otherwise the pie will separate while baking. Add in the vanilla and salt, stirring to incorporate.
Pour the filling into the oreo crust. Bake for 45 minutes — the edges of the pie will be slightly crusty and the center will still jiggly slightly (like a cheesecake). Remove to a wire rack and cool. Pie can be served warm or at room temperature, preferably with a big scoop of vanilla ice cream on top.
Recommended Products
As an Amazon Associate and member of other affiliate programs, I earn from qualifying purchases.
Nutrition Information:
Yield:

8
Serving Size:

1 slice
Amount Per Serving:
Calories:

601
Total Fat:

35g
Carbohydrates:

69g
Protein:

6g