February 22, 2018
Truffle Risotto with Balsamic Mushroom Pork Chops
Step up your weeknight dinner routine with balsamic mushroom pork chops seared to perfection and served over truffle risotto, in just 30 minutes.  Too good to be true?  Not at all.
I love gourmet, cook-all-day kind of meals.  Spending hours in the kitchen, chopping and dicing, stirring, caramelizing, baking — it's my happy place.
It's a happy place I really don't have time to visit anymore, thanks to a full time job and 2.5 year old who takes up the overwhelming majority of my at-home time.  These days, it's all about fast dinners.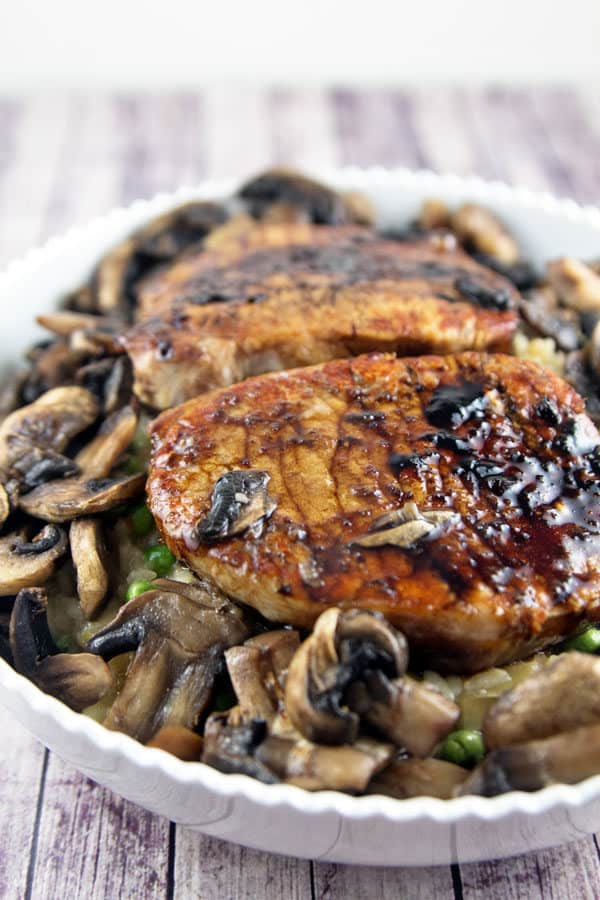 I often don't get home from work until after 7, and the little guy goes to bed around 9, so that means I have two hours to fit in cooking dinner, eating dinner, cleaning up from dinner, play time, bath time, and bedtime.  Thirty minutes or less is the name of the game.
Seared pork chops, covered in balsamic mushrooms, with truffle risotto.  This is dinner party worthy, but a weeknight time commitment.  If that's not winning, I don't know what is.
It's a fully occupied 30 minutes — this is not your "pop something in the oven and walk away" dinner.  But if you have 30 minutes to commit to your kitchen, you will absolutely be rewarded for your time.
Creamy, soft truffle risotto.  Juicy, crispy balsamic mushroom pork chops with soft, buttery mushrooms.  Um, I'm pretty sure I need to make this again for dinner ASAP!
Kitchen Tip: I've shared my secret to juicy pork chops before: brine, brine, brine!  Buy your chops on the thicker side — 1.5-2", and brine them overnight.  Tip: I defrost mine right in the brine overnight.  Easy-peasy!
If you forget the night before, pop them in the brine first thing in the morning.  Yes, you can make this without brining if you completely forget, but… personally, I'd suggest ordering pizza for dinner and waiting to make this tomorrow after brining overnight.  It really does make that much of a difference.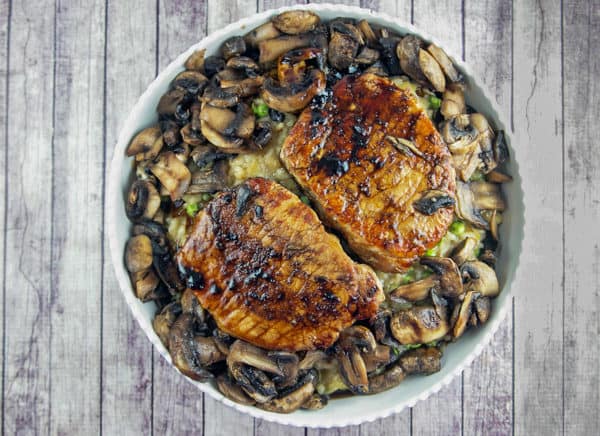 You'll also notice below that I use black walnut balsamic vinegar.  Last year, I introduced my best friend, Mark, to the wonder that is the Italian Market in Philadelphia, including his first-ever trip to the world famous DiBruno Bros.
While strolling through the neighborhood, we stopped in Cardenas Oil and Vinegar Taproom — we were like two kids in a candy shop who couldn't stop sampling every olive oil and vinegar option and combining them into all sorts of amazing flavors.
I left that day with bottles of black walnut black balsamic, peach while balsamic, and lambrusco red wine vinegar, in addition to blood orange olive oil.  The black walnut balsamic vinegar is my favorite because it's so versatile, but if you can't get your hands on some, use any good quality, dark balsamic vinegar and your balsamic mushroom pork chops will be just as delicious!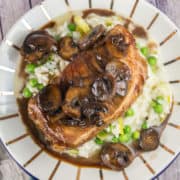 Truffle Risotto with Balsamic Mushroom Pork Chops
Step up your weeknight dinner routine with pork chops seared to perfection, covered in mushrooms and a balsamic vinegar pan sauce, all served over truffle risotto, in just 30 minutes.
Ingredients:
4 boneless, skinless pork chops, 1.5 – 2 inches thick
8-10 cups cold water
1/2 cup kosher salt
1/2 cup molasses
1 tablespoon whole peppercorns
2 sprigs fresh rosemary
4 tablespoons butter, divded
1 leek, sliced into thin rounds
1 1/4 cup arborio rice
1/2 cup dry white wine
4 cups chicken broth, warmed to steaming
1/2 cup frozen peas, defrosted
1 tablespoon truffle oil, optional
1/3 cup grated parmesan cheese
1 tablespoon olive oil
1/3 cup black walnut balsamic vinegar
1 tablespoon soy sauce
16 ounces crimini mushrooms, sliced
Directions:
The night before, prepare the brine for the pork chops.  Combine the cold water, kosher salt, molasses, peppercorns, and rosemary in a large bowl or pot, stirring well to ensure the molasses and salt are fully dissolved.  Add in the pork chops and add more water as necessary to ensure the pork chops are submerged.  Cover tightly and refrigerate overnight, up to 24 hours .
The next day, start by prepping the risotto.  Preheat the oven to 400°F.  Melt 2 tablespoons of the butter in a large, heavy-bottomed skillet over medium heat. Add the leek and sauté until soft, 3-4 minutes.  Add in the arborio rice, stirring for an additional 2-3 minutes.  Add the wine and stir until all the wine is absorbed.
Start ladeling in the hot stock, letting each ladleful become fully absorbed before adding the next one.  Stir frequently.  This process will take about 20 minutes until all the broth has been absorbed.
While the risotto is cooking, remove the pork chops from the brine and pat dry.  Heat olive oil in an ovenproof skillet or cast iron pan over medium-high heat.  Sear the pork chops, about 3 minutes on each side, until browned.  Whisk together the balsamic vinegar and soy sauce and pour this mixture over the pork chops.
Add the pork chops to the oven and bake for 15 minutes, while continuing to add more stock to the risotto and stirring.
Remove the pork chops once an internal temperature reaches 145°F.  Place the chops on a clean cutting board and tent with foil, leaving any remaining sauce in the pan.
Melt the remaining two tablespoons of butter in the same pan used to cook the pork chops.  Scrape up any of the browned bits from the pork, then add in the mushrooms and cook in the butter for 5 minutes, until soft.
The risotto should finish while the mushrooms are cooking.  Stir in the peas, truffle oil, and grated parmesan cheese.  Season to taste with salt and pepper.
Dish the risotto into bowls and place a pork chop on top.  Spoon the mushrooms and pan sauce overtop the pork chop and enjoy!
A Bunsen Burner Bakery Original Protocol
This post was originally posted in March 2016 and updated in February 2018.