February 7, 2019
Balsamic Mushroom Pork Chops with Truffle Risotto
Step up your weeknight dinner routine with Balsamic Mushroom Pork Chops seared to perfection and served over truffle risotto, in just 30 minutes.  Too good to be true?  Not at all.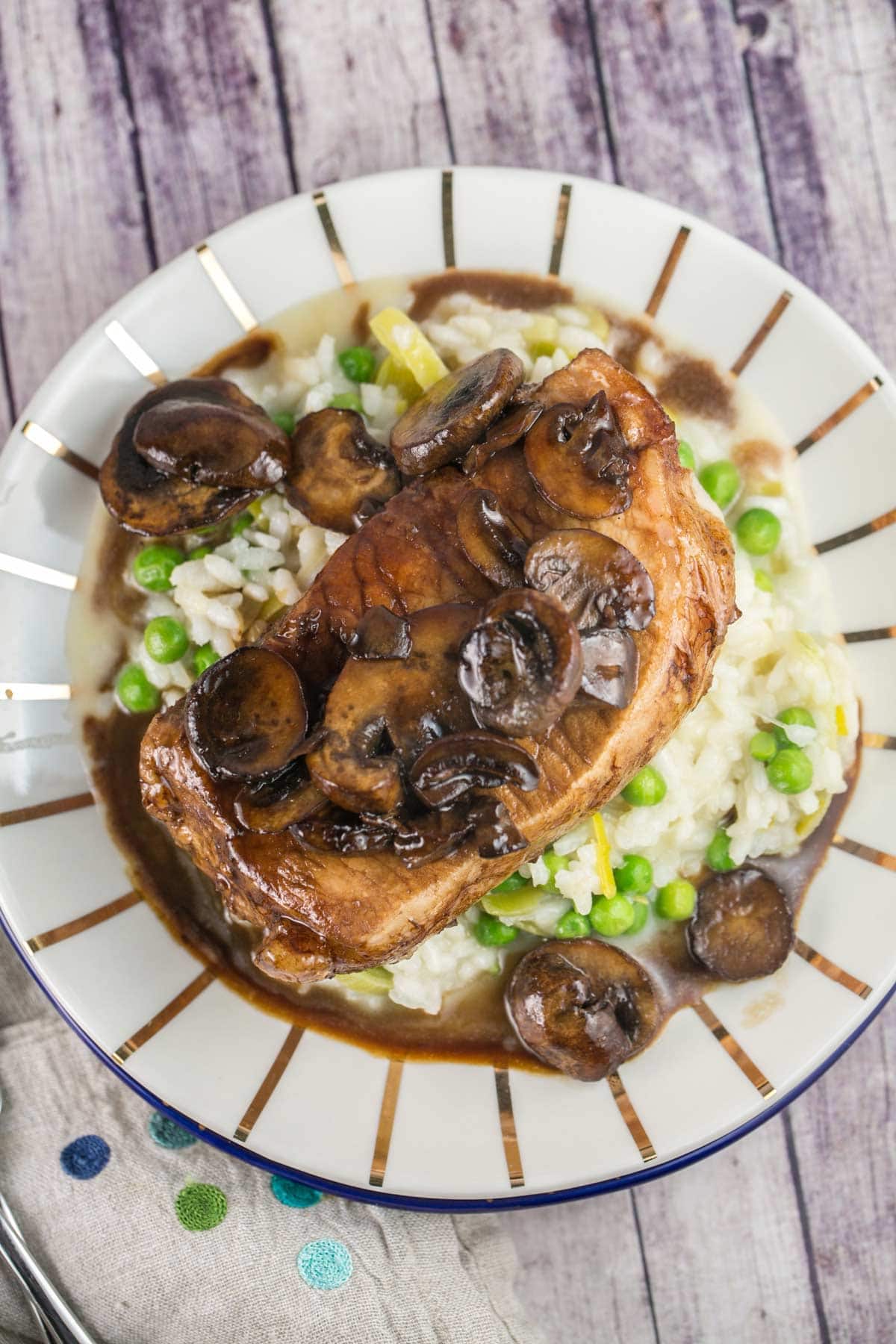 Are you a Valentine's Day person? It's always been one of my favorite holidays, but not romantically. My husband and I don't do anything, but I loved it as a child. Valentine's from friends, an excuse for a class party with cupcakes — yes, please!
Now that we have two (two!) littles, I get to do the fun crafty and sweet treats side of things all over again. Last year, we made these M&M Pretzel Kisses for my son's preschool classmates, and he already asked if we could make them again this year.
Today, I'm super excited to pair up with three fellow food bloggers to help YOU get your Valentine's Day menu all set. We're essentially hosting a "virtual dinner party" for two.
So put the kids to bed early and get set for an A+ weeknight Valentine's Day dinner in your own home!
Start with this beautiful Strawberry Gin Spritzer from Laura at Krazy Kitchen Mom.
Next, Lynn over at Fresh April Flours has an amazing recipe for bacon wrapped dates with goat cheese.
For dinner, I have you covered with balsamic mushroom pork chops with truffle risotto. Sounds fancy? It's ready in under 30 minutes!
And for dessert, hop on over to Wanderlust and Wellness, where Laura is sharing her vanilla panna cotta with white wine sauce.
Perfect Weeknight Pork Chops
And while this is fancy enough for a romantic Valentine's Day dinner for two, it's also quick enough for a weeknight family dinner. Seared pork chops, covered in balsamic mushrooms, with truffle risotto.
This is a fully involved 30 minutes – you'll be in the kitchen the whole time. But still, it's only 30 minutes. (Plus a teeny tiny bit of work the night before. Teeny tiny.)
Creamy, soft truffle risotto. Juicy, crispy balsamic mushroom pork chops with soft, buttery mushrooms. This is dinner party worthy, but a weeknight time commitment. If that's not winning, I don't know what is.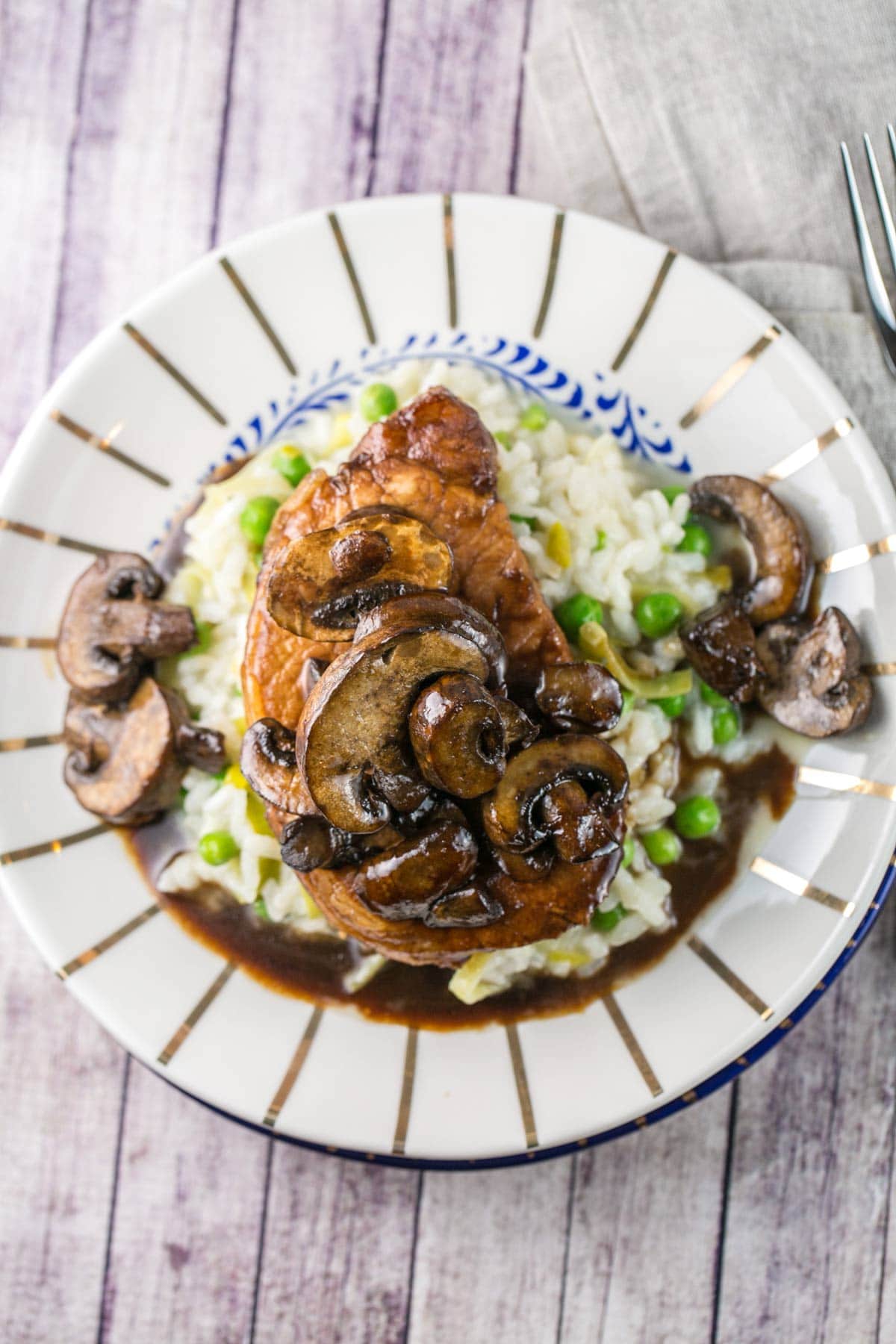 The Secret to Perfect Pork Chops
Think pork chops are too tough? Think again. There is one easy, simple secret you need for juicy pork chops, and it involves my favorite subject… kitchen chemistry!
For juicy, never dry pork chops, you need to brine them. Give them a nice, long soak in a salty bath. Trust me, it makes all the difference.
Kitchen Chemistry

Because the brine is saltier than the cells in the pork chop, the salt ions diffuse into the cells. Suddenly, the inside of the cells has a higher salt content than the outside. So how does this keep our meat from drying out? Because of osmosis ! In osmosis, solvent (in this case, water from the brine) moves from an area of low concentration to an area of high concentration. The salt is moving into the cells, and when it combines with all the other solutes in the cell (you know.. all the ions and things that are naturally in cells, like potassium, magnesium, and calcium), the concentration of solutes is much higher inside the cell than outside. So now the cells start to absorb the water from the brine and pull it into the cell. More water inside the pork chops = not dry. Science!
Buy your chops on the thicker side — 1.5-2", and brine them overnight. Tip: if I buy them ahead of time and freeze them, I defrost mine right in the brine overnight. Easy-peasy!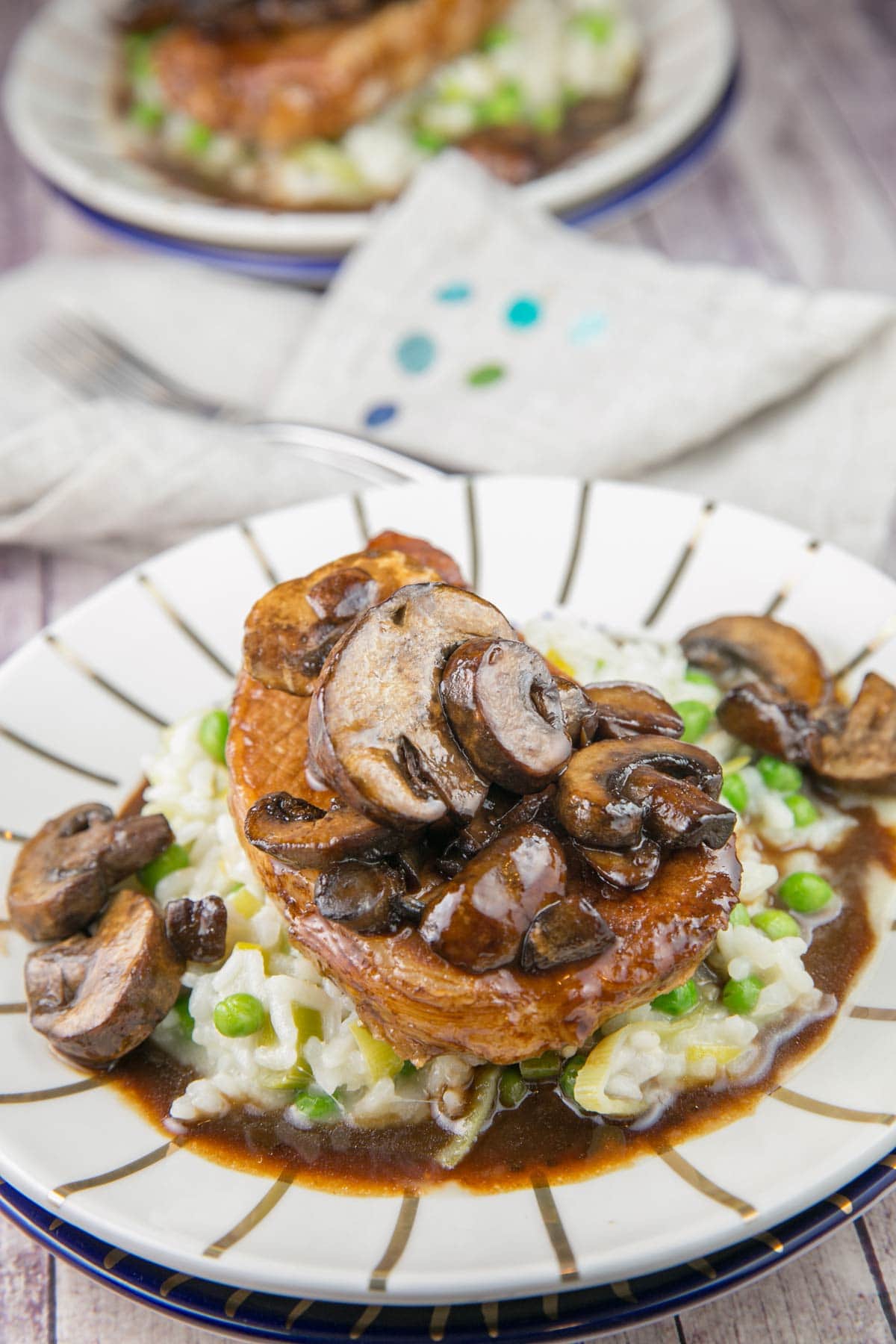 How to Make Perfect Risotto
We've covered how to get the best, juiciest pork chops (brine! brine! brine!). Now, how about some tips for a perfectly creamy risotto, ready in just 30 minutes?
Add hot stock. Yes, it's a hassle to keep an extra pot simmering on the stove. Yes, it's also worth it. Cold stock chills the rice and delays the cooking process. Just come to peace with the extra dish to wash.
Add stock slowly. I ladle it into the pot, one ladle-full at a time. If you add too much at once, you're just boiling the rice. Arborio rice gets a creamy texture from released starches, which happens from gentile agitation against other grains of rice. Add your stock, cook until fully absorbed, then add more.
Stir the rice frequently. You don't have to do it non-stop, but every minute or two, give a few gentle stirs. (See above about agitation.)
Save your "add ins" for last. Whether it's vegetables or cheese, wait until the risotto is fully cooked, then fold in gently. Make sure any vegetables are already cooked!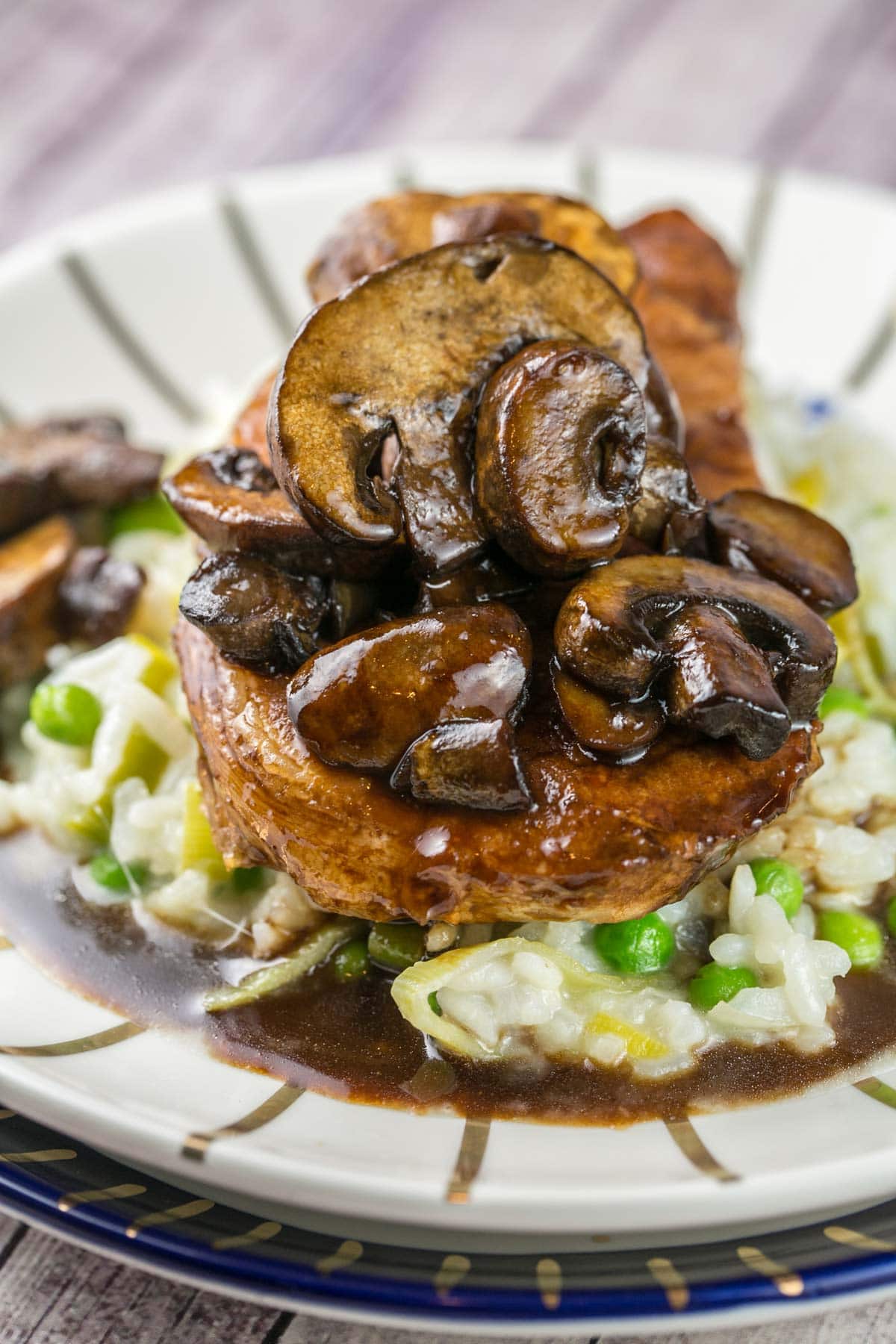 Tips and Tricks for the Best Balsamic Pork Chops
Start with thick-cut pork chops, at least 1.5 inches thick. Bone-in pork chops can be used, but the baking time will increase by a few minutes.
Brine the pork chops overnight! This step is essential for not-dry, not-chewy pork chops.
No molasses for the brine? Substitute in brown sugar instead!
For the best risotto texture, slowly ladle in the hot stock and stir the rice frequently.
If made with gluten-free ingredients (check the soy sauce!), this recipe is naturally gluten-free.
Frozen pork chops can be thawed overnight right in the brining solution.
More Easy Weeknight Dinner Recipes:
Balsamic Mushroom Pork Chops with Truffle Risotto
Total Time:
18 hours
30 minutes
Step up your weeknight dinner routine with balsamic mushroom pork chops seared to perfection and served over truffle risotto, in just 30 minutes.
Ingredients
2 boneless pork chops, 1.5 – 2 inches thick
6-8 cups cold water
1/3 cup kosher salt
1/3 cup molasses
1 tablespoon whole peppercorns
2 sprigs fresh rosemary
2 tablespoons butter, divided
1 leek, sliced into thin rounds
1/2 cup arborio rice
1/4 cup dry white wine
2 cups chicken broth, warmed to steaming
1/2 cup frozen peas, defrosted
1 tablespoon truffle oil, optional
1/4 cup grated parmesan cheese
1/2 tablespoon olive oil
1/4 cup good quality balsamic vinegar
1 tablespoon soy sauce*
8 ounces cremini mushrooms, sliced
Instructions
The night before, prepare the brine for the pork chops. Combine the cold water, kosher salt, molasses, peppercorns, and rosemary in a large bowl or pot, stirring well to ensure the molasses and salt are fully dissolved. Add in the pork chops and add more water as necessary to ensure the pork chops are submerged. Cover tightly and refrigerate overnight, up to 24 hours .
The next day, start by prepping the risotto. Preheat the oven to 400°F. Melt 1 tablespoon of the butter in a large, heavy-bottomed skillet over medium heat. Add the leek and sauté until soft, 3-4 minutes. Add in the arborio rice, stirring for an additional 2-3 minutes. Add the wine and stir until all the wine is absorbed.
Start ladeling in the hot stock, letting each ladleful become fully absorbed before adding the next one. Stir frequently. This process will take about 20 minutes until all the broth has been absorbed.
While the risotto is cooking, remove the pork chops from the brine and pat dry. Heat olive oil in an ovenproof skillet or cast iron pan over medium-high heat. Sear the pork chops, about 3 minutes on each side, until browned. Whisk together the balsamic vinegar and soy sauce and pour this mixture over the pork chops.
Add the pork chops to the oven and bake for 15 minutes, while continuing to add more stock to the risotto and stirring.
Remove the pork chops once an internal temperature reaches 145°F. Place the pork chops on a clean cutting board and tent with foil, leaving any remaining sauce in the pan.
Melt the remaining tablespoons of butter in the same pan used to cook the pork chops. Scrape up any of the browned bits from the pork, then add in the mushrooms and cook in the butter for 5 minutes, until soft.
The risotto should finish while the mushrooms are cooking. Stir in the peas, truffle oil, and grated parmesan cheese. Season to taste with salt and pepper.
Dish the risotto into bowls and place a pork chop on top. Spoon the mushrooms and pan sauce overtop the pork chop and enjoy!
Notes
Bone-in pork chops can be used, but the baking time will need to be increased slightly.
Frozen pork chops can be thawed directly in the brine overnight.
Brown sugar can be substituted for molasses.
*Confirm soy sauce, and all other ingredients, are gluten free. Kikkoman makes a gluten free soy sauce, or use a tamari soy sauce.
Recommended Products
As an Amazon Associate and member of other affiliate programs, I earn from qualifying purchases.