November 20, 2017
Chocolate Bourbon Pecan Pie
Rich and decadent, chocolate bourbon pecan pie is an easy, gluten free, crowd pleasing dessert, perfect for your holiday table… or any time of year!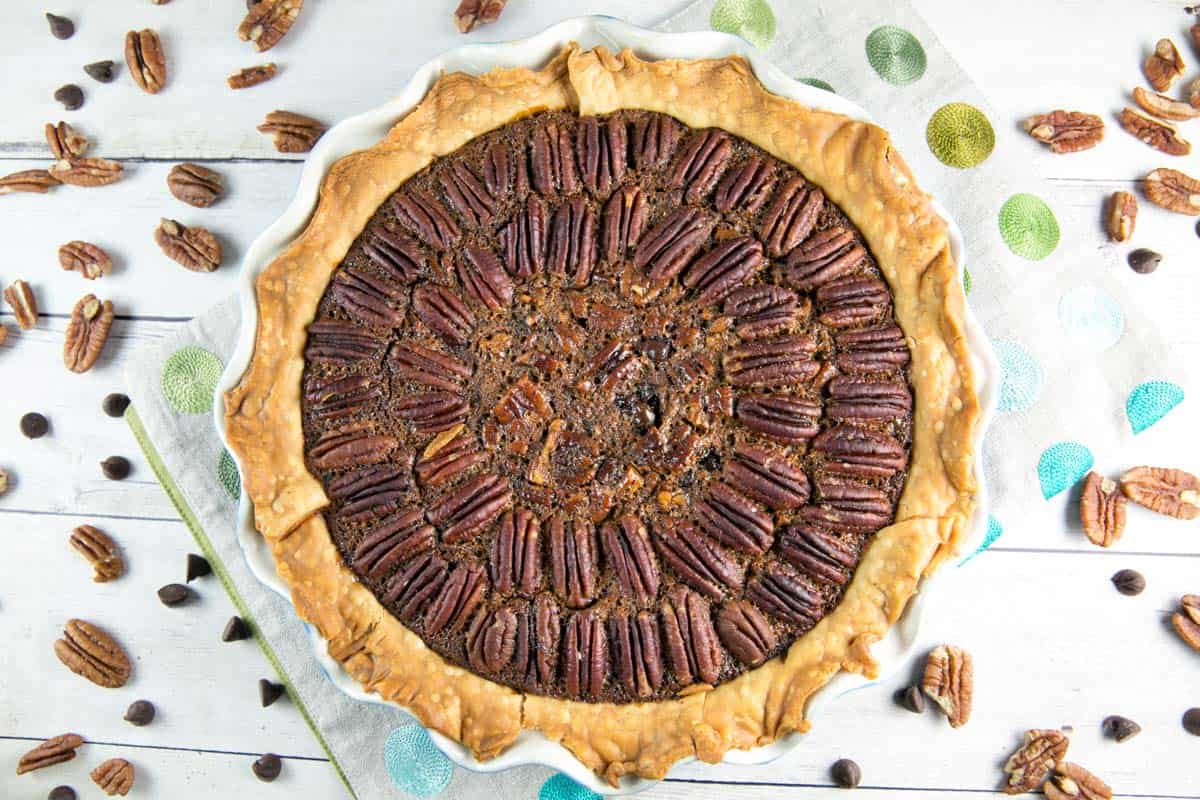 So. Thanksgiving is in three days. It's pretty late in the food blogging game to be sharing new recipes for Thanksgiving, but here's the thing.
Last year, the single biggest traffic day for my food blog was Thanksgiving Day. Mostly from Google searches like "quick and easy pie" or "what to make for dessert" or "Thanksgiving dessert not pumpkin."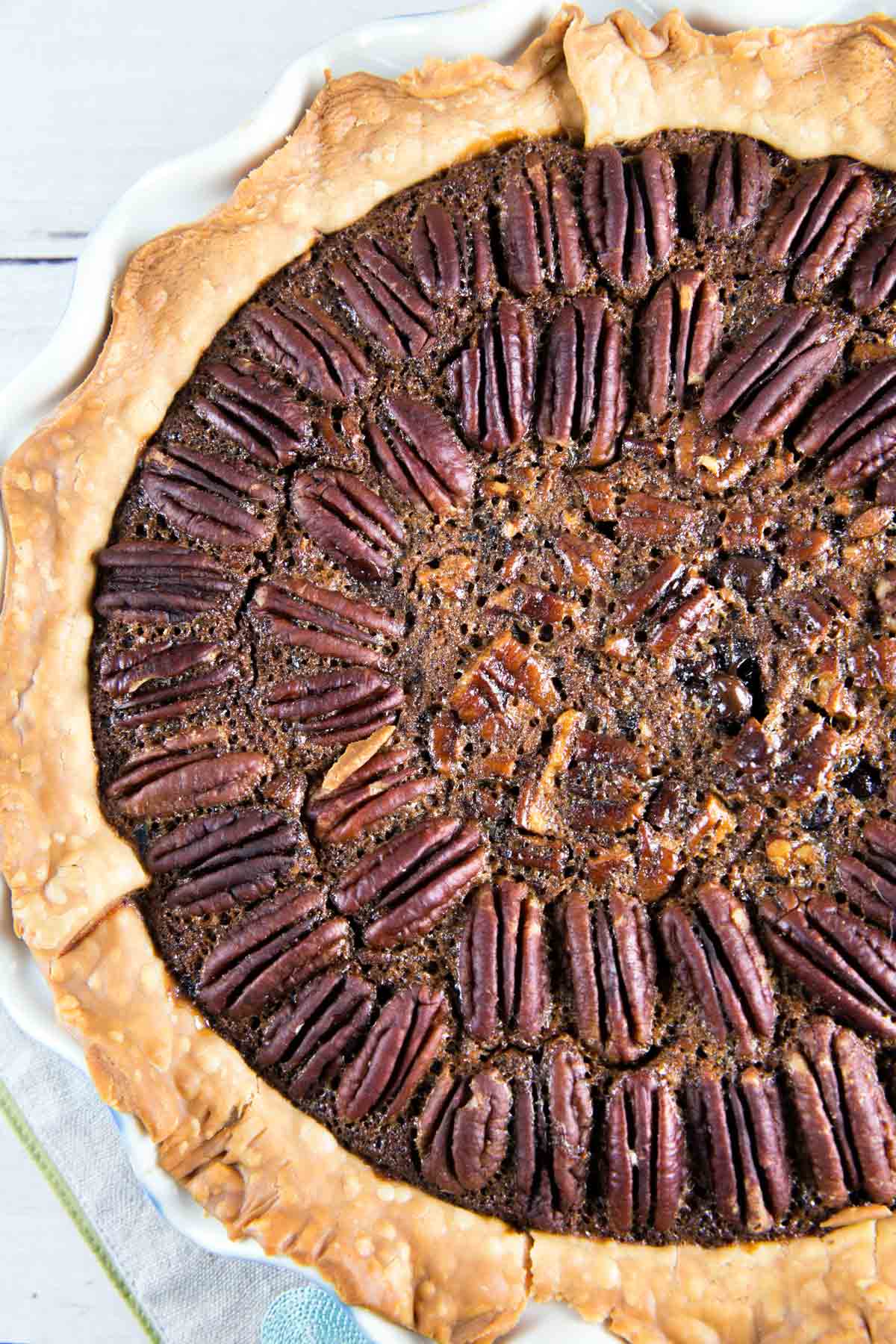 So Thanksgiving morning, a whole lot of you woke up…. with no idea what you were going to make for dessert.
YOU ARE MY PEOPLE! PROCRASTINATORS UNITE!
As I always say, nothing is worth doing if it's not worth doing at the last possible minute so you get that fantastic extra adrenaline boost as you try to beat the deadline! Including deciding what to make for your Thanksgiving dessert… the morning of Thanksgiving.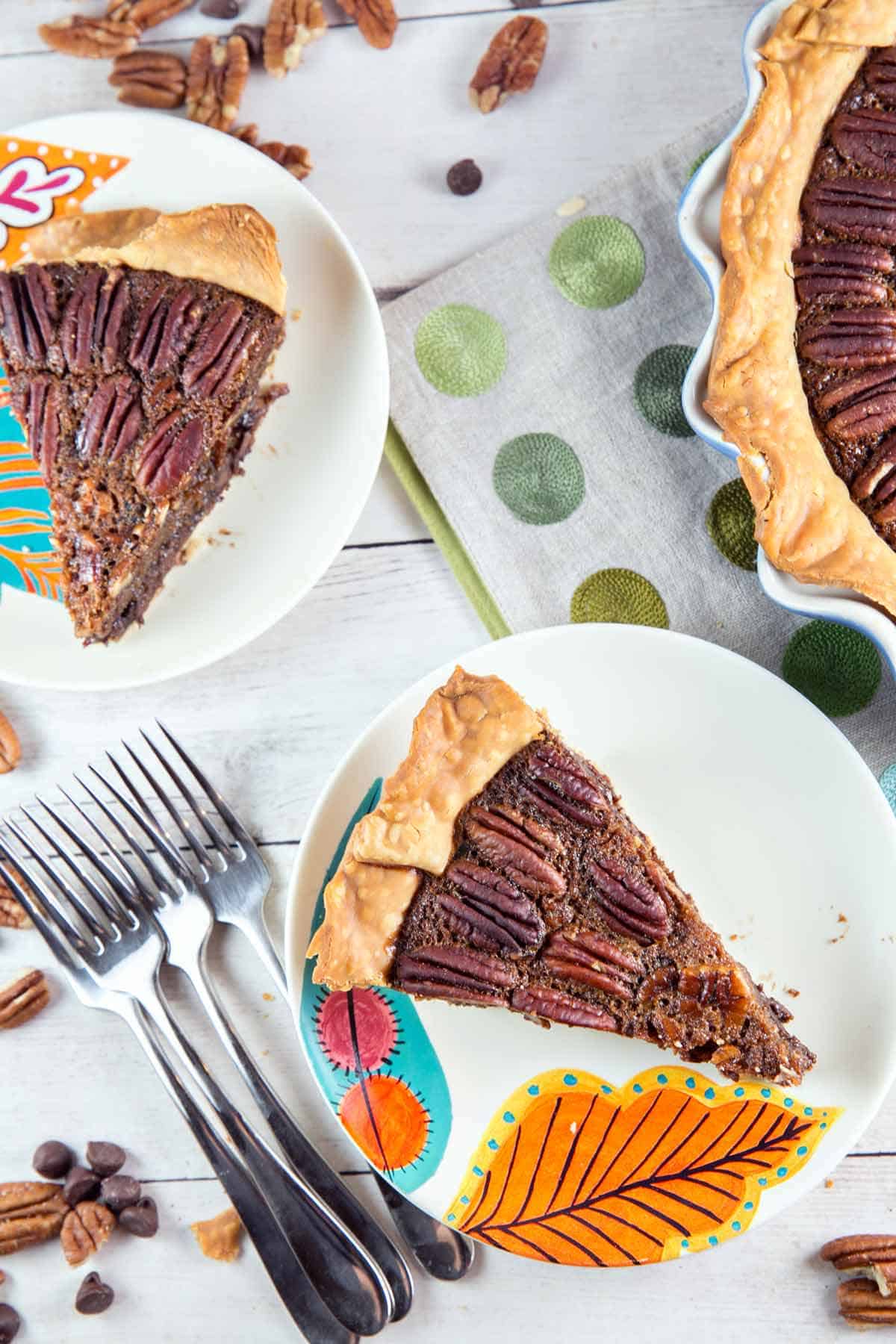 And so, I decided that three days before Thanksgiving was not at all too late to share a Thanksgiving dessert. Especially when it's as amazingly delicious as this chocolate bourbon pecan pie, which really deserves to be an Everyday Dessert and not just a Thanksgiving Dessert.
(Poll time: do you say PEE-can or pee-KAHN? I'm from the northeast, so I can PEE-can. But every time I say it now, I hear my southern friend Rachel's voice, yelling at me that a PEE-can is what you keep in the house if you don't have indoor plumbing, and a pee-KAHN is the nut that you eat.)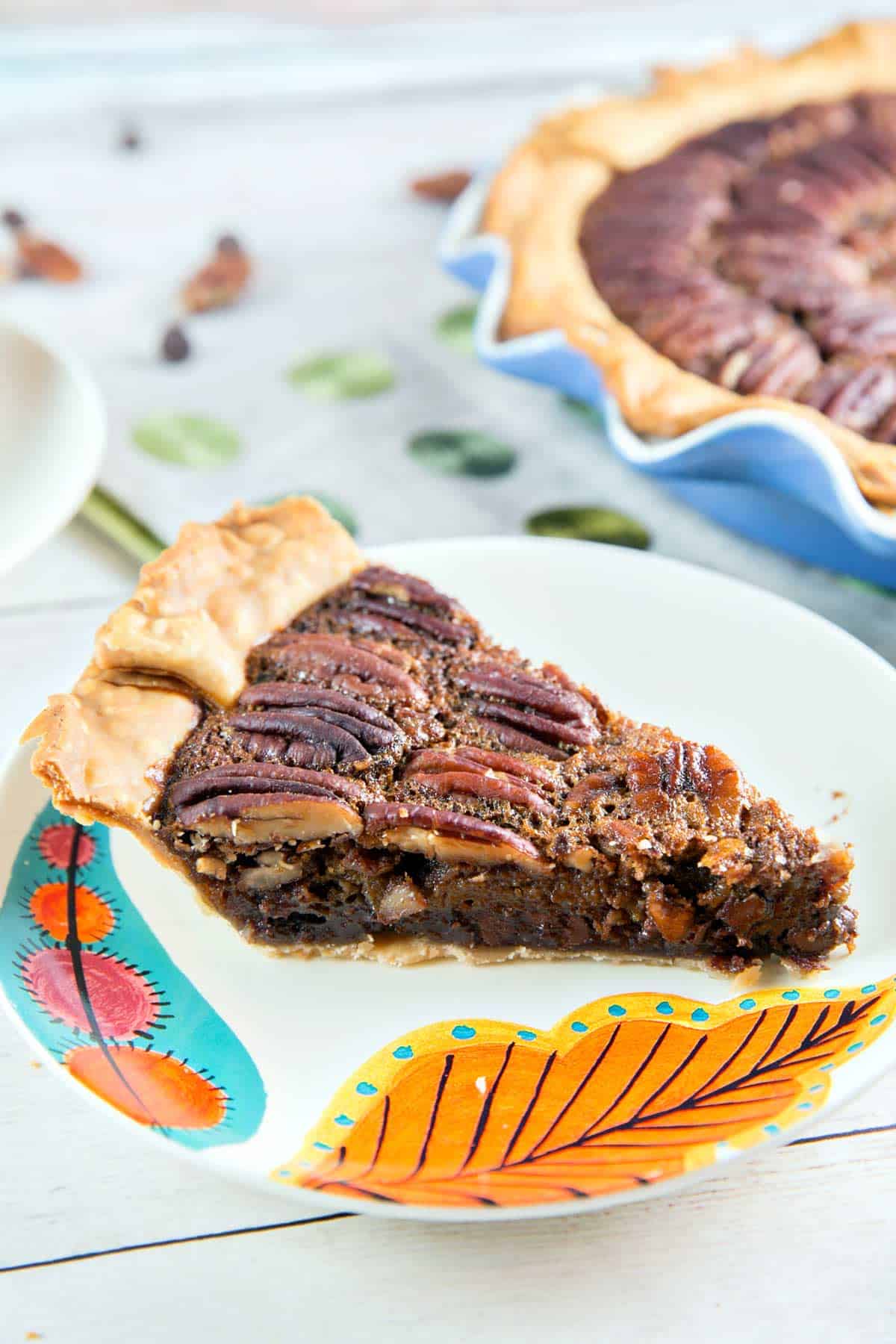 You say to-may-toh, I say to-mah-toh – but we can all agree that pecan pie was made to include chocolate and bourbon. The slightly gooey custardy center, the chewy pecans, the rich chocolate, and just a hint of bourbon… yes, yes, yes.
I normally don't have a huge sweet tooth, so I'm able to show a lot of restraint when it comes to most of what I bake. Except when it comes to this pie, apparently. A sliver when I took pictures. Another sliver late at night.
The only reason I didn't eat the entire remaining half a pie for breakfast is because I have a two year old and I'm trying to teach him that cake (and pie) is not an appropriate breakfast food.
How to Make Chocolate Bourbon Pecan Pie
Pecan pie is basically the procrastinator's dream come true. Unlike an apple pie, which requires peeling, coring, and chopping all those apples, or a pumpkin pie, which requires par-baking the crust before pouring in the liquidy custard, a pecan pie requires no extra effort.
The pie crust should be frozen beforehand, but no need to par-bake — the filling is thicker than pumpkin pie. There's no need to cook the filling beforehand, and nothing to peel or slice. The hardest part is chopping some pecans, but if this is too much, just buy them already pre-chopped!
This is basically the dump cake equivalent of pies: add ingredients to bowl. Whisk. Pour into crust. It just doesn't get any easier. And the addition of bourbon and chocolate means it just doesn't get any more delicious, either.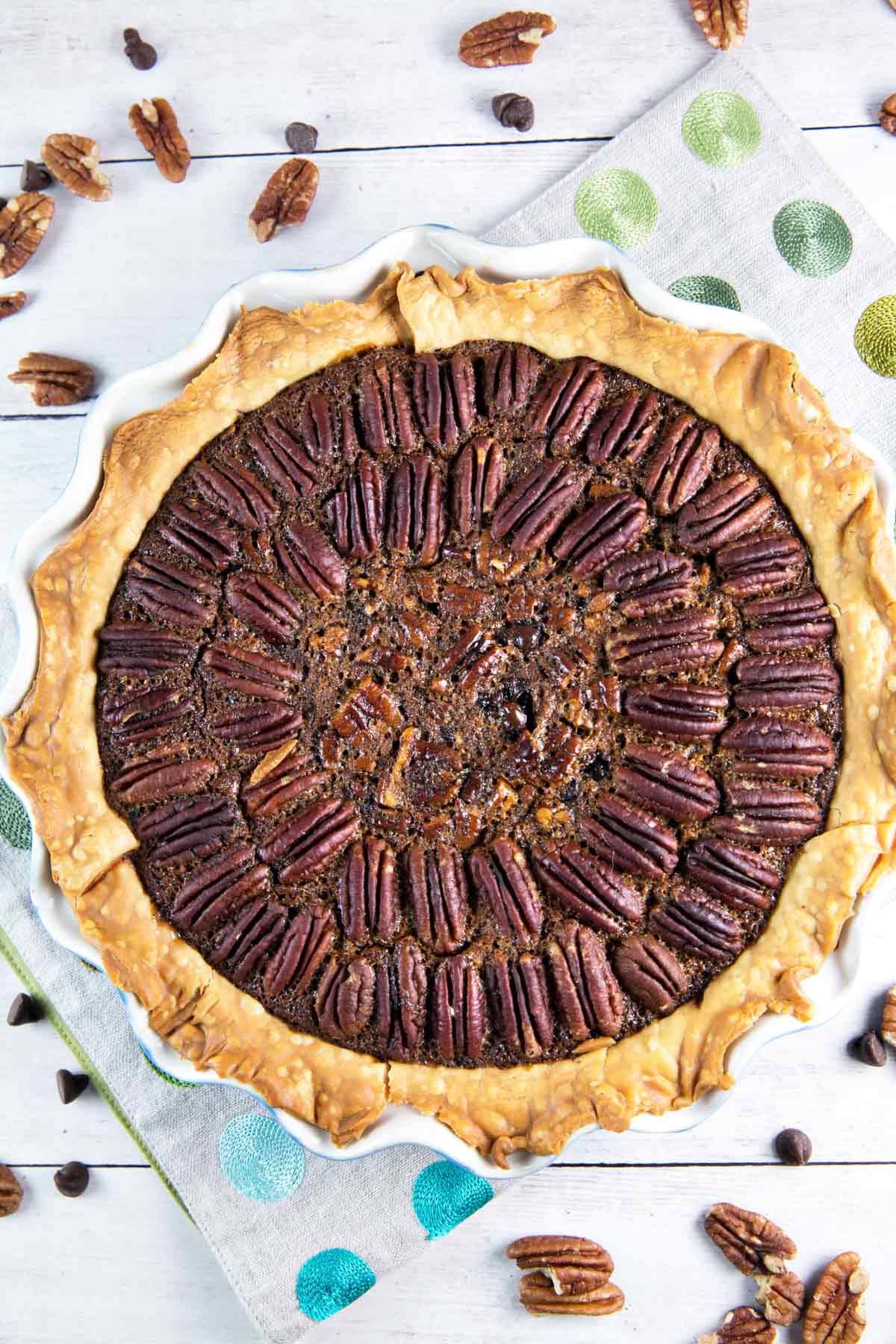 In other words, gimme another slice of this chocolate bourbon pecan pie. For breakfast or dessert. For Thanksgiving or a random Tuesday in the spring. Just gimme more, please.
Maybe with a dollop of whipped cream. And a glass of bourbon, please and thank you.
More Thanksgiving Pie Recipes: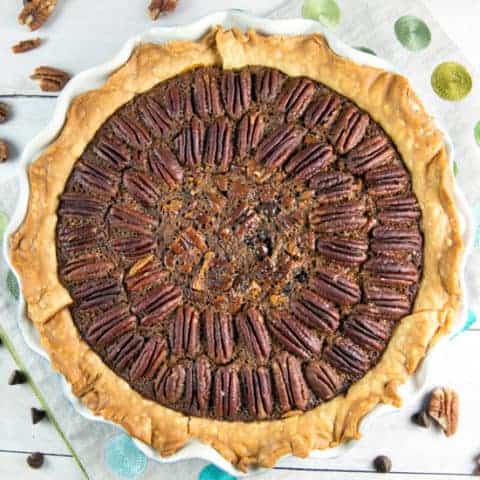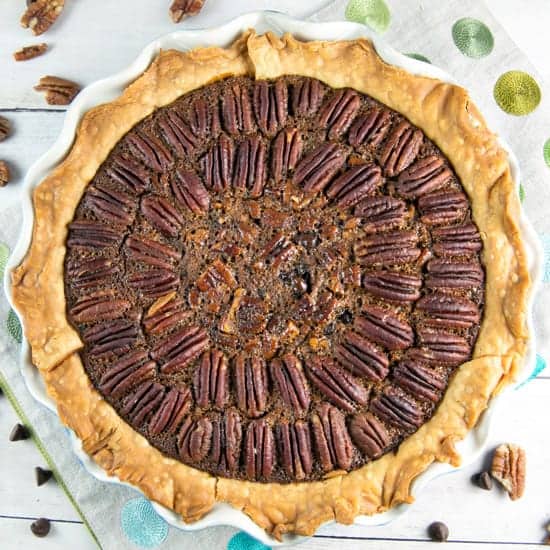 Chocolate Bourbon Pecan Pie
Rich and decadent, chocolate bourbon pecan pie is an easy, gluten free, crowd pleasing dessert, perfect for your holiday table… or any time of year!
Ingredients
3 eggs, room temperature
1/2 cup brown sugar
2/3 cup light corn syrup
2 teaspoons vanilla extract
2 tablespoons butter, melted
4 tablespoons bourbon (*omit if gluten free, or confirm that individual can consume distilled grains)
1/2 teaspoon salt
1/2 teaspoon cinnamon
1 1/2 cups chopped pecans, plus additional halved pecans for topping
3/4 cup semisweet chocolate chips
Instructions
Preheat the oven to 375 °F.
Fit pie crust into a 9-inch pie plate and crimp the edges. Place the pie plate in the freezer for 10 minutes to allow the dough to firm up.
While dough chills, whisk together the eggs, brown sugar, corn syrup, vanilla, melted butter, bourbon, salt, and cinnamon, until well combined. Stir in the chopped pecans and chocolate chips until evenly distributed.
Pour the filling into the pie shell. Layer remaining halved pecans along surface of pie. Bake on the bottom shelf of the oven for 45-50 minutes, or until the center of the pie is set. Tent the crust with pie shields or foil halfway through baking. Transfer the pie to a rack and cool for at least 1 hour before slicing.
Recommended Products
As an Amazon Associate and member of other affiliate programs, I earn from qualifying purchases.