September 27, 2018
Chocolate Shoofly Pie
With a gooey dark molasses bottom and a buttery crumb topping, this wet-bottom Chocolate Shoofly Pie is a Pennsylvania Dutch tradition with an updated chocolate twist.  Simple and sweet, it's best served at room temperature or slightly warm with a big dollop of whipped cream.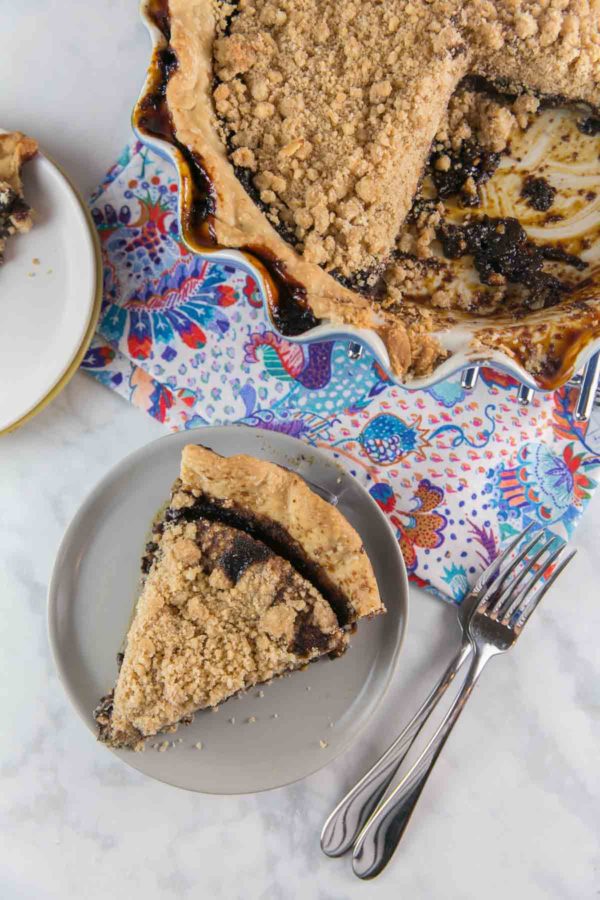 Whew! We're coming down to the wire with this month's Pie of the Month.
I was doing so well for a while, always having my pies made 2-3 months in advance. And then… well, and then we had another baby. And I went back to work. So now we're back to just making it by the skin of my teeth.
It also doesn't help when I have to remake a pie multiple times in order to get it right. But hey! That's what I'm here for — to do all the recipe testing multiple times to make sure your pie comes out perfect on the first try.
This month I decided to do something a little bit different: in a sea of apple and pumpkin and pecan pies, I'm sharing my favorite "fall" pie: shoofly pie.  This really isn't a seasonal pie at all, but the spiced molasses flavor always makes me think of cooler weather, and thus: it's a fall pie.
This isn't just any old shoofly pie, either. It's a chocolate shoofly pie. Not a fan of chocolate? Want the original, authentic version? Leave it out! If you're looking for a little extra decadence and flavor, however, chocolate is a perfect addition.
But first off, let's talk about the basics.  What the heck is shoofly pie?  Where did it come from?  Have you ever heard of it before?
What is Shoofly Pie?
Shoofly pie is a Pennsylvania Dutch staple. It's like the Central Pennsylvania equivalent to a southern pecan pie: every Amish bakery has one, and everyone thinks their version is the best. Dark molasses is the star of shoofly pie, baked in a pie crust and topped with a crumbly streusel-like topping.
As the name might imply, shoofly pie is so good, flies are drawn right to the sweet, sugary pie.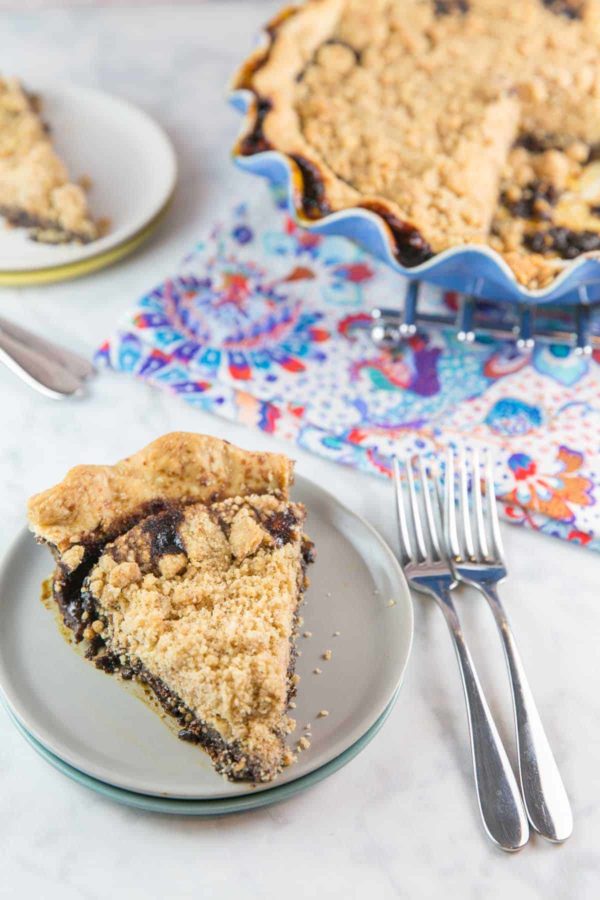 Wet vs. Dry Bottom Shoofly Pie
Shoofly pie comes in two varieties: wet bottom and dry bottom.  A dry bottom shoofly pie is almost more like a cake baked into the pie crust.  The crumb topping bakes into the molasses, leaving a coffee cake-like filling.  These pies are thick and may not have any crumb coating remaining on the top since it all bakes in.
The wet bottom version has a gooey, molassesey bottom layer, with a distinct crumb layer on top.  These pies tend to be thinner since the crumb coating stays piled on the top.  With no flour mixing into the molasses layer, the "wet" bottom relies on the egg to set and is more like a thinner layer of custard than a cake.
How does molasses result in this thick, custardy texture? It's time for my favorite subject… kitchen chemistry!
Kitchen Chemistry

Molasses, a thick, syrupy byproduct of sugar production, gives Shoofly Pie its distinctive sweet and rich flavor. When molasses is combined with the other ingredients, it doesn't fully blend in. This is due to molasses having a high viscosity, which is a measure of a fluid's resistance to flow. As the pie is baked, the less-viscous components of the molasses (like water) become steam and rise to the top. Meanwhile, the more viscous components (sugars) remain closer to the bottom of the pie, creating the distinct layers of a wet-bottom shoofly pie.
The shoofly pie I distinctly remember from my childhood is the wet bottom version.  Gooey, almost fudgy, with a mile-high pie of crumb coating. 
The key to achieving the perfect wet bottom is finding the right balance between the molasses and other filling ingredients. Too much molasses, and you may end up with a pie that's overly wet; too little molasses compared to crumb topping, and you'll miss that gooey separation.
For my first attempt at shoofly pie, I poured in the molasses layer, added the crumb topping, and baked. The topping sunk into the molasses layer. The flavor was spot on, but what happened to that gorgeous pile of crumbs on top? This wasn't the shoofly pie I remembered!
For the second take, I baked the pie for the first 15 minutes without the topping, then added the crumbs on top. Better, but still not there. This gave me the wet bottom texture, but the layer was very thin and there were (dare I say) too many crumbs on top.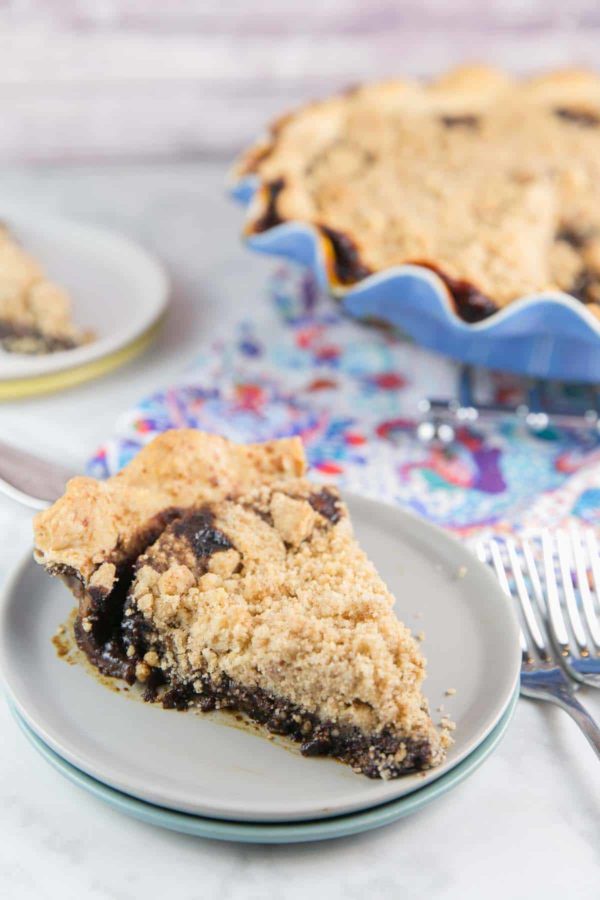 Gooey Wet Bottom Shoofly Pie
Like Goldilocks, I had a feeling the third time would be just right. It's a little unconventional compared to many other recipes, but the extra step is well worth it for the perfect combination of a gooey molasses layer, slightly cakey middle, and crumbly top.
The molasses layer is a piece of cake: simply whisk together the molasses, boiling water, baking soda, egg, and a tiny pinch of salt. Pour this into your pie crust.
For the crumb layer, mix together flour, brown sugar, melted butter, and some spices. Layer half of this mixture on top of the pie and pop it into the oven for 15 minutes. Put the rest of this crumb mixture into the freezer to firm up. After 15 minutes in the oven, remove the pie, add the now-chilled crumb mixture on top, and bake for an additional 25 minutes.
The end result?  A thick, gooey, custard-like molasses-y bottom with a deliciously golden, buttery crumb topping.  A true authentic Pennsylvania Dutch shoofly pie recipe.