February 14, 2017
Southwestern Egg Muffins
Full of black beans, peppers, and southwestern spices, these make-ahead egg Southwestern Egg Muffins are the perfect low carb, high protein breakfast! Make a double batch and freeze to make weekday mornings even easier.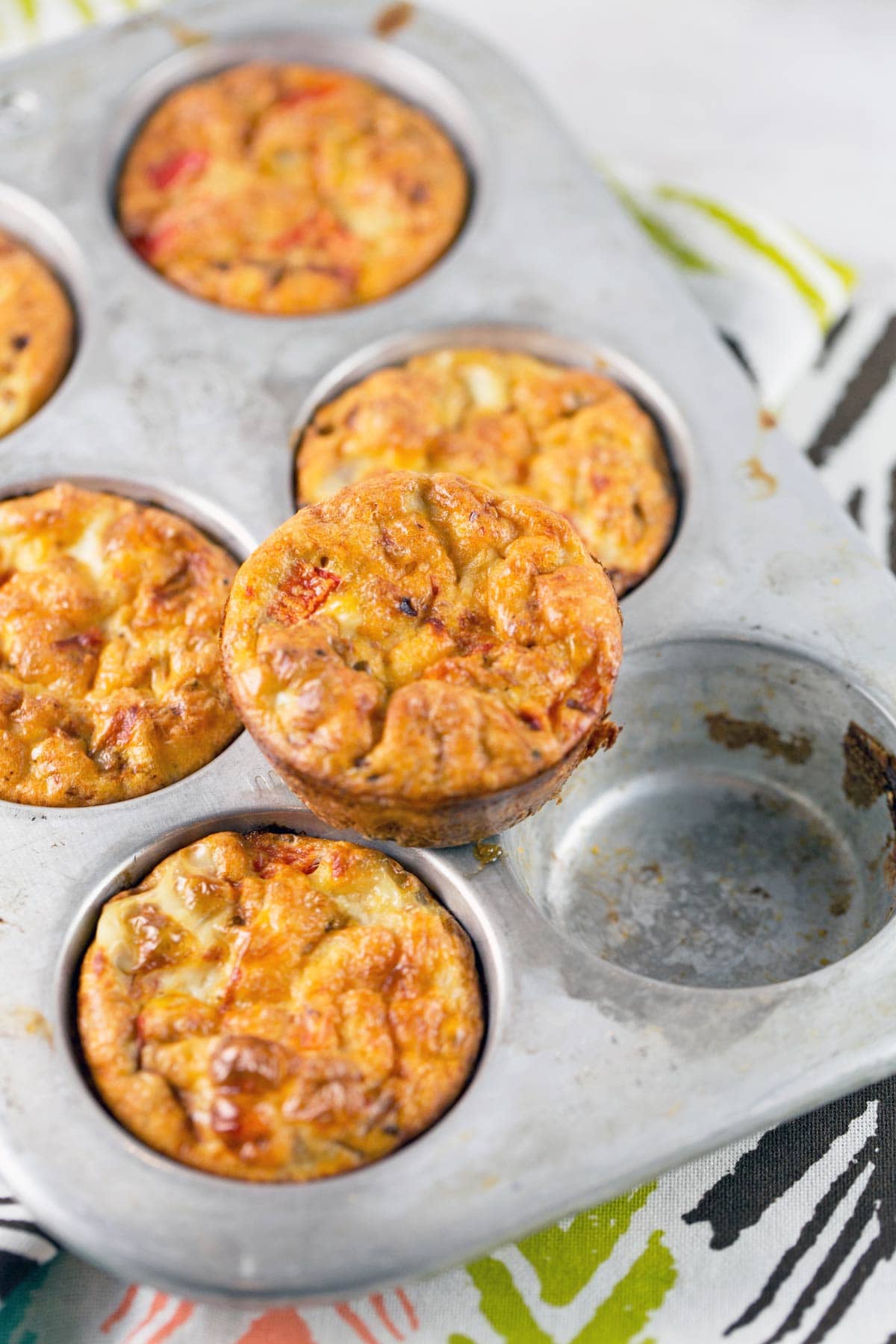 There are an awful lot of lifestyle changes that happen when you have a baby. It's easy to think about the big ones – the ones you spend 9 months contemplating.
Travel just became a whole lot more complicated. No more spontaneous late nights out without a sitter. No more sleeping in after a late night out. (Or more likely, no more sleep – period.) You trade in the New York Times bestseller list for Llama Llama and the Pout Pout Fish and a tiny clutch for a giant diaper bag.
One of the changes that I didn't really think about ahead of time relates to food. (Which is funny, because I obviously think about food a lot.)
We used to have our standard "stuck at work until 9pm" or "just got home from vacation and haven't been to the grocery store yet" bowl-of-cereal-or-popcorn dinners. And then one day, you have a baby who suddenly eats real food and needs an actual dinner and *poof* without thinking about it, the hodgepodge snack dinners are a thing of the past.
And don't get me started on breakfast!  I'm not much of a breakfast person –  I don't really like most breakfast foods.  I'd much rather bring a hard-boiled egg or yogurt to eat at work than sit down and eat first thing in the morning.
But again – toddlers expect breakfast as soon as they wake up. (Truth: Ryan's first word of the day is often "pancake?!" when I go to greet him in the morning.)
So how does a non-breakfast eater manage a breakfast-loving toddler on hectic weekday mornings before heading to work? By keeping a freezer stash of egg muffins — specifically, these southwestern egg muffins.
I double the recipe and make 24 at a time, store them in gallon-sized freezer bags, and pull one out each morning. Easy-peasy!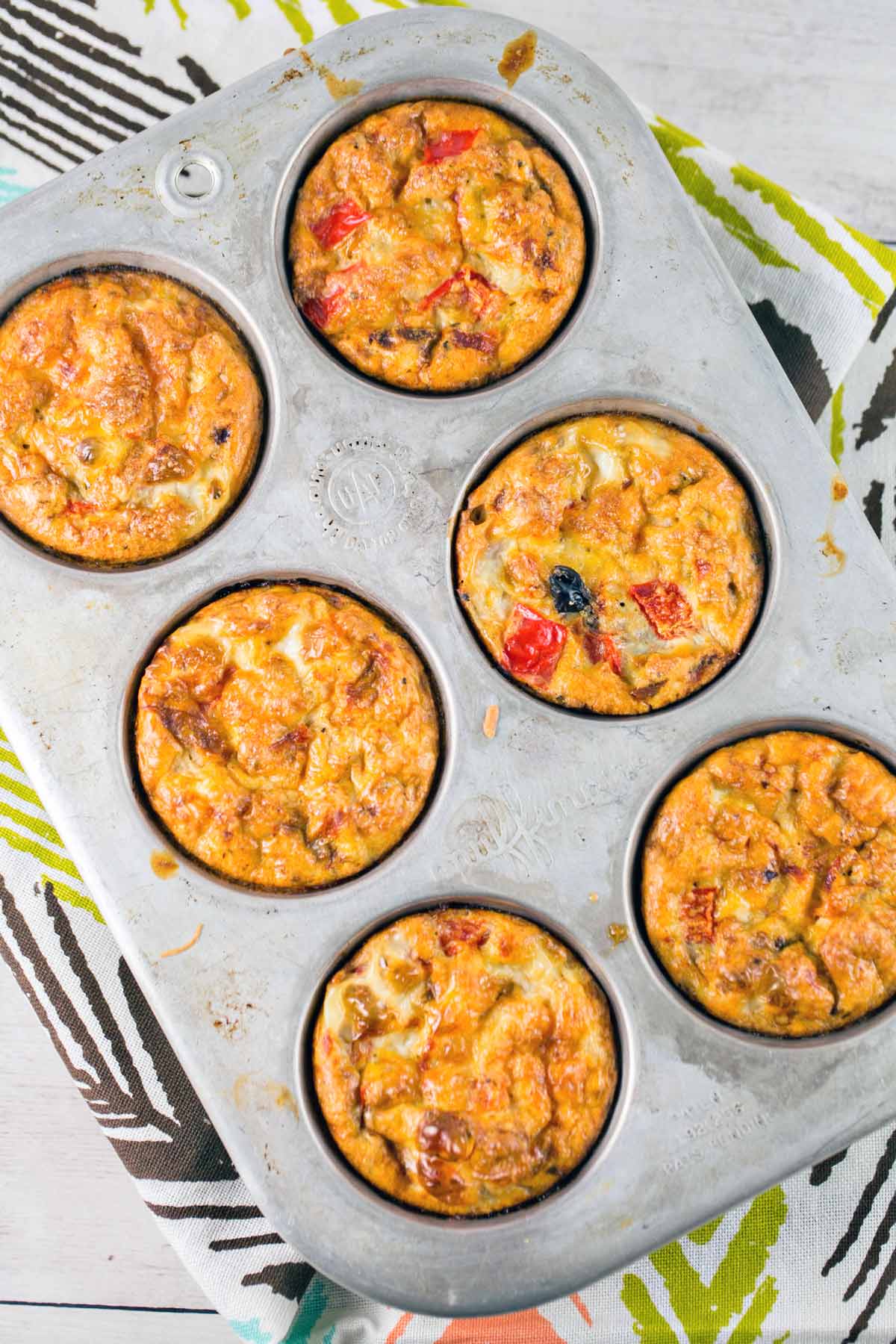 Easy Protein-Packed Baked Egg Muffins
Egg muffins are EASY. (And healthy, too — win/win!) All you really need are some whisked eggs. The add-ins are just flavor bonuses on the side!
Whisk together the eggs, add in whatever spices and other things you are using, and bake at 350 °F for 20 minutes.
The secret to keeping these egg muffins light and fluffy is to not overbake them. Have you ever had rubbery-tasting eggs? They've been cooked too hot, too fast. Why does this happen? It's time for my favorite subject… kitchen chemistry!
Kitchen Chemistry

When eggs are heated, the protein in the egg whites forms a bound structure which holds in water molecules.  If the eggs are heated too quickly, these proteins will coil up instead of forming a smooth network, squeezing out the moisture.  This results in chewy eggs with a wet external texture.
Equally important as not cooking at too high a temperature? Greasing your muffin tin well! Eggs like to stick to everything and the best way to avoid this is lots of cooking spray.
I find that cooking spray does a better job of coating the muffin tin than spreading melted butter, but the choice is yours!
Once the egg muffins are done baking, let them cool for 5 minutes, and then run a knife along the outside edge to help loosen them.
Packed full of protein and low carb? What a delicious way to start your day!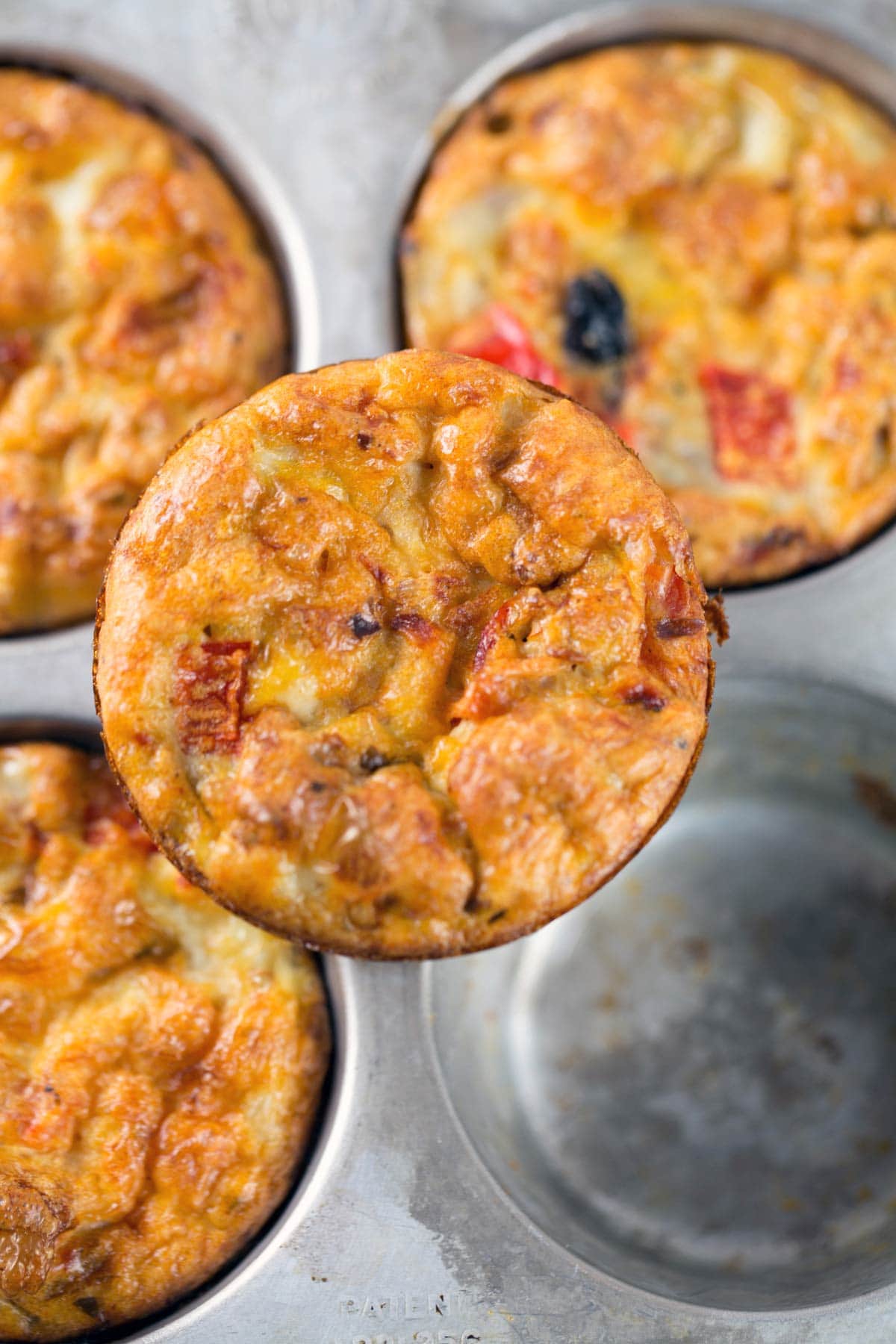 Favorite Add-Ins for Southwestern Egg Muffins
While you can fill egg muffins with whatever you like, we're a big fan of big, bold flavors around here.
So we love this southwestern egg muffin version, filled with red peppers, black bean, and some garlic. Don't forget the cumin, chili powder, and smoked paprika! For even more punch, I also like to stir in some of my favorite chipotle salsa.
While egg muffins are perfect grab-and-go muffins for adults, we also love to feed them to our toddler. Toddler food is notoriously boring when it comes to flavor, but it doesn't have to be; this is the perfect time to introduce a variety of spices!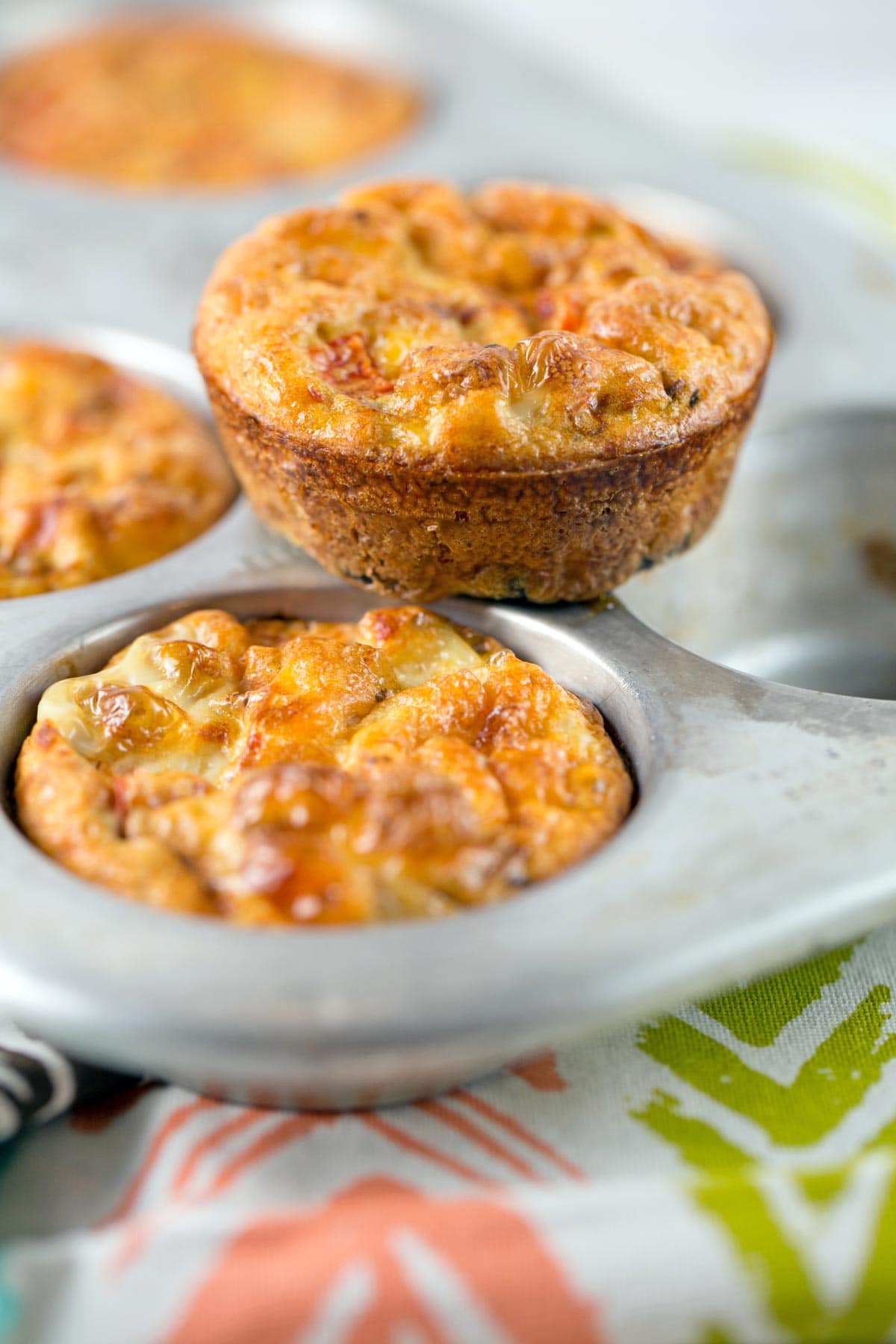 Perfect to Make Ahead
My favorite thing about these egg muffins is that you can make them ahead of time. Meaning, make a double or triple batch, store them in the freezer, and then pull one out whenever you need a fast breakfast, lunch, or snack.
(They're also perfect for a brunch gathering – a plate full of egg muffins, surrounded by fluffy waffles and fruit salad. Heaven!)
Eat them hot right out of the oven or freeze them for later. To freeze, I set them side-by-side on a cookie sheet and place them in the freezer for a few hours, until frozen solid. Transfer the frozen egg muffins to a freezer bag and tuck away for up to 3 months. Alternatively, the egg muffins fit perfectly in these 4-ounce individual storage containers (affiliate link).
For best results, thaw overnight in the refrigerator and bake at 350 °F for 8 minutes, or until heated thoroughly.  
You can also microwave straight from frozen, although the texture turns a little rubbery. My toddler never minds, though, so for him – I go straight from the freezer into the microwave for 45 seconds, onto his plate.
FAQs about Southwestern Egg Muffins
Are egg muffins gluten-free?
Yes! Confirm all spices and added ingredients (like the salsa) are free from gluten contaminants.
Can egg muffins be stored in the refrigerator?
Egg muffins can be stored in an airtight container in the refrigerator for up to 5 days, or frozen for up to 3 months.
How should egg muffins be frozen?
Once cooled, place each egg muffin on a cookie sheet in the freezer for an hour or two, until frozen. Then transfer to a freezer-safe bag, removing additional air from the bag. Freezing separately before combining into one bag will prevent the muffins from sticking together.
What is the best way to reheat egg muffins?
Egg muffins are best reheated in an oven or toaster oven, for 7-8 minutes at 350 °F. They can also be reheated in the microwave, 30 seconds for refrigerated egg muffins and 45-50 seconds from frozen.
Recommended Tools to Make Baked Egg Muffins
More Make-Ahead Breakfast Ideas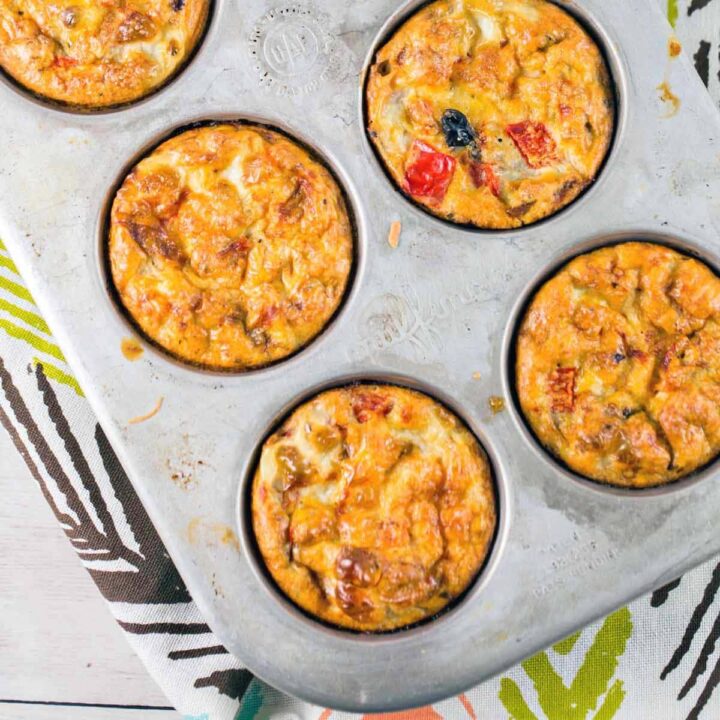 Southwestern Egg Muffins
Full of black beans, peppers, and southwestern spices, these make-ahead muffins are the perfect low carb, high protein breakfast!
Ingredients
12 large eggs
1/2 cup salsa
1 teaspoon chili powder
1 teaspoon cumin
1 teaspoon smoked paprika
1/2 teaspoon garlic powder
1 red bell pepper, diced
1 cup black beans
3 green onions, diced
1 cup shredded cheddar or Mexican blend cheese
Instructions
Preheat the oven to 375 °F. Spray a 12-well muffin tin well with cooking spray.
In a large bowl, whisk the eggs and salsa together until yolks are broken and well combined. Stir in the spices.
Divide the chopped vegetables, beans, and cheese among the 12 wells of the muffin tray. Pour in the egg into each muffin cup, filling almost to the top. Stir each well with a fork to coat vegetables and beans with the eggs.
Bake for 25 minutes, or until egg muffins rise and set. Allow eggs to cool for 5 minutes in the pan, then run a knife around the edge of the wells and remove with a spoon.
Notes
To freeze muffins, place in a single layer on a cookie sheet and place in the freezer for 1-2 hours, until frozen solid.  Transfer to a gallon-sized freezer bag and store for up to 3 months.  (Alternatively, store individually in a 4-ounce freezer friendly container, suggestion below.) To reheat, thaw overnight in the refrigerator and bake at 350 °F for 6-8 minutes until heated through (recommended) or heat in microwave for 45-50 seconds.
Recommended Products
As an Amazon Associate and member of other affiliate programs, I earn from qualifying purchases.
Nutrition Information:
Yield:

12
Serving Size:

1
Amount Per Serving:
Calories:

146
Total Fat:

9g
Carbohydrates:

6g
Fiber:

2g
Sugar:

1g
Protein:

11g