March 26, 2020
Passover Mandelbrot
These easy twice-baked Passover Mandelbrot Cookies are a family favorite tradition!  Crispy on the outside, soft inside, and filled with chocolate chips or nuts, this recipe is sure to be part of your Pesach celebrations for years to come.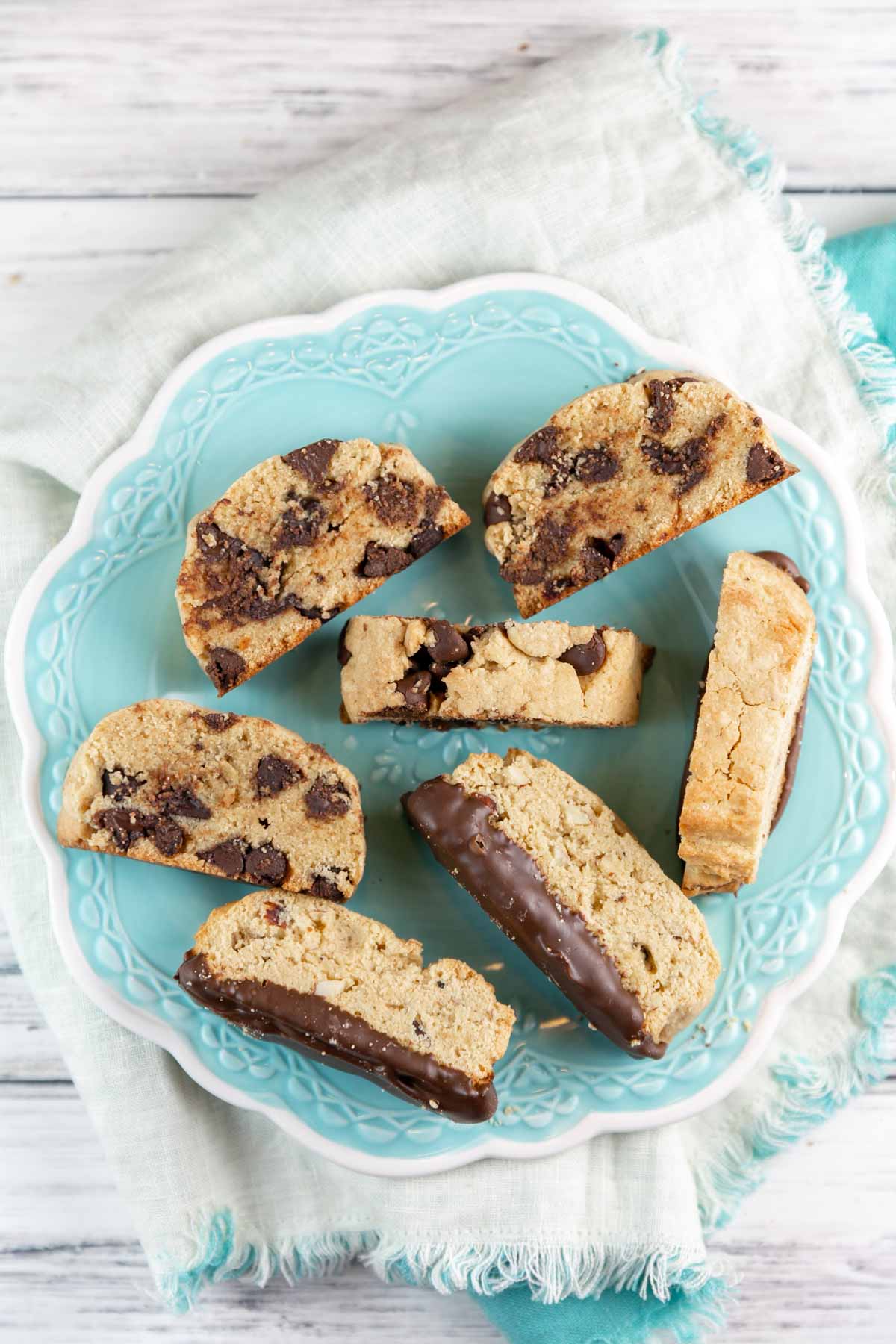 Passover is all about family, togetherness, and traditions. Sometimes traditions make sense to other families – sometimes, not!
This year, I'm sharing our family's favorite Passover treat with all of you.  These Passover mandelbrot are an annual staple and what my husband looks forward to the most each year when it comes to Passover. Mandelbrot might not be something most families associate with Passover, but this is one tradition I'm thrilled to have added from my husband!
One thing we can't agree upon, however? What to call them!
This recipe is from my mother-in-law, and my husband grew up calling them kamish bread. I, on the other hand, call these mandelbrot.
But whatever you call them, they're delicious and I hope they become a new family tradition for you as well.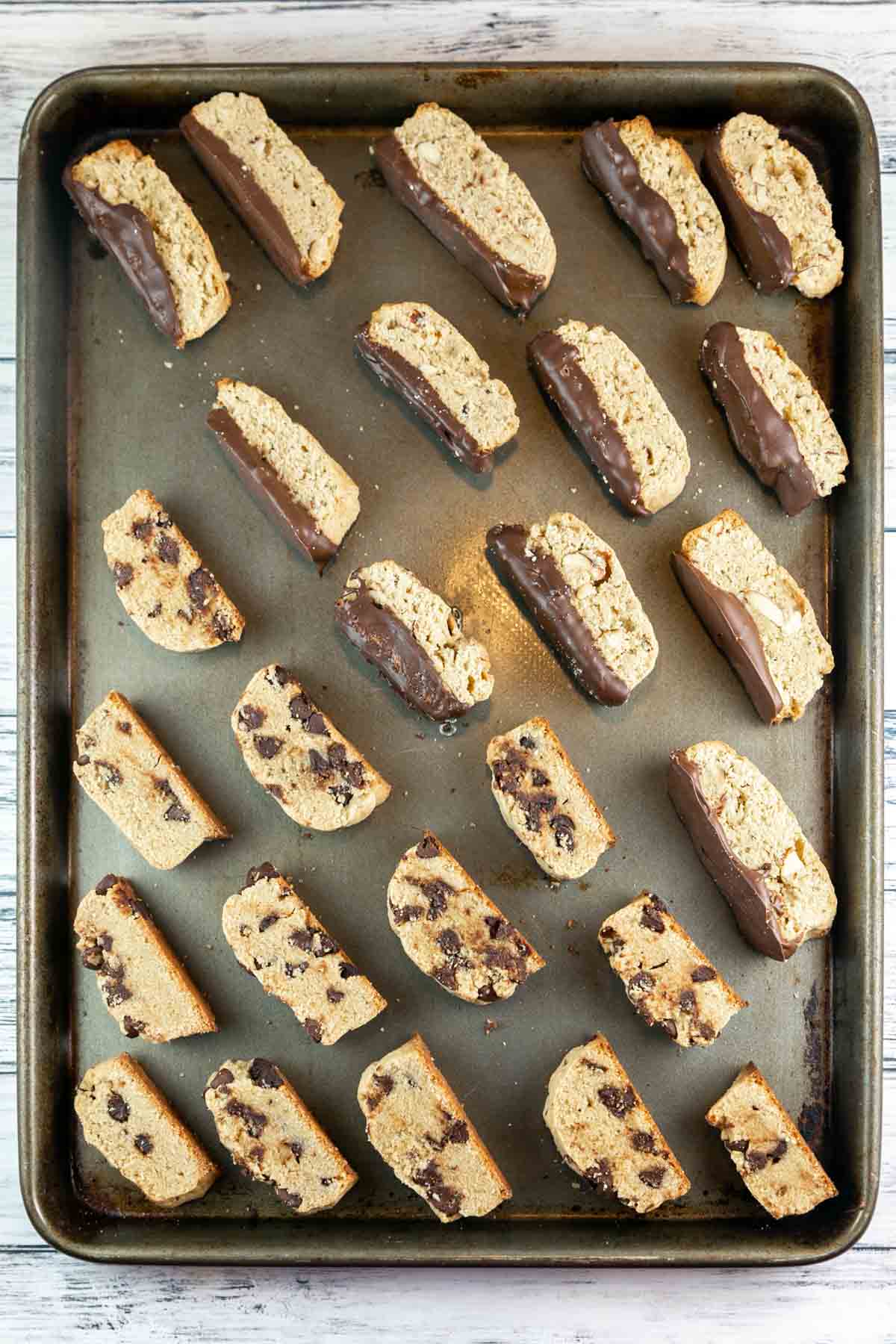 Mandelbrot vs. Kamish Bread
Two names… the same thing. Both make sense when you break down the words.
Mandel means almond and brot means bread. Most mandelbrot recipes traditionally include almonds, although these days, other nuts, dried fruit, and chocolate chips all make an appearance.
Kamish, on the other hand, means almost — so, almost bread.  Which I guess is kind of true, since these are shaped into a loaf and baked, but they're filled with chocolate chips… so definitely more of a cookie than bread.
Personally, I tend to think of kamish bread as a plain loaf with no add-ins.  As a plain cookie, it's more bread-like in flavor.
Once we add infinite mix-in options, like chopped nuts (almonds!) and chocolate chips, it moves firmly into the mandelbrot category.
Whatever you call them, mandelbrot (or kamish bread) are an Ashkenazi Jewish dessert, similar to an Italian biscotti.  Both are baked as a long loaf, then sliced into individual cookies, and baked again.
This twice-baking process makes them crispy, but mandelbrot retain a softer interior than biscotti due to the higher egg and fat content.  (All the deliciousness of biscotti, without the fear of cracking a tooth!)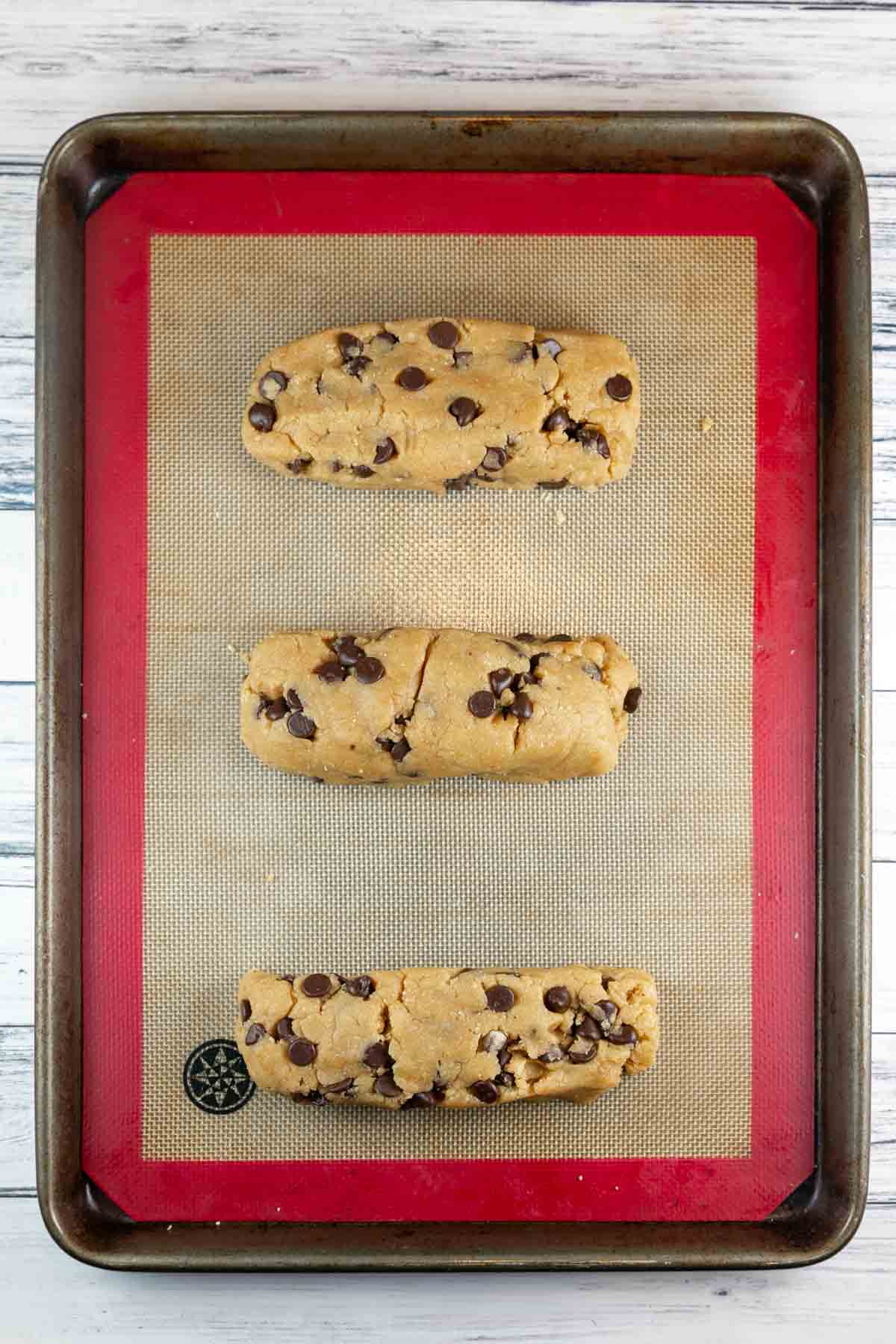 Mandelbrot for Passover
These cookies are traditionally not a Pesach-friendly treat. Mandlebrot recipes contain flour and baking powder as a leavening agent, neither of which is appropriate for Passover.
Despite mandlebrot being a regular everyday cookie, our tradition is to only make them on Passover.  This adapted recipe is just as delicious as the regular recipes!
Instead of flour, we'll use a combination of matzoh cake meal and potato starch, with the option to add almond flour!
Matzoh cake meal is simply very finely ground matzoh. If you can't find it available for purchase, grind matzoh in a food processor until finely ground – like the consistency of flour.
Potato starch acts similarly to cornstarch, but since corn is kitniyot (which many people do not consume during Passover), we'll use potato starch instead.
Why are we adding potato starch (or cornstarch) to cookies? It's time for my favorite subject… kitchen chemistry!
Kitchen Chemistry

Potato starch/cornstarch isn't just a thickener for sauces — it's also a great addition to baked goods! Potato starch 'softens' the harsh proteins of flour, interfering with gluten formation, which results in a softer texture.
Because matzoh meal is quite rough, adding potato starch allows our mandelbrot to stay slightly soft in the middle, while still retaining the characteristic crispy outside.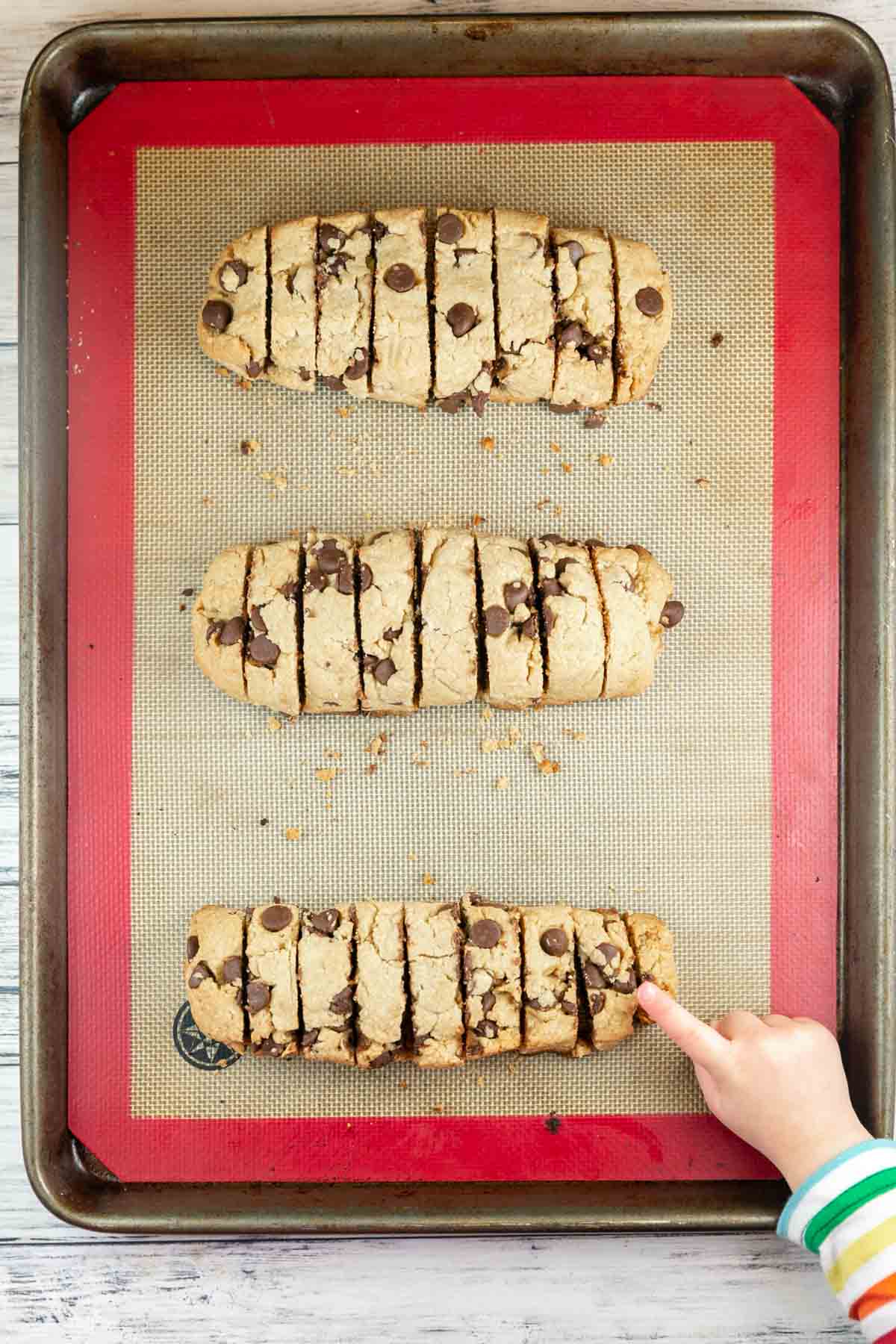 Mandelbrot Varieties
One of the best things about mandelbrot?  The varieties are endless!  The base dough recipe works wonderfully for any mix-in.
My husband's family tradition is chocolate chips (confirm they are Passover-appropriate), while I prefer almond (true to the traditional mandelbrot name).
A happy medium for all of us is dipping the almond mandelbrot in melted chocolate!
If you're using nuts as mix-ins, chop them into small pieces and use a sharp knife to slice. Any large chunks of nuts will cause the loaf to crumble while slicing — still delicious, but not quite as pretty.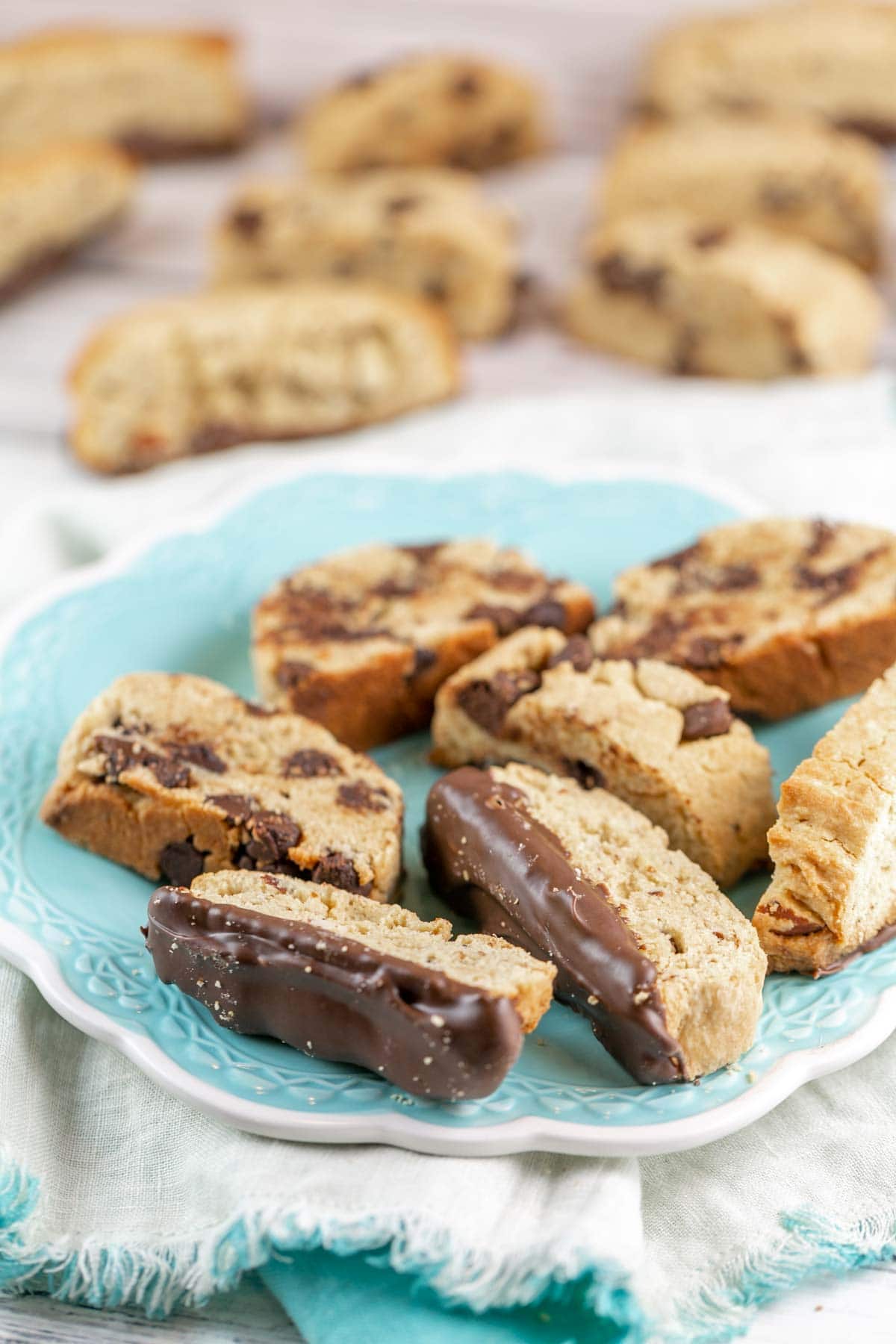 Recommended Tools to make Mandelbrot Cookies
Tips and Tricks for the Best Passover Mandelbrot
Potato starch is not the same thing as potato flour!  Make sure to use potato starch — or substitute in cornstarch, if dietary appropriate.
The dough can be made ahead of time and refrigerated for up to 24 hours.  It should rest for a minimum of 30 minutes to ensure the matzoh cake meal hydrates, but longer is fine too.
Baked mandelbrot can be stored in an airtight container at room temperature for up to a week, or frozen in an airtight freezer bag for up to 3 months.
Swap almond flour for half of the matzoh cake meal for a similar taste, with a little more protein and a lower carbohydrate count.
Chocolate chips can be replaced with any other mix-in, like chopped nuts or dried fruit.
More Passover Dessert Recipes: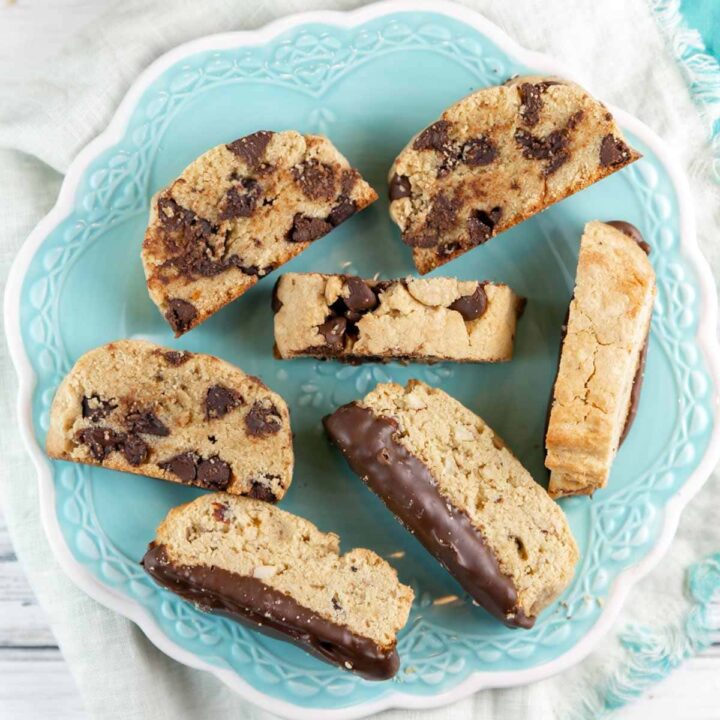 Passover Mandelbrot
Total Time:
1 hour
20 minutes
These easy twice-baked Passover mandelbrot cookies are a family favorite tradition!  Crispy on the outside, soft inside, and filled with chocolate chips or nuts.
Ingredients
3 large eggs, room temperature
1 cup (198 grams) granulated sugar
1/2 cup (99 grams) vegetable oil
1 teaspoon vanilla extract
1 1/2 cups (240 grams) matzo cake meal
1/2 cup (76 grams potato starch
1/4 teaspoon salt
6 ounces chocolate chips, nuts, or dried fruit
6 ounces melted chocolate, optional
Instructions
Preheat oven to 350 F. Grease a cookie sheet or line with a silicone baking sheet.
Make the dough. Using an electric mixer, beat eggs on medium-low speed for 30 seconds. Add sugar and continue to beat until well combined, another 1 minute. Gradually pour in oil and vanilla extract, followed by the matzoh cake meal, potato starch, and salt. Mix until ingredients are combined and no dry matzoh meal remains. Stir in the chocolate chips, chopped nuts, or dried fruit.
Rest the dough. Set aside for at least 30 minutes at room temperature, or refrigerate for up to 24 hours.
Shape the loaves. With well-oiled hands (dough will be sticky), divide dough into 3 long oval loaves on the prepared cookie sheet.
Bake the mandelbrot. Bake for 30 minutes. Remove from the oven and slice into 24 cookies, while still hot. (The dough will crumble while slicing if cooled.) Return the cookies to the oven for another 5 to 10 minutes, until starting to brown on top.
Cool on a wire rack. If desired, dip the bottom in melted chocolate.
Notes
Make sure to use potato starch and not potato flour! Cornstarch can also be used, if you use it during Passover.
The dough can be made ahead of time and refrigerated for up to 24 hours.
Baked mandelbrot can be stored in an airtight container at room temperature for up to a week, or frozen in an airtight freezer bag for up to 3 months.

A Bunsen Burner Bakery Family Recipe
Recommended Products
As an Amazon Associate and member of other affiliate programs, I earn from qualifying purchases.