October 23, 2021
M&M Candy Cake
This festive and beautiful M&M Candy Cake is surprisingly easy to make and so fun! With fluffy vanilla cake, decadent chocolate frosting, and your favorite candy as decoration, this cake is sure to be a hit. It doesn't matter your age, this cake is super fun with candy in every bite!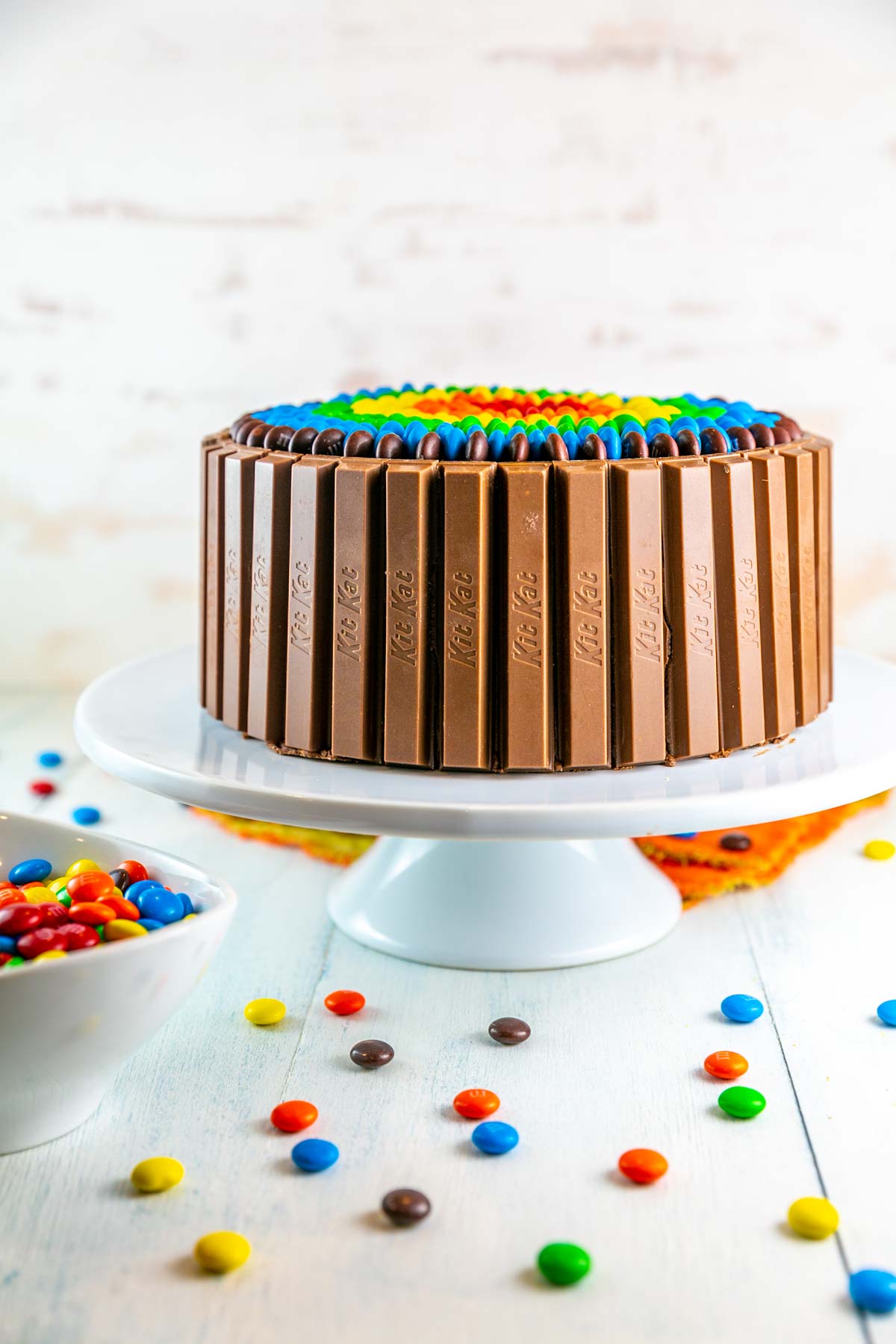 It's time for our next installment of the Cake of the Month! If you're looking for a fun and festive cake, perfect for just about any occasion, look no further than this M&M Candy Cake. While the candy decorations pop, underneath the colorful exterior is a fluffy and tender buttermilk vanilla cake covered in chocolate frosting. Fun AND delicious!
While not actually Halloween or October-themed, I can't help but think of Halloween when I look at all this CANDY. This is the perfect cake any time of year, but might be an especially great cake for a Halloween party or fall birthday when candy is already on everyone's minds.
I like the look of the M&Ms and Kit Kats together on this cake, but you can really use any of your favorite candies. You could use Reece's Pieces instead of M&Ms for a peanut butter flavor, or even Skittles for fruity flavors! Make this cake your own and personalize away.
Get your baking pans ready and let's make this delectable candy cake!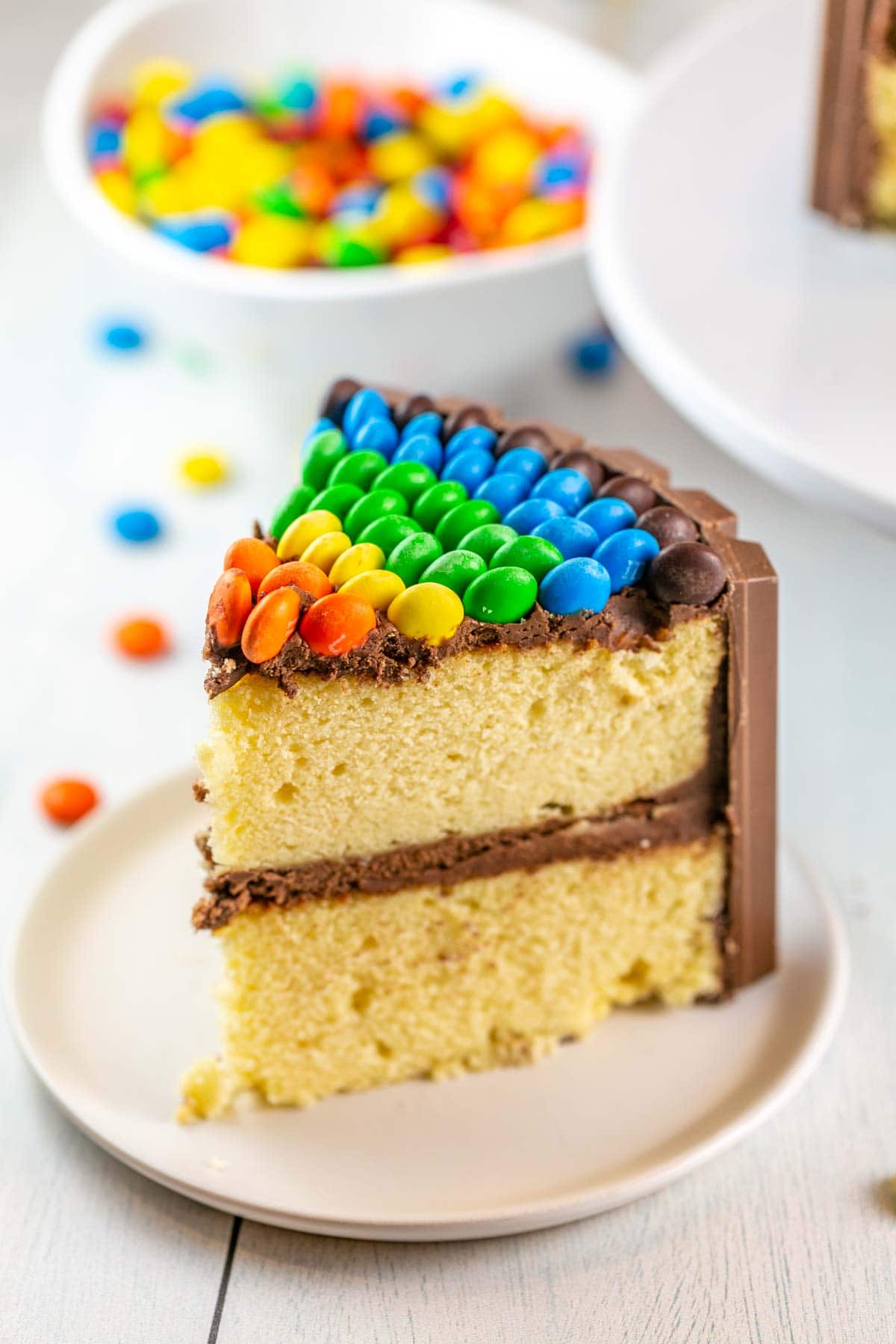 Best Buttermilk Cake
The first and most important component of M&M candy cake is the cake batter itself. For this candy cake recipe, I used two 8-inch cake pans. You can use 9-inch cake pans, but keep in mind that the layers will be a bit thinner and will cook faster!
Throughout my baking journey, I have made a lot of cakes. I have found that when I add buttermilk, the cake turns out especially tender and delicious. If you're wondering why, the answer, of course, comes down to my favorite subject… kitchen chemistry!
Kitchen Chemistry

Buttermilk's tangy flavor is attributed to acid. This acid will lower the pH in the batter and break down long strands of gluten that form when flour meets liquid. Smaller strands of gluten mean a more tender outcome!
Buttermilk in baking can really help not only with flavor, but also with achieving the perfect texture. I know that not everyone had buttermilk on hand at all times, so check out some substitutes in my Tips & Tricks section of this post.
Easy Chocolate Frosting
We're going to use homemade American-style buttercream frosting to decorate this cake. It's SO easy to make (really, you can't screw it up!) and way better than store-bought frosting. (If you're an experienced cake baker, this cake will of course work with other styles of buttercream as well.) Not only does this frosting add moisture and flavor to the cake, but it's also the glue that holds all the candy together.
You'll want to assemble the candy cake with a layer of chocolate frosting in the middle. You can even add a layer of M&Ms in that middle layer on top of the frosting if you want a little extra crunch! Then, cover the cake in chocolate frosting.
One of the reasons I really love this cake: since you're covering the outside with candies, there's no need to worry about getting perfectly smooth frosting!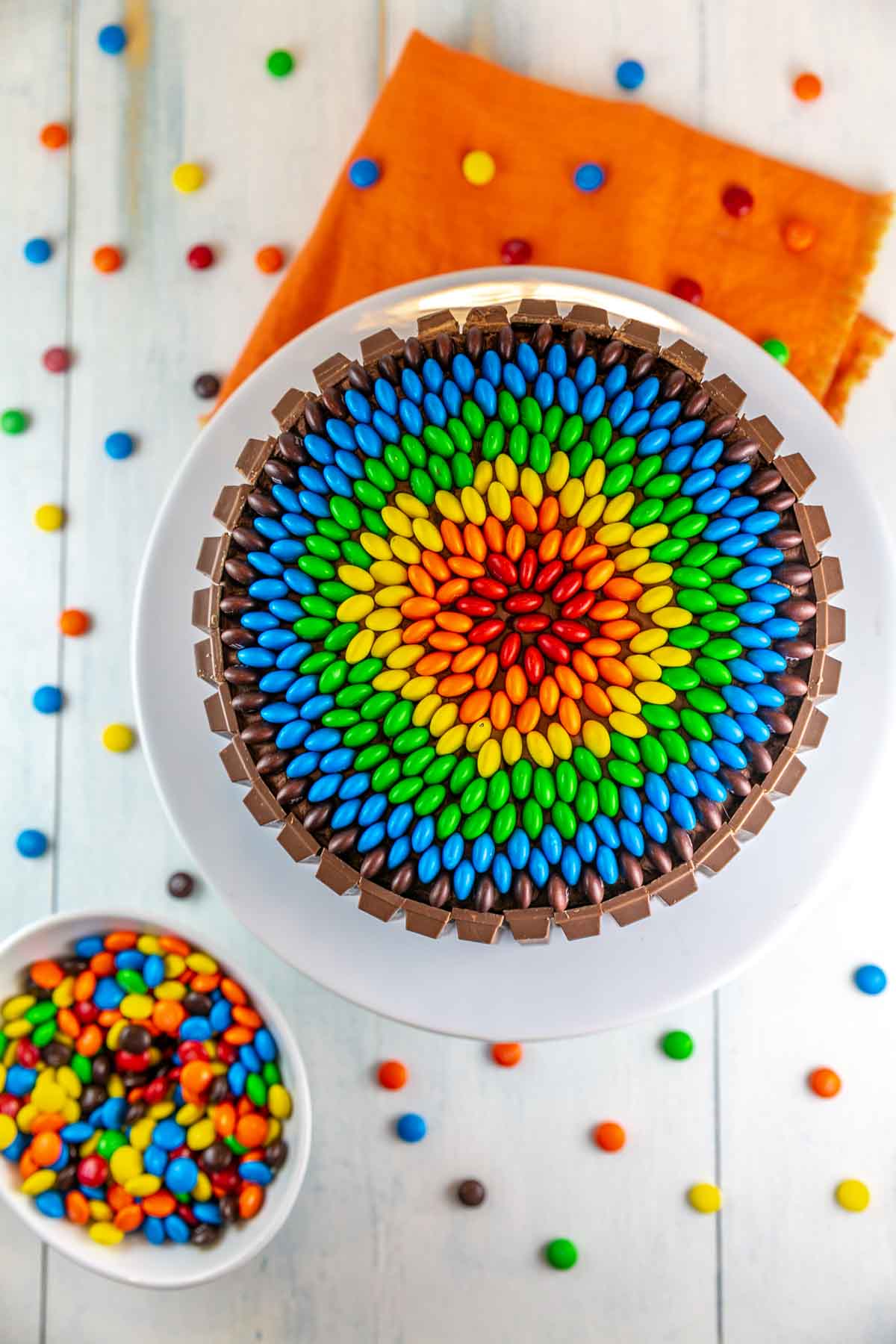 Decorate with Candy
It wouldn't be an M&M candy cake recipe without the perfect array of candies on top! You can decorate your cake however you would like, with any kind of candy.
If you want to decorate it how I did, then break apart your Kit Kat bars and line them up around the outside of the cake. I chose to do rainbow circles of M&Ms, starting with brown on the outside (to match the Kit Kats) and then continuing with circles of blue, green, yellow, orange, and red. The M&Ms being stuck into the frosting sideways makes for the most beautiful candy cake!
My son loves this cake so much (both the flavor and the design) that he's asked for it for multiple years: here's another easy style with just M&Ms, decorated with a spiral on the side and a 6 on top!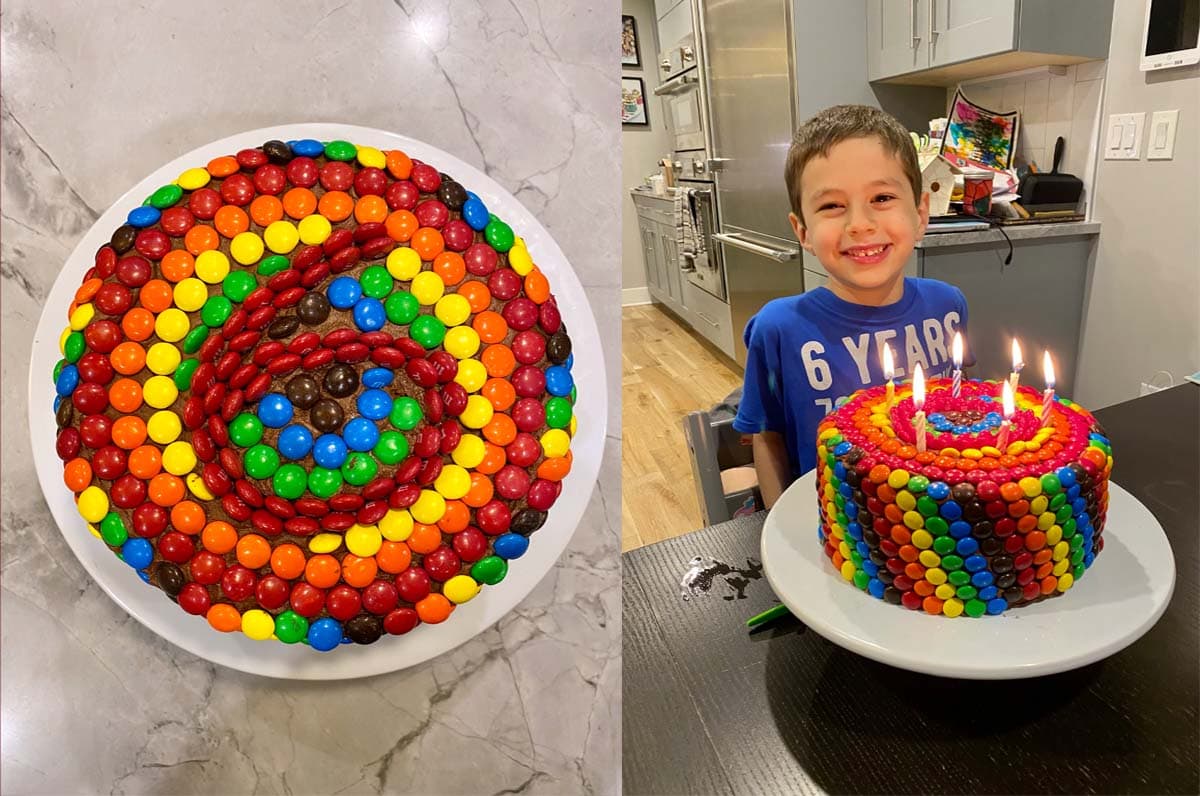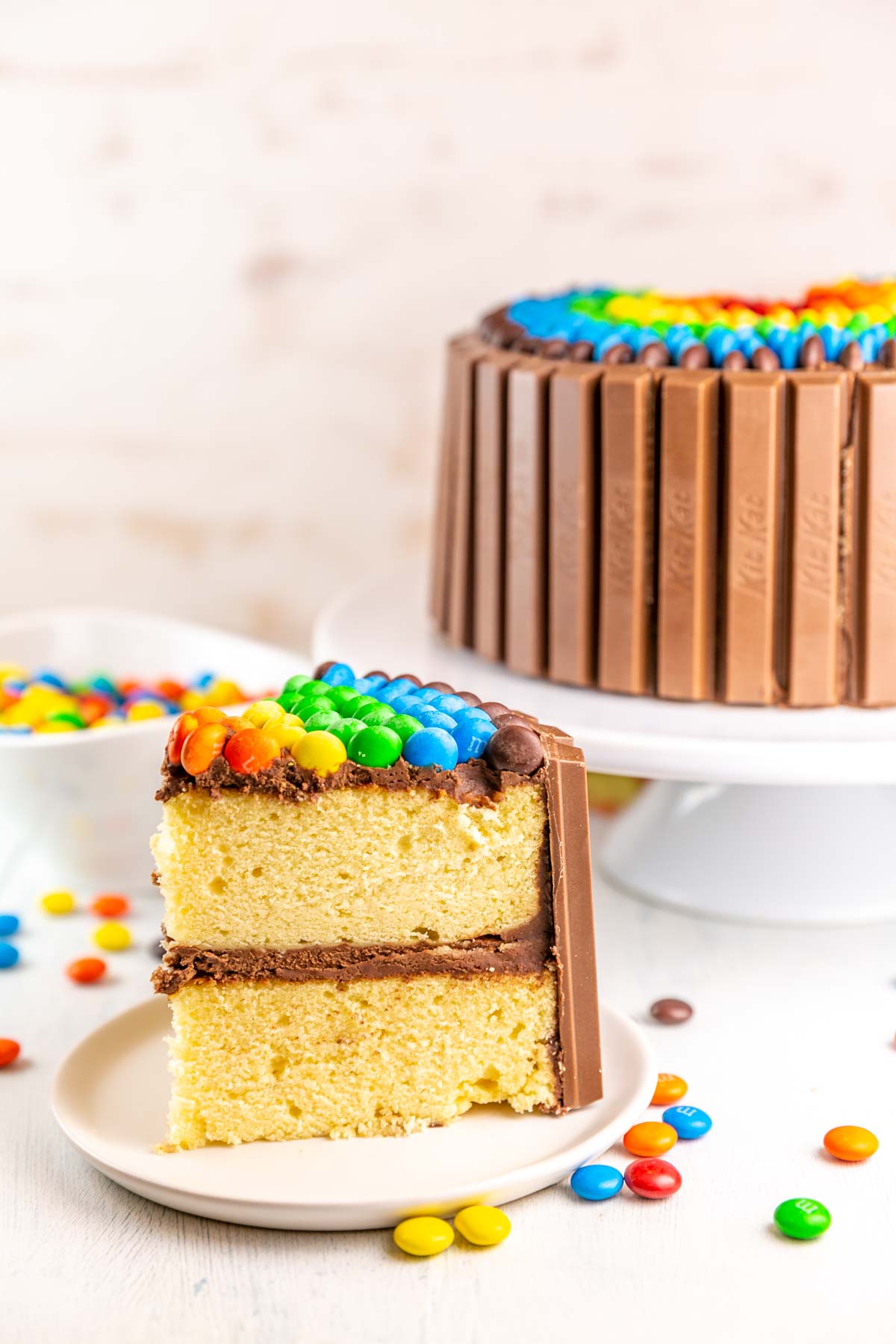 Tips & Tricks for the Best Candy Cake
No buttermilk on hand? No problem. You can combine milk and sour cream or milk and a splash of lemon juice for a good buttermilk substitute! The key is to have the milk as moisture, and something with a bit of acidity to help break down gluten. If you use milk and sour cream, mix 1 cup of milk with 1/4 cup of sour cream and whisk together to make a cohesive mixture.
For easier decorating, you can pile the M&Ms in the middle of the cake instead of placing them individually. M&Ms placed on their side make for a beautiful cake, but a little pile in the middle would also be cute!
Substitute in other candies: chopped candy bars, sprinkles, Skittles, or Reece's Pieces. You can sprinkle these in the middle layer with the frosting for extra candy!
You can use the candy decorations with any cake or flavor combination! Try it with my Chocolate Layer Cake for double the chocolate.
To tell if the cake is done, stick a toothpick or wooden skewer into the cake. If it comes out with just a few crumbs, it should be good to go! If it looks wet, with some sticky batter on it, then let it cook longer.
Make this candy cake ahead of time! Prep each of the components separately and refrigerate until you are ready to assemble. You can keep the leftovers in the fridge for up to 5 days!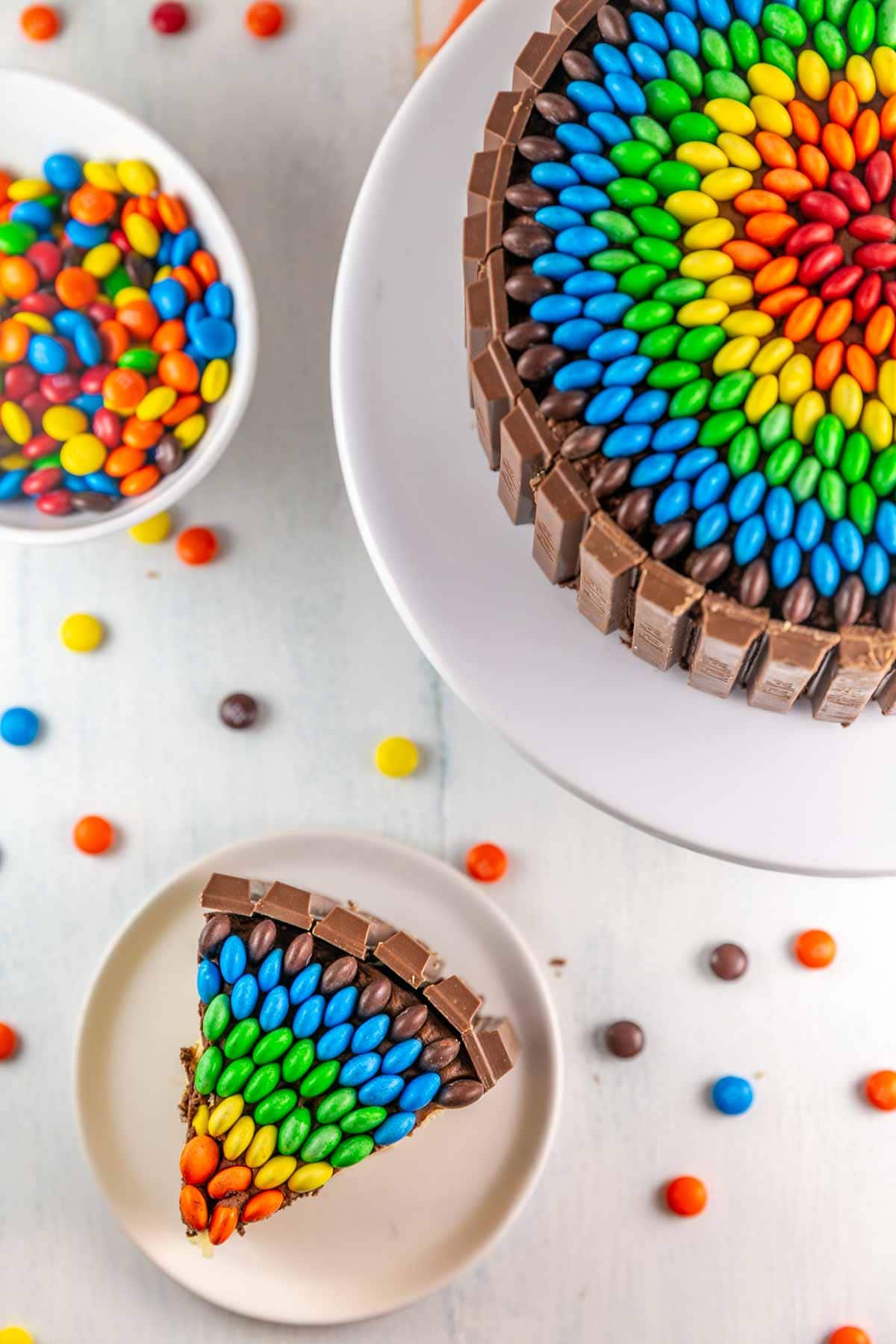 More Candy Recipes to Try: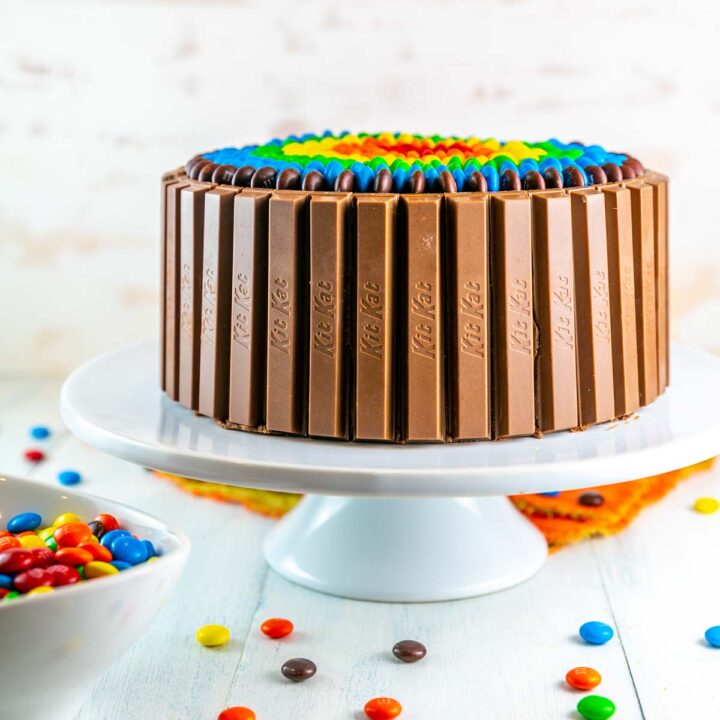 M&M Candy Cake
Total Time:
1 hour
30 minutes
This festive and beautiful M&M Candy Cake with vanilla cake and chocolate frosting is surprisingly easy to make and so fun!
Ingredients
For the Yellow Cake:
1 cup (226 grams) unsalted butter, room temperature
1 3/4 cup (346 grams) granulated sugar
4 large eggs, room temperature
2 teaspoons vanilla extract
3 cups (360 grams) all-purpose flour
1 tablespoon baking powder
1/2 teaspoon salt
1 1/4 cups (284 grams) buttermilk, room temperature
For the Chocolate Buttercream Frosting:
1 cup (226 grams) unsalted butter, room temperature
2 teaspoons vanilla extract
3 cups (340.5 grams) confectioners' sugar
3/4 cup (63 grams) natural unsweetened cocoa powder
1/2 teaspoon salt
4 tablespoons heavy cream
To Decorate:
12 (1.5 ounce) Kit Kat bars
M&Ms
other candy as desired
Instructions
Preheat the oven to 350 F. Line two 8-inch cake pans with parchment paper. Grease and flour the parchment paper and the sides of the pan.
Make the cake batter. Using an electric mixer, combine the butter and sugar until light and fluffy, beating on medium speed for 3 to 4 minutes. Add in the eggs, one at a time, followed by the vanilla extract. Turn the mixer to low speed and add half the flour, the baking powder, and the salt. Add the buttermilk, mix gently, and add the rest of the flour. Beat until just incorporated and no streaks of flour remain.
Bake the cake. Divide the batter evenly between the two prepared pans. Bake for 30 to 35 minutes, until golden colored and a tester inserted into the center comes out clean. Transfer pans to a wire rack, cool for 15 minutes in the pan, then flip out of the pan and cool completely.
Make the frosting. Using a mixer on medium speed, beat the butter for 3 to 4 minutes until soft and fluffy. Reduce the speed to low and add in the vanilla and salt, followed by the confectioners' sugar and cocoa powder, adding 1/2 cup at a time and mixing after each addition. Add the heavy cream, turn the mixer to medium-high, and beat for 1 minute. If the frosting is too stiff, an additional teaspoon or two of milk. If the frosting is too thin, add a few additional tablespoons of confectioners' sugar.
Assemble the cake. Trim the tops of the cake if they domed during baking. Spread frosting over the top of one layer of the cake, place the second layer on top, and frost the sides and top of the cake. A crumb coat is not necessary as the frosting will be covered with candy.
Decorate the cake. Before the frosting has a chance to set, press the Kit Kat bars along the outside of the cake, using the frosting as the "glue" to hold them to the cake. Separate the Kit Kats into individual bars. Decorate the top of the cake with candy as desired (M&Ms in a decorate, poured into a pile, or an assortment of chopped candy.)
Recommended Products
As an Amazon Associate and member of other affiliate programs, I earn from qualifying purchases.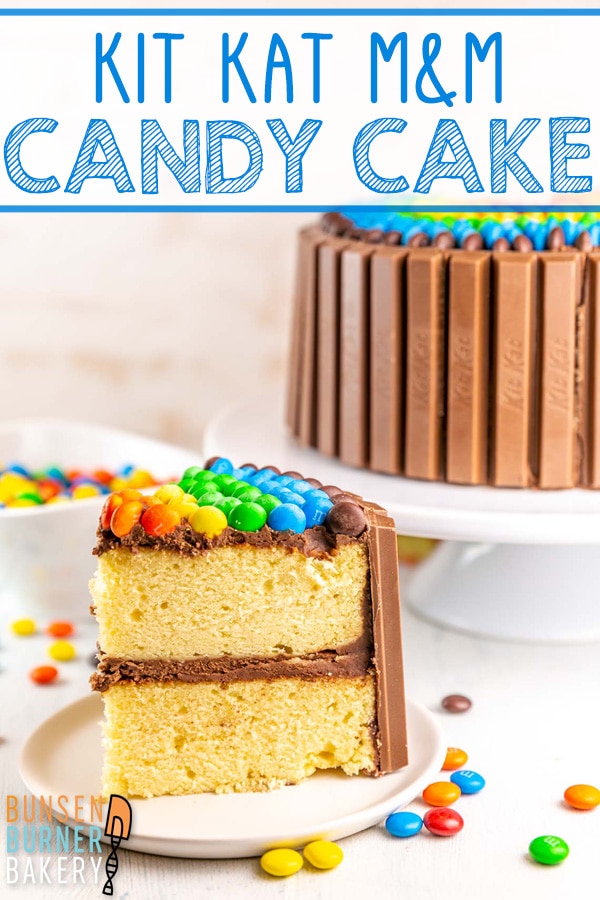 This recipe was first published in March 2012 and updated with new photos and helpful tips in October 2021.